Predicting the future accurately is virtually impossible. We simply will not be able to know when a car will need a repair or when we may need to visit a doctor. There are thousands of things that may cause us to spend money without it ever being on the budget or planned for.
Saving for a rainy day is a great practice to start. Even though we may not know what the future holds, creating and maintaining an emergency fund is a secure way to hedge against future events. It can also provide peace of mind and allow you to not worry about emergencies.
But there's a problem. Most of us are not good savers. We try to be, but at the end of the month there just isn't anything left. Many of us have heard the phrase "pay yourself first." But this is often easier said than done.
Digit is an automatic savings app that could help. So what is Digit, and how does it work? In this article we will answer those questions and more with our complete Digit review.

Digit Review: Highlight
Automatic Savings App
First 30 days free, $5 a month after free trial
Overdraft Protection
FDIC Insured
Access to IRA account
Savings account earns 0.10% APY
Digit Summary
Transparency

Customer Support

Savings Rate

Savings Controls

Fees
Summary
Digit is an automatic savings app that helps members take control of their financial future. Saving for a rainy day can be challenging, but with Digit, your savings are automated so you don't have to worry about it.
The savings app performs a proprietary analysis on your spending, income, and bills to determine how much and when to save. These savings are then allocated among your savings goals.
Digit comes with a number of built in savings controls to ensure you are comfortable with the savings rate. You can also pause the service at any time.
Digit currently costs $5 per month, though it comes with a free 30 day trial. Check it out today if you think it might help you!
Pros
Customizable account with your unique goals
Savings controls to keep you comfortable
Access to 0.10% APY
Extra features such as overdraft protection
Cons
Depending on your account balance, $5 per month can be steep
Customer support is limited to online submission portal
What is Digit?
Digit is an automatic savings app. Using machine learning and data analysis, Digit helps you save for your goals.
The company was founded in 2013 in California and has quickly gained popularity. Digit's app currently has 4.7 stars from 248K reviews in the app store. That volume alone speaks well to the quality of service you can expect.
CEO and founder Ethan Bloch created Digit to help people automate their savings without worry. On the website, he states: "With Digit guiding money to your goals each day, you'll hit them faster and feel at peace along the way."
Creating an account and getting started is actually really easy. As soon as you link a checking account, the savings process begins. Let's take a look at how Digit actually works.
How Does it Work?
Once you have a linked checking account, the magic begins. Using machine learning and financial analysis, Digit will automatically save money on your behalf.
Digit performs proprietary analysis on your unique financial habits and moves money from your checking account to your Digit Save account.
When you first sign up, Digit will transfer very small amounts as it is learning about your spending habits, bills, and income. As patterns emerge, it will automatically transfer money that "you won't feel." These transfers can occur daily.
The platform uses the following information to determine how much and when to save:
Upcoming income (paychecks or predicted irregular income)
Upcoming bills
Recent spending
Any savings controls that you set
As you begin saving with Digit, you will also notice that you earn 0.10% APY. This interest is paid out every 3 months. This rate is highly competitive with other savings accounts.
Goals
Within the app, you can create savings goals. These goals can include anything: vacation, home repair, emergency fund, etc. When Digit saves on your behalf, it will transfer funds from your checking account to your Digit Save account. It will then allocate these funds to the goals that you have set.
If you do not create any goals, a Rainy Day goal will automatically be set for you.
With each goal, you can also make deposits or withdraw funds manually. You can also set priorities on certain goals to allocate your funds as you desire.
Once you achieve a goal, you can delete the goal from your account or start over.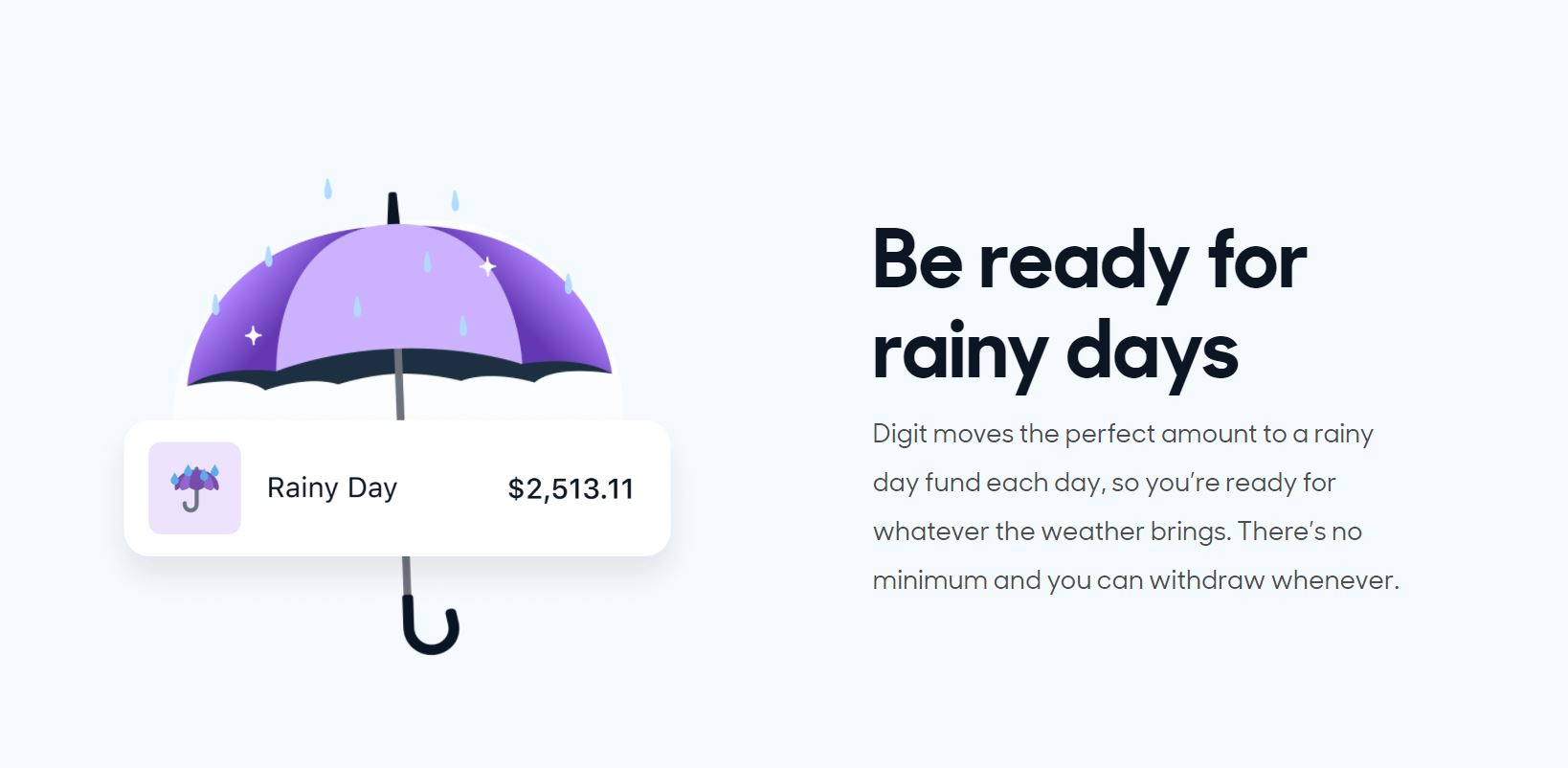 Digit Savings Controls
Digit comes with a number of controls that you can set to ensure a comfortable savings rate. There are 4 controls that you are able to set:
Safe Saving: Within the app, you can set an amount as your base. If your checking account balance is above that base, then Digit will continue with its automated savings. If your checking account balance falls below that amount, Digit will temporarily pause its savings until the balance moves above the base you set.
Overdraft Protection: With overdraft protection enabled, Digit will automatically move money from your savings account back into your checking account. You will set an amount that will trigger this transfer. For example, suppose you set your limit to $50. If your checking balance ever falls below $50, say $40, then Digit will transfer $10 from your savings account to your checking account. Digit customers on average save $60 on overdraft fees per year.
Maximum Daily Save: Within any one of your goals, you can set limits for a maximum daily save. This means that Digit will not transfer an amount over that number with this control turned on. The maximum daily save control is created through each individual goal, so if you want to set a total maximum for your entire account, you will need to create a maximum daily save for each of your goals. For example, suppose you have 3 goals. If Digit transfers $25 from your checking account to your savings account, it will allocate those funds evenly. (By boosting a certain goal, you can distort that allocation.) With the maximum daily save turned on for one goal, you will limit the amount that gets allocated to that particular goal, but the total $25 will still be moved. If you set a limit of $5 per goal, then Digit will not transfer more than $15 in a given day.
Pause Saving: You have the ability to pause Digit savings at any time. The app has a simple pause button to ensure you are in control.
In addition to these 4 controls, Digit also has notifications to ensure you are aware of what is happening with your funds. You can set the app to send you a text message daily, weekly, or never. If you select weekly, you will receive a text every Monday. These texts will inform you of your checking account balance. If you prefer a push notification, you can turn off text messaging and select push notifications instead.
Where is my Money Stored?
Digit has partnered with 5 banks to store your money: Chase, Wells Fargo, BBVA, Bank of America, and Axos. The money is also FDIC insured up to $250,000.
What are the fees?
In order to use Digit's services, you will pay $5 per month. When you first sign up, the first 30 days are free. When the free trial comes to an end, you will start paying $5 per month.
Depending on the size of your account, $5 a month can be a lot. The 30 day free trial is a great way to see if this service is right for you before ever spending the subscription.
Digit Invest
In addition to automating savings, Digit also helps members automate investing. They offer both an investment account and an IRA account.
Using the same methodology as the save account, Digit analyzes your spending, income, etc, to determine a proper amount to transfer into your investment account.
For the investment account, you will not choose individual stocks, but instead answer a few questions that will determine your risk level and financial situation. Digit will then recommend a pre-built portfolio made up of ETFs. It is important to note that there is risk with any investment.
For the IRA account, you can either create a traditional or Roth IRA. Based on your age, income level, and other personal details, Digit will create a portfolio for you. Any funds that have not yet been invested can be withdrawn without tax penalties. If you attempt to withdraw any money from your IRA account, Digit will explain the tax implications of doing so.

Customer Support
While Digit does not offer customer support through a chat or phone option, they do have an online submission portal. You can submit a question and receive an email back fairly quickly.
You will select the topic and provide details about your question. There is also an option to submit an attachment such as a photo if needed.
Digit Review: Final Thoughts
Saving for a rainy day is certainly easier said than done. Most of us intend on saving, but by the end of the month, there may be nothing left.
By using Digit, you can automate your savings and be sure you are prepared for tomorrow. Using machine learning and financial analysis, the app transfers funds from your linked checking account to your savings account. These transfers can occur daily.
With Digit, you can set a number of controls to ensure you are comfortable with the savings rate. You can also pause the automated savings at any time.
Digit not only helps you build a savings account but also offers investment accounts. This includes a long term investing account and a Roth or Traditional IRA.
Since its launch in 2013, Digit has gained much popularity. With over 240,000 reviews in the app store, Digit currently boasts a 4.7 star rating. Check out the app today and enjoy the first 30 days free!
Best Free Stock Promotion