Perhaps one of the most frustrating things about being a consumer is watching a price drop – after you've already bought the item.
Did you save your receipt? Maybe you can return it. Or call customer service and wait on hold. Or send back to Amazon, only to find out the pair of boots (or lamp, or whatever) is now out of stock.
Enter Earny, a money back savings app designed to help you get the most bang for your buck. Or in this case, the lowest price available.
You may not be aware of this, but prices of things that you purchase are changing all the time. You are most likely entitled to refunds that you are totally unaware of. Often times, retailers and credit card companies offer something called price protection. More on this later.
In this review, we will be discussing Earny and determining whether or not it is worth using.
Earny
User Friendly

Savings Potential

Subscription Cost

Fees

Features
Summary
Earny is designed to help you with something called purchase protection from retailers and credit card companies. When prices drop, Earny automatically tracks this and pursues a refund on your behalf. With the browser extension, you can earn automatic money back of up to 20% when you shop through your Earny app or its chrome extension from more than 5,000 retailers.
Pros
Price protection through retailers and credit card companies
Monitors hotel reservations for price drops
Chrome extension can save you up to 20% when you shop
Cons
They keep 25% of the refund
Subscription plan offered for $19.99/year
What Is Earny?
Earny is a mobile application that offers price protection and refund services. The company was launched in 2016 and is based in Los Angeles, California.
Over the course of four years in operation, Earny has found more than $1 million in savings on more than 30 million tracked products.
In total, the app monitors more than 750,000 price changes daily.
That's a lot of price changes, but consider this: Amazon alone adjusts prices up to 8 times a day on average.
That means based on when you are buying throughout the day, the price could be higher or lower. While it could just be a few dollars here and there, if you are an avid Amazon shopper (who isn't?) this could add up quick.
How Does Earny Work?
In a nutshell, Earny finds the best prices on things you've bought and helps you get the difference back.
A price protection policy is offered by most major retailers that guarantees if something drops in price after you buy it, they will refund you for the difference.
Keep in mind however, that most of these policies are only good for a limited number of days. Typically, this is less than 30 days, so you would need to hustle to get your refund.
When you use Earny, you won't have to give a second thought to when the price protection policy expires. That is because Earny tracks prices automatically and pursues refunds for you.
Some retailers have certain limitations within their price protection policies. Earny takes both retailer policies and price fluctuations into consideration when filing a claim to ensure that you get the most money back.
For example, most retailers do not allow price adjustments on items that were purchased on clearance.
Major retailers and credit card companies offer this price protection, knowing well that 99% of people will never take advantage of these features. For most people, it is not worth jumping through the hoops to get $2 back on a hoodie.
However, Earny has created an automated solution where they do this all for you for a low monthly subscription.
Earny Features
This company has numerous features in place designed to get more of your money back in your pocket.
This includes:
Retailer Price Protection: Price protection coverage against price drops at Earny covered retailers.
Amazon Late Shipping Protection: Helps you get money back when your packages arrive late.
Hotel Price Protection: Service users save $75 per reservation on average.
Automatic Cash Back: Automatic money back of up to 20% when you shop through your Earny app or its chrome extension from more than 5,000 retailers.
Participating Retailers
The list of retailers that Earny participates is ever expanding.
Some of the most well known are:
Best Buy
Bloomingdale's
Amazon
Costco
Gap, Banana Republic, Old Navy
Athleta
J Crew
Jet
Kohl's
Macy's
Newegg
Nike
Nordstrom
Overstock
Target
Walmart
Zappos
Home Depot


Earny Watchlist
Not only is Earny able to help you after a purchase, they can help you track prices before you pull the trigger.
Earny tracks the prices of millions of products online and gives you access to track the price history of merchandise you want to buy.
If you are not ready to purchase yet, you can add the item to your Earny Watchlist and get notified within minutes of when prices drop.
When you go ahead and add an item to your watchlist, and you'll be able to:
View a certain product's price history
Know when it's the best time to buy
Be alerted when the price drops
What's Not Covered
Don't forget the fact that perishable items are not covered by price protection.
Price protection perks do not apply to every item you purchased. Some items which are excluded from price protection include consumables including groceries and health and beauty items, jewelry, motor vehicles and a few other exceptions.
How Much Does Earny Cost?
The cost for an Earny subscription is $19.99 per year.
This subscription gives you double cash back rates and you can get up to 30% cash back on just about everything you buy online.
Keep in mind, in most cases this is "found money" or money you would not be getting ordinarily. If your refunds exceed the subscription cost, it is basically free money at this point.
Getting Started With Earny
The first step is to sign up for an Earny account.
You will start out by connecting the Earny app to the email inbox where you get most of the receipts and notification emails about what you buy online.
Using that information, the app tracks all the purchases you made and how much you paid for each item. Then, when the price drops, it works with the retailers to help you claim your money.
You may have some reservations about granting Earny permission to file through your email inbox.
If so, you can set up a completely separate email. Just be sure that you connect the app to the email you use when you online shop, because that's the only way it can track what you buy and find refunds for you.
Credit Card Price Protection
Earny will also be able to monitor your online purchases to watch for price drops when you enable credit card price protection. Of course, this means you will need to connect your card to the app.
Most of the popular credit cards offer up to 90 days of price protection for their users. Be sure to link the card you use when you buy online.
Earny also offers support for the most commonly used banks and credit cards, including:
Visa
Discover
Bank of America
US Bank
Capital One
Barclays
Wells Fargo
Chase
Claiming Your Earny Refunds
Claiming means that Earny has found a price drop and has submitted a claim on your behalf to the retailer you purchased from. This claim is not always approved, and it is the final decision of the retailer to approve or refuse a claim, based on their policy.
If you just downloaded the app, keep in mind that it takes some time until your purchases appear in the feed. Earny tracks your purchases as far as 90 days back and you will see your purchases on the feed within 72 hours.
The actual refund process can take anywhere from a few days to a few weeks, depending on the retailer.
When you get a refund, it takes 7 to 10 business days to be issued back to the card you used to purchase the item or for your check to arrive in the mail.
However, if you get a price adjustment and the price falls more, you cannot get another refund on the item.
Retailers will only refund you once for any given item.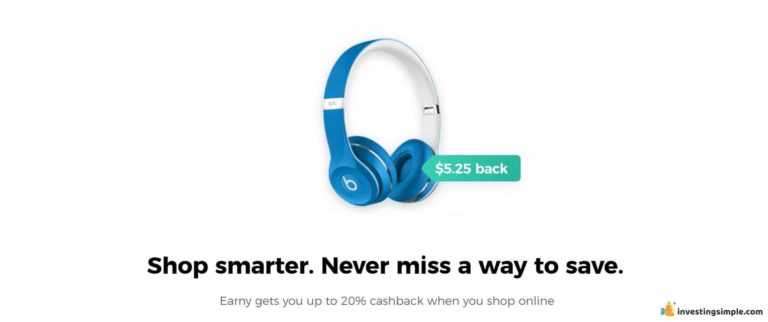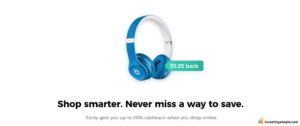 Earny Cash Back
Here's another way to save money with Earny.
The app offers this as an automated way to get money back as you checkout. All you need to do is shop online via Earny and click the cashback button. When you do this, you will earn up to 20% cash back.
This money will be added back into your Earny account.
Hotel Price Protection
Are you a savvy traveler?
Earny Hotels is another feature the app offers. It is set up to find you lower room rates on your existing hotel reservations. Remember, the price of a hotel room may change dozens of times before you even check-in.
The app will gather info about upcoming reservations from your inbox. After that, it continuously monitors and compares the prices for your selected hotel.
When Earny finds a better deal for you, you will get an email with all the details you need to book a better rate and save money on your reservation.
Earny Hotels currently protects all refundable reservations you make through the following platforms:
Expedia
Orbitz
Travelocity
Priceline
Booking
Hotel chains like Marriot and Hilton
Earny Refer A Friend Program
If you love Earny and want to share the experience with a friend, you can earn a few bucks.
The process is very simple: Earny gives you a URL to share with friends, and when they make a purchase through the link, you get extra cash back.
When you refer friends who sign up, Earny will give you $5 for each friend who makes an eligible cashback purchase. 
You will be able to see the amount you earned in the "Earnings" section of the Earny mobile app or in the profile section of the Earny Chrome Extension. Any time one of your friends makes an eligible cashback purchase, the app will notify you and deposit $5 into your pending balance for each friend.
When your friend's cashback purchase becomes validated (after 45-60 days from purchase), it will automatically be added current balance.
Once you collect $15 or more, you can cash out and Earny will send you your earnings via PayPal.

Earny Pros
No need to save paper receipts and look through sales flyers
Will negotiate refunds for you
Watchlist lets you keep an eye on what you can expect to pay for future purchases
Offers refunds based on Amazon's late delivery policy
Earny Cons
25% is a large finder's fee when the app locates refunds
The amount you pay for a subscription could possibly be higher than your monthly refunds
You will need to wait for your refund check to arrive in the mail, since you do not link the app up with your bank account
You must give the app permission to view your email inbox
Customer service support is limited
Conclusion
Earny has some clear advantages by taking the frustration out of the price-comparison process.
At the end of the day, the best way to see if Earny is cost effective is to take it for a test drive. They do charge a monthly or annual subscription, but you can cancel at any time.
If you find that Earny is resulting in found money, great! Just make sure the savings exceed what you are paying for the subscription.
At the end of the day, whether or not Earny is able to find you money is based on where you shop and how you pay. If you don't use credit cards, for example, you are missing out on the potential price protection from that.
Best Free Stock Promotions
Keep Reading: