A question that popped up for us when looking into Firstrade's customer service was is there such a thing as too many resources? 
That question was rhetorical, but we decided no there is not.
They have options that each and every person can be comfortable choosing and using. Seeing as most app-based brokerages tend to skimp on support, it was refreshing to have a multitude of options available right off the bat.
There are plenty of ways to get in contact with someone from Firstrade support, so let's start going through them.
Firstrade Customer Service
Firstrade offers a variety of options to reach help depending on what you're looking for. Below are the details on each of them.
FAQ
If you wish to minimize the amount of human (or automated) interaction, then head on over to the Frequently Asked Question page. This page is split into sections such as Account-Related, Trading Stocks, IRAs, etc. If you prefer to do the research on your own, this is the best place for you to start.
Firstrade Virtual Assistant
Their Virtual Assistant feature is a quick and easy way to get an answer to a basic question. As you can assume, there is no wait time since it is an algorithm designed to answer the question you pose to the best of its ability. 
This feature is easily accessed from within the Firstrade app. Just navigate to your account tab and click on the bubble in the bottom right corner.
Keep in mind that this is not a live support chat and does not provide a way to get ahold of a real person.
If you wish to speak with a human without the horrible hold music, Firstrade's email option is your next best bet.
Email
If you already have a Firstrade account, it would be easier to log in before filling out the email inquiry. 
If you do not have an account, you will fill in your First Name, Last Name, Email Address, Category related to your message, and Your Message.
In the message section, we suggest being as specific as possible about the following three things.
Be as descriptive as possible about the issue or question you have

Mention the research or steps you have taken previous to contacting them

Any other details that will make sure you and the representative are on the same page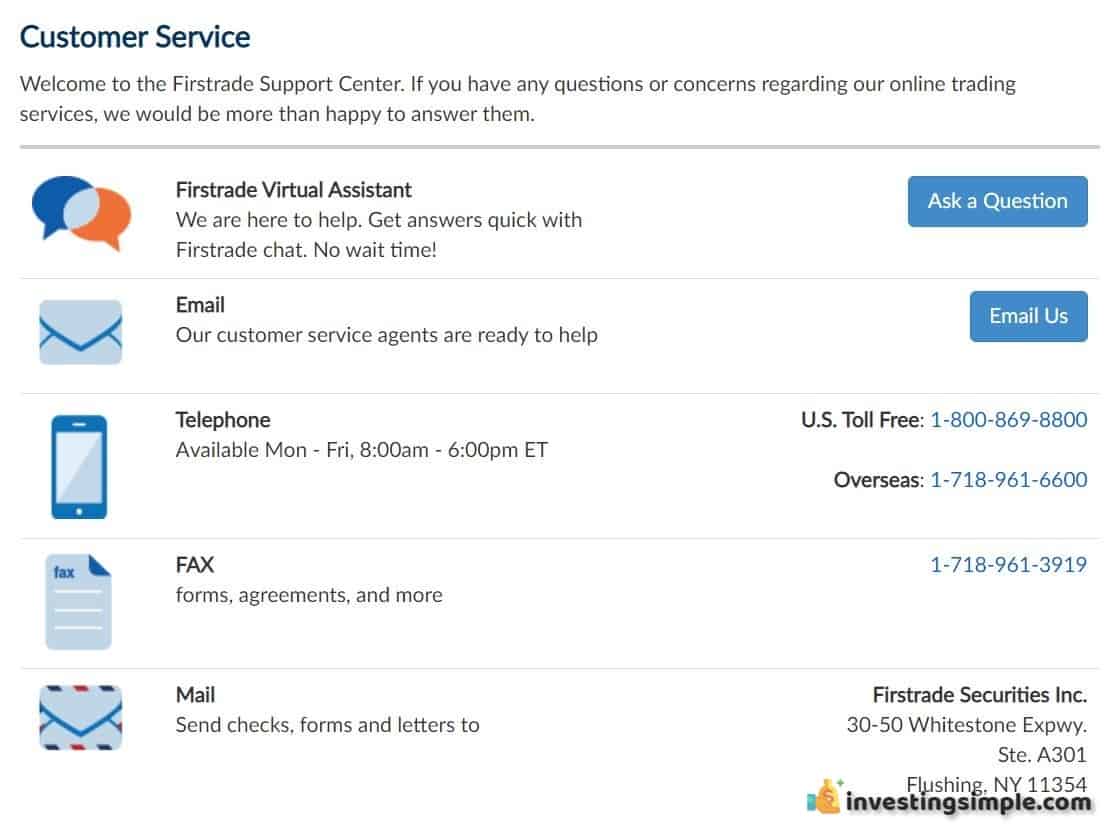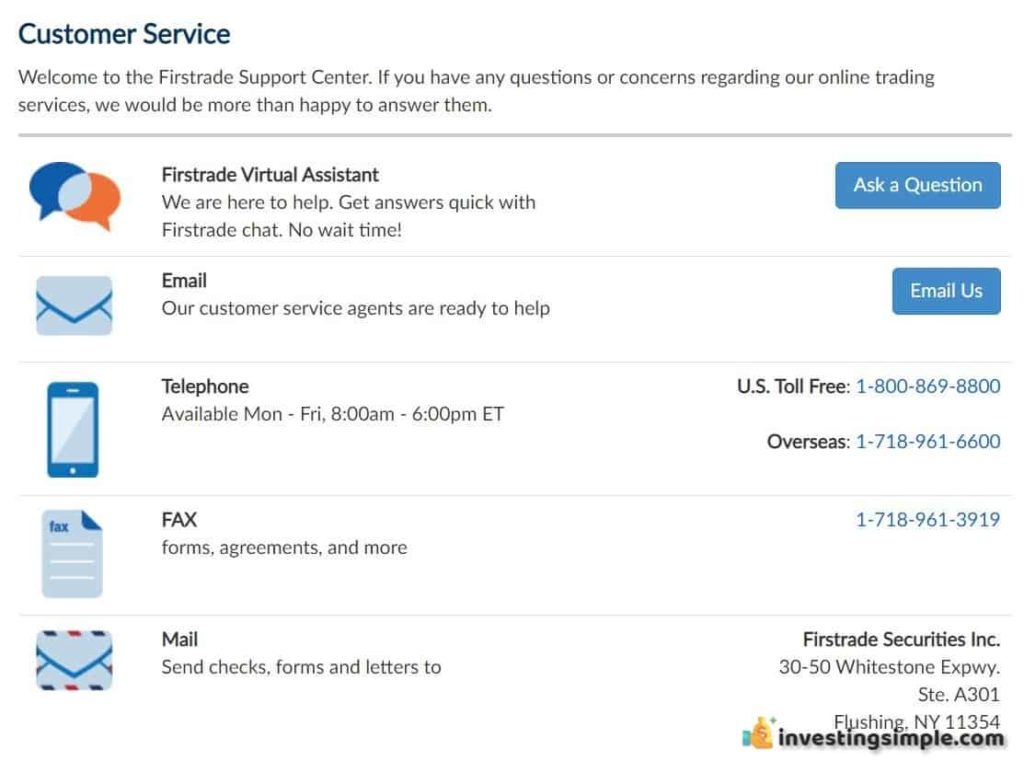 Telephone
One of the most daunting forms of customer service. Make sure your phone is fully charged because who knows how long you'll be waiting on hold. However, if that doesn't bother you, this may be a quick way to ask all the questions you have and get the answers in one place.
Firstrade has their phone line available Monday - Friday, 8:00am - 6:00pm Eastern Time. 
The U.S. Toll Free number is 1-800-869-8800.
The Overseas phone number is 1-718-961-6600.
FAX
This option is mainly for sending Firstrade agreements and forms that you have filled out. Because who uses a fax machine anymore? The number for this is 1-718-961-3919.
Mail
This is another option for sending not only forms but also checks if you are more comfortable with that instead of online payments.
Their address for this contact option is below.
Firstrade Securities Inc.
30-50 Whitestone Expwy.
Ste. A301
Flushing, NY 11354
About Firstrade
The main thing that sets Firstrade apart from other brokerages is there no commission charge for mutual funds, as well as no per contract fee regarding option trades. Their focus is on easy, accessible trading with minimal charges and fees. 
If you are interested in a more in-depth review of Firstrade, check out our Firstrade review on everything they have to offer!
Best Free Stock Promotions