Picking the right stocks is hard. It's even harder when the price is delayed. Trading stocks without knowing the exact stock price is like driving a car without knowing the speed limit. Sometimes it pays off and you get lucky, and other times, you have a hefty price to pay.
Only recently have investors been able to get a glimpse into the real price of stocks. Investing in the past was filled with delays and bits and pieces of information. Now, investors can trade with nearly 100% confidence knowing that the price they see on the screen is the true price of the stock.
In this article, we will be discussing how Firstrade's quotes work and whether or not you can rely on them for day trading and quick moves in the market. Keep reading to learn more!
What Is Firstrade?
Firstrade is an investment firm that has been around since the mid-1980s. With its longevity and proven track record, the company has managed to withstand the test of time even when surrounded by new and sleek apps.
This platform is known for being a one-stop shop for investors. Users can trade stocks, ETFs, bonds, options, and penny stocks. In addition, Firstrade offers a first-class experience with retirement accounts, margin trading, and educational resources.
One of the major benefits of Firstrade over other platforms is they allow investors from over 20 countries!
This might not come as a surprise to some readers, but the app is not generally seen as a clean and simplified app like that of Robinhood and Webull. However, the long track record of success and the countless features might make the switch to Firstrade worth it to some.
To learn more about the platform, check out our complete Firstrade Review!
Firstrade Quotes
As part of the suite of Firstrade tools, a real-time streaming watchlist is a necessity in today's fast-paced environment. From the web or mobile app, users can create up to 10 watchlists of stocks or indices that pique their interest.
By simply typing in a ticker symbol and hitting 'submit' users can see a stock's latest price, bid-ask spread, percent change, and much more.
Inside the 10 watchlists, users can add up to 50 stocks per list. Giving visibility to over 500 stocks! In addition to individual stocks, users can also add indices such as the Dow, S&P 500, and NASDAQ.
Whatever stocks or indexes you choose to watch from your mobile app or desktop, the list will sync automatically with any other Firstrade platforms you use.
Making trades on your identified stocks is easy from the streaming watchlist. Simply hit 'actions' at the end of each row to begin trading.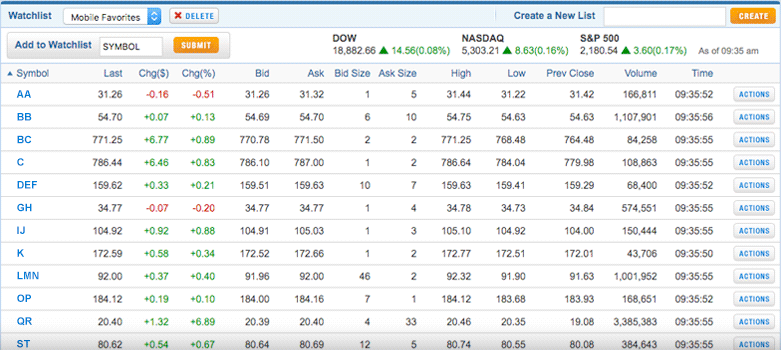 Who Needs Real-Time Quotes?
For many investors, real-time quotes may seem like an unnecessary luxury. If you are only making one trade per week at a max of a couple hundred dollars, real-time quotes might not be needed.
In addition, if you are a long-term investor who believes in only investing to buy and hold, then this feature won't mean much to you.
However, if you are a day trader and enjoy getting in and out of stocks relatively quickly, then this is an absolute must. With day trading, every penny and every minute counts!
Therefore, this feature is most likely to be important to advanced and intermediate investors who trade with short time horizons.
On Wall Street, companies do everything they can to be as close to the action as possible. As Wall Street traders know, the closer you are and the quicker the information arrives, the more money you can make.
With Firstrade, you can feel confident that the quotes and prices you are seeing are tied to real-time trading information.
Firstrade Quotes Explained: Final Thoughts
As mentioned above, the real-time streaming of quotes on Firstrade is an incredible benefit to short-term traders. For long-term or casual investors, this feature is not as crucial. For these types of investors, Firstrade may be overwhelming and full of bells and whistles that don't add much to their portfolio.
That is why for casual investors who aren't interested in day trading but aren't set on retirement investing, Robinhood or M1 Finance come highly recommended. These apps are not set up for day trading due to their lack of data analysis and research tools.
Robinhood is focused on the recreational investor who purchases individual stocks while M1 Finance believes that a diversified mix of stocks called 'Pies' separates the winners from the losers.
Since all of these apps are free to try, it shouldn't matter much which one you choose as long as you have a clear and defined plan in mind.
Best Free Stock Promotions