Saving for retirement is something most of us will be required to do at some point or another. One of the vehicles you can use to save for retirement is a Roth IRA account. But where exactly do you start? Roth IRA accounts can be found at many different banks and brokers, today we are going to review Firstrade's Roth IRA account.
Summary: Firstrade Roth IRA
There are $0 commissions on all investments in a Roth IRA account
Roth IRAs have a maximum $6000 contribution if you are under 50 years of age and a $7000 if you're over 50 (2021).
Withdrawing funds from a Roth IRA account before full retirement age could lead to penalties or taxes.
You must be 18 years or older to open a Roth IRA account
Firstrade offers a wide range of investment options including stocks, ETFs, mutual funds, CDs
Roth IRAs allow you to save for retirement in a tax-exempt manner.
What is Firstrade?
Firstrade is an online broker that offers many different services to its users. From stock, option, ETF, and mutual fund trading to various forms of retirement account offerings.
Firstrade is really a jack of all trades, one of the most important features of Firstrade is its IRA Account offering, a spectacular tool for retirement saving.
If you are interested in saving for retirement, you've come to the right place. Now let's learn about Firstrade, its Roth IRA account, and some of the features that accompany it. But first, what exactly is a Roth IRA Account?
What is a Roth IRA Account?
A Roth IRA (Individual Retirement Account) is a tax-advantaged way to begin accumulating wealth for your retirement years. It is preached by financial planners, wealth managers, money managers, and anyone interested in managing their finances. But how does it work?
How Do Roth IRA's Work?
IRA accounts work like this: First, you open up a retirement account with an approved broker or bank. Next, you begin depositing money and investing it to build wealth over time. Eventually, once you are retired and over age 59 1/2, you can withdraw the money from your Roth IRA account tax-free.
The only catch with a Roth IRA account is that there is a limit to how much you can deposit annually. For 2021 you are limited to $6,000 in Roth IRA contributions per year ($7,000 if over age 50).
We'll learn about all of the facets of a Roth IRA account soon, but first, you need to know how to open a Roth IRA account on Firstrade.
Opening a Roth IRA Account on Firstrade
Opening a brokerage account is made easy on Firstrade, and so is a Roth IRA. Simply navigate to Firstrade's website, sign in to your account, click on the "Roth IRA" option under "Accounts", and sign up. You will have to enter your first and last name and an email address. Wait a few business days for contact from Firstrade and you should be all set! Easy enough. Now let's look at some of the amazing features of a Roth IRA account with Firstrade.


Firstrade Roth IRA Account: Everything You Need To Know
Firstrade's Roth IRA accounts are reliable, safe, and offers a vehicle for your savings to grow tax free. Let's take a look at everything you need to know about Firstrade's Roth IRA...
Investing With an IRA Account
Firstrade lets you invest in all of its securities when you open a Roth IRA. Choose from stocks, bonds, mutual funds, CDs, and options (covered calls only), very similar to a normal brokerage account. One caveat to the Roth IRA account is that you cannot invest on margin with it. This is because the money has to be deposited in cash and not on a line of credit into the account. After that, you can invest freely in your Roth IRA.
Limits on a Firstrade Roth IRA Account
You can contribute up to $6,000 into your Roth IRA on Firstrade if you are under the age of 50. For anyone over the age of 50, the max contribution goes up to $7,000.  Try your best to maximize your Firstrade account in order to increase the potential for compounding and tax-free gains in the future!
Withdrawing From a Firstrade Roth IRA Account
The catch with a Firstrade IRA account is that you must hold your investments until the age of 59 1/2. If you decide to withdraw before this age, you will have to bear the brunt of a 10% penalty stacked on top of any taxes on your earnings (some exceptions apply).
For this simple reason, be careful when you deposit into your Roth IRA account! Make sure that this is money you feel comfortable with not seeing for a very long time! Many get impatient, mismanage finances, and are forced to withdraw, but those who are smart realize that the pot at the end of the rainbow is well worth the journey! Remember that you are able to withdraw contributions, but any earnings may be subject to penalties.
$0 Account Minimum
Firstrade has a $0 account minimum on its Roth IRA account. This means you can get started with saving for your retirement at any financial stage of your life. Remember, it is best to get started early with a Roth IRA Account.
Transferring a Roth IRA Account to Firstrade via ACAT
If you are planning to transfer from a different bank or broker to Firstrade and want to transfer your Roth IRA account as well, Firstrade will not charge you any fee. However, if you wish to transfer your Firstrade account and roll it over to a different broker/bank, you will either be charged a partial transfer fee ($55) or a full account transfer fee ($75).
$0 Commission Fees
With some brokers, you will be charged commissions based on the trades that you place, even in a Roth IRA account. For Firstrade users, however, these commissions are completely exempt from the transaction! This is great news for people who try to keep their trading costs down as much as possible to maximize future gains!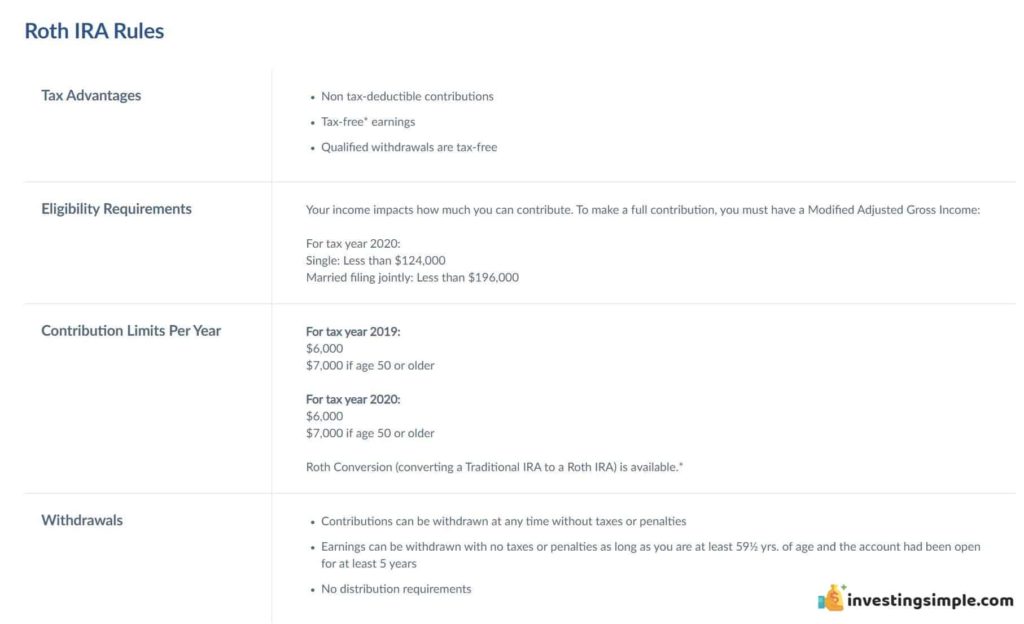 Firstrade Roth IRA Account Pros
There are no account fees or minimums associated with Firstrade IRA Accounts
Rollover an existing Roth IRA account to Firstrade free of charge
Enjoy tax-exempt wealth accumulation
$0 commission fees on options, stocks, mutual funds, and ETFs on Firstrade
Firstrade Roth IRA Account Cons
Rolling your Roth IRA to a different bank/broker will cost you $55 (partial transfer) or $75 (full transfer)
10% penalty incurred for withdrawing money before the age of 59 1/2 (some exceptions apply)
Firstrade Roth IRA Account: Summary
After reviewing Firstrade's Roth IRA account, its features, pros, and cons, it is safe to say that the broker does a great job of helping its users in the retirement saving process. By offering an extremely limited fee structure on its Roth IRA account, you can maintain low costs while continuing to save for retirement! At the end of the day, however, there are many different brokers and banks that offer Roth IRA accounts with their own unique features. If Firstrade's Roth IRA does not appeal to you, then there are many other options on the market.
Best Free Stock Promotions