If you are looking to get started with investing and personal finance, but don't know how to get started, you have come to the right place. 
The first step to any successful investment plan is to find the right broker, and we at Investing Simple are committed to helping you make that crucial decision. 
The two brokers we are looking at today are Firstrade vs TradeStation, two popular choices in the brokerage industry today. One key factor that sets these two platforms apart from the competition is that they cater to both US and international investors. Most platforms offer accounts to US investors exclusively but these two platforms allow investors across the globe to put their cash to work!
We will take a look at the features, pros, cons, and fees of these platforms to help you decipher which is the best choice for you. Now let's get started! 
Firstrade vs TradeStation: The Basics
Firstrade is a commission-free brokerage focused on long-term investing. The platform has been around since the 80s and has built a name for itself as one of the most trusted apps on the market. Features like retirement accounts and dividend reinvestment make it particularly well suited for buy and hold investors.
TradeStation is a (mostly) commission-free app that specializes in short-term trading. The platform provides significantly more technical indicators and data than Firstrade, but that does not come without a cost. Depending on which account type you select (there are two to choose from), you will likely end up paying some fees or commissions depending on the assets you plan on trading.
TradeStation vs Firstrade: Summary
Both brokers offer high-quality mobile apps that simplify the investment experience 
Both brokers have educational content offered on their websites 
While both have $0 commissions on stocks and ETFs, Firstrade has better option pricing 
TradeStation has a technical trading platform that is suited for traders 
Firstrade is more tailored to the long-term, passive investor 
Both have retirement accounts including Traditional and Roth 
Firstrade charges a fee for short selling on its platform 
There is a redemption fee on mutual funds if you sell within 90 days of buying on Firstrade
Investors who sign up for Firstrade and fund their account with $100 will get 2 FREE Stocks! 
What Is Firstrade?
Firstrade is an online broker that offers a wide array of financial products to its users. Users can buy and sell stocks, options, ETFs, mutual funds, and bonds on the platform. This is a bit more variety than you typically see with free investing apps like Robinhood.
In a number of ways, Firstrade is similar to a hybrid between a newer platform like Robinhood and older platforms like Fidelity. On the one hand, they offer a beginner-friendly interface and free stocks for signing up similar to Robinhood. Then, on the other hand, they have been around for decades and have a wider asset selection similar to Fidelity.
Firstrade Features
Firstrade's features are what make the online broker unique. Cutting-edge research, an array of financial products, and educational services are just a few of its many features.
$0 Commissions 
A very important aspect of Firstrade is its $0 commission fee structure.
Almost all of Firstrade's investment products including stocks, ETFs, options, mutual funds, options, and fixed income can be traded with no extra cost. For Firstrade, keeping the cost of investing for its users at a minimum is a crucial aspect of its service. No complaints here! 
Investment Products
You can choose from a wide variety of companies listed on the NYSE, AMEX, NASDAQ, or OTC products through Firstrade. This is a much wider variety than most other free trading apps.
You can also access over 11,000 mutual funds to increase the diversity of your portfolio, and margin investing. If you are more interested in stocks, ETFs, and options, Firstrade has you covered as it offers thousands of these securities on its platform! 
Stock Reports 
Market research is a unique feature of Firstrade that separates it from many other brokers.
By having the ability to access thousands of stock reports from some of Wall Street's most well-known analysts, you can gain a market edge. These reports are updated daily so you have the most up-to-date information!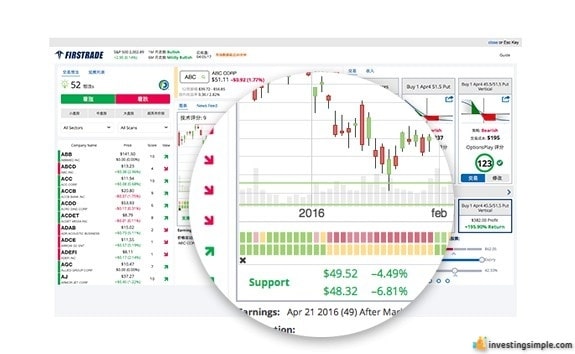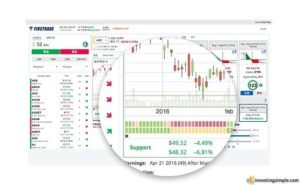 IRA Accounts
Firstrade offers many different account types, but the two we will be covering are the Traditional and Roth IRA accounts.
In a traditional IRA account, contributions can be made tax-free and the investments in the account can then grow tax-deferred. Firstrade offers this account type on its platform. 
The other type of IRA account is the Roth IRA which, unlike the Traditional account, is not deductible. The difference in a Roth IRA account is that the earnings on investments are free of taxes provided you don't pull out your gains before retirement.
Remember that the sooner you get started, the faster you can save for retirement! 
Free Stock Promotion
Firstrade is currently offering a free stock promotion to new users where they can receive 2 FREE stocks when they sign up!
In order to receive the first stock, you simply need to sign up for a Firstrade account. This stock will be valued anywhere from $3 - $200 and is based on a lottery system. According to Firstrade, there is a 1 in 100 chance of receiving Apple, Boeing, or AMD stock.
To get the second free stock, you'll just need to fund your new account with $100 or more. This stock will come from the same pool as the original stock so your odds will be the same.
Best Free Stock Promotions
Firstrade Fees
While $0 commissions are helpful in cutting costs, there are still some fees that you should be aware of before opening a Firstrade account.
Redemption Fee On Mutual Funds 
If you buy a mutual fund with a total position of $500 on Firstrade and want to sell it within 90 days, you will not be charged a fee.
However, if your total position value on a mutual fund is below $500 and you decide to cash out within 90 days, you will be charged a $19.95 redemption fee. This is definitely something to think about if you are interested in trading mutual funds in shorter durations with a smaller amount of money.  
Margin Interest & Short Borrow Fee 
Rates vary on short borrow fees depending on the amount of money you are borrowing and how much you are looking to short of a stock or ETF. Today on 4/24/21, these rates range anywhere from 4.50% - 8.75%. While this certainly isn't the cheapest option, it is still competitive with many of the other options on the market.
Firstrade Pros
Offers a wide variety of investment products 
$o brokerage commissions and limited fees 
Educational content offered
An easy to use mobile app
Mutual funds offered through the platform 
Stock reports from wall street experts 
Retirement accounts are offered
Free stock promotion when you sign up!
Firstrade Cons
No tactical trading platform 
No ability to trade cryptocurrency 
Customer support issues are somewhat common
No ability to trade forex or the futures market 
What Is TradeStation?


TradeStation is an investing platform offering many different investment products ranging from stocks, to options, to CDs, and more.
With so many features offered on its platform, let's take a deep dive into some of the most popular ones.
TradeStation Features
TradeStation's features are vast, but to keep it short: the broker specializes in trading. As the name suggests, TradeStation acts as a one-stop station for all your trading needs. 
$0 Commissions 
Like Firstrade, TradeStation charges no extra commission on the stocks & ETFs that it offers.
This will lessen the burden of excess fees on your trading account and help you minimize your costs. $0 commissions have made the financial markets more accessible to smaller investor's and TradeStation has kept up with this trend! 
TradeStation Mobile 
TradeStation's mobile app gives you the same capabilities as its desktop platform, but on the go and at your fingertips.
Whether it be technical charts, direct trading, or learning about the market through TradeStation's educational content, TradeStation Mobile covers it all. Speaking of educational content on TradeStation, the broker has some fantastic articles that you can view on its website.


Retirement Accounts 
Beyond trading in the financial markets, TradeStation also offers a diverse array of accounts that you can choose depending on your financial goals.
One of the main account types is the IRA account, and TradeStation offers four versions: Traditional IRA, Roth IRA, SEP IRA, and Simple IRA. Each of these accounts has a specific set of benefits, but all provide tax advantages for investors saving for retirement.
Advanced Tools & Data
As a trading platform, TradeStation provides significant research tools and data to help traders make better trades. From market scanners and stock screeners to fully customizable charting, this platform will likely be an effective all-in-one solution for traders of all experience levels.
TradeStation also offers paper trading to their users, which allows traders to practice and test various strategies using fake money. This is particularly useful for newer traders or those who want to get comfortable with the TradeStation without putting their hard-earned cash on the line.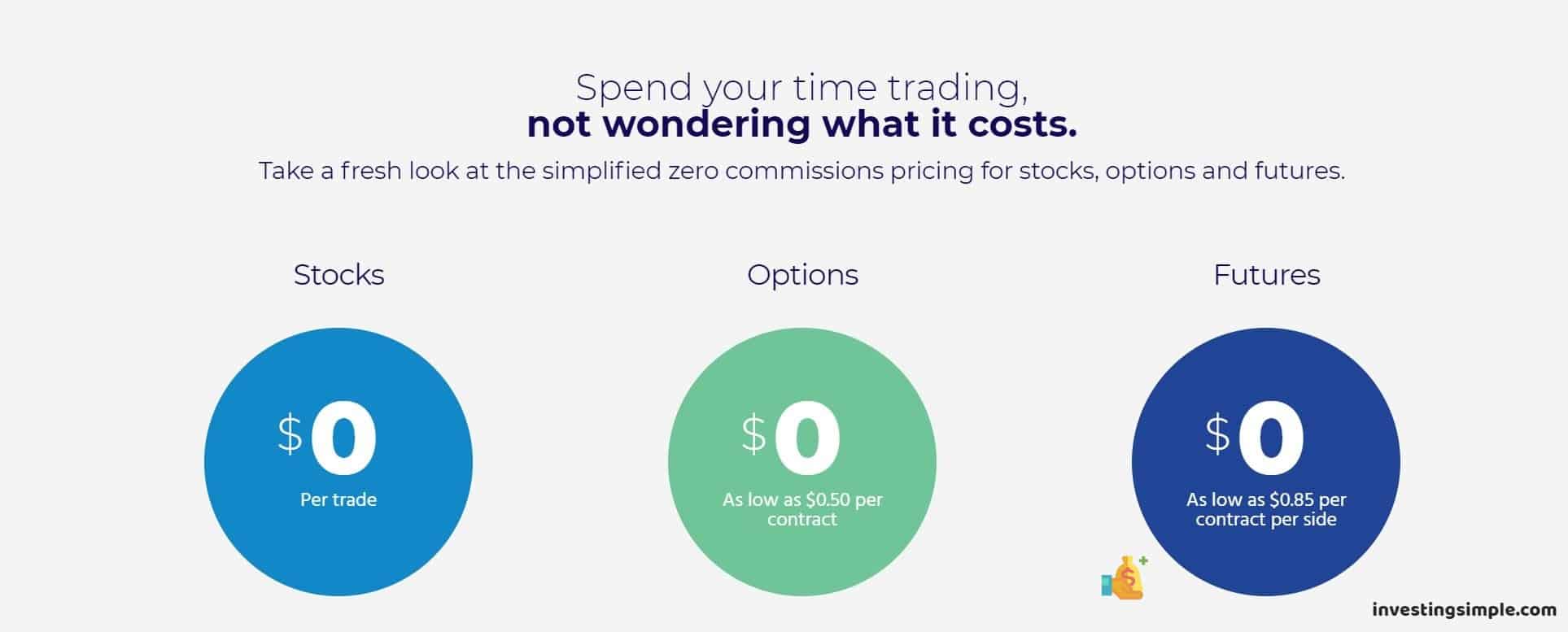 TradeStation Fees
When it comes to fees, investors always make it a priority to eliminate as many fees as possible.
And when TradeStation has managed to do this for many of its products, there are still some fees that are associated with the broker. Let's take a look at a few now. 
Margin Fees 
The main fee with a TradeStation account is the margin fee. Margin is money borrowed, and if you plan on investing on borrowed money it is important to understand the margin rates that you will be charged. 
While these fees vary depending on how much money you are looking to borrow, in general, you will be charged 8.625% for taking out a loan less than $25,000, 7.5% for a loan between $25,000 - $99,999, and if you are looking to take out more than $100,000, give them a call.
These are relatively standard rates, but if you do some shopping around you can probably find cheaper rates with a broker like Webull.
Account Service Fee 
TradeStation's account service fee is one of its largest, totaling $99.95.
They waive this fee if you: trade 5,000 shares, trade 50 contracts, or maintain a $100,000 balance. If you are a smaller account looking to buy and hold for the long run, you may want to look into this more. 
Many other free investing apps won't charge you any annual fee so it might make sense to look elsewhere if you won't meet that minimum.
TradeStation Pros
Technical trading platform that lets you analyze charts 
Mobile app that simplifies the investment process 
Easy to open an account with TradeStation 
$0 commissions on stocks and ETFs 
Retirement accounts offered 
Margin fees are high 
TradeStation Cons
Account maintenance fee may be high for small accounts 
There is a per-contract fee on options 
This is not an automated investing platform 
Minimal market research that you can access 
Final Verdict: TradeStation vs Firstrade
Overall, both Firstrade and TradeStation execute on what they intend to do. They both offer exceptional investment services at low costs. The question does not necessarily come down to "which broker is better," but instead to which broker suits you best.
If you are a more long-term investor, Firstrade may be a great option due to its favorable mutual fund pricing and lack of an account maintenance fee.
If instead, you are looking for a broker that puts emphasis on an active trading platform, TradeStation may be a great choice. In the end, it all comes down to your personal investing style and what you are looking to get out of an online broker. 
It might also make sense to use both to take advantage of the benefits that each offers. Personally, I keep accounts with multiple brokerages for different purposes in order to utilize what each does best.
Thank you for reading and we hope this article helps you make a decision on which online broker may be the best fit for you. 
Keep Reading: