Working from home has many benefits and has become more popular recently. When working from your home office or living room, there is no commute, no desk sharing, and less time getting ready in the morning. For some, it may also mean pajama pants below the camera's view!
Amidst COVID-19, more people have had the opportunity to work from home. While some have certainly hated it, many have loved it. If working from home is something that interests you, then you may have heard of FlexJobs, which is a subscription based job search website dedicated to remote positions.
Some worry that FlexJobs could be a scam or not worth the subscription. In this article, we provide a complete FlexJobs review with all the details about their services.
FlexJobs Review: Highlights
Subscription based services starting at $6.95 a week
FlexJobs is not a job placement service, rather a job search resource
All positions are reviewed by real people before appearing on the site
Currently has 28,437 jobs from 5,806 companies on their site
30 day money back guarantee if not satisfied
Dedicated customer service through phone, email, and chat
FlexJobs also offers other services such as Resume Reviews
FlexJobs Summary
Pricing

Job Listings

Application Support

Other Resources

Customer Support
FlexJobs Summary
FlexJobs is a job search service that is focused on remote and flexible jobs. Members using the service can browse among almost 30,000 unique job listings.
While the service is not free, members can be sure that every listing is legit and has been screened by a real person.
Pros
Thousands of screened jobs to browse
Excellent customer support
Additional application support and resources
Cons
Services are not free
No Guarantees of Job Placement
What is FlexJobs?
FlexJobs is a job search service that is dedicated to remote and flexible jobs. The company is not a job placement company that helps individuals actually receive jobs. Instead, they are a job search site that helps people search for high-quality remote and flexible jobs on their own.
FlexJobs was founded in 2007 and has been a leader among remote job search websites ever since. They are also accredited with the Better Business Bureau (BBB) and have maintained an A+ rating.
The company currently has 28,437 jobs from 5,806 companies on their site. Each of these jobs are reviewed by a real person for legitimacy.
How Does FlexJobs Work?
After creating an account with FlexJobs, new clients will create a resume profile on their personal page. This profile serves as a way for the database to send applicable job listings directly to the user. Members can also search for legitimate jobs by using the advanced search options. Users are responsible for searching and applying to as many jobs that fit their ideal flexibility and their skill set. FlexJobs does not place applicants.
When applying for a job, the member will work directly with the company that is offering the job. Therefore, any qualifications or special requirements are dictated by the company, not FlexJobs. (For example, some job listings may require applicants to be from the US while others do not.)

What Jobs are on FlexJobs?
Each job offer on their site has a flexible working component. Every job listing has at least one of the following:
Remote work (100%, partial, or optional)
Freelance work
Temporary jobs (short-term or long-term, occasional, and seasonal)
Part-time schedules
Flexible schedules
Alternative schedules
Many people use FlexJobs to find a job that can supplement their current income, though many also use this service to find full-time remote work. Other job search sites may also have remote job listings, but with FlexJobs you can be sure they are all legitimate.
How Much Does it Cost to Use FlexJobs?
Most job search websites are completely free to use. FlexJobs on the other hand is not free. In fact, FlexJobs has 4 payments options:
$6.95 per week
$14.95 per month
$29.95 per 3 months
$49.95 per year
So what exactly are you paying for? If you have ever used a job search website, then you have probably found that some of the jobs are not legit. Perhaps they are 'new business opportunities,' commission-based, or MLM jobs. Or perhaps they are scams altogether.
Every single job listing on FlexJobs has been reviewed by a real person. Their team screens each listing for a number of factors that proves authenticity and quality. You can be certain that you will find jobs and companies that are legitimate, professional, and offer at least one type of flexibility (remote, flexible hours, alternative schedule, freelance, or part-time).
Additionally, you may have also noticed that most job search websites are cluttered with ads all over the place. FlexJobs believes in providing their clients an excellent experience and therefore shows no ads on their site.
What Features Does FlexJobs Offer?
In addition to nearly 30 thousand unique and legitimate job offerings, FlexJobs also offers members a number of other features:
Live members-only Q&A sessions
Webinars
Virtual job fairs
Skill tests
Each of the additional features listed above prove the dedication the team at FlexJobs has for its clients. While they do not actually place you in a job, they do help you find legitimate job listings and help you prepare for the application process.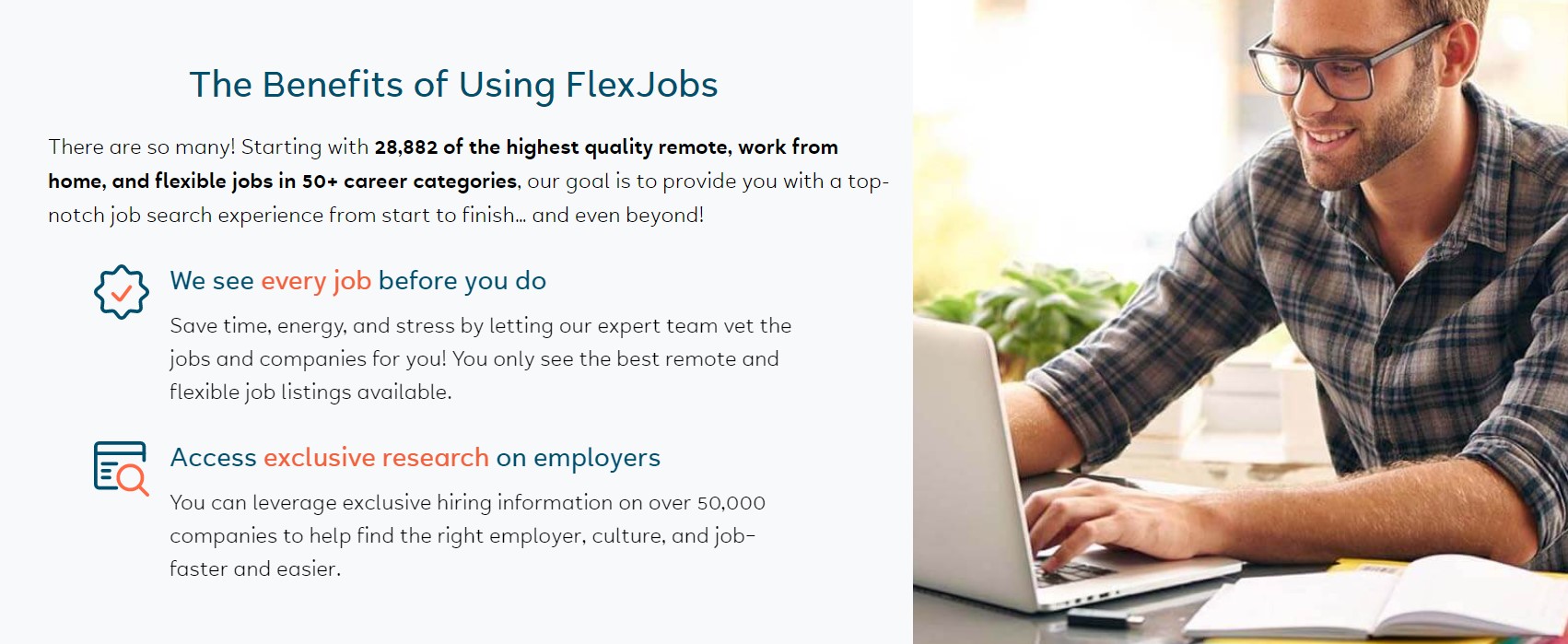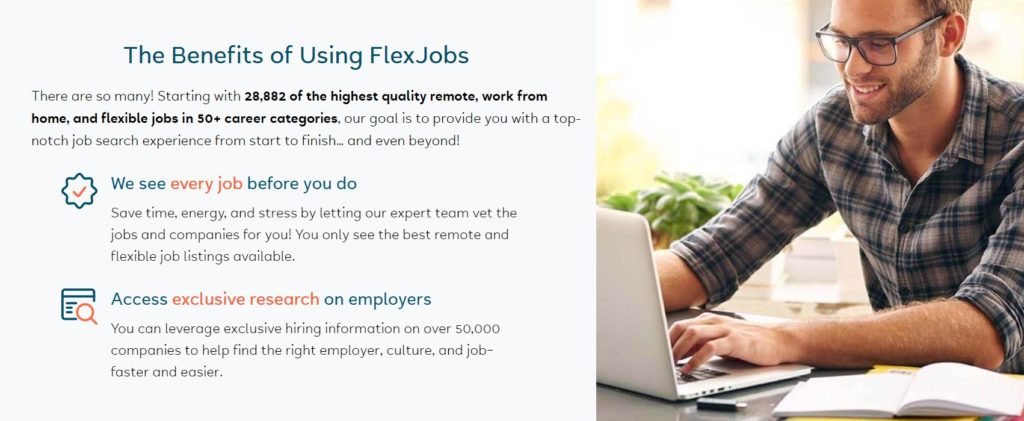 Is FlexJobs a Scam?
FlexJobs is 100% legit. Since its launch in 2007, FlexJobs has helped millions in their search for a job. They have also maintained an A+ rating from the BBB. When using FlexJobs, you can be sure the company is working tirelessly to help you find the best flexible jobs possible.
Also, if you are not satisfied with their services, you can request a full refund within 30 days.
FlexJobs Customer Support
The company also has a dedicated customer support team available to answer your questions. You can reach the customer support team by phone, email, chat, or even mail.
If you have a specific question about their services or want to learn more, head to the FlexJobs Contact page.
FlexJobs Review: Final Thoughts
Working from home certainly comes with a number of benefits. A few examples could be less time commuting and better flexibility. However, the hardest part of a flexible job is actually finding the job!
When searching for remote or flexible jobs, you can be sure you will find hundreds that are not legitimate or too good to be true. FlexJobs removes this barrier by providing a service that only shows legit options. Using a real team, each job offering is screened to ensure every job listed on the site is a high quality option.
While the service is not free, members do not have to deal with the hassle of scams or other low quality job offerings. Additionally, members are promised a high quality experience without ads or other distractions on the site.
FlexJobs also does more than just screening job offers. They also provide resume reviews, application coaching, and more.
If a remote or flexible job is something that you think would be well-suited to you, then FlexJobs could be a great option. Check out their website today to learn more or reach out to their customer support with any specific questions.
Best Free Stock Promotion