Real Estate investing has never been more accessible by the average joe investor.
With the release of new investment regulations over the last 5 years, new real estate investing platforms have emerged.
In this post, we would like to review and compare two trendy real estate investing platforms; Fundrise vs Roofstock.
Both of these real estate investing platforms allow you to potentially invest with a few clicks on your keyboard or smartphone. Here are the differences likely to matter to you the most!
Summary: Fundrise vs Roofstock
Fundrise is a crowdfunded real estate investing platform offered to both non-accredited or accredited investors
Roofstock is an online service that allows you to invest in individual real estate properties
Roofstock allows you to purchase an entire property, the minimum is 1/10th of the property value
Fundrise offers real estate investment portfolios based on your objectives
Fundrise has a $500 minimum investment
Roofstock has a minimum of 1/10th the property value, typically $5,000 but can be more
Fundrise has a 1% annual fee
Roofstock has a 0.50% initial set up fee, and a 2.50% commission paid by the seller for each sale
| Feature | Fundrise | Roofstock |
| --- | --- | --- |
| Minimum Investment | $500 | Varies Based On Property |
| Accredited Only | No | Some Investments Are |
| Investments | Portfolios | Individual Properties, Portfolios, Property Shares |
| Best For | Passive Portfolio Investing | Single Family Real Estate Investing |
What Is Fundrise?
In the past, only high net worth investors had access to private real estate projects.
Now under new investing regulations, Fundrise allows you to invest in these deals. Through the platform, you can invest in both commercial and residential real estate with as little as $500. Fundrise constructs portfolios of real estate projects available to everyday investors.
How Does Fundrise Work?
Fundrise is a crowdfunded real estate investing platform.
Similar to real estate investment trusts or partnerships, all the investors pool their money together to purchase real estate assets. These assets then produce income and/or growth based on the principal investment.
By far, one of the best parts about this platform is the low minimums to get started.
The Fundrise Starter Portfolio has a minimum account balance of $500.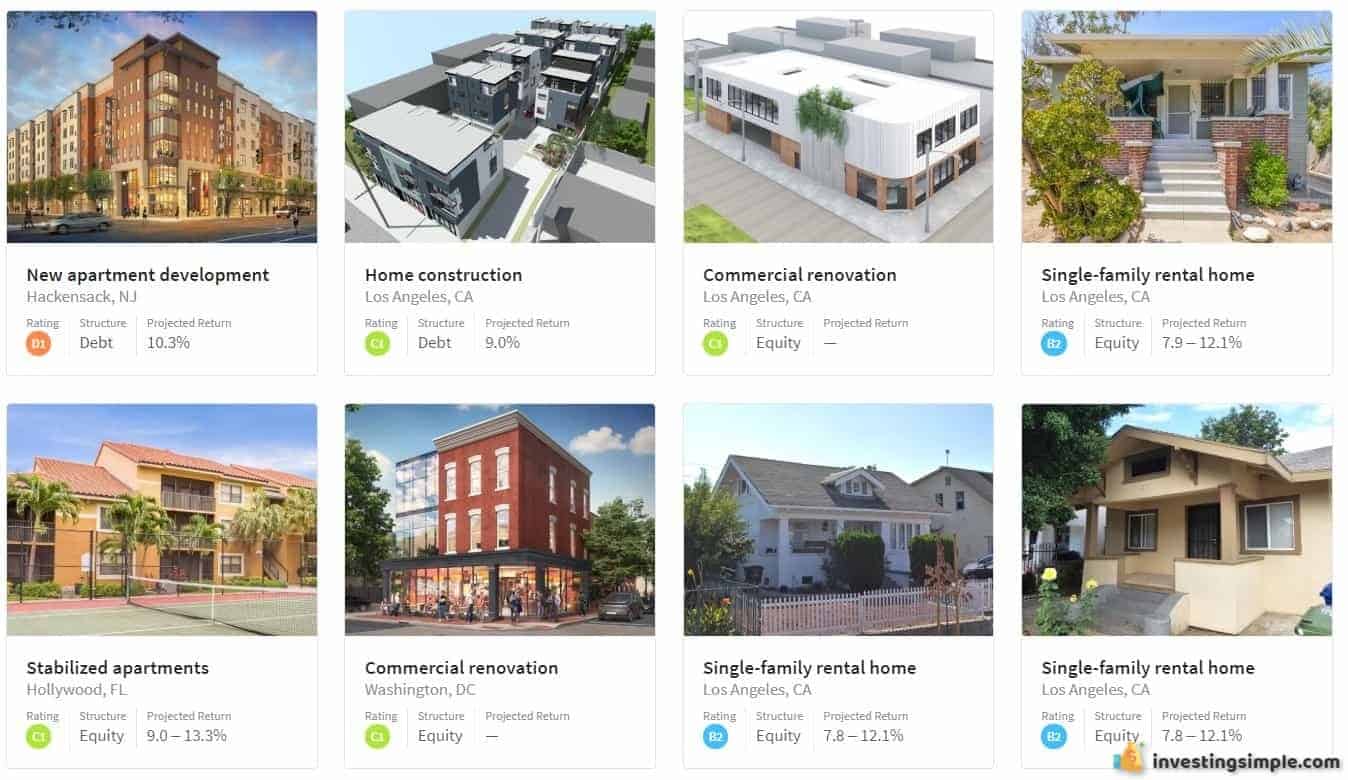 Fundrise Real Estate Projects
Fundrise offers 4 different portfolios that allow you to invest in different types of real estate.
You can invest in income-producing rental properties or growth-oriented real estate developments. Fundrise offers different investment plans based on your investment goals. You can keep track of Fundrise real estate projects within your investment account.
Fundrise will also notify you about significant developments with their projects.
The primary investment objectives of Fundrise are to generate revenue from income producing properties as well as buying and selling real estate in thriving markets. As a Fundrise investor, you can choose whether you want to be in a growth-oriented portfolio or income-oriented portfolio.
Investors receive income from rental payments and proceeds from flips in the form of dividend payments or distributions. In exchange, Fundrise collects a 1% fee as the investment manager.
It is essential to understand that Fundrise is a private real estate investment.  You can only buy and sell Fundrise eREITs and eFUNDs on the Fundrise platform. They are not publicly traded on a stock exchange like a publicly traded REIT.
Investment Options And Portfolios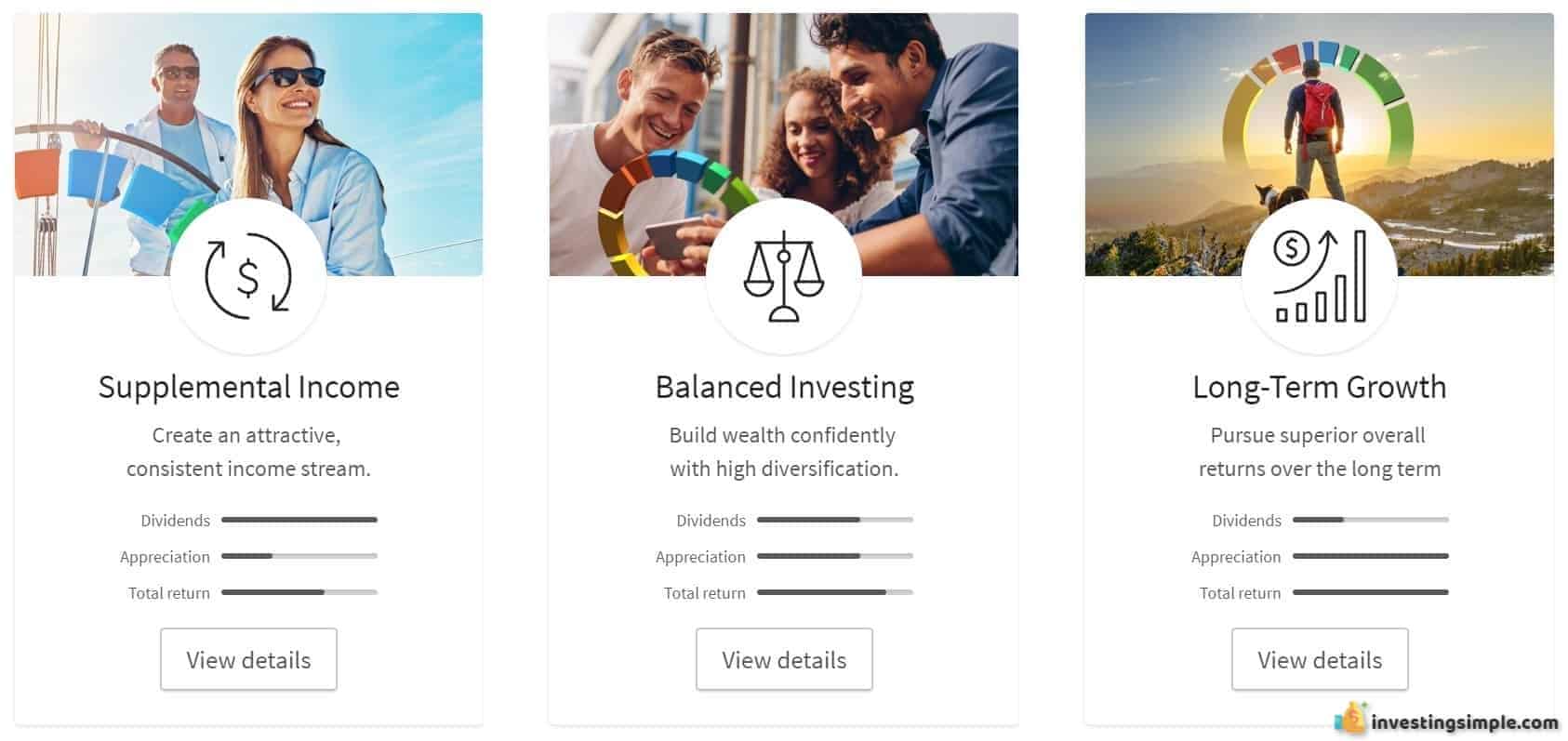 Starter Portfolio
The Fundrise Starter Portfolio is for new investors who would like to give Fundrise a shot.
The minimum account requirement is only $500 to begin investing. This portfolio consists of 50% growth and 50% income-oriented holdings. If you want to upgrade to an advanced plan down the road, it is entirely free!
Supplemental Income
Next, we have the Fundrise Supplemental Income Portfolio.
This portfolio holds income-producing real estate. Investors will earn returns primarily through dividends from cash flow producing real estate. Dividends are generated through rental and interest payments in proportion to your share of the fund.
Balanced Investing
The Fundrise Balanced Investing Portfolio offers a blend of 50% growth and 50% income-oriented investments.
The balanced investing portfolio invests in a blend of eREITs and eFunds offered by Fundrise. The goal for this portfolio is for a balance of the income-generating real estate, as well as real estate that is appreciating in value.
Long Term Growth
Finally, we have the Fundrise Long Term Growth Portfolio.
The goal of this portfolio is to generate returns primarily from asset appreciation. This portfolio aims to purchase high growth potential real estate and generate returns mostly from the sale of the underlying properties.
This includes buying a property and performing renovations to sell the asset for a gain later.
Fundrise Account Levels
Fundrise offers multiple different account levels based on your goals and investment objective
Core - Fundrise Core gives you the opportunity to invest in all the standard Fundrise portfolios. These portfolios include long term growth, supplemental income, and balanced investing. The minimum for Fundrise Core is $1,000.
Advanced - Fundrise Advanced accounts give you everything offered in core as well as opportunities to invest in projects outside the standard portfolios. These investments are more strategic and are more subject to change. The minimum for Fundrise Advanced accounts is $10,000.
Premium - Fundrise Premium offers investors all the features in Core and Advanced, as well as the opportunity to invest in projects outside the typical Fundrise fund. These projects are less liquid and have even longer time horizons. The minimum for Fundrise Premium is $100,000.
Fundrise Technology: eREIT & eFUND
Each portfolio consists of eREITs and eFunds designed by Fundrise.
An eREIT will produce income for your portfolio in the form of dividends.
You may earn dividends from the rent payments of the underlying apartment and commercial leases owned within the eREIT as well as interest payments from underlying real estate debt investments held by Fundrise.
An eFund is a partnership created by Fundrise to provide greater investment flexibility.
Partnerships have the advantage of avoiding the double taxation of normal C-Corps. eFunds are built in a similar way to eREITs where there is a pool of real estate investments split into shares and sold to investors. Where eREITs are built to generate income, eFunds are geared towards growth.
Fundrise Investment Liquidity
Fundrise uses the funds you invest in purchasing real estate. For this reason, there is a 60 day waiting period for withdrawing funds.
There are also quarterly redemption periods when you can withdraw your funds.
This is why it is crucial to understand what you are investing in when you invest with Fundrise. Investors should aim for a long-term investment of at least a 5-year time horizon when investing with Fundrise.
This real estate investment is not highly liquid and may not be for everyone! It is essential that investors understand that liquidity and distributions are never guaranteed.
Fees
Fundrise charges a fee of 1% per year. There are also some loan origination fees charged.
They do not charge any other hidden fees, and there is no front load fee with Fundrise.
Pros Of Investing With Fundrise
The minimum to get started with the Starter Portfolio is $500.

Small retail investors are able to access private real estate investments.

Since this is a non traded REIT, it may be less correlated with the overall market.

Fundrise has a transparent fee of 1% per year.
This investment allows you to earn compound interest, with the option of automatically reinvesting quarterly dividends using a drip (Dividend Reinvestment Plan).

Fundrise does not have a minimum net worth or income requirement, like most private investment funds do.

This is a 100% passive real estate investment.

Fundrise gives you diversified exposure to real estate.

Fundrise supports retirement accounts.

Monthly redemption periods eliminate the temptation for panic selling.
Cons Of Investing With Fundrise
Liquidity is never guaranteed. During a downturn, liquidity may not be available as many investors will rush to sell, and buyers may be few and far between.

Distributions (dividends) are never guaranteed.

Distributions (dividends) are taxed as ordinary income rather than capital gain rates.

The platform has a limited track record of four years and not a long investment history.
What Is Roofstock?
Roofstock is an online real estate investing platform where investors can purchase a rental property outright and leave the management duties to the Roofstock team.
This is an ideal platform for those wanting to invest in income-generating single-family housing, but are hesitant to take on the highly involved property management that comes along with it.
It is also ideal for those looking to own real estate in markets that they do not live in.
The Roofstock platform, similar to other real estate investing platforms such as Fundrise and RealtyMogul allows you to passively invest in income and/or growth-oriented real estate.
Where Roofstock differs is you can buy the property outright and invest in entire rental property. The Roofstock platform is not real estate crowdfunding, but a more natural way to purchase an investment property.
Other platforms invest your money in a portfolio of different real estate projects, not just one property.
Investors using the Roofstock platform can purchase the rental property and leave all the management duties and tenant communication to your Roofstock property manager. This allows investors to focus on growing their passive income stream rather than dealing with the broken toilet at one of their rental properties.
Roofstock has recently released a new feature to their platform for accredited investors called Roofstock One.
Investors in Roofstock One can buy shares of the underlying property, at a minimum of 1/10th of the property value. Investors will have direct rights to equity ownership in the home and any income generated after all expenses.
How Does Roofstock Work?
1. Search for Properties that fit your investment goals.
Roofstock offers a variety of single-family rentals on its platform.
You can set filters to get an idea of the rentals that fit your parameters. You can see 3D pictures, property inspections, title reports, insurance quotes, tenant details, neighborhood ratings, schools, and more. Roofstock also provides tools to analyze the potential return on your investment as well as cost estimates.

2. You can make your offer to purchase the rental property.
Making an offer on Roofstock is free.
If your offer is accepted Roofstock charges a 0.5% transaction fee, or $500 (whichever is higher). You have the option to buy now where you accept the listing price offer, and the property will be taken off the market. You also have the option to negotiate to try to get a better price on the property.
Roofstock will notify you when the seller responds to your offer.

3. Finalize the purchase.
The Roofstock service and transaction team will guide you through closing and escrow until your property closes.
You can start collecting rental income as soon as you close. Roofstock will continue to support you as you earn income from your rental property. They will act as property manager taking care of repairs and maintenance and tenant communication.
Portfolio Investments
Roofstock also gives you the option to invest in real estate portfolios.
These are portfolios of multiple rental properties managed by Roofstock. The Roofstock portfolio option allows investors to purchase multiple real estate properties at once. This gives you added diversification within your rental property investments.
In most cases, this is a multiple hundred thousand dollars or million dollar investment.
Similar to other Roofstock investments, you have the option of accepting the listing price or negotiating with the seller for a better offer. You will also get aid from Roofstock management with ongoing property management services.
This allows you to get in on the single-family rental game without living in that market or maintaining the property.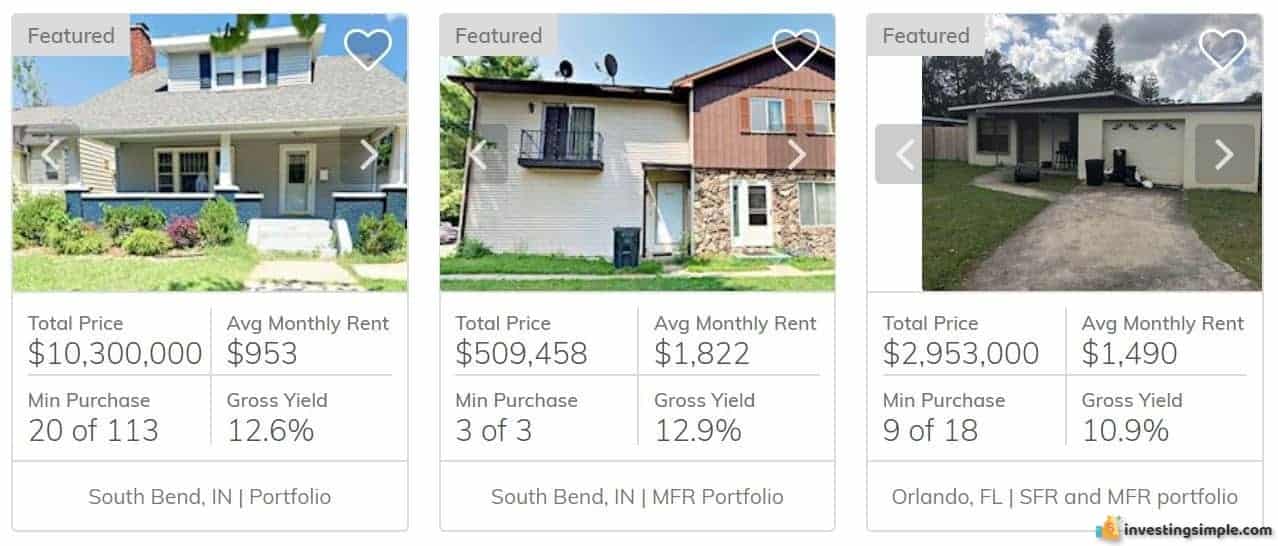 Roofstock One
Roofstock also offers a new feature called Roofstock One, where investors can purchase shares of individual properties.
To use this feature, you must be an accredited investor.
Roofstock One has a minimum investment of $5,000. Investors can purchase up to 1/10th of a property.
Investors will own an equity stake in the property and have rights to any income it generates as well as capital appreciation in the event of a sale. Similar to other Roofstock investments, Roofstock will provide ongoing property management for your rental property.
Click Here to Invest With Roofstock!
Self Directed IRAs
Roofstock also offers the option to invest in real estate investments within an IRA on the platform.
Investors can open up a self-directed IRA through New Direction IRA and begin investing in Roofstock investments.
You can also rollover your existing IRA or 401k plan into your self directed IRA.
Fees
Roofstock chares an initial 0.50% setup fee for each transaction (minimum $500).
Sellers on Roofstock pay a 2.5% commission on the sale.
Pros Of Investing With Roofstock
Invest in real estate markets throughout the United States.

Not required to be an accredited investor (except for Roofstock One).

Fees for buyers and sellers are reasonable. 

No real estate agent or commissions paid to an agent.

Roofstock investments already have tenants and property managers.
Cons Of Investing With Roofstock
Most investments on Roofstock require large down payments to begin investing on the platform. 

Investors are tying up their money in a long term investment that may not be quickly sold. 

Roofstock One is limited to accredited investors only.

They only offer single-family rental properties.
Roofstock vs Fundrise Final Verdict
Both Fundrise and Roofstock offer a way for investors to gain exposure to real estate in their portfolio. Each platform allows investors to participate in real estate investments in a relatively passive manner.
However, each platform takes a different approach to their investment style.
Fundrise allows investors to invest in a variety of real estate portfolios which are prebuilt and already generating income or growth. With a minimum investment of $500, you can try the Fundrise starter portfolio and begin investing in real estate projects throughout the county.
Fundrise uses technology and crowdfunding to provide a more interactive investor experience. Fundrise takes care of property management, collecting rents, and distributing any earnings from rents or capital appreciation from the sale of the properties.
Roofstock, on the other hand, gives more serious investors a way to purchase a rental property outright. At the same time, leaving the property management duties to Roofstock. Investors will need a much larger sum of capital to begin investing with Roofstock.
Those who are accredited may use the Roofstock One platform where they can purchase shares of individual projects. The minimum investment for Roofstock One is $5,000. Roofstock leverages technology to make the buying process of investment real estate much easier than it has been traditionally, along with the added convenience of ongoing property management.
Keep Reading