Whether you are a new investor or an experienced trader, figuring out how you want to invest your hard-earned capital is never easy.
Today we are going to be looking at two different ways you can invest; through the stock market and a real estate investing platform known as Fundrise.
Both options have their pros and cons, and will appeal to different types of investors.
In most cases, it makes sense to diversify your portfolio into both stocks and real estate, as well as other asset classes like bonds. There are many different ways to invest in real estate. In recent years, crowdfunded real estate investing has become a very popular option.
What Is Fundrise?
One of the most common ways average people build wealth is through real estate investing. While this asset class is typically difficult to break into because of the large amount of upfront capital, Fundrise makes this much easier with a low minimum of $500. 
You no longer need tens of thousands of dollars to invest in real estate!
Fundrise is an online real estate investment company that aims to bring the ability to invest in this asset class to the common investor, not just those with ample sums of money.
The company has been around since 2010 and has since grown to over 500,000 members. Those members have contributed to investing in over $2 billion worth of real estate.
Here's my experience with Fundrise so far.
How Does Fundrise Work?
Fundrise works by allowing its users to pool their assets together in order to make investments. This enables them to offer an investment minimum of only $500, which is significantly cheaper than going out and buying your own rental property. 
This type of investing is known as crowdfunded real estate investing. Much like traditional investing, this allows investors to pool money together to purchase a large investment. 
Fundrise offers investments in REITs or real estate investment trusts which they call eREITs. These trusts generally invest in income-generating or growth generating real estate.
Unlike traditional REITs you buy on a stock exchange, these are non-traded REITs.
Click here to invest with Fundrise!
Fundrise Portfolios
Investors will have the opportunity to invest through one of these portfolios:
Starter Portfolio - Mix of 50% growth and 50% income assets ($500 minimum)
Supplemental Income Portfolio - 100% income oriented assets ($1,000 minimum)
Balanced Investing Portfolio - Mix of both income and growth oriented assets ($1,000 minimum)
Long-Term Growth

- 100% growth assets ($1,000 minimum)
These portfolios are geared towards investors who prefer a goal-oriented form investing.
Fundrise investments are considered long term and investors should be prepared to hold their investment for at least 5 years.
If you would like to sell your investment before 5 years, you may be subject to redemption fees. They also reserve the right to suspend redemptions if the market becomes erratic. 
Best Real Estate Platforms
Fundrise Features 
Open To Anyone/Non-Accredited Investors
Fundrise is open to all investors who meet standard eligibility requirements such as being age 18 and a US resident.
The minimum to invest with Fundrise is $500 and you don't have to be an accredited investor.
Many, if not most, online real estate platforms require that their investors be accredited. This means they have a net worth of over $1,000,000 not including their home value. Or, that they have an annual income of $200,000 individually or $300,000 jointly.
This cuts out swaths of investors that do not meet these criteria, but Fundrise does not come with these limiting factors.
Here are a few other real estate platforms open to non-accredited investors!
Liquidity/Redemptions
One important factor to understand about investing in real estate is the lack of liquidity or the ability to sell. 
To put it simply, it is not as easy to sell a piece of real estate as it is a share of a stock or ETF.
With Fundrise, you have the availability to redeem your shares if you'd like. This may come at a fee if you sell within a short holding period. The redemption fee is applied as a reduction of the sale price. Fundrise can also suspend redemptions as they see fit.
Redemption Fees
Less than 90 days: 0% reduction
Between 90 days and 3 years: 3% reduction
3 to 5 years: 2% reduction
5 years or more: No penalty for selling
For this reason, investors should understand Fundrise investments are long term and not meant for frequent buying and selling. 
Fundrise also reserves the right to suspend redemptions at their discretion. For instance, in March this year during the coronavirus outbreak Fundrise announced that they would be suspending their redemption services for the foreseeable future.
Fundrise made this decision to protect their investors from panic selling. If all the investors were to redeem their shares, then Fundrise would eventually be forced to liquidate the underlying real estate investments. By limiting redemptions during difficult times, Fundrise aims to reduce the risk of panic selling.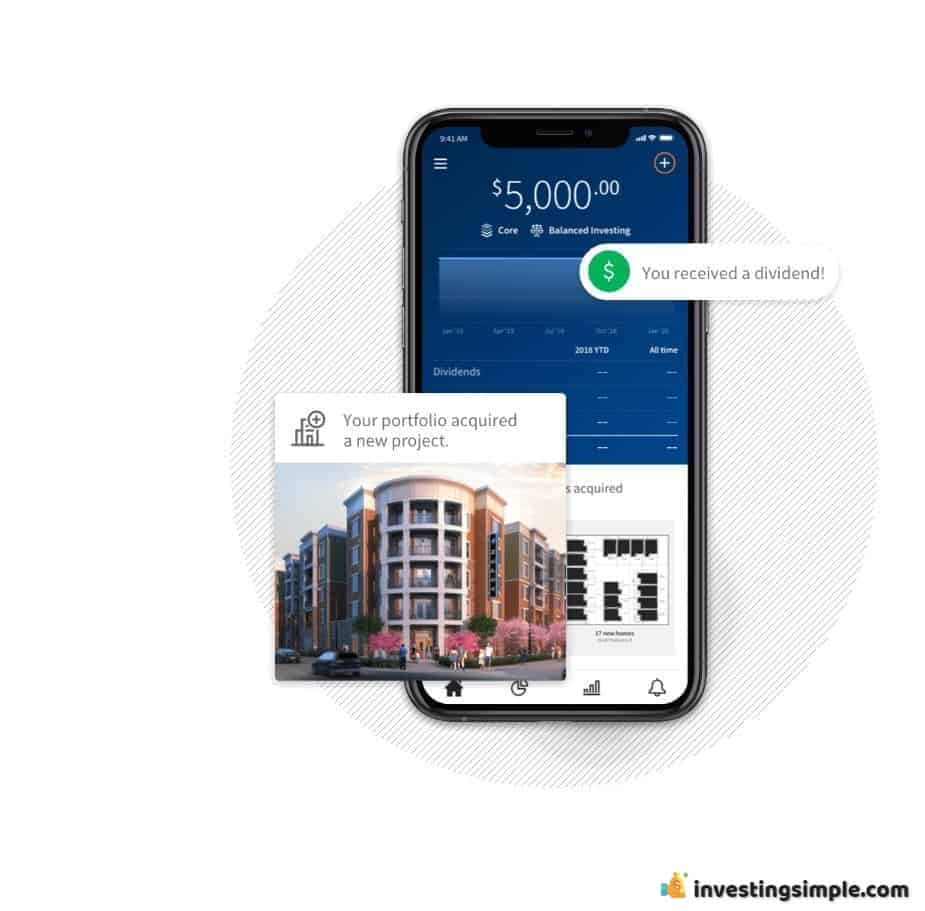 Easy To Use
The Fundrise interface is ideal for beginners as it is simple and easy to use. The portfolio model of investing means you do not have to actively pick and choose properties to invest in. 
This takes a lot thinking out of the process for beginners who want this part of investing done for them. You leave the real estate analysis up to the team of experts. 
Fundrise Fees
The Fundrise platform has a few different fees for acquiring, managing and advising the underlying investments. 
Fundrise charges a 0.85% asset management fee and a 0.15% advisory fee totaling 1% annually.
There are also additional fees with Fundrise depending on the deals that you end up investing in.
These acquisition fees can add up to 2% of the investment. 
Fundrise Pros
Low account minimum at $500

Low fees at 1% per year, along with acquisition fees

Redemptions are allowed, but may be subject to fees

Passive investing in real estate 

Not limited to accredited investors

Returns are earned from both dividends and asset appreciation
Multiple portfolios to choose from based on your goals
Fundrise Cons
Investments are illiquid and the ability to sell is never guaranteed

Less control over managing the specific investments when compared to more active real estate investments

Must hold your investment for at least 5 years to avoid redemption fees
Click here to invest with Fundrise!
What Is The Stock Market?
Beginner investors typically choose the stock market as one of the first investments. This is a common first step because currently investing in stocks is accessible to both small and large investors.
For those just starting out, it will be important to understand a few of the basics about stock market investing before you dive in. 
To keep it as simple as possible, the stock market is a marketplace to buy and sell (or trade) stocks and ETFs or exchange traded funds. This includes assets like stocks, bonds and even real estate via publicly traded REITs. 
Stocks are sold on exchanges such as the New York Stock Exchange "NYSE" or the National Association of Securities Dealers Automated Quotations "NASDAQ."
These exchanges are marketplaces where investors can find buyers and sellers of securities. Most investors will use a stock brokerage to purchase stocks for them. It is the job of the brokerage to find the best price for you on the exchange. 
For beginners, we would recommend Webull for commission free stock trading.
So for example, if you would like to purchase a share of Apple stock (AAPL), then you could place a buy with your broker. Your broker will then find the best price for the share of Apple stock available on the open market. This is all handled electronically now. Very few people actually call their broker up on the phone these days. 
Benefits Of Investing In The Stock Market
Returns
The main reason investors choose to participate in the stock market is to generate a profit. The average return of the S&P 500 over the last 50 years is approximately 12%. But remember this is an average, and not a consistent annual rate. 
There are multiple ways investors can earn a return on their investment. The two primary ways are capital appreciation and dividends. 
An important principle to understand is that returns are never guaranteed. Investing in stocks can be risky, and you can potentially lose your entire investment if you take on too much risk. However, passive investing in index funds is significantly less risky than stock picking. 
Dividends
Certain stocks pay out dividends which is a distribution of profits the company generates. Dividends are paid out when a company would like to distribute earnings to shareholders. 
Not all companies pay out dividends. For example, a company that is in the growth phase may choose to reinvest profits back into the business rather than paying it out to shareholders. This way the company can grow even more and potentially generate more profit in the future. 
Capital Appreciation 
The other way an investor can generate a return in the stock market is through capital appreciation. When you purchase a share of a company and the stock appreciates, and you go to sell, then you will realize a capital gain. Capital gains are realized when you successfully buy a stock at a low price and sell at a higher price for a profit. 
Low Barriers To Entry
Nowadays it is also very easy to begin investing in the stock market.
Investors can sign up for a number of free trading apps in a matter of minutes and can begin investing. In the old days, you used to need a stock broker or human advisor to buy stocks for you. Now you can purchase stocks on your own from the comfort of your house.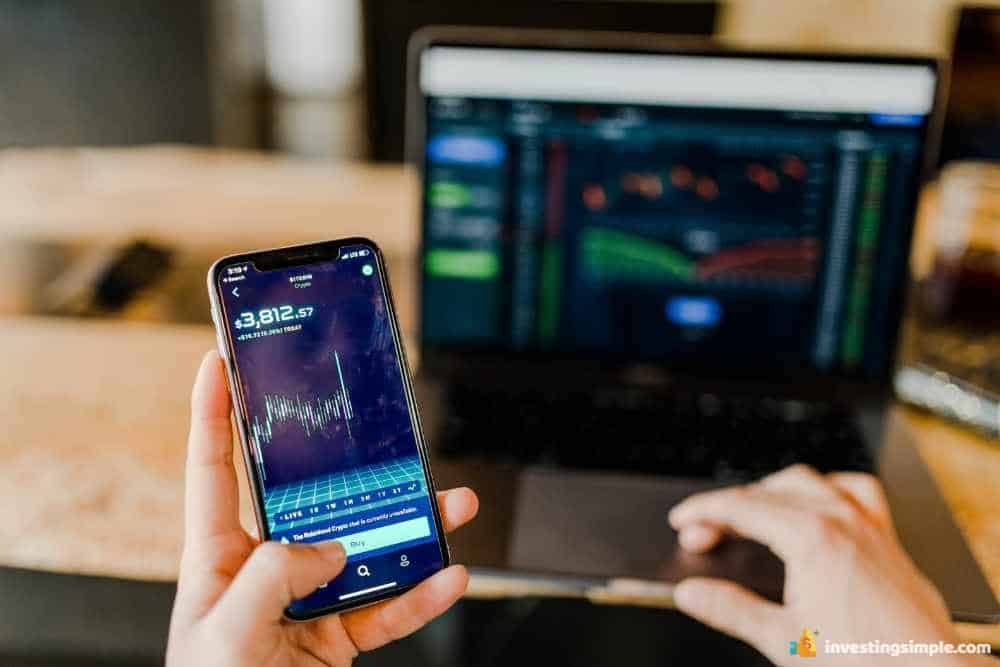 Risks of Investing In The Stock Market
Investing in the stock market has many risks. Stock market returns are never guaranteed and you could lose your entire investment if you are taking on a lot of risk. Remember, stocks are just shares of companies, and companies can easily go out of business or hit rough times. 
One of the most important stock market principles to understand is diversification. A well diversified stock portfolio can greatly reduce your risk. 
Ideally investors will want to diversify their stock portfolio with a handful of stocks that are uncorrelated. Uncorrelated stocks may be in different sectors or sub sectors that do not have direct relationships.
This way you diversify your overall portfolio risk across different types of companies and industries. As a result, your portfolio will not be concentrated in any one sector or industry. 
Stock Market Pros
The stock market is one of the best ways to build long term wealth over time

With the release of new investing platforms, it's never been easier to get started investing in stocks

Stocks can preserve capital over time and are a good way to protect against inflation

Stock market investing is relatively passive in nature
Stock Market Cons
Returns are never guaranteed

Some investors may have investment strategies that require a lot of research and due diligence

Investing in the stock market is not a get rich quick scheme, it takes years or decades to build wealth
Verdict: Fundrise vs Stock Market
Choosing between investing in the stock market or using the Fundrise real estate investing platform is definitely a difficult decision. Ultimately, it is going to come down to your goals and investment strategy.
If you'd like to invest in real estate in a relatively passive manner, then Fundrise may be a good fit for you. Fundrise offers a variety of investment portfolios, but will manage the underlying investments for you. This way you can sit back and invest in real estate without managing a property or tenants. 
If you are more interested in investing in individual companies, sectors or industries, then stock market investing may be the better fit for you. Stocks have the potential to grow and generate returns over time. Stock market investing is not easy and can take a long time to realize success. There are many different types of stock market investing strategies. 
Both stock market investing and using a platform like Fundrise have the potential to generate returns for investors. It's important to understand that returns are never guaranteed in either Fundrise or the stock market. Investors must figure out the strategy that best fits their preferences and financial situation.
In most cases, both real estate and stocks should be considered in a well diversified portfolio.
Click here to invest with Fundrise!
Best Free Stock Promotions