Genius Brands, GNUS Stock, is media company focused on the creation and licensing of animated children's content. Created in 2006 and headquartered in California, Genius Brands believes in "Content with a Purpose."
In addition to featuring their brands in media outlets such as Netflix or Kartoon Channel!, they also create retail products based on the characters in their brands.
They have a number of popular brands such as "Llama Llama" and "Baby Genius." Each of their brands seeks to deliver a purpose rather than to simply entertain.  For example, "Llama Llama" aims to teach young children about developing bravery and learning how to overcome difficulty. "Baby Genius" has been a long time award winning program for its ability to engage toddlers.


Why is GNUS Stock Moving Now?
GNUS stock is currently up 800+% in the last year.
Back in June of 2020, the company saw a spike of 2,775%! And currently, in March, GNUS is up 41%. What has caused all of this interest?
On March 4th, CEO Andy Heyward told investors that a new partnership with Marvel would be  announced no later than March 30th. This new partnership has particular importance as Marvel has been a large driver in the success of Disney+.
GNUS will continue to be volatile before and after the official announcement as investors speculate on the full impact of the partnership.
What are GNUS' Strengths and Opportunities?
One of the main reasons GNUS has a real competitive advantage is due to the partnerships they have acquired. "Warren Buffett's Secret Millionaires Club" has an obvious partner in Warren Buffet, but the brand has also worked with Jay-Z, Bill Gates, and Nick Cannon.
Their Llama Llama brand stars Jennifer Garner. GNUS also has an upcoming partnership with Shaquille O'Neal with a brand called "Shaq's Garage," which will air in the spring of 2022.
In addition their strategic partnerships, they also have put together a team of stellar content creators and producers who have created incredibly popular characters from programs such as The Little Mermaid and The Lion King.
As they continue to develop new and exciting brands backed by strong partners, they could keep up with the recent growth they have enjoyed.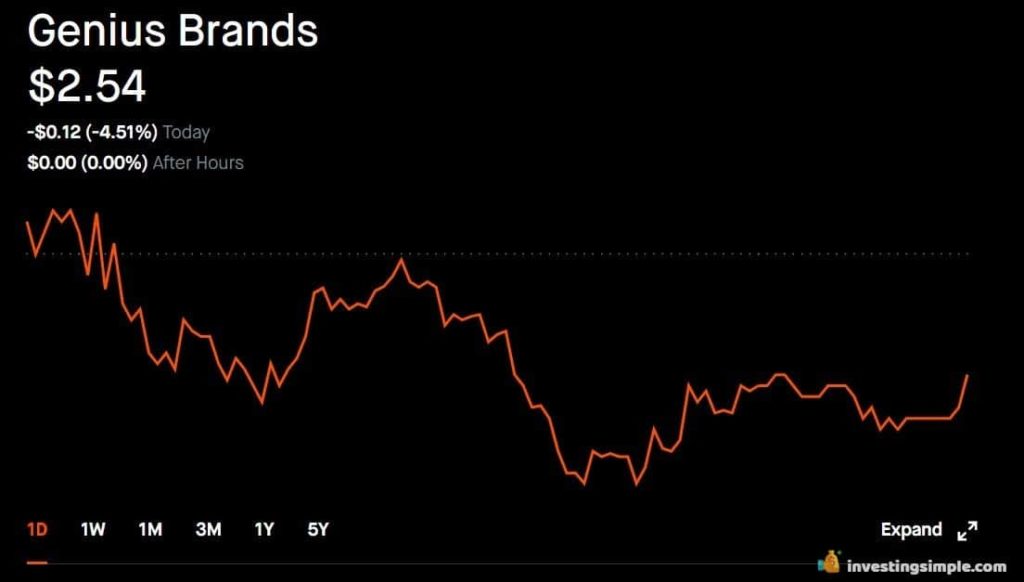 What Challenges is Genius Brands Facing?
GNUS stock will continue to be volatile due to the nature of trends in the media.
It is common for television programs to gain a powerful following in a short period of time. Conversely, it is also highly common for a program or character to lose popularity. With the rise of social media, Genius Brands will have to continually create exceptional content overtime to remain relevant.
Genius Brands International Inc: Final Thoughts
As GNUS announces further partnerships and new, exciting brands, they could continue to enjoy growth in their competitive sector. Without consistent new content, they could also slowly decline as investors lose interest. Any investor interested in GNUS stock should take the time to research the company and be aware of upcoming partnerships as well as the trending popularity of their current brands.
As is true with any investment, it is important that an investor understands what they are investing in. Quickly investing into an exploding trend may yield short term results, but it could also have the opposite movement.
Start Investing Today
Investing has never been more accessible than it is today. You can quickly open a brokerage account and start investing all within 10 minutes from your personal phone! The question is, which investing app is best?
With so many to choose from, people often delay getting started, but with any investment, time is often one of the most important factors!
If you are looking to get started but are unsure how, then be sure to read How to Invest in Stocks For Beginners or check out the 10 Best Investing Books Beginners Need To Read In 2021.