M1 Finance is a popular online brokerage app offering people ways to invest, borrow and spend.
M1 lets users trade commission-free on a variety of financial products. There are no minimums on investments and zero commission and portfolio management fees. M1 will automatically rebalance your portfolio and reinvest your dividends.
The brokerage company lets you trade financial assets including common stocks, preferred stocks, and exchange-traded funds. It provides margin lending, and cash management services including checking accounts and debit cards.
M1 gives users a framework for building their portfolio that is unique to the platform.
M1's Pie Based Dashboard
M1 has created a buildable structure to organize your portfolio called Pies. A Pie is a group of securities. Pies can be used to keep track and follow your portfolio and your investment strategy.
In the Pie's interactive dashboard, you can choose from more than 6,000 stocks and funds to build your own custom long-term investment plan. You can also select from more than 80 pre-built expert Pies designed to meet different financial goals or investment objectives. Pies are crafted to meet particular goals, align with your risk tolerance, and allow you to easily invest in entire industries. M1 expert Pies use time-tested methods generated by successful, seasoned brokerages and advisors.
Or, you can do a hybrid of the two options. Choose from individual stocks, ETFs and combine with expert M1 Pies to build your ideal long-term portfolio.
What's more, you also have the opportunity to make several Pies, each with its own theme or strategy, and then house them together in your main portfolio Pie.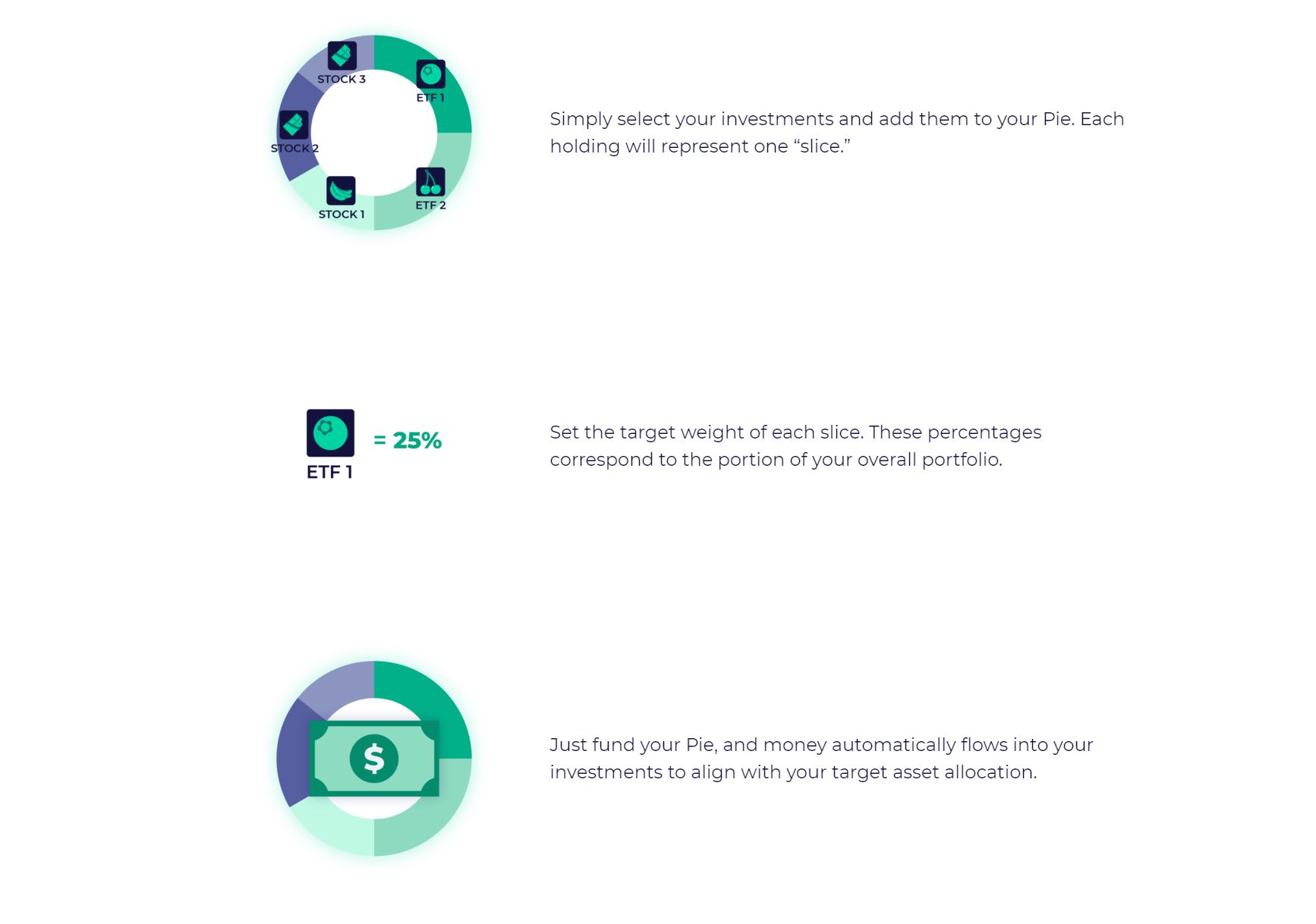 How To Build Your Pie
All you have to do is select your investments and add them to your Pie. Each holding will represent one "slice."
You can set the target weight of each slice. These percentages correspond to the portion of your overall portfolio. You can add, remove, or edit slices at any time so you're always invested exactly how you want.
After you fund your Pie, money automatically flows into your investments to align with your target asset allocation.
Pies easily allow you to view your portfolio's performance. Slices that outperform their target weight will grow, while by contrast, underperforming slices will shrink.
As you continue to add funds to your portfolio, money will automatically flow into your investments to bring slices back to their targets.
After you create your Pie-based portfolio, you can place manual buy or sell orders on the portfolio, individual pies, or individual slices. Or, you can choose to utilize M1's proprietary trading system to automate all of your trading activity. You'll never have to input or execute any trades manually, which is a plus for new investors.
The app also allows fractional share investing in which you buy a portion of a whole stock. This is a great perk not offered by all of its competitors. You may find a stock that's performing very well, but the price per share is out of your reach. Fractional investing lets you buy a percentage of the stock, adding more as you go along.
How Do M1 Finance Pies Work: Final Thoughts
M1 Finance is a robust platform giving investors commission-free trades. Newer investors in particular will find it helpful to view and manage their portfolio through a Pie structure.
Using a Pie structure makes it easier to organize, view and track your portfolio. M1 allows you to have a highly customizable choice or decide to go with pre-set Pies built by industry experts. M1 will automatically rebalance your Pie to manage under-performing slices and maximize your profit potential.
Once you have built your Pie, you can either make manual trades or let M1's proprietary system do the work for you, which is passive investing at its very best.
Best Free Stock Promotions