When it comes to investing, the bottom line is that people are in it to expand their wealth. They're not looking to lose money, or to break even. Armed with knowledge about how the market works and an understanding of risk, investors are hoping to make money.
Today's wide array of online trading platforms tout the fact they are commission-free. This means there won't be fees associated with your buying and selling activity.
But that doesn't mean the platforms are in it to maintain the status quo. Like investors, the platforms are built to generate money. This is done through various fees and percentages of profits.
EquityMultiple is an online investment platform offering pre-screened commercial real estate projects. Right now, there are several well-established platforms out there for people who want to try their hand at real estate investing.
However, unlike competitors, who may list residential or multi-use projects, EquityMultiple focuses on business real estate projects. These include data centers, hotels, retail, office complexes and storage companies.
Founders of EquityMultiple have a goal of making these commercial real estate investment projects accessible, simple and transparent for people looking to expand their wealth longer-term. At the same time, the platform is looking to amass profit for the experts working on each project and to cover many other operating expenses.
Read more about EquityMultiple with our complete EquityMultiple Review.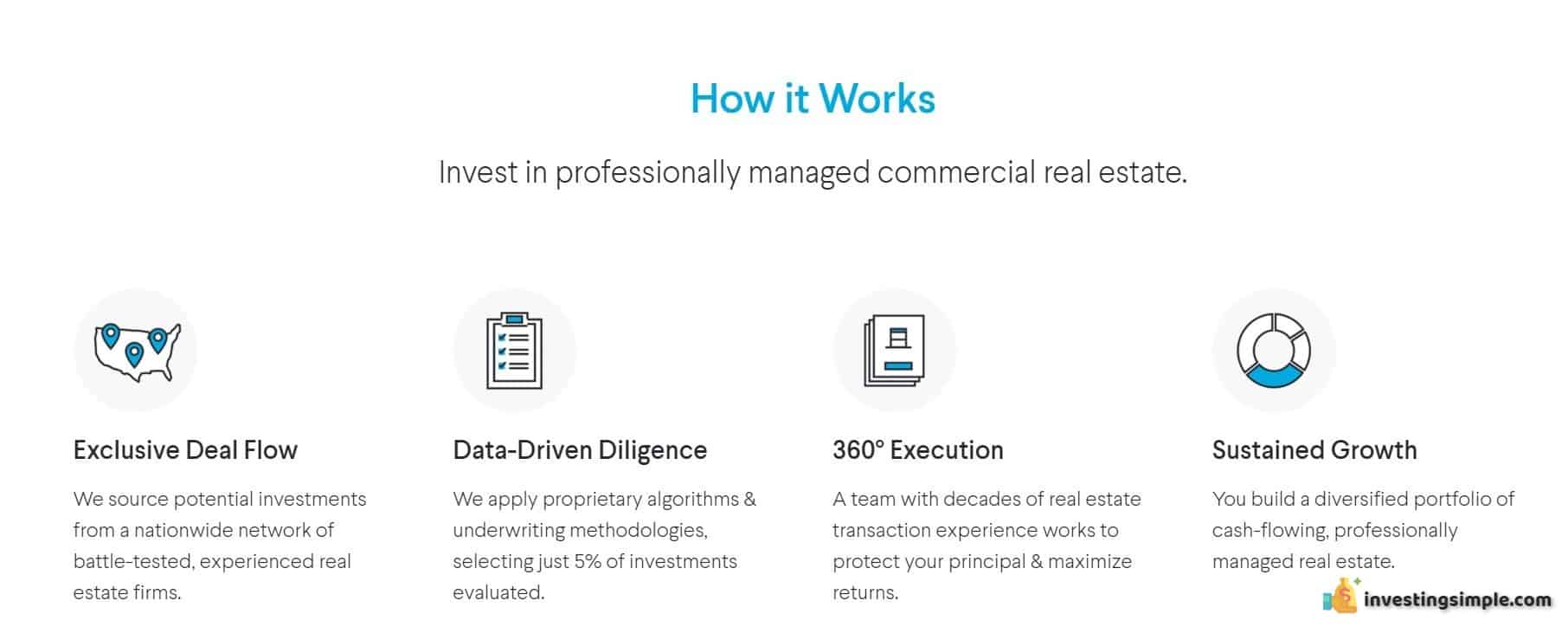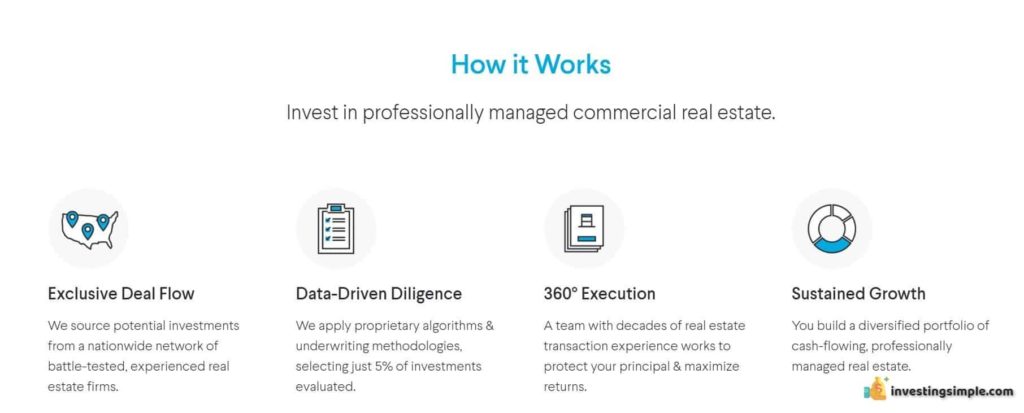 EquityMultiple Handles Day-To-Day Operations
The platform has more than $3.05 billion in assets. Managing this magnitude of investments comes at a cost! Company researchers look for projects that carry an expectation of a strong cash flow. All payments and updates are centrally managed and administered by EquityMultiple.
EquityMultiple was built for passive investing. This means if you are an investor, you won't have to be involved in day-to-day decisions as the project moves along.
But someone has to make those daily decisions. There is a long list of professionals working behind the scenes to make the platform and its projects run smoothly and profitably. People scout out and vet projects, crunch the numbers, work hand-in-hand with construction companies, oversee deadlines, and much more. All these professionals need to be paid, and the platform wants to grow in volume. So there are fees tacked on for various services, and EquityMultiple will take a percentage of each project's profits.
How EquityMultiple Makes Money
Browsing EquityMultiple investment opportunities is completely free. There is also no cost to investors for setting up their investment. The platform's fees are charged over the course of the deal and are largely dependent on the success of the investment.
All return projections for investors are presented net of all fees. Real estate payment and fee structures, particularly for equity investments, are complex because they typically involve multiple parties, involve profit sharing arrangements and payment priorities.
EquityMultiple clearly lists all the fees associated with each investment offering, in full transparency, within project documents found at the bottom of each offering page.
Servicing Fee
Regardless of the type of deal you invest in with EquityMultiple, you will be charged a servicing fee. This servicing fee is typically 1% of your invested capital. This fee is charged by EquityMultiple for the following:
Asset management
Reporting
Record keeping
Tax preparation
Distribution administration
And other services it provides throughout the life of each investment
Profit Sharing
Some of the investments listed on EquityMultiple, generally equity investments, include a profit sharing model. The platform is entitled to a percentage of investor profits after investors receive full return of invested principal. This profit sharing ensures alignments between the platform and investors.
EquityMultiple receives 10% of investor profits after investors have received all of their initial investment back.

Expenses
For all offerings, EquityMultiple also deducts an Administrative Expense to cover tax document creation, annual filings, and entity formation. This fee is split between all investors, and typically ranges from $30-$70 per investor annually.
Sponsor Fees
In addition to the investors fees and expenses described above, EquityMultiple earns upfront origination or placement fees.
These fees vary from project to project, and are typically paid by the Sponsor/Borrower from the proceeds of the investment. These fees compensate EquityMultiple for the work involved with sourcing, screening and structuring investments, as well as finding investors to participate.
About EquityMultiple
The platform is based on the concept of crowdfunding. Decades ago, only investors with deep pockets could afford to buy into real estate deals. An elite sector of investors put down substantial sums of money for these projects. Fast forward to today, when the focus has shifted to opening the door to larger groups of people to invest smaller amounts of money.
The minimum investment for EquityMultiple projects can start as low as $5,000 but will vary from offering to offering. Additional shares are typically offered in increments of $5,000 above the minimum.
Investors can expect to see a return of around 5% to 15% on their initial investment.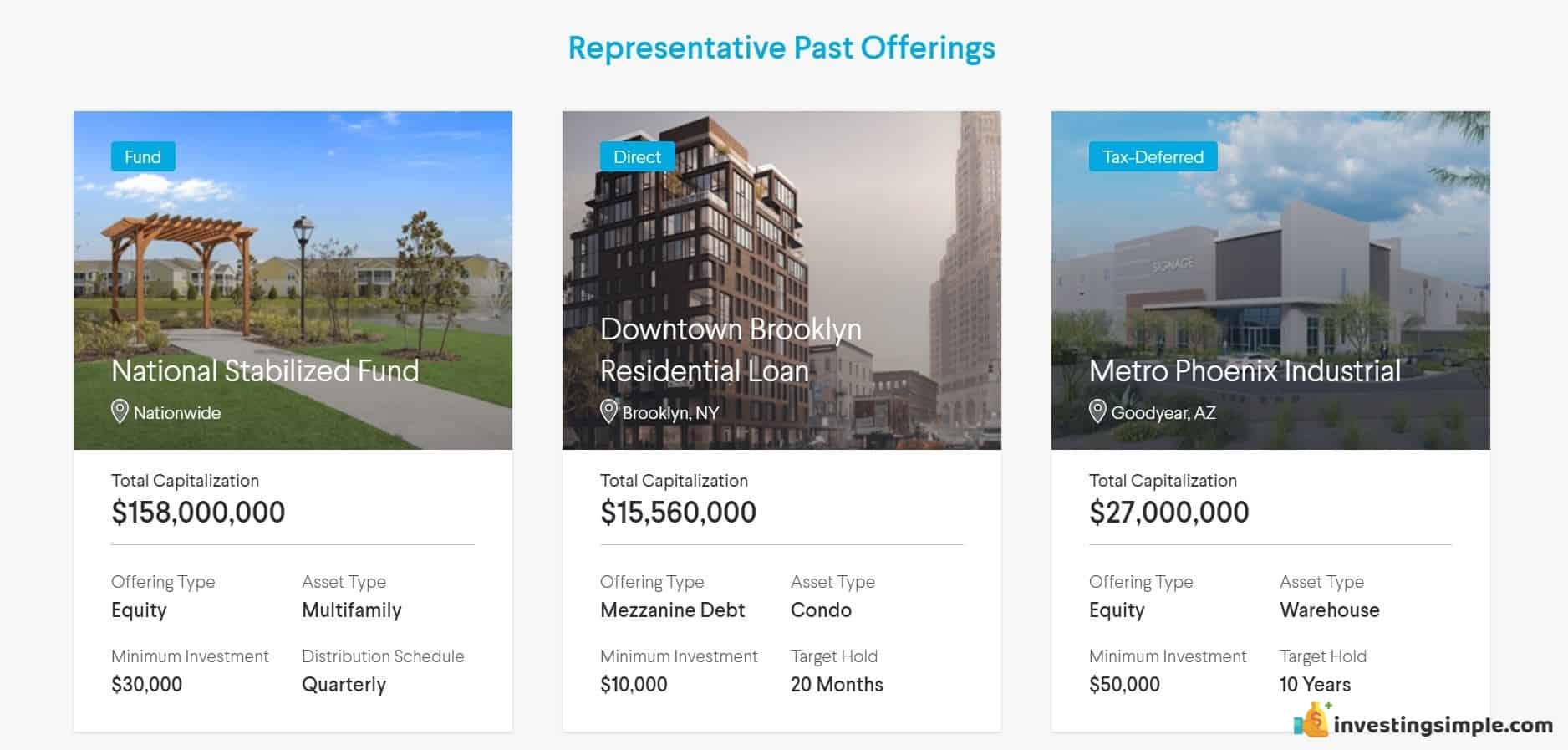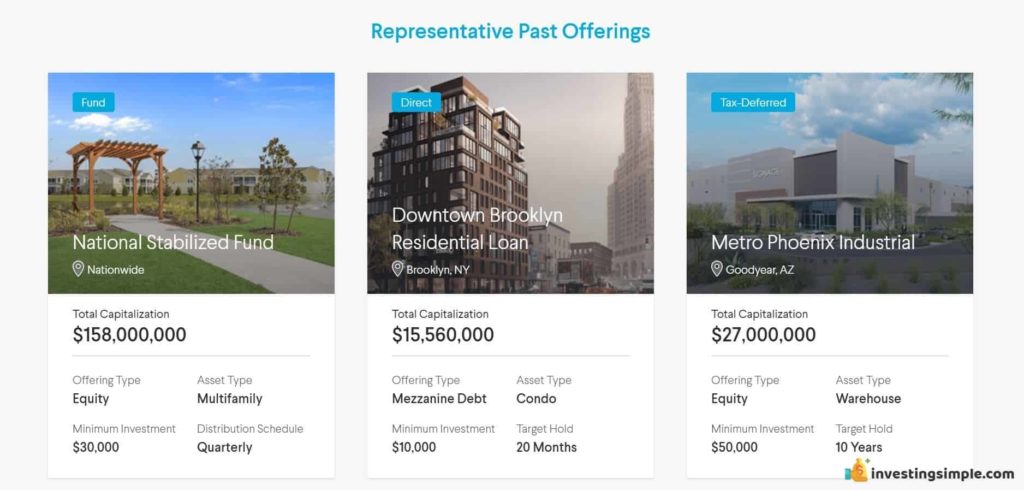 EquityMultiple Offers:
Exclusive deals: They source potential investments from a nationwide network of experienced real estate firms with a proven track record.
Data-driven research: EquityMultiple applies its own proprietary algorithms and underwriting methods. Only a select few investment opportunities make it through these multiple layers of scrutiny, and ultimately get featured on the platform. How carefully do they screen potential projects? They end up selecting only about 5% of investment projects they evaluate.
A team approach: Projects are guided by a group of individuals with decades of real estate transaction experience at many levels. Their goal? To protect the money you invested and bring in the highest possible returns.
Sustained growth: These experts have a goal of helping you build a broadly diversified portfolio of cash-flowing real estate that grows in value over time.
Conclusion
Everyone is looking to grow their net worth through wise investing. This applies to individual investors and the platforms offering opportunities.
Real estate projects with potential for profit don't just show up out of nowhere. It takes substantial work to locate, research and vet these projects. Numbers have to be crunched, timelines set, and the scope of construction needs to be analyzed right down to the last $1,000.
Once selected, there are enormous project management costs designed to keep investors out of the loop. Investors don't want to be involved in decisions such as which contractors to hire, what equipment is needed, and how to draft legal agreements with all parties.
EquityMultiple charges an annual servicing fee to investors on all investments. This is usually 1% of invested capital. There is profit sharing. The platform receives 10% of investor profits after investors have received all of their initial investment back. There is also a fee for various expenses. EquityMultiple charges an annual expense charge per investment amount of 0.05%.
These service fees, profit sharing and charges for expenses are money-generators for EquityMultiple. They are all listed prominently on the project outlines so you will know what to expect before making decisions on whether to buy in, or look elsewhere.
Best Free Stock Promotions