For decades, becoming a millionaire has been a desirable milestone for just about everyone, and it's no wonder.
No matter who they are, people have a natural need to feel secure and provided for. They want to be financially secure enough to retire and still be able to live a good life, provide for their children, and pursue their passions.
Having a million dollars in the bank represents that security that so many people long for and has become a mark that symbolizes financial freedom.
How Can the Average Person Become a Millionaire?
For young adults or people who haven't been able to save much yet, the million-dollar milestone can feel so far away that it's simply not achievable. Even an admirable cash savings of $20,000 per year would take 50 years to reach $1 million.
This is where the concept of compound interest comes in to save the day.
There's a popular short story about a peasant centuries ago who saves the life of a king. The king asks what he can do for the peasant as thanks.
The peasant humbly replies that all he wants in return is 2 kernels of wheat and then double the amount each year for the next 30 years. The king quickly agrees and can't believe how little the man is asking for. He gives the man 2 kernels of wheat and the peasant goes on his way.
The next year the king gives the peasant 4 kernels of wheat, then 8, then 16, then 32. The king basically forgets about the deal as the amounts are so small. Long story short, by the 30th year, the king owes the peasant over 1 billion kernels of wheat and has to sell most of his assets to pay the man off.
This demonstrates why Einstein labeled compound interest as the 8th wonder of the world. With time, small investments can grow exponentially.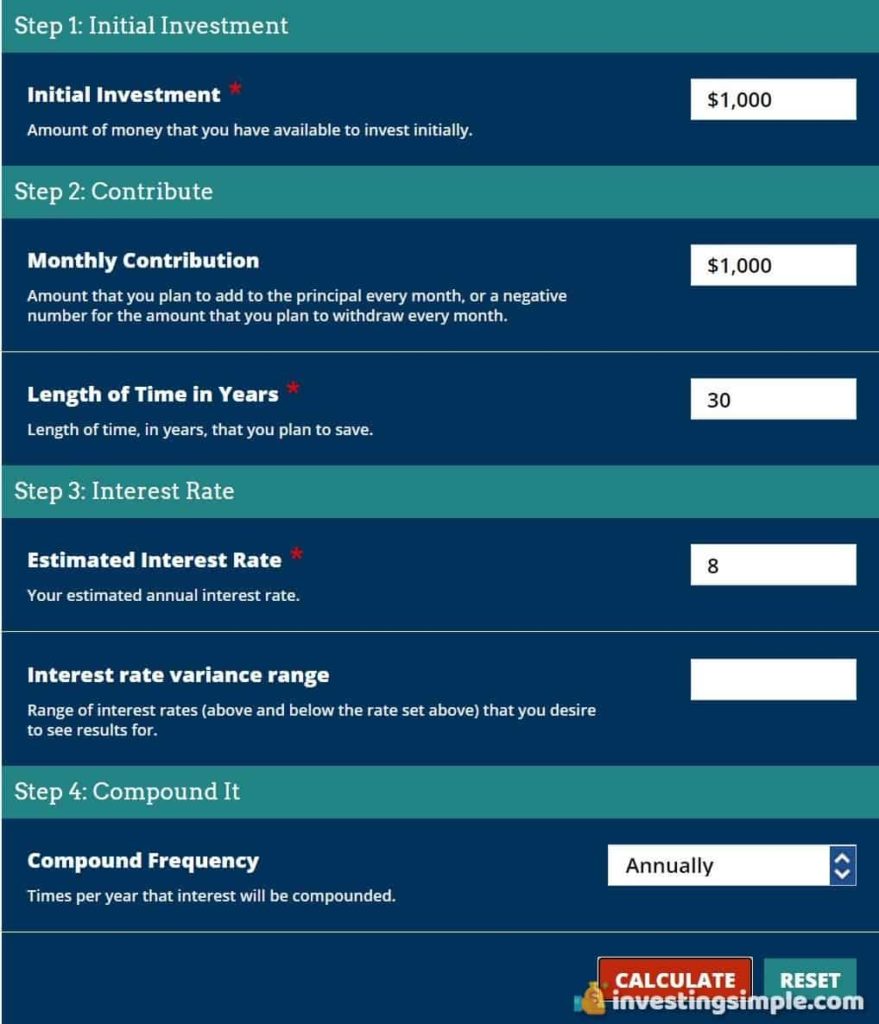 The 8th Wonder of the World
By investing your savings into a well-diversified investment portfolio, you can leverage your money to work for you and earn a greater return than with a savings account at the bank.
The beauty of compound interest is that the more your portfolio grows each year, the more money you will earn on average.
For example, an S&P 500 fund (a basket of the 500 largest US companies) has gained an average return of roughly 8% annually since 1956. Using that number, anyone can become a millionaire by saving just $3,860 per year over the course of 40 years.
That works out to just over $10 a day. It doesn't seem quite so far away now, does it?
Of course, inflation is a factor with a time horizon of 40 years. You may need to save more depending on your spending goals in the future. But for many, $10 a day is a great place to start!
Investing $10 per day
So how can you go about saving $10 per day? Traditionally, many online brokerages have higher minimums and the share price of most stocks is also over $10. This can make it difficult for new investors to open an account and greatly limits investment options.
Luckily, we live in a new era of low minimums and fractional shares.
A plethora of new trading platforms have opened in the last decade. With them, they brought new competition to the industry and better service to consumers. Being an investor has never been this simple or inexpensive ever before.
Today, people can find companies with starting minimums of $100 or less and place trades with zero commissions. Best of all, they can get access to fractional shares investing.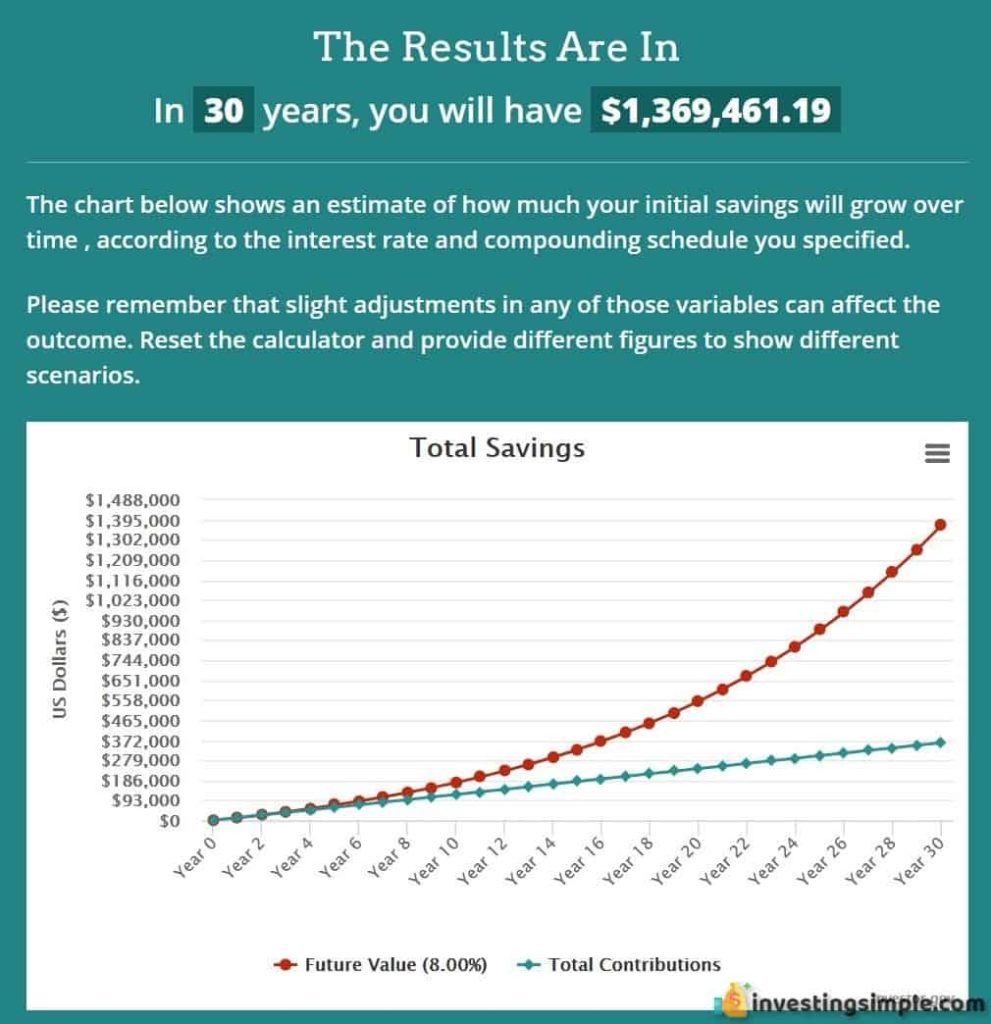 Introduction to Acorns
The Acorns investing platform is one great option that offers 'fractional share investing'. Fractional shares are essentially just what they sound like. You can invest with small amounts of money at a time by buying just a slice of a share.
For example, let's say you want to buy a share of XYZ fund but their share price is $500. You can simply buy 1/5 of a share...or 1/10, or 1/100th! Buying a slice of a share is far more attainable and opens up so many possibilities.
With Acorns, you can set up a recurring investment of $10 per day that will automatically be invested into the funds of your choice.
You can also use their "RoundUp" feature which automatically invests the spare change from each of your credit card transactions. If you buy a gallon of milk for $1.65, Acorns will invest 35 cents into your portfolio. No extra work needed.
Acorns helps users put investing on autopilot and makes it easier than ever to get on the path to becoming a millionaire. All it takes is creating an account, selecting how much you want to invest, and picking from their investment portfolio options.
This service is excellent for beginners or those who don't want to spend too much of their valuable time trying to sort through all the different investment funds. There's also a great mobile app available for Acorns which makes checking on your account just a few taps away.
If you want to learn more about Acorns, check out our full review.
Final Thoughts
In order to truly build real wealth, it's important to utilize compound interest in your savings plan. The more time you can be invested in the market, the more your investments can snowball into substantial amounts.
If you haven't started investing yet, today is a great day to begin! Even $10 a day can be life-changing for your future self and family.
Investing doesn't have to be quite as complicated as it may seem. Consistently investing in well-diversified, low-cost index funds is a straightforward path toward accumulating wealth efficiently.
Becoming a millionaire is far more attainable than you might have thought. With an average rate of return of 8%, just over $10 per day will grow to $1 million in 4o years.
Free investing apps like Acorns make the process of putting away money almost automatic. Feel free to explore the wide range of apps out there and refer to our reviews as you're making your decision.
Happy investing!
Best Free Stock Promotions