Tesla has been in the news a lot in the past several years, and not just because of the company's revolutionary success in the automotive market.
In December of 2020, Tesla made stock market history by becoming the largest company to ever be added to the S&P 500 index, an index that tracks America's 500 largest companies. Tesla's share price growth was so rapid, that on the day it was added to the index, it was already in the top ten largest companies by market capitalization.
That was great news for Tesla's investors, but a high share price can make it difficult for typical, smaller investors to buy shares.
At its peak share price, a single share of Tesla was valued at over $2,200 a pop.
Best Free Stock Promotions
Tesla's Stock Split
In order to make investing in Tesla more accessible, the carmaker decided to offer a 5 for 1 stock split, where all shares would be divided into 5 pieces. This effectively cut the share price by 80% and allowed small investors to once again participate in the company's growth.
But even that wasn't enough. Since the stock split in August 2020, the share price has doubled again to over $800. A price point that is far too high for most investors that want to maintain a well-diversified portfolio.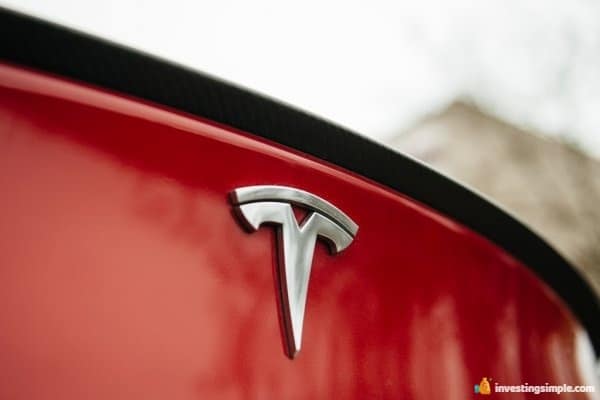 Buying Stock Slices
So, how can investors participate in Tesla's success without coughing up $800 for just one share?
A few financial services providers have caught onto the idea that investors need a better way to invest in companies with high share prices. This new method has become a favorite for small and mid-size investors alike.
Fractional shares, or "stock slices" have grown in popularity as more brokers have rolled out this option. Stock slices are essentially exactly what they sound like. One part of a much larger share sold at a proportionate price.
Using stock slices, investors can invest in high share price companies like Tesla and Amazon with much smaller amounts of money. Sometimes as little as $1 is all that's needed.
In the remainder of this article, we'll be looking at exactly how to buy $100 of Tesla stock slices using the well-known platform, Robinhood. It's easier than you might think!
Step by Step Guide to Robinhood Fractional Shares
Step 1
Using the search feature, enter TSLA and select Tesla. Alternatively, you can enter any other company that you would like to buy fractional shares of.

Step 2
In the bottom right corner, select 'Trade'. This should bring up three different options including 'Buy', 'Sell', and 'Trade Options'. In this case, choose 'Buy' since we are trying to acquire shares.


Step 3
Next to 'Number of Shares', you can enter the quantity you want to purchase down to the decimal, with a minimum of 0.0001 shares.
If you want to invest a certain amount of dollars as opposed to shares, you can switch to "dollar mode" by clicking on the top right corner. From there, you should be able to enter your desired dollar amount ($100 for example) and have the share quantity calculated for you.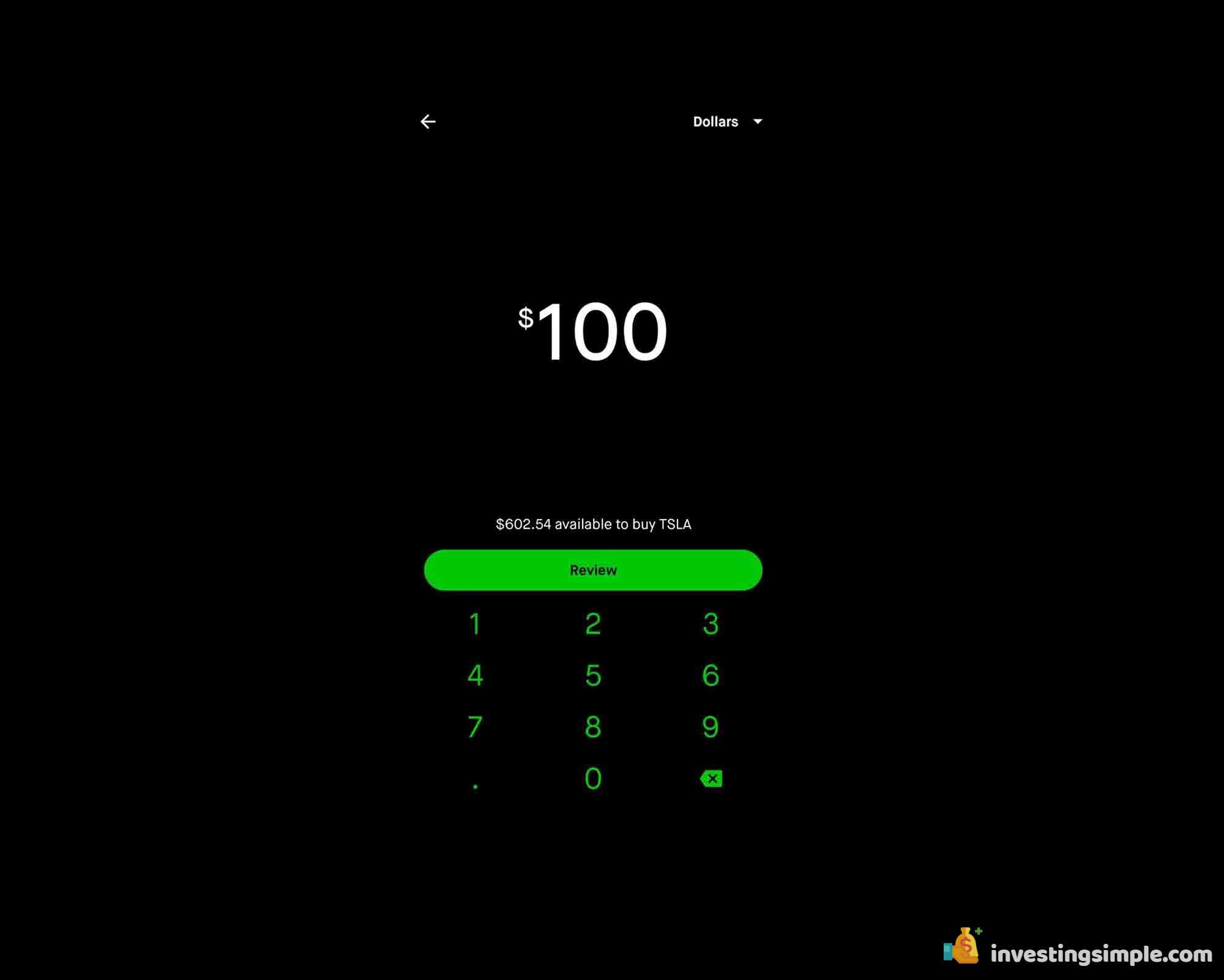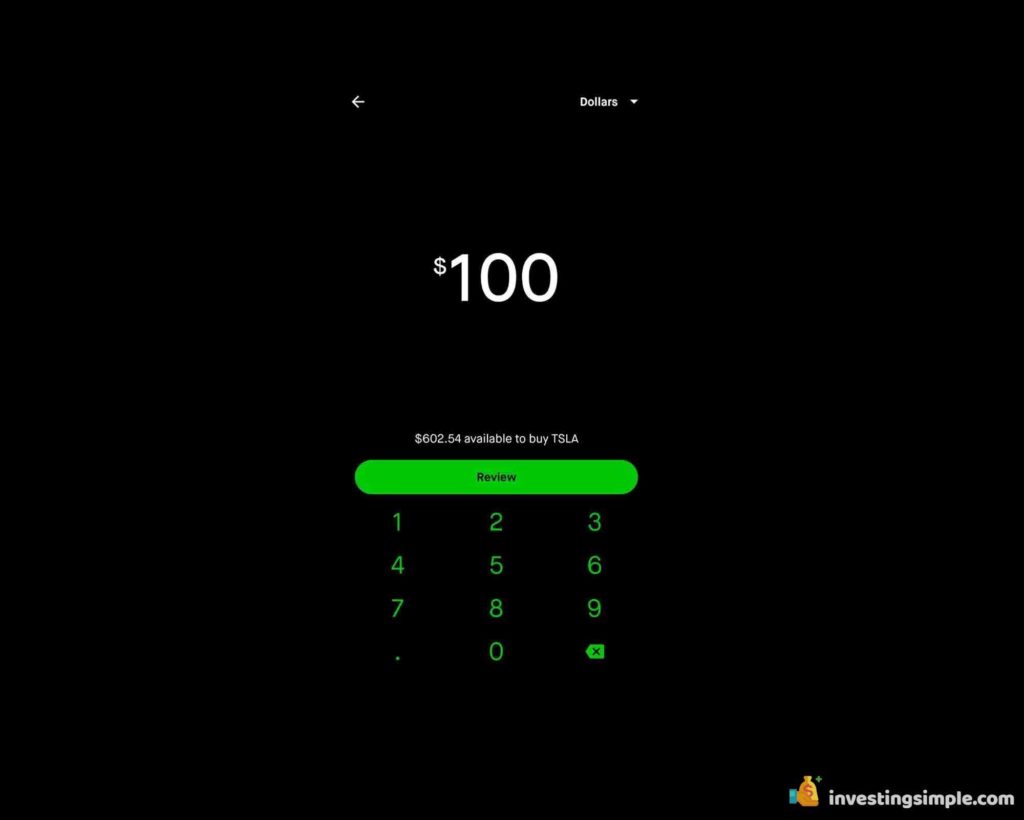 Step 4
Once you have the amount you want entered correctly, click 'Review' and swipe up to submit.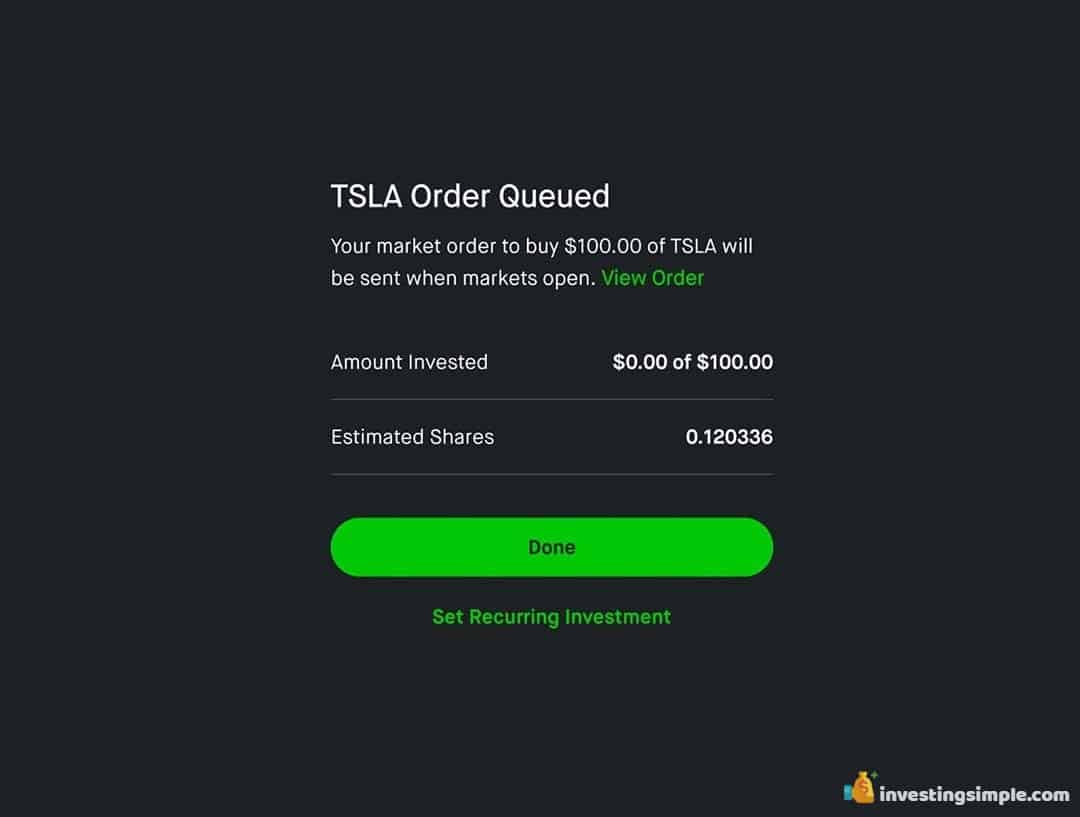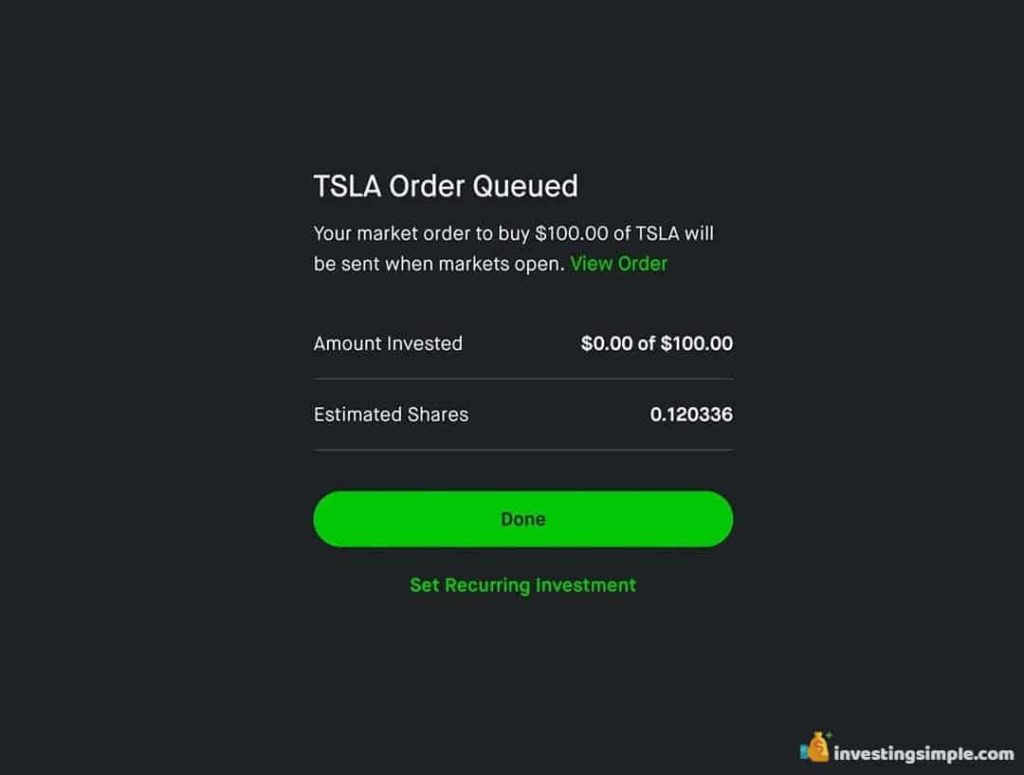 Step 5
Congrats! Once the order is processed, you will officially be a part-owner of Tesla.
To sell fractional shares, use the exact same process described above, but select 'Sell' instead of 'Buy' in Step 2.
Summary
When it comes to investing, every dollar counts. Don't let yourself be discouraged by high share prices when you can participate in the market with as little a dollar. Fractional shares can help small to mid-size investors maintain good diversification in their portfolios and opens up greater opportunities.
Robinhood makes the process especially simple as demonstrated in the steps listed in this article.
Whatever dollar amount you're investing in the market, take pride in the fact that you're on the path to a better financial future. You don't need to invest in large amounts, you just need to be consistent!