Long gone are the days when you actually had to wait until payday to get your hard-earned cash. Now, there are many services that offer paycheck advances with no fees or interest rates. One of these services is included with the new feature release from M1 Finance.
M1 Finance is a finance super app where investing, borrowing, and spending are all part of the picture. Through M1 Spend, users can access their paychecks up to two days early through direct deposit. This is a huge benefit for many users because it gives them more time with their money!
This article is sponsored by M1 Finance and will dive into the details of how to take advantage of the new features through M1 Spend.
To learn more about M1 Finance by reading our full review of the platform.
What is M1 Finance?
M1 Finance is a platform that specializes in giving back the power to the investor. Through its highly customizable platform, users can invest their money how and where they want. They can also take advantage of great interest rates for borrowing and have all their cash at their fingertips with M1's spending features.
M1 Finance has two different membership levels, M1 Basic and M1 Plus. While M1 Basic comes at no charge, M1 Plus has an annual fee of $125. However, users who sign up with this link will get access to M1 Plus free for 3 months!
Both M1 Basic and M1 Plus have great access to M1 Finance's three pillars: M1 Invest, M1 Borrow, and M1 Spend. However, those who choose to sign up for M1 Plus will recognize significant benefits above the standard account.
M1 Invest
Through M1 Invest, users can establish their own investing portfolios made up of the stocks that they choose. These custom portfolios are called 'pies' and they come completely fee-free.
Let's break it down, if Joe is looking to invest $1,000 but doesn't know exactly where to park it, he can create his own pie and allocate his funds there. If Joe believes that electric vehicles are going to be a boon for his portfolio, he can create a pie entitled 'EV Investing' and select various publicly-traded stocks to invest in.
He can then allocate 25% to Tesla, 25% to Rivian, 25% to Nikola, and 25% to NIO. Here's the best part, whenever Joe wants to quickly increase his investment without changing his allocation or modifying each individual holding, he can simply increase the size of the pie and increase each holding automatically.
This works even when the stock price is higher than the desired purchase amount as M1 Finance supports fractional shares.
These contributions can be put on autopilot and if one stock is outperforming the rest, the pie will automatically rebalance back to the intended proportions. This feature has provided investors with the ability to truly take control of their investments and has removed many of the manual headaches involved.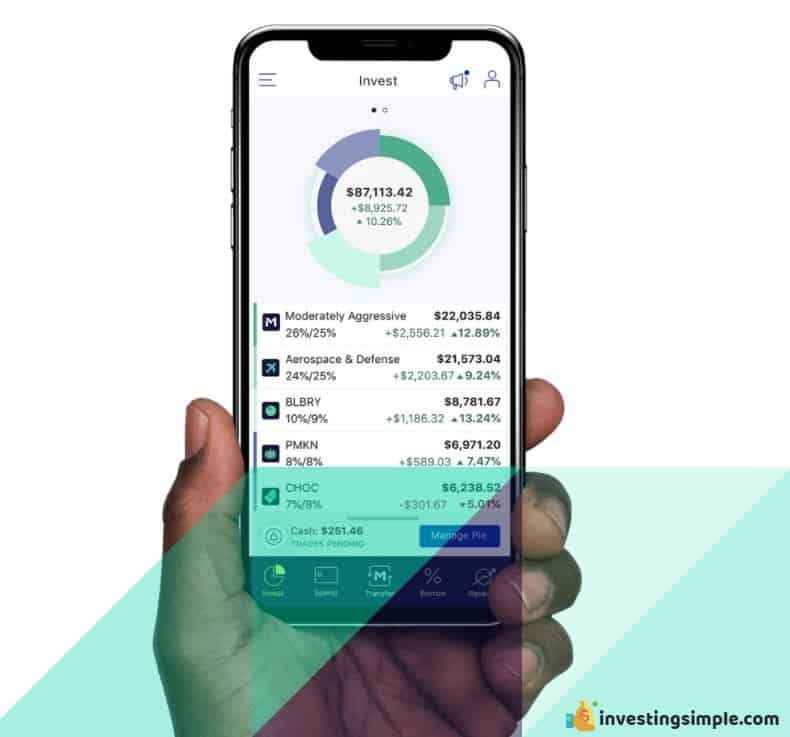 M1 Borrow
Borrowing money can be difficult for many investors. Banks will often want several documents proving you're a worthwhile bet and will often charge exorbitant fees for the use of their capital. With M1 Basic and M1 Plus, borrowing is a whole lot easier.
Users on the M1 platform can borrow up to 35% of their portfolio's value with no application or payment schedule and with rates as little as 3.5% (for updated rates, please visit this site).
This borrowed cash can be used at any time and for virtually anything. If you need to pay off your student loans, purchase a home, or start a company, M1 Finance has you covered. All this power comes with no management fees.


M1 Spend
Here is where the rubber meets the road - where you put your cash to use for everyday living. M1 Spend is a digital bank allowing you to store cash, use a debit card, set up direct deposit, receive paychecks early, and so much more.
At no minimum balance or annual fee for the basic account, M1 Spend can replace your brick and mortar bank and offer benefits that often dwarf the industry standards.
If you are an M1 Plus member, you can earn cashback on your debit card purchases, interest on the cash sitting in your account, and gain access to the Owner's Rewards Card by M1 without the annual fee. Without M1 Plus, members will still be able to apply for the Owner's Rewards credit card, but with a $95 annual fee.
This credit card comes with cashback bonuses when you shop at certain locations while offering a competitive cashback rate on all other purchases. Click here for more details.
One of the greatest features of M1 Spend is the ability to receive your paycheck up to two days early. This feature is new as of November 2021 and is already helping thousands get money into their wallets faster.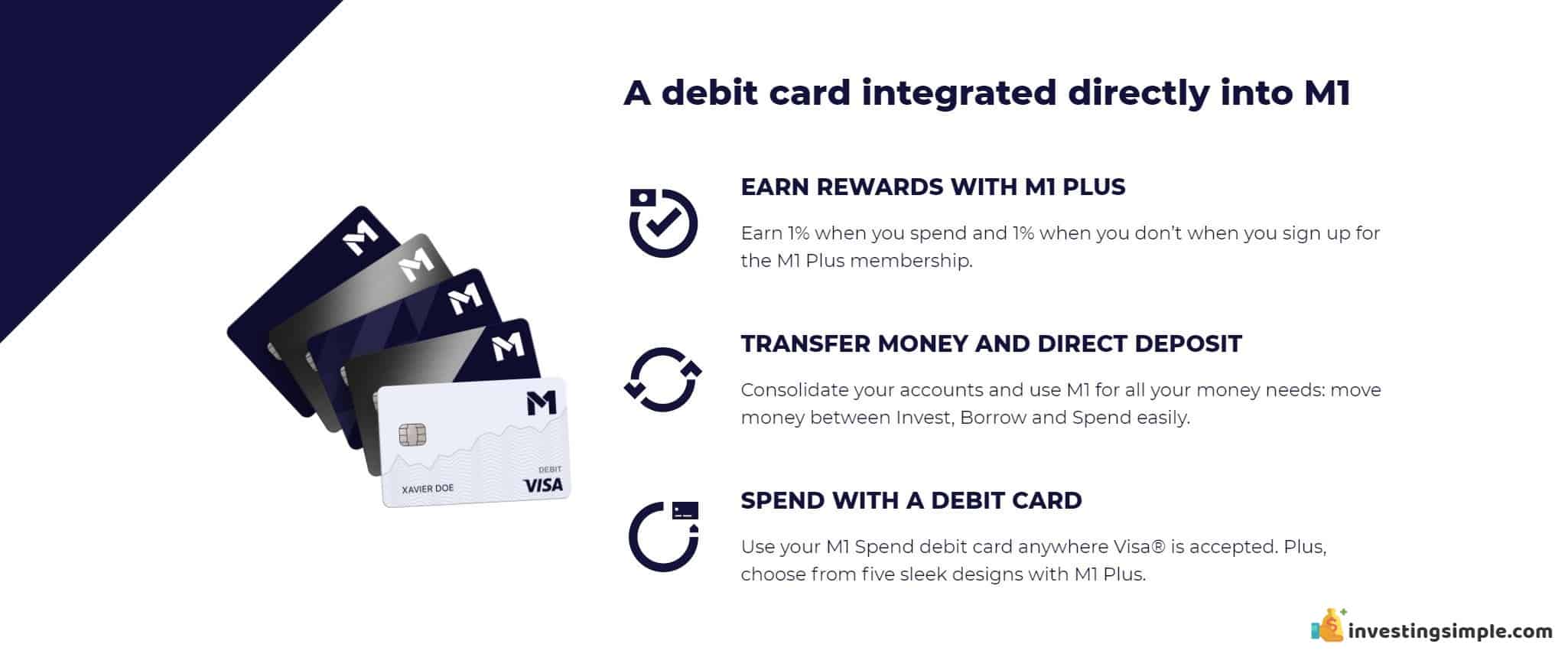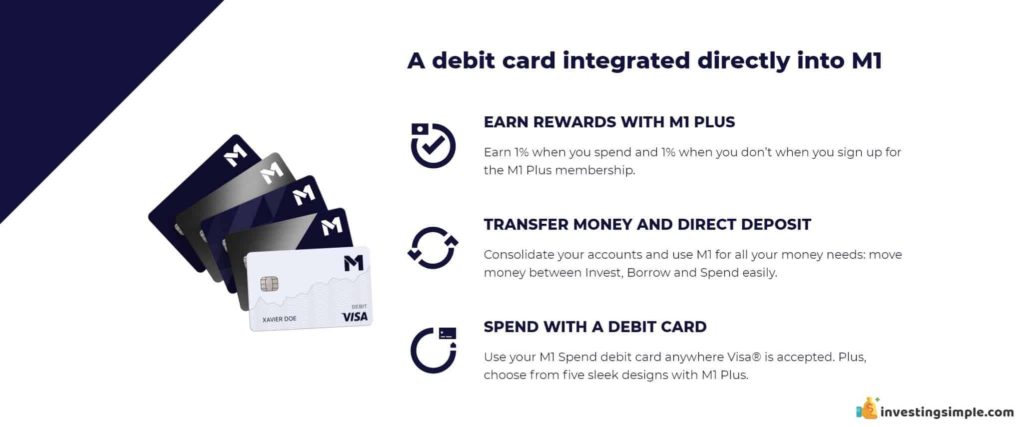 Early Direct Deposit
According to a recent study, more than half of all Americans live paycheck to paycheck. This means that they are often stuck waiting until payday before they can make everyday purchases on things like groceries and fuel. Even households making more than six figures can fall into this cycle and rely on each paycheck to get by.
Now, users can break this cycle by getting access to their money up to two days in advance with M1 Finance. Upon signing up for the platform, users can opt in for M1 Spend and set up direct deposit with their employer.
To find this option, simply access your account and select the 'Transfers' tab under 'Move Money'. From there, scroll down until you see 'Direct Deposit'. This will provide you with the information that is required by your payroll provider to set up direct deposit.
The ability to use direct deposit is determined by your payroll provider and might not be available for all users. Be sure to check with your employer to know if direct deposit is an option and if so, what information is required.
Once direct deposit is established from your employer to M1 Finance, you can start earning your paychecks up to two days early!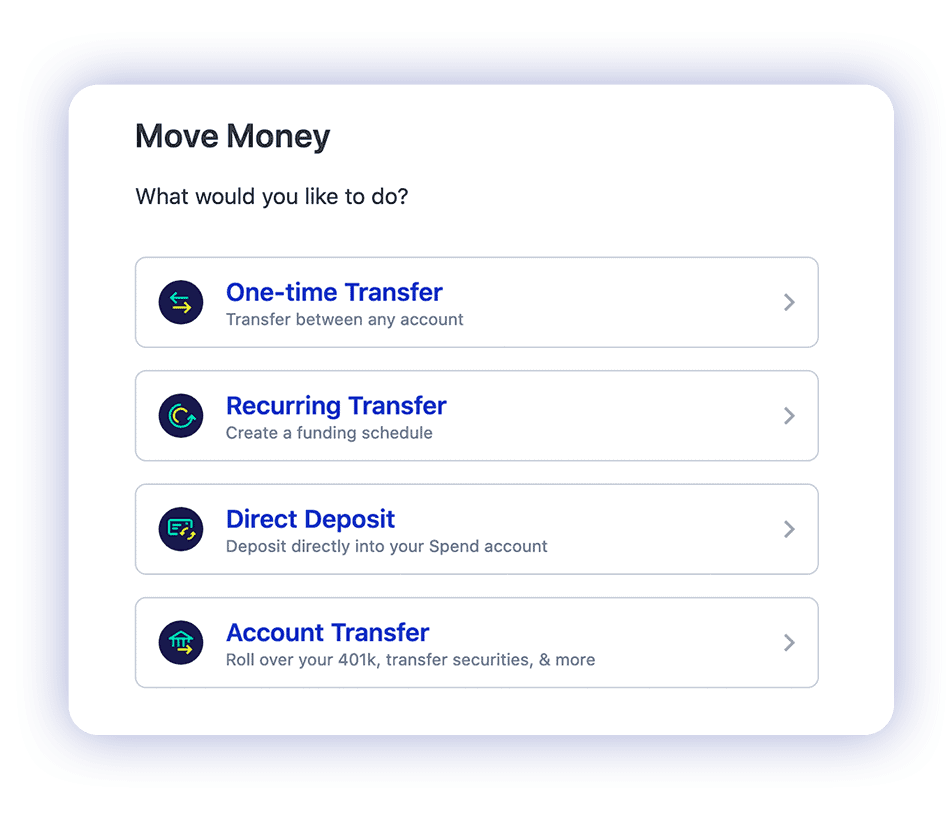 Who is Early Direct Deposit For?
In short, this feature is available to all M1 Spend users (basic and plus). Receiving your paycheck early does not just benefit you if you are living paycheck to paycheck. In fact, the basic laws of finance tell us that money is worth more to us in present time than in the future because of the earning potential that money has. So, the earlier you can get your hands on your money, the more valuable it will be.
This basic finance concept is called the time value of money. For example, if Natalie is investing in the stock market regularly, she knows that the earlier she can make a move, the better off she will be. Normally, she has to wait until Friday to get her paycheck from her employer. This prevents her from trading in the stock market on Wednesday and Thursday, meaning she might miss out on potential gains.
Now that Natalie is getting paid up to two days early with M1 Spend, she can start investing that money on Wednesday, Thursday, and Friday, bringing in potentially higher returns.
Early direct deposit can be a benefit for those living paycheck to paycheck as well as those just looking to take advantage of the time value of money.
How To Get Your Paycheck Early With M1 Spend: Final Thoughts
The ability to get paid early is a huge benefit to all types of consumers. With early direct deposit, you can invest, spend, and save earlier than you otherwise would be able to. While many people need the ability to do this, not many companies offer this capability.
M1 Finance's recent announcement of this feature will allow several individuals to get ahead of their spending and start benefiting from their hard work earlier!
While this is a great benefit for those looking to get control of their financial situation or invest earlier, note that it should be used with prudence. If you begin to use this feature as a way to simply spend more money sooner or more frivolously, your situation will worsen, not improve.
Just because money is arriving in your account sooner does not mean you have more of it or that you should be less responsible with it. If left unchecked, reckless spending will only move up your timeline so that you are dependent on receiving your paycheck two days early for every pay period.
This could cause issues as not every company offers this benefit and all features are subject to change.
At any rate, this is an incredible platform for those who want to take advantage of the time value of money and get their money sooner!
Best Free Stock Promotions