As many of you are well aware, margin trading is an intermediate/advanced strategy. One that is normally reserved for those individuals who can stomach aggressive risk in their portfolio. If you are new to investing, margin trading is simply this – using someone else's capital to fund part of your investment.
If that sounds like it is risky, that's because it is. When you buy on margin or borrow a broker's money for a deal, you are obligated to pay that money back. Plus interest. This obligation is still in force no matter how well, or how poorly, your investment does.
For this article, we will be diving into how you can become a margin expert with investing platform Moomoo!
Best Free Stock Promotions
What Is Moomoo?
Moomoo is a relatively nascent stock trading platform that has set out to provide a high-quality trading experience for intermediate and advanced investors. Because the platform is replete with information, it might be overwhelming for new investors.
Moomoo offers commission-free trading of stocks and ETFs as well as options with $0 contract fees. While much more detail-oriented than Robinhood, Moomoo has a limited track record as it was just launched in 2018.
Margin Trading on Moomoo
Once you have established your Moomoo account and have become familiar with the platform, you can begin margin trading. Note that not all stocks can be purchased or borrowed using margin so follow these steps to be sure.
Margin trading can be accomplished on both the app and the desktop version. These instructions below are specifically for the app but the process is similar on the desktop platform.
Click 'Quotes' at the bottom left-hand side of the app
Locate the stock that you are interested in
In the summary section, you will see a list of icons
These icons indicate what you can do with the stock
If you see icons that reference 'Long Margin' or 'Short Margin' you know that you are good to go
Margin Example
For those who might be less familiar with how the world of margin trading works, here is a brief example to illustrate.
If an investor is interested in purchasing more stock of a certain company than he or she has the cash to buy, it might make sense to borrow from the broker to fund part of the purchase.
If the investor has $500 and would like to buy 10 shares (each at $100), the investor will need to purchase 5 more shares with borrowed capital. This would represent an initial margin of 50%.
The initial margin requirement on Moomoo varies for each stock and will affect how much capital an investor can borrow based on how much he or she has already contributed.
An initial margin requirement of 80% would mean that the investor must purchase 8 shares in order to borrow the cash for 2 shares from the broker.
Depending on how the stock performs, the investor can either make a large sum of money or lose it all. Moomoo has provided this imagery to help explain the potential gains and losses: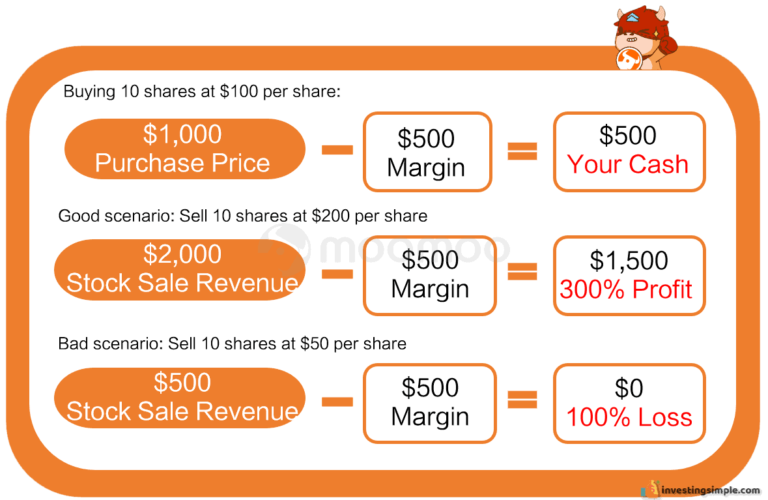 Executing a Trade with Margin
When you click on the stock that you would like to trade, you will enter the number of stocks that you would like to trade in the trading interface. If you enter a purchase quantity that exceeds the available cash in your account, you will receive a message prompting you to take another action.
If you see a quantity other than your available cash on hand under 'Buy on Margin' this number represents the maximum quantity you can buy with margin. The 'Sell on Margin' number is the number of stocks that can be shorted. If you are unable to purchase on the margin, the amount shown will be the same as cash available.
Difference Between Long and Short Margin
When using margin to help fund your investments, there are generally two uses for the borrowed capital. These are both meant to enhance your earning potential, and both introduce increased risk to your portfolio.
Long Margin
If an investor takes a long position in a stock, this means that he or she believes the stock will increase in value. In this instance, the investor actually owns the shares of the stock that he or she is planning to sell at a higher price in the future.
Long is just another term for buy and signifies the hope of rising prices. When you purchase a stock on margin, this means that you are borrowing capital to purchase more shares than you would otherwise be able to.
Short Margin
The opposite of long margin is short margin. Unlike taking a long position, with a short position, an investor owes the stock to someone and does not actually own the shares. The investor is simply borrowing them.
When an investor takes a short position, he or she is hoping that the stock will drop in price. When the stock does drop in price below a predetermined threshold, an investor will then buy the shares and pay back the broker who lent them.
Margin Rates
Before trading with margin on Moomoo, be sure to understand the rates that will be charged for borrowing from the brokerage.
Unlike other brokerages, Moomoo charges a flat fee of 6.8% to borrow capital for margin trading on the platform. This rate does not change depending on the total amount of capital you are wanting to borrow.
When it comes to short selling, these rates will vary. Moomoo states that these rates vary by the stock and fluctuate frequently. For more information here, check out the daily statement regarding each stock.
Moomoo Margin: Final Thoughts
As you have seen in the above example, margin can either accelerate your earnings, or it can cripple them. Luckily, Moomoo provides sufficient data and resources for you to succeed. With patience and balanced objectives, you can have a profitable investing experience – even with margin.
Though Moomoo is a newer platform, it has many of the features that you would expect. Opportunities certainly exist to make it more user-friendly, but in the end, personal preference prevails. If you are interested in signing up today with Moomoo, you can use the link below!