When assessing an online broker, it is important to not only consider its features and services but also its legitimacy and safety. A broker like Firstrade checks all the boxes in terms of its features and services, but we at InvestingSimple find it important to take a deep dive into a broker's operations to answer the question, "is it really safe?" 
While its zero-commission trading policies attract the likes of many new investors, questions such as safety, cost, and legitimacy are often overlooked. In this article, we are going to try and find solutions to these pressing questions so you have the tools to answer the question, "is Firstrade really safe?" 
Is Firstrade Safe? 
In regard to a broker, the term "safe" comes in many different forms. While FirsTrade has implemented several policies and infrastructure in its platform that add to its security, that does not mean losing money on Firstrade is impossible.
In fact, there are many ways to be "unsafe" when using any broker. Firstrade has laid out many ways to inform its users of how to operate on its platform with the least risk possible. Whether it is the risk of losing money in your account, leaking personal data, or being scammed by online hackers, Firstrade has done everything in its capacity to prevent these happenings. We will touch on several of these implementations later! 
Is Firstrade Free? 
This is a tricky question because yes, there are several free features on Firstrade, but that does not mean fees are completely excluded from the platform! For example, Firstrade offers fantastic trading benefits, with $0 commissions on stocks, ETFs, mutual funds, and options contracts. And when I say free, I really mean it. You will pay nothing in excess of the price for any of these securities! It also has a free trading platform where you can perform technical analysis, stock charting, and execute your trades. 
On the other hand, there are still fees that you should be aware of that don't make the broker completely "free." For example, there is an SEC fee on every trade that you make. This fee is significantly smaller than other fees that other brokers have embedded into their services, such as commissions, and is equated to $22.10 for every $1,000,0000 of stock sales. Paling in comparison to fees that other brokers charge, this (almost) impact
less fee should have an extremely minimal effect on your profits. Nevertheless, Firstrade is still not considered 100% as a result of this fee. 
The other fee that you should be aware of is its margin fees, another aspect of investing that comes at a price. If you decide to take out margin on Firstrade, you will have to pay an interest rate on the cash because it is borrowed from Firstrade. The interest rates are variable based on the amount you are looking to buy. Varying from 4.50% to 8.75%, these fees can add up if you are looking to take out a lot of money through Firstrade and is not a "free" feature of the platform! 
Is Firstrade Legitimate? 
Firstrade is a legitimate online broker and is recognized by both the Securities and Exchange Commission (SEC) and Financial Industry Regulatory Authority (FINRA) as a registered broker. And, Firstrade is not only a legitimate broker but also the "best" on the market currently as regarded by brokerchooser.com. 
Best Free Stock Promotions
Safety Features on Firstrade 
Firstrade has many features on its platform to make it as safe as possible! Let's take a look at some of them now. 
Firstrade Account Protection
Firstrade does its best to ensure the safety of its user's accounts. From data protection to personal information protection and so much more, Firstrade is doing its best to maintain a safe environment on its platform. Furthermore, as a result of being a registered broker, Firstrade has SIPC coverage for all of its users! But what exactly is the SIPC?   
SIPC Insurance 
The Securities Investor Protection Corporation protects up to $500,00 of cash and $250,000 of securities in an account. This means you can feel safe and secure given the safety limits provided by the SIPC! The SIPC is an important aspect of any brokerage account because it prevents the risk of losing your securities due to fraudulent activity by a brokerage. 
Data Protection 
Some companies package up your data and sell it to other companies, but not Firstrade. Your data is protected on Firstrade. Firstrade ensures that its user's data is confidential, and trading endeavors on its platform are kept confidential. Firstrade also provides lots of information on its website on how its users can protect from potential fraudulent activity and hacker activity. 
Personal Information Protection 
Firstrade's protected servers and advanced technology optimize the safety of its platform. Firstrade guards your personal information by maintaining physical, procedural, and electronic records of your information to make sure it is safe and secure. These records are kept in compliance with federal standards as well! Firstrade also has several firewalls and what it calls "encryption technology" for your own protection.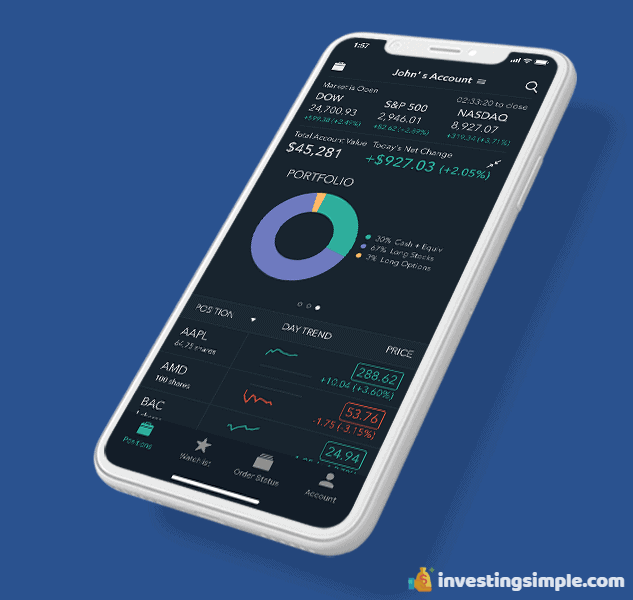 Firstrade's 8 Step Guide to Safety and Security on its Platform
 Safely Navigate the Internet: By following Firstrade's online security suggestions and keeping up with new internet threats, users of Firstrade should visit its Security Center to stay up to date and informed. 
 Review Your Accounts Regularly: Keep an eye on your transaction history to ensure there is no fraudulent activity and faulty information. If you find any, contact Firstrade immediately and ask about Firstrade's "Online Protection Guarantee." 
 Reduce the risk of lost or stolen financial records: If you are trying to choose between paper and electronic statements, the safer (and greener) route is to stick with e-paperwork. This is because paper statements can be lost or stolen in the shipping process. Protect your personal information in the most efficient way with online paperless statements.
 Protect Your Computer: Firstrade recommends that your computer is up to date with the current versions of anti-virus, firewall, and anti-spy software. These are all fantastic to have regardless, but especially important if you are operating an online broker. 
 Smart Password Management: It goes without saying that having a strong password helps account security. But with an online broker, it is even more important than ever! Because all of your funds are tied up in your account if your password is weak, there is a higher susceptibility of them being stolen. Firstrade recommends having a very strong password with numbers, special characters, and separate from any other password to help protect against this risk. 
 Public Access Terminals & WiFi: Firstrade recommends that you avoid using public WiFi to protect against the risk of malicious software to steal your information. Instead, if you are using a public network, you can choose to use a secured VPN so your information is kept safe and personal. 
 Keep Emails Personal: This rule goes without saying, but NEVER send an email with personal information! Especially if it is about your brokerage account, online hackers prey on this information and seek it out. I know email is convenient, but resist the temptation!  
 Keep Contact Information Current: Keeping contact information current is a fundamental advantage in maintaining a safe and secure account. If your account is broken into or public information is stolen, Firstrade needs to have the most current information to contact you and let you know! As a result, you should make sure your phone number, address, and email are all current on Firstrade. 
Scam Detection 
Firstrade updates its users when scams happen on its platform. Having integrity as a brokerage and being transparent are both important values of Firstrade, and by notifying its users of potentially corrupt activity, it is acting on its values. For example, in July 2020, Firstrade notified its users of a fake account that was made to mimic its own. In June 2020, Firstrade let its users know that there were fake Facebook ads circulating. Both of these instances show that Firstrade is committed to detecting scam fast and relaying the important information to its users. 
Final Verdict: Is FirstTrade Safe, Free, and Legitimate? 
After reviewing the security and protection features of Firstrade, I think it is fair to say Firstrade is safe and legitimate. But, just because this is my opinion doesn't mean it has to be your own. If after reviewing the information we've presented to you, you still feel uncomfortable that is okay! It all comes down to personal preference and if you do not feel safe in regard to the security features, you should not feel pressured into the broker! 
In terms of Firstrade being "free," while some of its features don't cost a dime, there are still hidden fees that should be taken into consideration such as the SEC fee. Margin fees are also quite high and are not a "free" service. If you find these fees to be small enough for you, then it is safe to say Firstrade is a very affordable broker. If that is what you are looking for, Firstrade may be a great option.