I'm gonna prove to you why the grass clipping business is the ultimate high profit side hustle to start right now.
I'll even be giving you a step by step tutorial on how you can get started with this side hustle in your local area today.
Keep on reading to learn more, or check out my YouTube video on the landscaping side hustle below.
Don't forget to grab your free stock worth up to $200 from Robinhood today!
About the Author
Ryan Scribner is the author of From Side Hustle To Main Hustle To Millionaire - a practical guidebook on launching your own side hustle. He is recognized as a Top 100 Money Expert by GoBankingRates.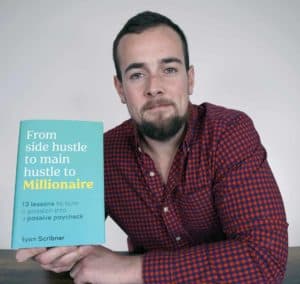 Ryan runs a successful YouTube channel focused on money and investing, which he started in 2016. He also owns a portfolio of digital business, all earning passive recurring revenues.
Now, Ryan teaches others how to create additional income streams.
Why Start A Landscaping Side Hustle?
So what makes the grass clipping business one of the best side hustles out there?
The recurring revenue model.
You only have to get your customers once, and then you can keep on earning from them and even selling them different things.
Starting out small, here's what to expect.
These days, getting your lawn clipped is pretty expensive. The average homeowner is paying $130 per service, with most customers needing weekly clipping.
So that adds up to $520 a month - per client.
Here's the fun part. If you lock down just 2 clients, your side hustle is already bringing in over $1,000 monthly.
But let's say your goal was to simply get 10 clients; clustered across two neighborhoods.
You'd be making a recurring $5,200 a month, and you could take care of all those clients in just 2 full days a week.
Equipment Needed And Costs
So what equipment is needed to start clipping grass?
1. Trailer
Let's start with a trailer. A simple utility trailer will do, and this can be pulled with almost any vehicle out there.
You can pick one up at Lowe's for about $1,200 - or check Facebook Marketplace and you can find one for under a grand.
2. Lawn Mower
Now, let's talk about mowers. You need both a riding mower and a push mower - the push being for the finish work.
There are 2 options here. You can go cheap, buy a used John Deere or Husqvarna riding mower for around $800. But these are gonna be slower, less efficient machines.
Option 2 is to buy the right tool for the job - which is a zero turn mower. These are designed for high speed, precision mowing. Most are 2x faster than the average riding mower. However, they can be significantly more expensive.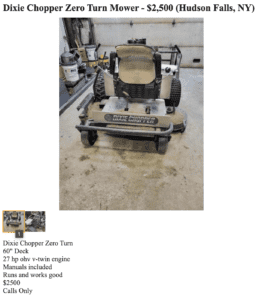 I found a used machine for sale for $2,500, but a new one is gonna cost you roughly double that.
But here's the thing, you do have the option of financing a new machine.
John Deere offers both a 48 month interest free and 60 month low interest financing on commercial mowers.
So on a $5,000 machine, if you did the interest free 48 month financing, your monthly payment would be around $120/mo after taxes and such.
Next, you need a push mower. I did some research, and the Honda push mowers were recommended above all else.
I found one of these on Craigslist for $35 in my area, but maybe you end up spending $100 here.
3. Weed Whacker
The last major piece of equipment you need is a weed whacker. For a good machine with edging, that's gonna be $350 new or about $200 used.
All in, you're looking at roughly a $1,500 startup cost on the low end, but it could be cheaper with financing.
Just make sure you do your own research on that.
Selling Other Home Services
Here's my personal favorite part about the landscaping business. You're able to sell multiple services to your clients, and the same customers who have their lawn clipped are usually the people looking for these other services.
Just to name a few we have pool skimming and winterizing, spring and fall cleanup, gutter cleaning, driveway sealing, and of course - snow plowing.
In the business world, this is referred to as 'cross selling' when you sell a related product to an existing customer.
It's extremely easy, as you already have rapport built with them.
Snow Plowing 101
But solely looking at snow plowing, this is what most landscapers do in the Winter where it snows. And it's usually a mix of contracted work and a per push rate.
According to Forbes, you can expect to pay $110 on average for a cleanup after a snowstorm.
Here's the thing, though, a lot of clients, especially commercial ones, would rather pay a fixed rate monthly - or for the season.
These commercial customers will pay more, as they are legally obligated to have the snow cleared in a certain window of time. A shopping center, for example, might pay $2,500 a month or $10,000 for the season.
And as far as the equipment needed, for residential work you simply need a truck and a plow.
I did some research, and a used Dodge Ram 2500 is highly recommended. One of these trucks is gonna run you about $20,000 - but this becomes your work horse.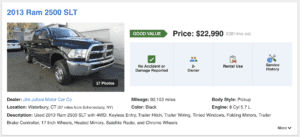 And in most states you will also need your CDL - or commercial drivers license.
Once you have a truck, the only other thing you need is a plow - which is gonna cost you about $4,000 on average.
But consider this. You could start out with grass clipping, which doesn't require a truck - since you can use a trailer - and then save up for a truck and plow before Winter.
Business Insurance
The only thing we didn't cover is insurance.
Lawn Care & Landscaping insurance is offered through numerous carriers.
BiBERK offers policies starting at $28 a month. So your best bet is to contact an agent and get a free quote.
And this may require you to have a business formation in place. If that's the case, don't fret.
You can form a LLC with IncFile for $40 to $500 depending on what state you live in.
After that, simply get your EIN for tax filing and then open a business bank account.
Final Thoughts
So assuming you financed a zero turn mower and paid for insurance monthly, you could still accomplish both for under $200 a month.
It's no wonder why so many people who start landscaping companies end up becoming very successful.
Don't get me wrong, there's hard work involved. But the business is solid.
For the 1% who are ready to take their side hustle journey a bit more seriously, I wrote a book about side hustles that just came out a few weeks ago.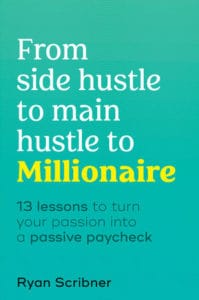 It covers all phases of the side hustle journey, and you get access to a members only discord where you can ask me questions along the way.
And you can grab a copy in person at most Barnes and Noble stores across the United states, or it's right on Amazon.
So grab a copy today and let's get started on your side hustle journey together!