It has been said that the hardest job in the world is being a forecaster. Why? Because they are almost always wrong.
Similarly, planning for our financial future can be tough. This is because medical or car emergencies are just that, emergencies. We can certainly plan for things like our grocery bill or monthly car payment, but planning for an emergency is certainly a tall order.
Having an emergency fund with ample savings is a great way to combat this uncertainty. But what can you do if an emergency arises without a savings fund ready?
Short term personal loans are typically loans with high interest and short repayment terms. These short term loans can really help individuals that find themselves in a difficult situation.
Leap Credit is a short term credit solution that may be able to help. Continue reading for our full Leap Credit review.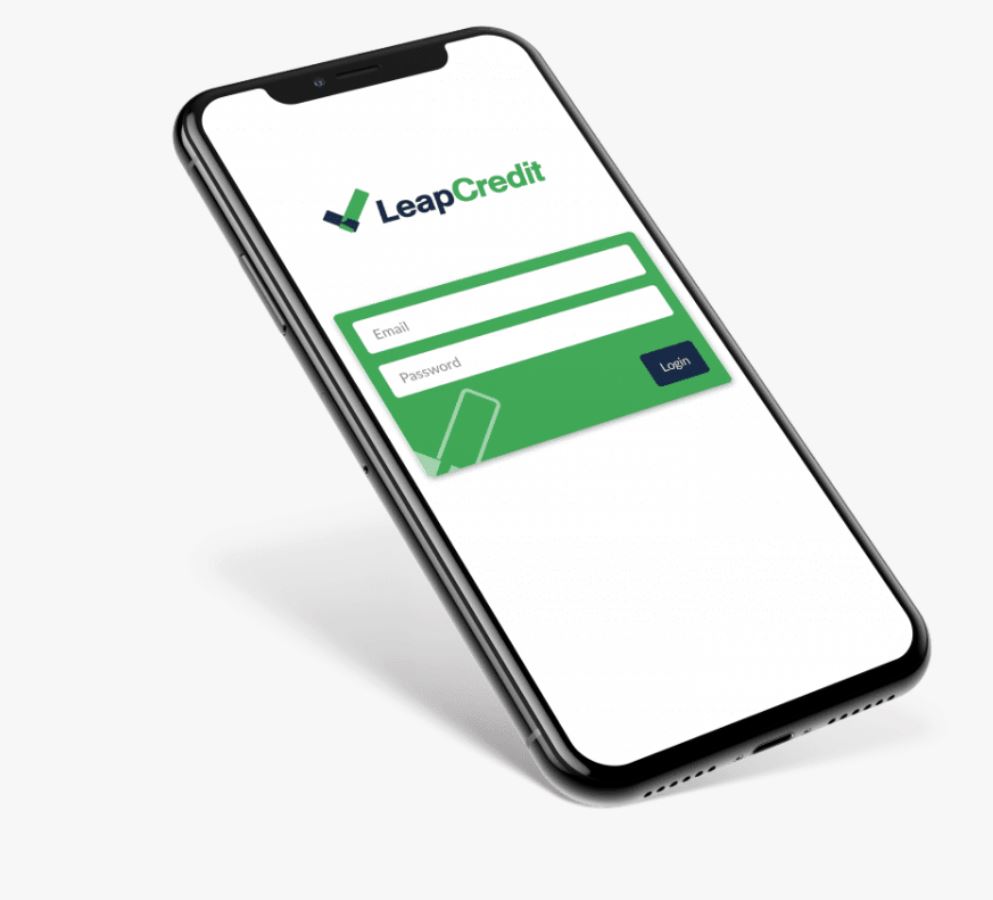 Leap Credit Review: Highlights
Loans of $300 - $3,500
Loan Terms of 6 - 8 months
APR Range 546% - 795%
Average 3 star rating from TrustPilot
Currently available in 7 US states
Application decisions are made in minutes
Leap Credit Summary
Summary
Leap Credit is a short term credit solution based in Atlanta, Georgia. The company currently offers services in 7 US states.
Most clients receive a decision in minutes! If a loan is accepted, then a client can expect to receive the funds by direct deposit within 1 business day.
Leap Credit features very high interest rates ranging from 546% - 795%. Most of their loans have a term length of 6 - 8 months. The platform offers loans of $300 - $3,500.
Pros
Simple application
Quick decisions
Cons
High interest rates
Available in 7 states only
Low loan amounts
Low transparency on website
What is Leap Credit?
Leap Credit is a short term credit solution. The company is based in Atlanta, Georgia and was founded in 2017.
Leap Credit offers a number of credit solutions to customers in the form of an installment loan, which is simply a loan that is paid back over a specified period of time in equal payments. The first and last payment can be either higher or lower than the other payments.
Whether it is for a medical emergency, car repair, home improvements, vacation, or other needs, Leap Credit is there for you. They even have a mobile app that allows you to track your balance, schedule or make a payment, or contact customer support.
The application for a loan can be completed in just a few minutes with decisions being made rapidly. Most clients will receive a decision in minutes. And if a loan is accepted, then the money can be deposited in the account within 1 business day.
The company is currently located in 7 US states. Loan amount, APR, and term length will depend on the state in which you reside. Loans range from $300 - $3,500 and typically feature a term length of 6 - 8 months. Because they are short term loans, the APR percentages are high ranging from 546% - 795%.
Leap Credit is not accredited with the Better Business Bureau and currently has a B rating. Out of 340 reviews on TrustPilot, the company has earned an average 3 star rating.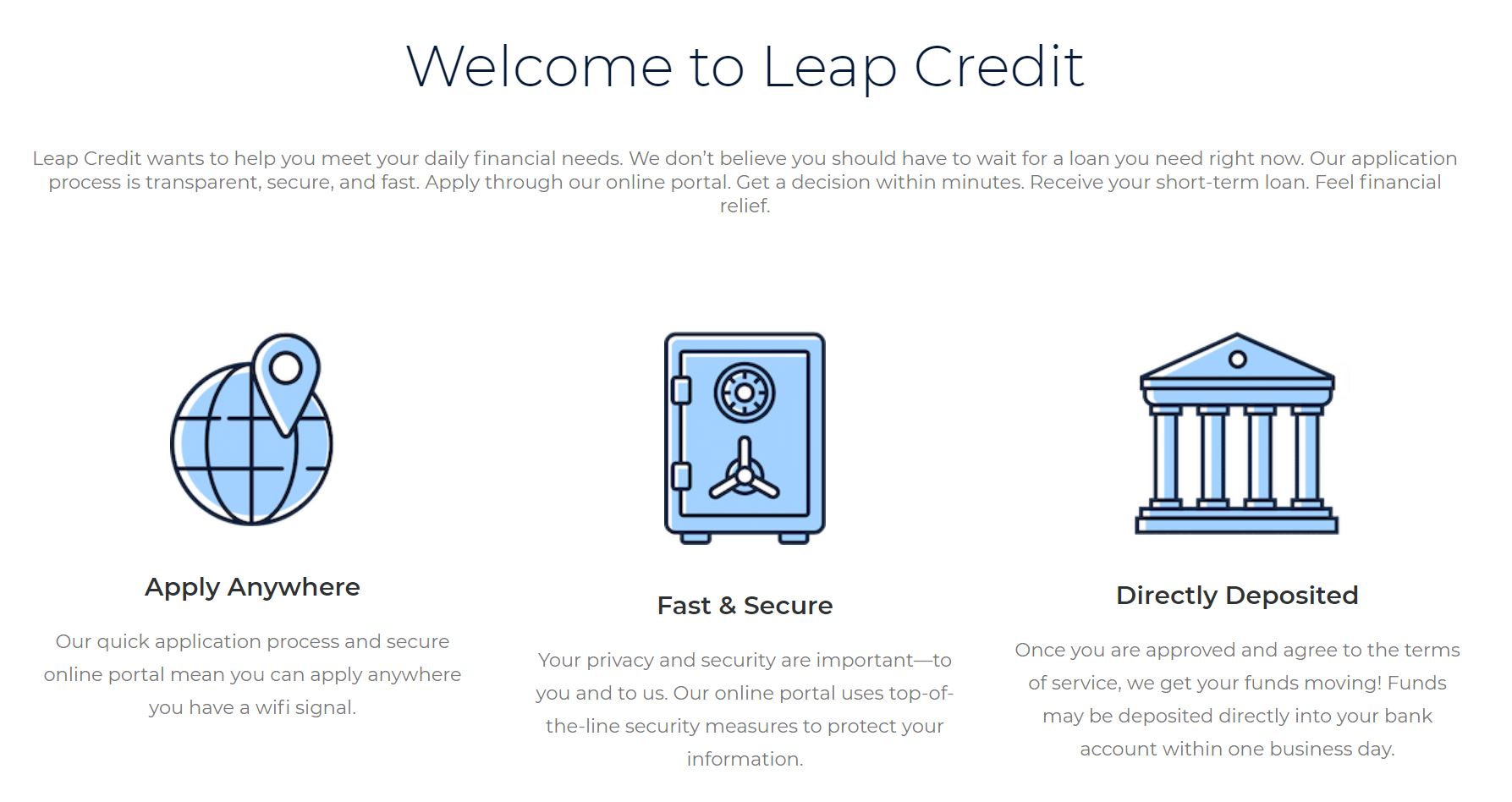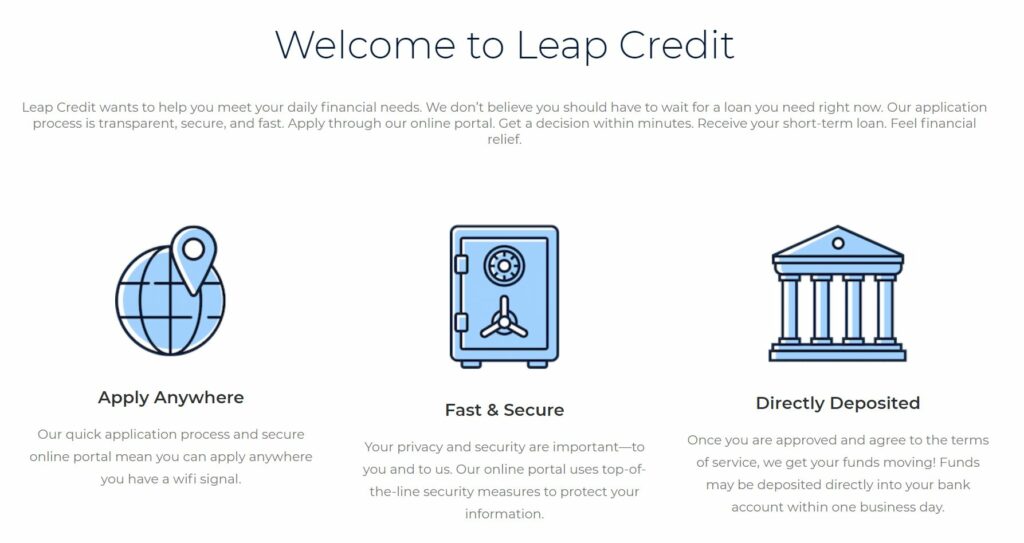 Where is Leap Credit Available?
The platform is currently available in 7 states around the nation:
Idaho
Utah
Texas
Missouri
Wisconsin
Alabama
South Carolina
Unfortunately at this time, people from a state not on this list are not eligible for service.
What Eligibility Requirements are there?
To apply for a loan with Leap Credit, you will need a few things. First, you will need to ensure that you are from one of the seven states listed above. Second, you will be required to fill out an application with the following components:
Name
Email
Address
Social Security Number (SSN)
Permanent address
Driver's license
Employment information
Banking information (Checking Account)
In order for your application to be approved, there are a few requirements. You will need to be at least 18 years old and have a checking account. You will also need to prove income with direct deposits into that checking account. The company does not specify a credit score requirement, but typically the higher the credit score, the better the rate you will receive.
How Fast Will I Receive the Money?
According to Leap Credit's website, applications are typically approved within minutes, though can take up to two days. Once you are approved, and if you accept the loan offering, you can expect to have the funds deposited directly into your account within one business day.
What Happens with a Late Payment?
Payments that are late will incur a late fee. This fee varies by state but is typically around 5% or $15. In some cases, the fee may be as high as $50.
Why Do They Need My Social Security Number?
Like any loan or credit line with a bank or brokerage, Leap Credit needs your SSN to prove your credit score. Your credit score will determine the interest rate associated with your loan.


Are There Any Short Term Loan Alternatives?
While short term loans can be beneficial in a bind, they also typically feature short payback terms and high interest. With this in mind, there may be a few other alternatives to consider:
Credit Building Credit Cards: While many credit cards are not available for someone with poor credit, there are also many credit cards designed for low credit scores. These starter credit cards often feature small lines of credit, but can grow over time as you prove an ability to pay it off on time. Some of these credit cards are called Secured Credit Cards as they require a down payment as collateral in case you fail on payments.
Peer to Peer Lending: There are a number of peer to peer lending platforms that offer personal loans to individuals that may not be able to qualify for a loan elsewhere. Some top peer to peer lending platforms include LendingClub and Upstart.
Paycheck Advance Apps: You may have seen a commercial for an app that offers a service like this. A common one is Earnin. A paycheck advance app typically allows an individual to receive a part of or their entire paycheck early. They still feature an interest rate, but could be another alternative to a short term loan.
Leap Credit Review: Final Thoughts
Planning for all that life has to throw at you is nearly impossible. It can be stressful worrying about the future. One of the best ways to prepare is to ensure ample savings. Maintaining a strong strong credit score can also be very helpful.
However, in many cases, people live paycheck to paycheck. According to CNBC, just 39% of Americans could afford a $1,000 emergency.
Leap Credit is a short term credit solution that offers individuals a way to close financial gaps when emergencies or other surprises arise. While it may be highly convenient to accept a short term loan, it is important to do your own due diligence. Be sure you understand the details of the loan completely. Leap Credit does offer customer support that can help walk you through the loan details.
Leap Credit features very high interest rates that should be understood before accepting a loan. With short term loans, it is common to see higher rates, but rates above 500% are extremely high.
If you are interested in a short term loan, be sure to check out Leap Credit and their FAQs page.
Best Free Stock Promotion