The popular M1 Finance online financial platform has both investment accounts and bank accounts.
Opening an investing account is easy enough for beginners and has flexible options for building a portfolio. Not to mention, most experts recommend you open a retirement account, regardless of how old you are or what life stage you are in.
Planning early for the future is the way to start on your path to a financially healthy retirement.
That being said, here is an overview of the different account types M1 Finance offers.
About M1 Finance
M1 Finance helps you put together and manage your custom investment portfolio. You create your portfolio or choose from 80 pre-built options. Then, M1 utilizes its proprietary trading system to automate all of your trading activity.
Auto-invest is the most frequently used option by M1 users. With auto-invest on, any time your cash balance meets or exceeds $25, M1 will automatically invest into your portfolio. To select this option within the app, turn auto-invest on and set your minimum cash balance to $0.
M1's target customers have longer-term goals for their investments. They can be saving up for their child's education, for a down payment on a home, or even to build up an emergency fund. They may have had experience with using other traditional online brokerages to invest in stocks and ETFs.
M1 was made for these potential investors as a lower-cost alternative due to its free offerings. They also allow investors to have a large amount of control over the contents of their portfolio.
Basic vs Premium Membership
Like many other companies out there, M1 Finance offers both a free or basic plan as well as a premium plan for an annual fee.
Here's the differences between the two!
 M1 Basic
Free, but you will need a minimum of $100 to start trading
Create your own unique portfolio or choose from 80 pre-built options
Base interest rate for line of credit is 3.5%
One trading window per day
M1 Plus
$125 annual fee
1% APY checking account
Earn 1% cash back on qualifying debit card purchases
Get a 1.5% reduction on the base rate of M1 Borrow, which is a line of credit
An added afternoon trade window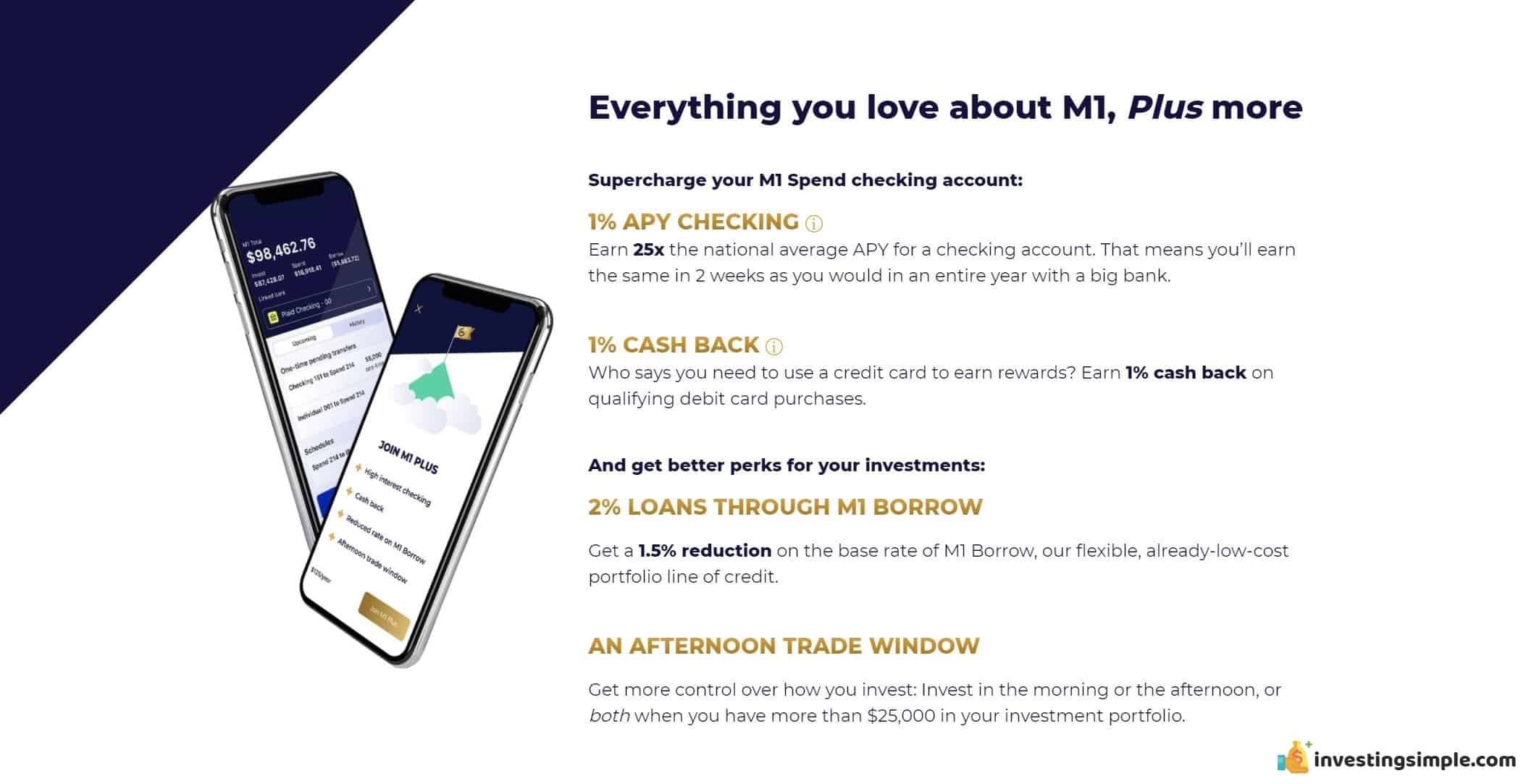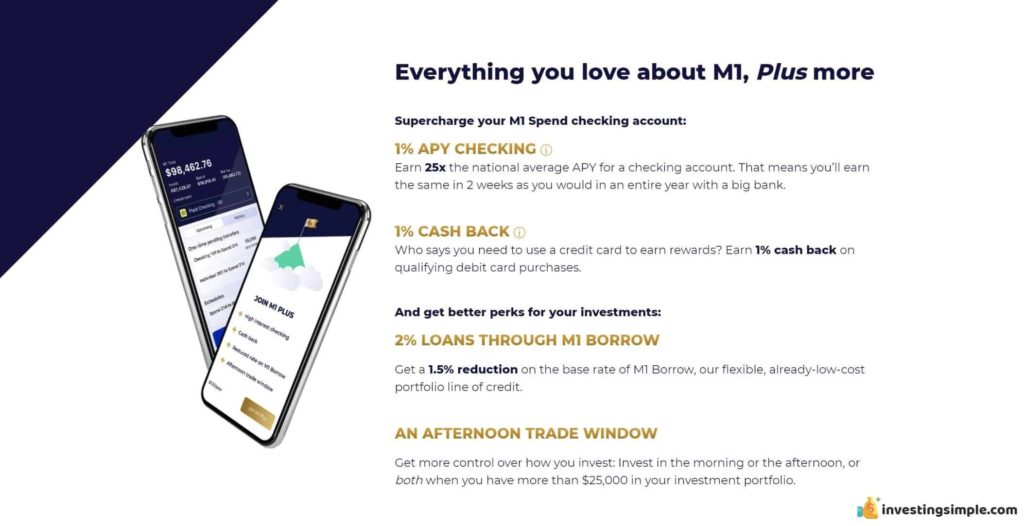 Taxable Brokerage Accounts
M1 requires a minimum of $100 to open a taxable individual or joint brokerage account.
Individual Brokerage Accounts - An account for yourself
Joint Brokerage Accounts - An account used to establish equal ownership between 2 people
Retirement Accounts
M1 requires a minimum of $500 to open a retirement account.
An Individual Retirement Account (IRA) is a type of retirement savings account that gives you tax benefits while you are saving for your retirement. At M1 Finance you can open a Traditional, Roth, or SEP IRA. 
Traditional IRA - A tax-advantaged account designed to help people save for retirement. Contributions are generally made with after-tax money but may be tax-deductible if you meet income eligibility. Any potential earnings grow tax-deferred and are not taxed until you withdraw them after age 59½.
Roth IRA - A tax-advantaged savings account that provides federally tax-free growth and distributions once it has been open for 5 years and you are at least 59½ years of age. Contributions are made with after-tax income.
For 2020 and 2021, the maximum contribution to Roth and Traditional IRAs for people under 50 years old is $6,000. For people 50 and over, the maximum contribution is $7,000.
There are also income limitations that affect how much you can contribute to your Roth IRA.
Simplified Employee Pension (SEP) IRA - A retirement savings account for people who are self-employed or small business owners. A SEP IRA has a higher contribution limit than a Traditional or Roth IRA. At this time, M1 only supports SEP IRAs for people who are self-employed.
In 2021 you can contribute the lesser of $58,000 or 25% of your income to a SEP IRA.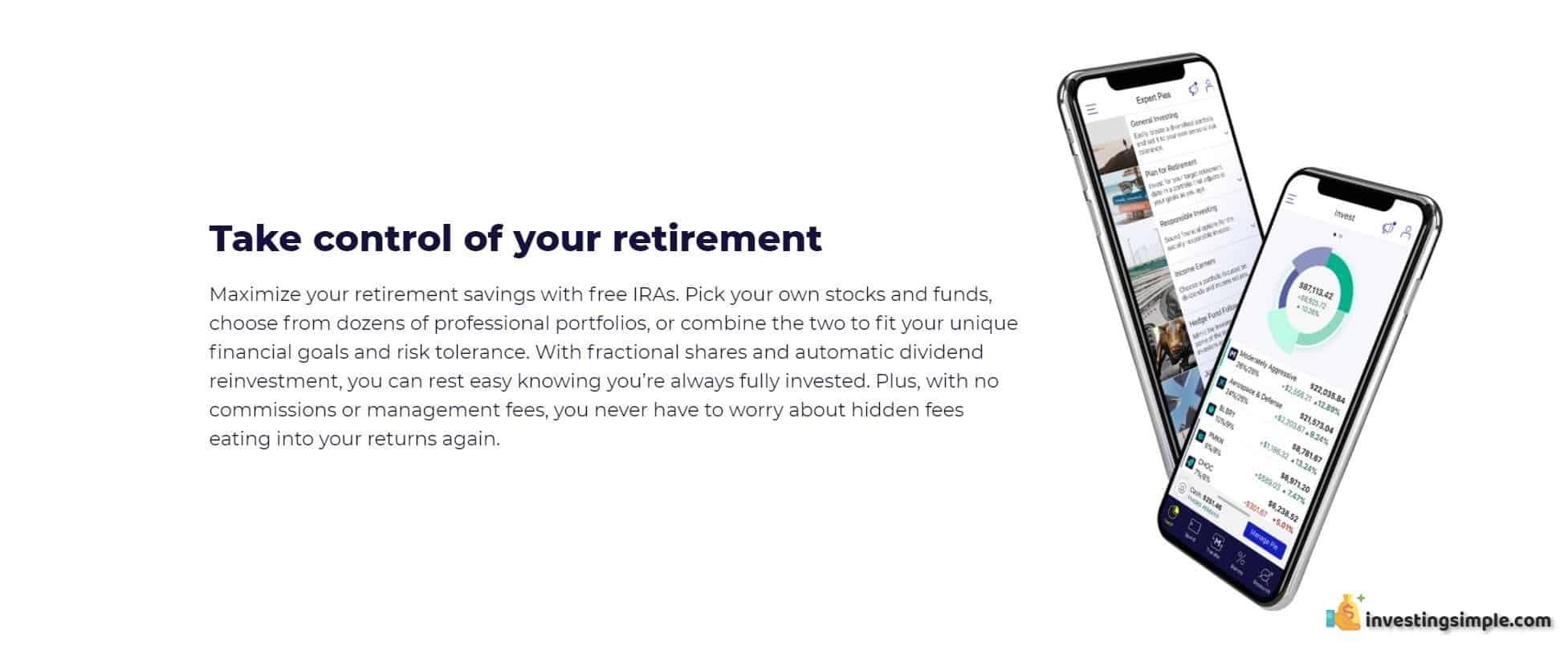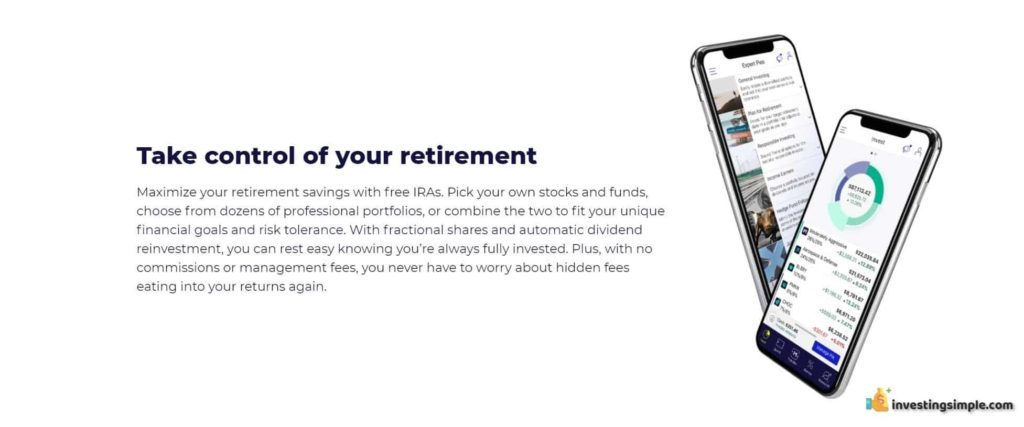 Trust Accounts
Trust accounts are financial accounts that are managed by someone on behalf of someone else. Parents (trustees) may set trust funds for their children (beneficiaries) which may pay out money at set intervals or for specific expenses. However, most of the money remains in the fund until the children reach a certain age.
M1 Finance supports both revocable and irrevocable trusts that are authorized to invest in securities. The biggest difference between a revocable and an irrevocable trust is the ability to make changes as you choose.
A revocable trust gives you the flexibility of adding or removing heirs, giving more or less to a person, or switching  up other details.
As soon as the trust account application is processed, you will be able to manage your account on the platform in the same way you would a typical M1 taxable brokerage account.
Conclusion
M1 Finance has a solid list of account types.
The basic plan is fee-free and gives investors an easy to understand pie chart to track their portfolio. The premium plan, that costs $125/year, M1 Plus, has perks including cash back on qualified purchases used with their debit card and a generous 1% APY checking account.
You can open a traditional or Roth IRA, or rollover a current IRA or 401K account. It comes at no surprise M1 is one of the most popular investing platforms out there today.
Best Free Stock Promotions