Fractional shares are known by some as the single greatest innovation to level the playing field for investors. In a nutshell, this significantly lowered the barriers to entry for high flying stocks like Amazon or Tesla and made them available to the masses.
Fractional shares allow investors to purchase a portion of a share, as opposed to the whole thing. Through this, investors are able to get in on the ups and the downs of the stock just as if they owned the whole thing, but at a more affordable price. Many stock brokerages have adopted this feature and have attracted millions of newer investors to their platforms.
M1 Finance is one of the brokerages that pioneered this fractional investing concept. Here's how fractional shares work with M1.
What Is M1 Finance?
M1 Finance was founded in 2015 on the idea that investing in the stock market should be more accessible and automated. Because of this, M1 Finance has racked up over $2B in assets and is still growing fast. This is all with no commissions or fees for trading.
M1 Finance is perhaps most widely known for the capability of creating your own portfolio through their pie structure. Through this platform, you can bundle key stocks into your own, hand-made portfolios this is done by creating a pie of stocks with the target percentages for each of them. Then, you can put the entire thing on autopilot with a number of useful automation features.
By creating your own portfolio, you will also be able to specify the exact percentage of your portfolio you want to go toward each company. This is an incredible and unique benefit for investors because it allows users to structure their portfolios to match their investing style.
For instance, if you want to focus on eCommerce you can simply create an investment pie, and add Amazon, Shopify, eBay, and several others. You can then specify the percentage allocated to each one and finally transfer the money. M1 Finance will maintain the percentage allocations that you have specified as you add/remove money.
This capability is run by the power of fractional shares.
What Is A Fractional Share?
A fractional share is just that, a fraction of an actual share of a company. That means that when the company performs well, you will reap the benefits of that increase. The opposite is also true.
Fractional Shares On M1 Finance
As mentioned earlier, fractional shares have done a great deal to level the playing field. They give small investors the same power as larger investors to invest in any company regardless of the share price. Fractional shares with M1 Finance are available with any stock or ETF on the site.
First, let's start off with an overly simplistic example. If I want to buy a share of a company that is trading at $10 but I only have $1 to spend, through fractional shares, I can buy 1/10th of that stock.
While this sounds amazing, there are some limitations. With M1 Finance, investors can purchase as little as 1/10,000th of a share. For instance, at the time of this article, Berkshire Hathaway Class A shares are trading in the $300,000 range. In previous days, an investor would have to fork out that whole amount in order to participate in this stock's gains.
With fractional shares, investors can bring that price tag down to as little as $30 for 1/10,000th of the price.
While making more expensive shares like Berkshire Hathaway or Amazon more accessible, fractional shares also allow smaller investors to better diversify their portfolios. For example, if you wanted to make Amazon stock 10% of your portfolio, without fractional shares you would need over $30,000! That's because you'd purchase one share of Amazon for over $3,000 and then you'd need another $27,000 of assets to balance that out.
By using fractional shares on M1 Finance, you could make Amazon 10% of your portfolio even if you only $100 to invest with. This gives smaller investors significantly more flexibility in their investing to create the exact portfolio that they are looking for.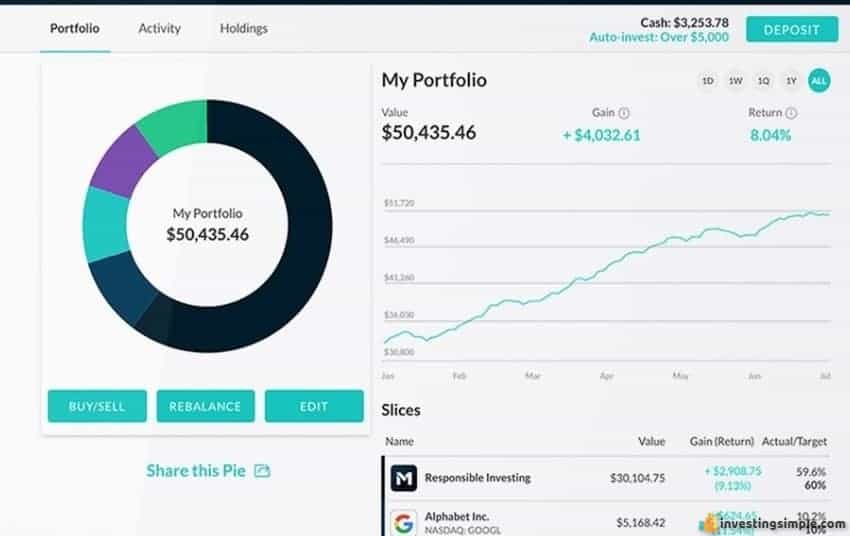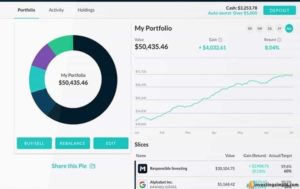 Fractional Share Risks
A fractional share is not a hedge for risk. While it is true that you might own less than one share of the company, you are still subject to fluctuations in the stock price. If the share price of Amazon dips by 10%, your fractional share will also dip in price by 10%.
If you want to hedge your bets, make sure that in addition to your fractional shares that you also have shares in other companies. This is why M1 Finance is so great. It literally forces you to diversify by not having all your money in just one stock. By building your pie, you have to include more than one stock so you can't put all of your eggs in one basket.
For you to be successful as an investor, it is crucial that you are involved in many different companies, industries, and markets. This is critical so that if one company goes down, your financial dreams will not be derailed.
Through fractional shares, this level of diversification is much more accessible to the everyday investor. You no longer need tens of thousands of dollars just to build a diversified portfolio!
Final Thoughts
In summary, fractional shares are a gift to mankind. You should absolutely use this feature where appropriate. It can benefit your portfolio as you try to hedge your risks by investing in multiple stocks to diversify your investments. It will also aid you in your attempt to add new stocks to your portfolio that were previously unobtainable due to an out-of-reach share price.
At any rate, the ability to purchase fractional shares is a valuable asset and a wonderful feature of the stock brokerage M1 Finance.
One word of caution. M1 Finance is not the only brokerage that offers fractional shares. In fact, it is becoming increasingly common. Be sure to understand the full capabilities of a platform before joining. Once you begin investing with a certain brokerage, there is an inevitable opportunity cost that comes with changing course.
Best Free Stock Promotions