Times have changed, and investing in the stock market is not the same as it was 10 years ago. The rise of the Robo-advisor and algorithm-based trading have taken the brokerage industry by storm. One of the most established examples of this trend is M1 Finance.
In recent years, the offerings for individual retail investors have gotten a lot better. Brokerages like Webull and M1 Finance learned that by handling everything electronically and not having brick and mortar locations, they could offer their services for free.
M1 Finance is truly a brilliant investing platform that mixes commission-free trading with great features and benefits for DIY investors.
They have created a full-service platform where you can save, borrow, and invest your money. It is a one-stop shop where you can plan your finances. In this review, we will be doing a deep dive of the M1 Finance investing platform. We will be taking a comprehensive look into the M1 Invest, M1 Borrow and M1 Spend features.
M1 Finance Review
M1 Finance offers one of the best free platforms available to investors today. The tax minimization, fractional shares and smart rebalancing make this platform far more sophisticated and advanced than other free investing apps.
M1 Finance has a great platform for long term investors. The ideal user for M1 Finance is someone who is a somewhat passive investor, relatively fee sensitive and does not want to spend a significant time managing their investments. M1 Finance offers a greater amount of flexibility because you can choose exactly what you invest in. With other robo-advisors, you are only able to invest in a handful of ETFs.
M1 Finance is also a great platform for dividend investors. M1 Finance will automatically reinvest dividends back into your portfolio once the cash balance exceeds $10.
Pros
This platform can be set up as 100% passive
M1 Finance offers complete flexibility with the custom pies
For those looking for some hand holding, M1 Finance offers expert pies
Automation of your portfolio takes your emotions out of investing
Easy access to borrow money
Great robo-investing features
Cons
Investments are limited to ETFs and stocks trading on the NASDAQ, NYSE or BATS
Other robo-advisors offer more efficient tax loss harvesting, however they charge a fee for using the platform
Market orders are automated, you cannot use any other types of buy or sell orders
M1 Finance only offers one trading window per day unless you have M1 Plus
Best Free Stock Promotions
M1 Finance Summary
M1 Finance combines features of a commission-free brokerage and a Robo-advisor
You can trade stocks and ETFs 100% commission-free
Free pre-built portfolios created by investment management professionals
The use of fractional shares makes the underlying share price irrelevant
There is only one trading window per day unless you pay for M1 Plus which gives you two
Your portfolio is automatically rebalanced as you add money or take money out
M1 Finance follows tax minimization strategies when you sell
Dividends earned can be automatically reinvested across your entire portfolio
You can build a portfolio or "pie" from scratch or choose from one of the dozens of expert pies
The minimum to open an account is $100 ($500 for retirement accounts)
There are no mutual funds, options, futures, or crypto on M1
They also offer a low-cost option to borrow against your securities called M1 Borrow
M1 Spend is a cashback debit card that is very unique as well
Smart Transfers allow investors to fully automate their personal finances
In general, this platform is best for long term DIY investors
We do not recommend M1 Finance to active traders 
What Is M1 Finance?
M1 Finance was launched in 2016 and is an online robo-advisor and brokerage hybrid for everyday people who want to invest in stocks or exchange-traded funds (ETFs).
M1 Finance combines features of a traditional brokerage account with a modern robo-advisor. First, you select your investments and your allocations. Each of these allocations makes up a slice of your overall pie. Then, you automate the entire portfolio!
You can set up recurring weekly or monthly deposits.
Through M1 Borrow, you can get a low-interest loan borrowing against the securities in your M1 Invest account. Now, with the addition of M1 Spend, you can have a checking account with them allowing you to earn cashback while having your money ready on the sidelines to invest.
Say goodbye to the three-day transfer when moving funds to your brokerage account! With M1 Spend, you can funnel money into M1 Invest that same day.
M1 Finance At a Glance
Account Types: Individual, joint, Traditional IRA, Roth IRA, SEP IRA, Trust
Fees: $0 trading fees or account management fees
Minimum Investment: $100 ($500 for retirement accounts)
Investments: ETFs and stocks
Top Features: Automatic rebalancing, fractional shares, dividend reinvestment, tax minimization, zero fees, free pre-built portfolios.
M1 Finance focuses on low-cost passive investing with additional features such as automatic rebalancing of your portfolio and tax minimization strategies. The only fees you pay are the fees associated with any ETFs you invest in or fees paid to FINRA and other regulatory agencies. M1 Finance is a completely free investing platform!
How Does M1 Finance Work?
M1 Finance operates by creating portfolios of stocks and ETFs called "pies". Each pie can be customized, meaning you can choose specific stocks and ETFs that you want to add. For example, you could build a pie with 50% Tesla stock and 50% Google stock.
Within each pie, you can have up to 100 stocks or ETFs. Each stock can carry a different weight in the portfolio. There is no limit on the number of pies you can have in your M1 Finance account! For example, you could have one growth-oriented pie and one income-oriented pie in your M1 Finance account.
As an M1 Finance investor, you have the choice between investing in a custom pie or an expert pie. Here is our step-by-step guide on how M1 Finance works.
M1 Finance Features
The M1 Finance platform offers a variety of features available to its users. From expert pies and automated rebalancing to smart transfers and custom portfolios, M1 Finance has a lot to offer.
Expert Pies
The M1 Finance platform offers expert portfolios called pies.
These expert pies are created by M1 Finance and are offered to provide increased diversification as well as low-cost alternatives to some of the other investment options on the market.
Expert pie investing may be a suitable choice for beginners who do not want to build an investment portfolio from scratch. These expert portfolios can make up your entire investment portfolio or just a portion of it.
M1 Finance creates these professionally built pies based on generally accepted investing principles as well as past performance data. They offer a variety of expert pies, each composed of 2 to 20 securities depending on the type you choose. Expert portfolios are designed by M1 Finance investment professionals as well as third-party partners such as Cambria Investments. The M1 Finance investment platform offers 9 different categories of expert pies.
M1 Finance Expert Pie Portfolios
General Investing: Choose from risk levels ranging from ultra-conservative to ultra-aggressive.
Plan For Retirement: Invest for your target retirement date. Your portfolio allocation will adjust over time to become more conservative as you approach retirement.
Responsible Investing: Socially conscious investing. This investment category invests in companies that are concerned about financial obligations as well as social and environmental obligations.
Income Earners: Contains dividend and interest-paying securities.
Hedge Fund Followers: Pies that track public funds such as Berkshire Hathaway and Icahn Enterprises.
Industries & Sectors: Invest in one segment of the overall economy.
Stocks & Bonds: Multiple options for diversified stock and bond exposure.
Other Strategies: Other investment options like blue-chip stocks, domestic growth, domestic value, and more.
Trinity Portfolios: Portfolios created by Cambria Investments.
M1 Finance has a quantitative model for choosing the specific ETFs within each expert pie. This model takes into account variables such as fees, assets under management, and tracking error of standard deviation. These variables result in low-cost ETFs that track the underlying benchmarks better than most other ETFs in their category.
It is completely free to use M1 Finance expert pies. However, we must remember the underlying ETFs have small fees for holding the fund called expense ratios. M1 Finance aims to select the best tracking ETFs while identifying the lowest expense ratio funds. Fee transparency is a benefit of the M1 Finance investment platform.
Custom Pies
If you are a do-it-yourself or hands-on investor, you can decide to build your own portfolio from scratch.
As mentioned earlier, you can add any stocks or ETFs that trade on the NYSE or NASDAQ.
Each pie can hold up to 100 stocks or ETFs. For example, you could create a portfolio where the allocations are 50% VOO, 30% Amazon, 10% Apple and 10% Microsoft.
VOO is the Vanguard 500 Index Fund, which is an ETF. The rest are technology stocks. With most other brokerage accounts, you would have to make sure the stocks you are purchasing fit within your budget. The good news is that with M1 Finance, the fractional shares feature makes the share price totally irrelevant!
One of the most valuable features offered by M1 Finance is the ability to purchase fractional shares. This feature is 100% free and included for everyone.
If you have been exploring the M1 Finance app, or researching the platform online, you have probably come across this term fractional shares.
To put it simply, a fractional share is a fraction of one share of a company.
M1 Finance splits every share into 1/10,000th of a share. This allows you to trade the exact amount and achieve your portfolio allocation goals.
This means that with M1 Finance, you can set your allocations for each stock and meet those allocations regardless of the share price.
Now share price is no longer a barrier for smaller investors to create their target portfolio.
This also ensures that you aren't sitting on too much cash on the sidelines while you wait for enough to buy a full share, you can toss it back into fractional shares at any point.
Tax Minimization
Using a simplified method of tax loss harvesting, M1 Finance offers options to sell positions in the most tax-favored way.
This means that you can make your buying and selling decisions while knowing that M1 is keeping the tax consequences in mind.
When you withdraw money from M1, they sell stocks/ETFs prioritizing them by:
Losses that offset future gains
Lots that result in long term gains
Lots that result in short term gains.
Some brokerages offer tax loss harvesting and that is different. With tax loss harvesting, assets are sold and similar ones are repurchased to create artificial losses. These losses are used to offset capital gains. M1 does not offer this feature.
Smart Rebalancing
Another key feature of M1 Finance is smart rebalancing. Using smart rebalancing, all deposits will be automatically invested into your pie without your manual input. When withdrawals are taken out of your account, it will automatically rebalance your pie so it has the correct weight of your holdings at all times.
Rebalancing is a crucial aspect of investing. Rebalancing ensures your portfolio has the correct ratio of holdings and makes sure you are not taking more or less risk than you originally planned.
For example, if you held a portfolio of 50% stocks and 50% bonds and the stock portion grew faster, your portfolio is now 60% stocks and 40% bonds.
Your risk has increased by not rebalancing your account because you are more exposed to stocks. To tone back risk, you would sell off some of the stocks and buy bonds to get back to your 50% stock and 50% bond portfolio. If you invest with a platform like Robinhood, you will have to manually rebalance your portfolio.
M1 Finance does this automatically, for free! When you add money, they buy whatever you are low in. When you take money out, they sell whatever you have too much of.
In essence, they're buying low and selling high on your behalf! You don't need to hold yourself to making those tough decisions because M1 is doing it for you.
Here's our full article explaining the automated rebalancing feature of M1 Finance.
Portfolio Automation
The automation features allow you to set your portfolio and forget about it.
If you use the recurring automatic deposit feature and set up your portfolio, you can put your investing on autopilot. M1 Finance will automatically reinvest your deposits as well as any dividends within your account. This way you don't need to worry about investing each of your deposits every week and you can ensure you will be fully invested. You can also turn off this auto invest feature at any time if you wish.
This is a huge plus for passive investors!
M1 Finance Smart Transfers
Portfolio automation is nice for streamlining the investing process, but M1 Finance recently rolled out an even more advanced feature to save you even more time called Smart Transfers.
The difference between Portfolio Automation and Smart Transfers is that with Smart Transfers, you can set logic-based rules. For example, if you want to keep your checking account at $1,000 and invest any cash above that mark, you can set up a Smart Transfer to do just that.
As an example, every time your checking account is over $1,000, M1 could move excess cash to your investments. This keeps your finances extremely efficient and ensures that things are working exactly how they should without requiring your active involvement.
You can also set up Smart Transfers in the other direction. For example, if you want the dividends your investments pay to go straight into your checking account, you can make that happen. This would allow you to take full advantage of the 1% APY that M1 offers on their checking account.
It is also possible to integrate your Smart Transfers with M1 Borrow. This could allow you to set up automatic payments towards your Borrow account every time your Spend account reached a certain dollar threshold.
Currently, Smart Transfers are only available to M1 Plus users, but the feature may roll out to other users as time goes on.
Trading Windows
One feature that is unique to M1 is that they only offer one trading window per day. This is a cost cutting measure and something that allows M1 Finance to make money.
Morning Trade Window (All Users)
This trade window opens each weekday at 10 AM EST when the market is trading. This trade window can be accessed by all M1 Finance clients.
Afternoon Trade Window (M1 Plus Users Only)
This trade window opens at 3 PM EST and is reserved only for M1 Plus members. Clients with the "standard" M1 accounts will only have access to that 10 AM window.
Support Using M1 Finance
M1 Finance looks out for its clients by offering a "Client Success Line" that can be readily accessed by its clients.
This phone line is available 9:30 AM - 4:00 PM, Monday - Friday, when the market is open and trading.
One caveat to this is on certain holidays that fall on weekdays, but the market is closed. Some examples include Memorial Day, Independence Day, and Labor Day.
This is one area where M1 really shines in comparison to their competitors, some of whom are known for notoriously bad customer service. In 2020 alone, M1 Finance grew their customer support team by 500%, quite a respectable ROI for a year.
Dividend Reinvestment
All dividends that are paid out to clients sit in an account until the account reaches a minimum value of $25. When the $25 minimum is hit, the dividends are automatically reinvested into your portfolio.
This dividend reinvestment plan is portfolio-level as opposed to stock-level. That means that if you get a dividend from Apple, it won't just be reinvested in more Apple stock. Instead, it will be re-invested across your entire portfolio following the Smart Rebalancing feature.
Here's our full article on what happens with dividends on M1 Finance.
Taxes on M1 Finance
M1 uploads all of its clients' tax documents on its website. Once navigated to M1 Finance's main website, m1finance.com, click your name at the top right of your screen and select "settings".
Next, select the "Documents" tab, check the "Tax Forms" checkbox and you will see the various tax forms there.
M1 will also send you an email when your annual tax documents have been uploaded so look out for that at the beginning of the year.
Here's our full article on M1 Finance taxes explained.
M1 Finance Account Types, Fees & Minimums
Account Types
One of the key benefits with M1 Finance is that they offer a variety of different account types to investors.
Individual Brokerage Accounts
Traditional IRA Account
Roth IRA
SEP IRA
IRA Rollovers
Trust Accounts
A trust occurs when two parties contractually agree to sign one of their assets to the other. The trustor will give the trustee the contractual right to his or her assets based on the trustor's personal standards. These types of accounts are usually used when parents are looking to assign their children's name to their assets at the time of their death.
M1 Finance supports this type of account and clients can utilize it if they are looking to participate in this contractual agreement with another individual or party.
If you are planning on creating a trust, this is a very involved process that requires the help of a lawyer.
Fees Using M1 Finance
There are no trading commissions or mark up fees for using M1 Finance as long as you open a brokerage account and fund it with a minimum of $100 ($500 for retirement accounts).
M1 Borrow has a variable interest rate and a required account maintenance balance of 35% of your initial loan. M1 Borrow allows you to borrow against the securities in your account.
Account Minimums
$100 minimum for a taxable account
$500 minimum for a retirement account
What Is M1 Spend?
M1 Spend allows you to make M1 Finance a full-service banking platform in addition to a brokerage. You have the ability to use M1's debit card at stores, deposit your paycheck, and pay bills. M1 is also offering a premium version of M1 Spend when you upgrade to M1 Plus. This debit card is a game-changer because it allows you to earn cashback on your purchases!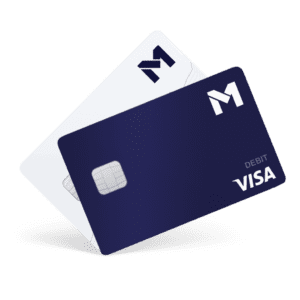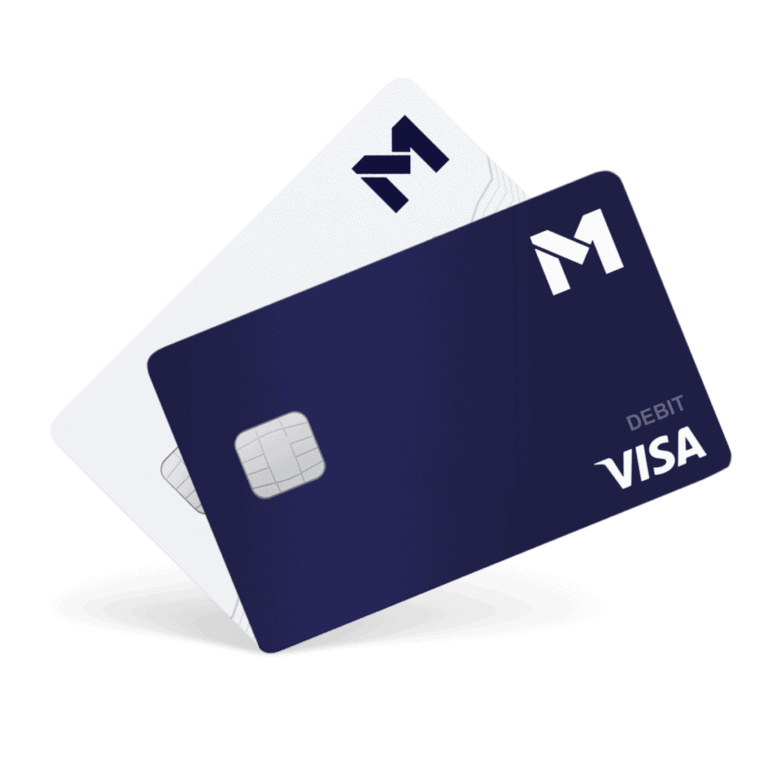 All M1 users are able to access the basic functionality of M1 Spend. This includes:
$0 minimum balance requirement
1.3% APY
4 free ATM withdrawals per month
FDIC insured up to $250,000 
Direct integration with your M1 Invest account
Accessing additional features like a high-yield APY and cashback on your purchases will require an M1 Plus subscription.
One significant perk that M1 Spend offers is that you no longer have to wait for three days to invest when transferring funds to your brokerage account. Your money is ready when you are with M1 Spend! With one simple click within the app, you can transfer money between your M1 Spend checking account into your M1 Invest account.
You're also able to set up Direct Deposit with your M1 Spend account. This allows you to turn M1 Finance into the central hub for all of your personal finances if you do not want to manage accounts with multiple finance companies. A great benefit of this is that you can also receive your paycheck up to two days early!
M1 Credit Card
In addition to the M1 debit card, there is also a credit card. Their latest feature, the Owner's Rewards Credit Card, comes with 1.5% cashback on all purchases. However, members can earn up to 10% cash back at certain locations. They currently have over 70 participating companies. If you own stock with one of these companies and then make a purchase with them, you can earn 2.5%, 5.0%, or 10.0%. Check out the full list of companies and see their accompanying cashback percentages.
This card is available for all M1 members. However, M1 Plus members will get the $95 annual fee waived.
What is M1 Plus?
The M1 Plus program allows you to earn cashback rewards on your M1 Visa debit card Yes, finally there is a debit card where you can earn rewards.
M1 Plus allows you to integrate your free brokerage account with an easy way to actually use your cash.
For an annual fee of $125, you will get:
1.3% APY on the cash sitting in your account
1% cashback on all purchases
Second trading window every day
Lower interest rates when using your M1 Borrow account (3.5% vs 5.0%)
What Is M1 Borrow?
M1 Finance offers a way to take out a margin loan called M1 Borrow.
This is simply a loan against the stocks/ETFs within your account. They serve as collateral, so if you don't pay the loan back M1 takes these assets to recoup the loss. Since this is a secured loan, the interest rate is far lower than an unsecured loan.
If you have a balance of $10,000 in your M1 Finance brokerage account, you will be able to take out a margin loan against your account balance. There are risks involved with margin loans, such as margin calls when you will be forced to sell positions if your account value dips below a predetermined amount.
This line of credit can be used for investing, but that's not a requirement. You can use M1 Borrow to finance an investment in a business, pay for school, or any other investment. Having access to a low-interest line of credit is a feature that sets M1 apart from many of the other free investing apps on the market.
For more information, here is our full review of M1 Borrow.
Is M1 Finance Safe/Legit?
In a nutshell, M1 Finance is just as safe as any other brokerage out there.
M1 Finance is a member of the Financial Industry Regulatory Authority (better known as FINRA). The purpose of FINRA is to protect you, the investor. FINRA is a not-for-profit organization authorized by Congress to protect America's investors and regulate brokers like M1 Finance.
FINRA has written rules that all registered broker-dealers and registered brokers in the United States must follow. These rules are written and enforced by FINRA.
FINRA offers a free tool called BrokerCheck where you can learn more about brokers and broker-dealers operating in the United States. Here is the BrokerCheck filing for M1 Finance.
Second of all, M1 Finance is a member of the Securities and Investor Protection Corporation (SIPC).
When a brokerage firm is closed, SIPC steps in and, within certain limits, works to return your cash, stock, and other securities you had at the firm.
Being a member of SIPC, you will be insured in the event that M1 Finance goes out of business or goes financially insolvent.
Each account at M1 Finance is insured with up to $500,000 in coverage ($250,000 for cash). It is important to understand that SIPC does not insure you in the event of a decline in the value of your M1 Finance investments.
Your investments are your responsibility, so if you make a bad investment, the SIPC is not going to be able to do anything for you.
You might be wondering if M1 Finance is FDIC insured. Only M1 Spend is covered under FDIC, since this is a bank account. Investments are not insured by the FDIC, that is where the SIPC comes in.
M1 Finance is a regulated brokerage account that is in compliance with both the SPIC and FINRA. If you have any doubts about this platform, read the BrokerCheck report here.
M1 Finance Review: The Verdict
M1 Finance offers one of the best free platforms available to investors today. The tax minimization, fractional shares, and smart rebalancing make this platform far more sophisticated and advanced than other free investing apps. Depending on how you decide to use this platform, it's possible to automate much of the manual work you are currently doing with your investments.
M1 Finance has a great platform for long-term investors. The ideal user for M1 Finance is someone who is a somewhat passive investor, relatively fee sensitive, and does not want to spend a significant time managing their investments. M1 Finance offers a greater amount of flexibility because you can choose exactly what you invest in. With other robo-advisors, you are only able to invest in a handful of ETFs.
M1 Finance is also a great platform for dividend investors. M1 Finance will automatically reinvest dividends back into your portfolio once the cash balance exceeds $10.
That being said, M1 Finance is not an ideal platform for short-term traders. It is also not ideal for investors in over-the-counter stocks or executing other unique investment strategies such as hedging or short selling.
Simply put, the M1 platform is not designed for short-term trading. There are only 1 to 2 trading windows per day.
Through automated portfolio rebalancing, you are taking advantage of a powerful economic force known as dollar-cost averaging. By regularly accumulating shares over a long period of time, you are paying the market average price for these shares. This helps to smooth out any hills and valleys over time.
For long term investors, passive and dividend investors, M1 is a great option to consider.