Being an M1 Plus member just got a little bit better with the newest addition to the suite of perks. Introducing Smart Transfers, a way for you to ensure that every dollar is put to use the way you intended.
Summary: M1 Finance
M1 Finance is known for its groundbreaking and innovative technology and for providing solutions that greatly benefit their users. Now, the more than 500K users have one more reason to become an M1 Plus member.
M1 Finance was established in 2015 after its founder was displeased with the lack of innovation and limited features previously available to investors. Since its launch, M1 Finance has attracted more than $1 billion in assets under management making it clear that this platform has something great to offer.
The company's philosophy is to make investing more accessible to the average Joe. Specifically, M1 believes that anyone is capable of reaching their goals through low-cost long-term investing. The platform is tailored specifically to long-term investors and provides complete transparency.
M1 Finance is free for all who want to use the basic account features. However, M1 Finance also offers a premium package called M1 Plus. This comes at a price tag of $125 per year. While this may be costly for some, M1 Plus comes with many benefits that make that extra $125 worth it.
This platform is competing with all the large titans of industry by offering purchases of stocks and ETFs without transaction fees. This has been a great feature to level the playing field among all investors where previously investing was reserved for the wealthy and the connected.
M1 Finance Features
M1 Finance is known most widely for its pre-built and customizable portfolios called Pies which allow investors to designate exactly where they want their money to go. With Pies, users can create individualized portfolios that are fully allocated to the stocks or ETFs that they choose.
For example, a user can set up a pure retail portfolio and designate that 25% of their funds are directed to Walmart, 25% is allocated to Target, and the remaining 50% be split between Lowe's and The Home Depot.
Making use of the Pies ensures that your desired allocation will remain the same throughout the lifecycle. This is thanks to M1 Finance's automatic rebalancing. To enhance this feature, M1 Finance has recently announced and implemented its Smart Transfer.
Smart Transfer
The M1 Finance Smart Transfer allows M1 Plus members to automatically transfer money from their M1 Spending to their investment accounts, or vice versa. Normally, this kind of automatic transfer would be triggered by a calendar event such as a command to invest every other week or every month. Smart Transfers, however, are different. This specific transfer is triggered as soon as the money in a specified account reaches a designated threshold. This tool is out to save investors both time and money since they no longer have to wait until a specific date to transfer funds. Consider the convenience of that!
Transfer From M1 Invest To M1 Spend
Instead of waiting to transfer money each month and potentially missing out on market gains, you can create a rule that will transfer money automatically. When money sits idly in your M1 Spend account, you are surely earning 1% interest with M1 Plus.
However, think of the potential that money has in the market. Money is generally believed to be more efficient when it is invested in the market and especially if these funds are not necessary for daily living or an emergency fund. For maximum gains, these funds should be invested. Now this can be done automatically with Smart Transfer!
Imagine this familiar scenario, you're looking at your account and notice that there is more in your checking than you probably need. You think you should probably invest some of it but the thought of taking the time to trigger a one-time transfer is so exhausting that you decide to just wait until your monthly transfer occurs automatically.
This dilemma is no longer with Smart Transfer. Let's see this in action. Say you had previously determined that $2,000 was all you needed in your checking account at any given time. In just a few clicks can create an automatic transfer from your M1 Spend account as soon as your account hits $2,000. Any amount above that will be automatically directed to your M1 Invest account.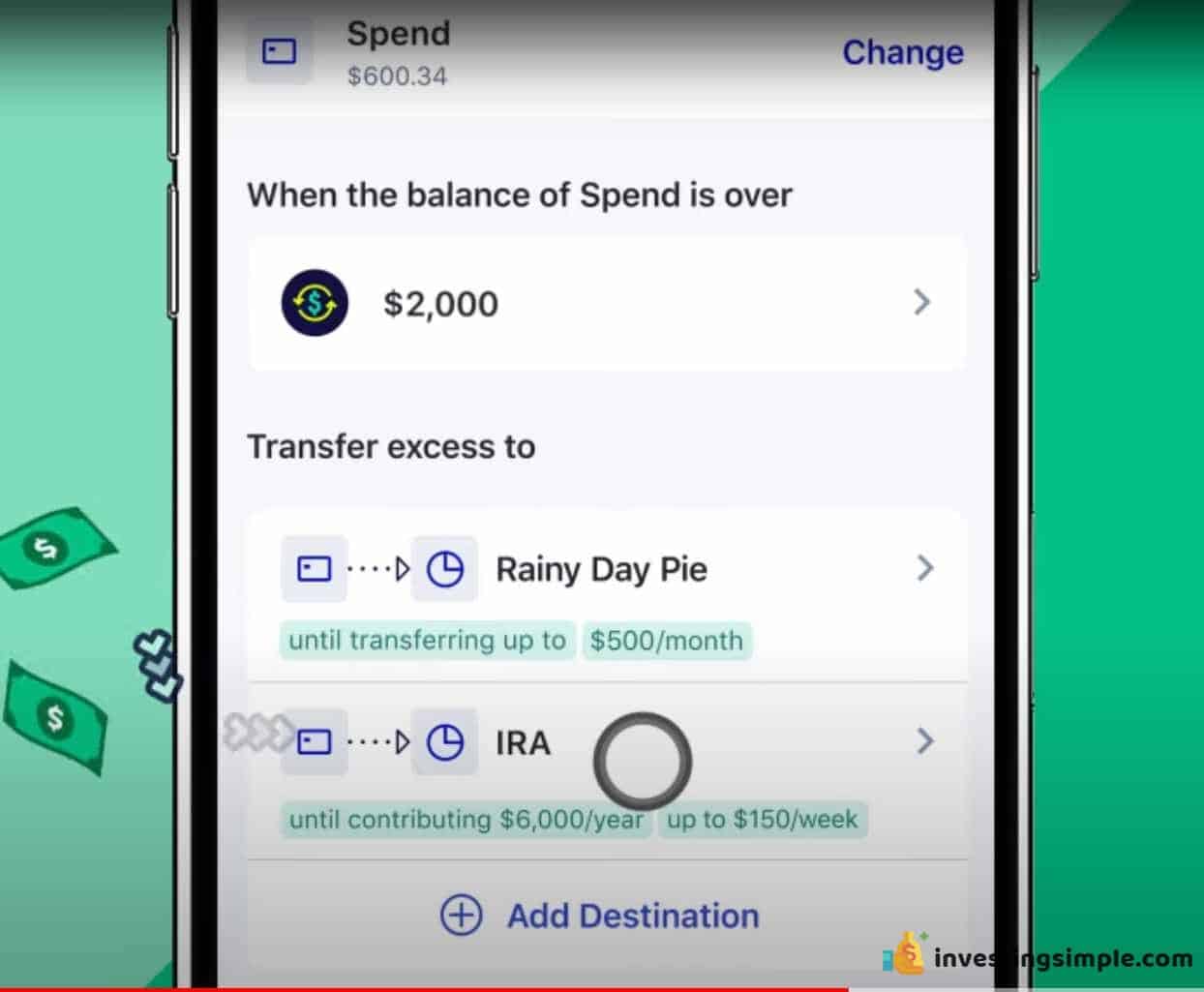 Transfer From M1 Spend To M1 Invest
The reverse is also true. Money sitting inside your M1 Invest account waiting to be dispersed is also inefficient. This money is not accruing any interest and is instead, just waiting for action. There are a variety of ways that money can appear in your Invest account but not actually be used for anything. These funds often appear because some companies pay dividends. A dividend is a sum of money that is paid to investors from a company based on the number of shares owned.
For instance, if company XYZ pays a dividend (annually or quarterly) of $.50 and you own 100 shares of company XYZ, you could expect to see $50 in your Invest account when those dividends are paid out. If you do not have automatic investing established with the proceeds from dividends, this money will do you little good just sitting in your account. With Smart Transfer you can automatically divert these funds back into your M1 Spend account based on a predetermined dollar amount.
This same scenario happens when you sell one or many of your shares of ownership in a company. When this trade is executed, money flows in as proceeds of the sale and sits in your Invest account. From this point you can either reinvest those funds into another stock or ETF or you can transfer that money to another M1 account. If the latter is the case, then why not do this automatically with Smart Transfer instead of doing it manually?
It is impossible to say how many investors have cash just sitting in these holding accounts and don't even know it. With Smart Transfer this problem is totally averted and your cash is automatically transferred to your M1 Spend account or any other M1 account.
How to Set Up Smart Transfer
So, how can you put this into action and take full advantage of this new feature? It's as easy as taking 4 simple steps.
Enter the app and click on the button that says 'Move Money'
Once in the Move Money section, click 'Smart Transfer'
Decide which rule you want to set up (transfer from M1 Spend to Invest or from Invest to another M1 Finance account)
Determine the threshold and click 'Create Smart Transfer'
Once you have set up this or any rule within M1 Finance, you can easily modify it at any time by accessing the transfer tab in your M1 Finance app. Just locate the Smart Transfer you want to modify and click 'edit' in the top right corner. Be sure to confirm your changes once made.
To pause the Smart Transfer, simply toggle the switch that says 'Enable Smart Transfer'. You can turn this on and off whenever you need. This is part of the great flexibility that M1 Finance offers to its investors.
Important Items To Know About Smart Transfer
With this new feature it is important to recognize a couple of items.
Firstly, this feature is only available for M1 Finance Plus members. Meaning if you are hoping to add a little more simplicity to your life by taking advantage of Smart Transfer, it might be time to pony up and sign up for the upgraded account. M1 Plus accounts become available for $125 a year and come with several perks that aren't available with the M1 Basic account.
Secondly, while you can seamlessly transfer money to and from accounts within M1 Finance, this transfer feature does not apply to accounts outside of the platform. This will not work if you use a separate checking account or if you are currently hoping to transfer to or from another taxable account.
Finally, it's important that you determine how much you absolutely need in each of your accounts before you activate this feature. For example, if you are using your checking account to house your emergency fund, it is still important that you have 3 – 6 months of expenses saved in case things should go south.
Conclusion: M1 Smart Transfer Feature
Ultimately, this is a great feature that many investors can take advantage of. This new feature removes complexity and replaces it with simplicity for M1 Plus members. This new feature is well worth the cost of the M1 Plus membership in potential interest earned alone!
Remembering to transfer funds from one account to another is often an annoying and painful task but this is exactly what Smart Transfer solves for. So, take that leap and sign up for an M1 Plus membership and activate Smart Transfers to take full advantage of M1 Finance's new feature.
Give this feature a try today and enjoy your life living with Smart Transfer!
Best Free Stock Promotions