If you are just starting out as an investor, you may be have sticker shock by the prices of certain financial products.
Popular stocks can come with a hefty price tag, which could make them completely out of your reach.
However, there are ways to build your portfolio without emptying your bank account or selling off all your worldly belongings. One of these methods is to take advantage of stock splits.
Stock splits are designed specifically to make stock shares more affordable to smaller investors.
You should be on the lookout for stock splits on M1 Finance to jump at the chance to buy stocks at prices you can handle.
However, truth be told, stock splits are rather irrelevant when using M1 Finance. This is because M1 offers fractional shares, making underlying share prices something you don't have to worry about in terms of affordability.
Still, it is potentially useful to understand what happens when you own a stock and it splits with M1 Finance.
What Is A Stock Split?
Stock splits begin with a decision by a company's board of directors to increase the number of outstanding shares by issuing more to its active shareholders.
Outstanding shares are those that are currently held by investors. They have been authorized, issued and bought by someone. Publicly traded companies all have a set number of shares that are outstanding.
There are a few good reasons why the leaders of a company may authorize splits:
They want to increase demand. Stock splits usually cultivate interest as people see the cost go down per stock.
The costs of a single stock have grown higher than those offered by competing companies.
Company leaders are trying to catch the eye of new investors. They want even smaller investors to be able to afford to buy stocks of the company.
How Can Stocks Be Split?
The most common split ratios are 2 for 1 or 3 for 1, which means that the stockholder will have then have two or three shares for every single share they held earlier.
In a 2 for 1 split, for example, an additional share is given for each individual share owned by an investor in the company. So, if the company had 5 million outstanding shares, after the 2 for 1 split, they would have 10 million total shares.
Do Splits Change The Price And Value Of Stocks?
After a split happens, the price of each individual stock will go down. Using the same example of a 2 for 1 split, as the number of outstanding shares increases, the price of each share changes.
However, the total value of the stocks remains unchanged. You will own a greater number of stocks, but the value will be the same.
In other words, although the number of outstanding shares increases and the price per share decreases, the value of the company does not reflect any change.
How Can I Tell If A Stock Has Split?
Usually you will receive some type of notice. However, you can also find out by looking at the number of shares and the total value of the specific stocks.
If you own shares of a company and see a noticeable change in the price per share, you should go ahead and check the number of shares in your account and the overall total value. So, an investor who owns a stock that splits should recognize fluctuations in the price and number of shares, but not in the total value of their investment.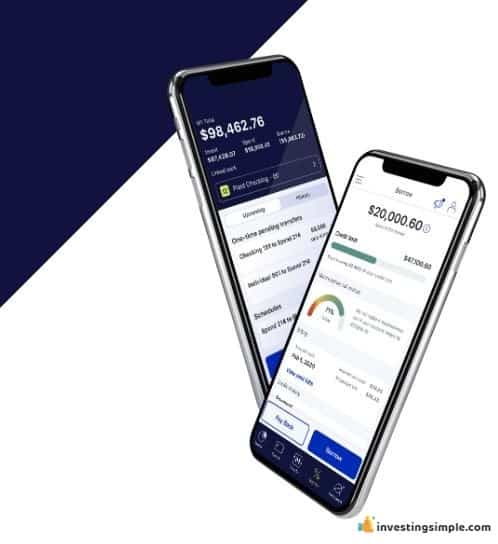 About M1 Finance
M1 Finance is an online brokerage platform offering commission-free trades on a variety of financial products. There are not any minimums on the amount you must invest to launch a portfolio, and also zero portfolio management fees.
M1 gives you the ability to create your own customized portfolio or select from one of the more than 30 pre-built accounts.
M1 Finance helps you with build and maintain your custom investment portfolio. After you create your account, M1 uses its proprietary trading system to automate all of your trading activity. You'll never have to input or execute any trades by hand.
Auto-invest is the most frequently used option by M1 users. With auto-invest on, any time your cash balance meets or exceeds $25, M1 will automatically invest into your portfolio. To select this option within the app, turn auto-invest on and set your minimum cash balance to $0.
M1's target customers have longer-term goals for their investments. They can be saving up for their child's education, for a down payment on a home, or even to build up a solid emergency fund. They may have had experience with using other traditional online brokerages to invest in stocks and ETFs.
M1 was made for these potential investors as a lower-cost alternative due to its free offerings. They also allow investors to have a large amount of control over the contents of their portfolio. This is a key difference between M1 and many other competing apps.
Conclusion
Since M1 Finance already offers fractional shares, stock splits are rather irrelevant.
If you own a stock within M1 Finance that splits, you will simply notice you now have more shares than before. The price per share will change, but the underlying value will not.
Best Free Stock Promotions