M1 Finance vs Charles Schwab 2020
M1 Finance and Charles Schwab are two brokerages that take a different approach to an investment platform. In this article, we are comparing the two popular investing platforms, M1 Finance vs Charles Schwab. 
M1 Finance offers free investing if you meet the minimum balance of $100, Charles Schwab offers accounts with no minimum balance. Charles Schwab also offers a more advanced user face while M1 Finance has a beginner-friendly platform. Schwab offers managed accounts and Financial planning for a fee, while M1 Finance offers a free roboadvisor feature. 
M1 Finance vs Charles Schwab: At a Glance
M1 Finance offers free investing

with a minimum account balance of $100 ($500 for retirement accounts) of stocks and ETFs

Charles Schwab offers free trading

of U.S. stocks and Exchange Traded Funds (ETFs) with no account minimums

M1 Finance offers free prebuilt portfolios using stocks and ETFs. 

You can choose from a variety of

prebuilt portfolios

on M1 Finance and use them for free

Charles Schwab offers a better user interface for

more advanced traders

M1 Finance caters to beginner investors or investors with buy and hold strategies

Charles Schwab allows trading stocks, ETFs, mutual funds, options, and futures

Schwab offers managed accounts and Financial Planning

, but these services will come at a price
| Feature | M1 Finance | Charles Schwab |
| --- | --- | --- |
| Minimum Balance | $100 ($500 Retirement Accounts) | $0 |
| Trading Commissions | $0 | $0 |
| Assets | Stocks, ETFs | Stocks, ETFs, Mutual Funds, Options, Futures, Bonds |
| Mutual Funds | No | Over 3,500 No Transaction Fee Funds |
| Fractional Shares | Yes | Yes |
| Rebalancing Tools | Yes | Yes |
| Robo-Advisor | No | Yes ($5,000 Minimum) |
| Physical Branches | No | Yes |
Click Here to Invest With M1 Finance!
M1 Finance Features
Smart Automated Rebalancing
A key feature of M1 Finance is smart rebalancing. Using smart rebalancing, all deposits will be automatically invested in your portfolio without your manual input. When withdrawals are taken out of your account, it will automatically rebalance your portfolio so it has the correct weight of your holdings at all times.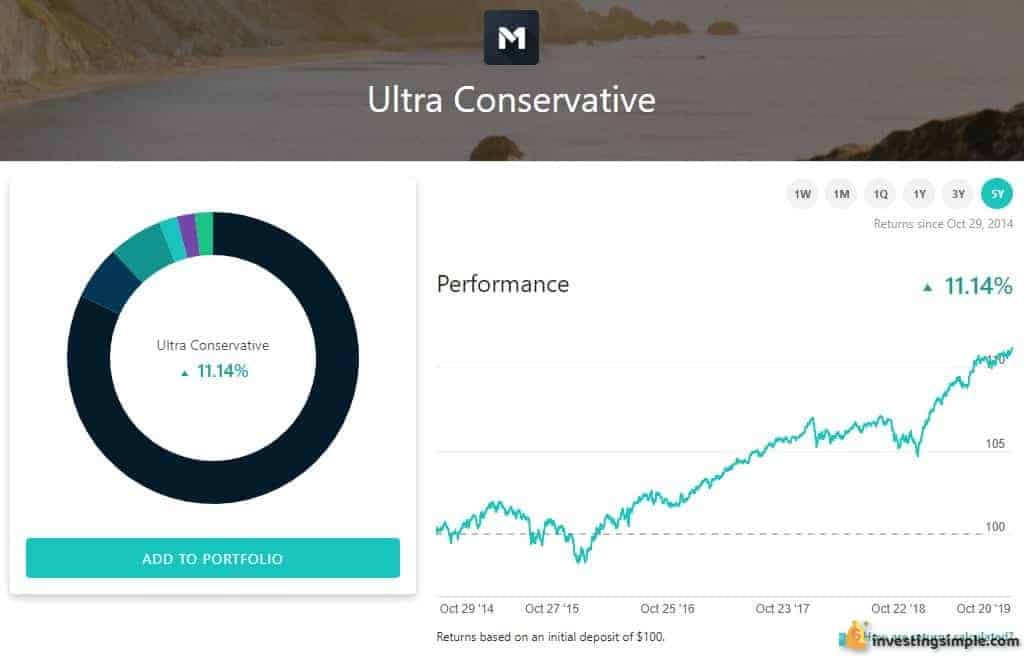 Rebalancing is a crucial aspect of investing. Rebalancing ensures your portfolio has the correct ratio of holdings and makes sure you are not taking more or less risk than you originally planned.
For example, if you held a portfolio of 50% stocks and 50% bonds and the stock portion grew faster, your portfolio is now 60% stocks and 40% bonds. 
Your risk has increased by not rebalancing your account because you are more exposed to stocks. 
To tone back risk, you would sell off some of the stocks and buy bonds to get back to your 50% stock and 50% bond portfolio. M1 Finance does this automatically, for free.
Retirement Accounts
The M1 Finance platform offers free Individual Retirement Accounts. This feature is very valuable as most investing platforms charge annual fees for IRA accounts. Within M1 Finance you can open a Traditional or Roth IRA. 
M1 Finance retirement account minimums are $500.
If you would like to roll over your 401(K) to an M1 Finance IRA, M1 Finance offers a free rollover concierge to assist you with your rollover. They will guide you through the paperwork and help you make the transfer as easy as possible.
Margin Investing and Borrowing
With M1 Borrow, you can borrow up to 35% of the value of your portfolio. You can then use the money you borrow to make investments on margin. 
You will not have to speak to any loan officers, go through and credit checks, or even deal with loan denials when you borrow with M1 Finance. 
Expert Portfolios (Pies)
If you are a beginner investor you may not want to build your portfolio from scratch. This is what makes M1 Finance so attractive to new investors. M1 Finance has a variety of expert portfolios or "pies" available for free. 
Portfolios include underlying stock and bond allocations, hedge fund followers, and even target-date retirement funds. Most brokerages would charge a fee for these portfolios, however, M1 Finance does not.
M1 Finance Expert Pie Portfolios
General Investing:

Choose from risk levels ranging from ultra conservative to ultra aggressive.

Plan For Retirement:

Invest for your target retirement date. Your portfolio allocation will adjust over time to become more conservative as you approach retirement.

Responsible Investing:

Socially conscious investing. This investment category invests in companies that are concerned about financial obligations as well as social and environmental obligations.

Income Earners: Contains dividend and interest-paying securities.
Hedge Fund Followers:

Pies that track public funds such as Berkshire Hathaway and Icahn Enterprises.

Industries & Sectors:

Invest in one segment of the overall economy.

Stocks & Bonds:

Multiple options for diversified stock and bond exposure.

Other Strategies:

Other investment options like blue-chip stocks, domestic growth, domestic value and more.

Trinity Portfolios:

Portfolios created by Cambria Investments.
Click Here to Invest With M1 Finance
Hybrid Brokerage Platform
M1 Finance is truly a hybrid platform because you can choose your investments or simply automatically invest in one of the prebuilt M1 portfolios. 
However, the platform only offers one trading window per day. So, it is not an ideal place to do day trading. It is mostly intended for long term investors who are looking to automate their investing.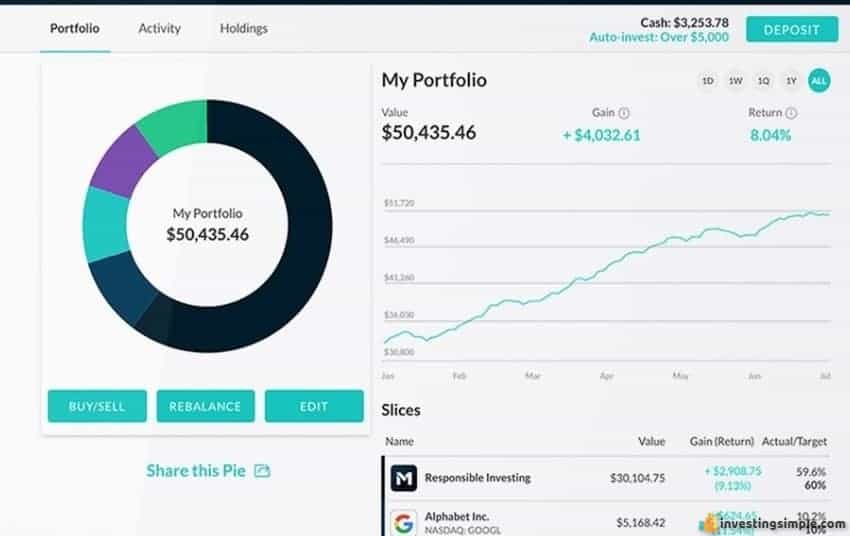 FDIC Insured Checking Account
Through M1 Spend, you can have your FDIC-insured checking account. These checking accounts are directly integrated into the M1 app, so they are incredibly convenient to use. 
You can even invest money without waiting for a three day ACH bank transfer. Through M1 Plus, the premium debit card, you can also earn cashback! 
Tax Minimization
Using a simplified method of tax-loss harvesting, M1 Finance offers options to sell positions in the most tax-favored way. This gives investors the advantage of keeping more of their dollars to themselves rather than paying more to the government. 
The tax minimization strategy offered by M1 Finance helps potentially boost returns in your portfolio, by paying less in taxes. 
M1 will sell securities in order of:
1.) Losses that offset future gains 
2.) Lots that result in long term gains 
3.) Lots that result in short term gains. 
This strategy gives investors the advantage of selling positions in a tax-favored manner. Most other advisors do not offer tax-favored investing and many times will make this a manual rather than an automated process. 
However, there are alternative robo advisors that offer more effective tax-loss harvesting strategies. If you are interested in this feature, we recommend checking out Betterment, the most popular robo advisor.
M1 Finance Fees & Account Minimums
There are zero fees on M1 Finance.
Many people, especially those who are just getting started with investing, love the free aspect of M1 Finance. The lack of fees makes it very easy to get started on the platform.
M1 Finance does have account minimums, however. You must have a minimum account value of $100 to open an investing account on M1 Finance. If you would like to open a retirement account on M1 Finance, you will have to open the account with $500 or more.
M1 Finance Pros
Truly offering zero fee investing.

The platform is beginner-friendly and easy to use.

Reasonable account minimums of $100 and $500 for retirement accounts.

Hassle-free borrowing through M1 Borrow.

Great features like smart rebalancing and fractional shares. 

Taxable Accounts, Joint Accounts, Roth IRAs, Traditional IRAs, Rollover IRAs, SEP IRAs and Trusts are all available.
Click Here to Invest With M1 Finance
M1 Finance Cons
No full-scale tax-loss harvesting.

No guidance from human advisors

Not suitable for day traders.

No options, mutual funds, or cryptocurrency trading

What is Charles Schwab?
Charles Schwab is known as one of the most well known traditional online brokerages. 
With features ranging from full-service investment management from local advisors to do it yourself investing platforms, Schwab has services available to many different types of investors. 
Schwab offers a variety of very useful features and can be the ideal platform for the do-it-yourself investor.
Charles Schwab Features
Schwab Securities - Investors can choose to invest in:
Stocks

Bonds

ETFs

Mutual Funds

Options

Futures
Account Minimums - There is no account minimum to open a Schwab account. The exception is a Charitable Trust which must have a $5,000 minimum to open with Schwab. Also, certain Schwab managed accounts hold account minimums. 
Free Trading - Schwab recently released a new fee structure allowing investors to buy and sell both stocks and ETFs for free. There are no longer commissions for each buy and sell of a stock or ETF. 
Trading Fees
Stock and ETFs - FREE
Mutual Funds - $49.95 to purchase, $0 to sell
Fixed Income - $1
Options - $0.65
Futures - $1.50
These are fees for online trading, investors who use the Schwab automated phone service to place trades will pay a $5 charge. Placing trades with a live Schwab rep will cost $25 per trade. 
Account Types
Taxable Account

Traditional IRA

Roth IRA

SEP IRA

Simple IRA

Solo 401(k)

Trust

Custodial UGMA

529 Education Accounts
Schwab Managed Portfolios
The Schwab platform offers a variety of managed accounts. This feature has a minimum investment of $25,000 and gives you ongoing access to a variety of model portfolios. Investors will pay a fee for this service.
Schwab Intelligent Portfolios Premium
Minimum of $25,000 to start. Initial planning fee of $300 and a monthly fee of $30 per month for ongoing planning. Investors will have access to a CERTIFIED FINANCIAL PLANNER™. 
Schwab Customized Investment Management
Depending on the amount of assets in your account you may be eligible to receive customized investment management by Schwab professionals. 
Customized portfolios at Schwab begin with an account minimum of $100,000 for equity accounts. $250,000 minimum for fixed income accounts. 
Schwab private client has a $500,000 minimum and charges a management fee of 0.80% per year. This will give you a team of investment professionals to help you create and adjust your financial plan.
StreetSmart Edge
®
Schwab offers online trading, as well as its own trading software called StreetSmart Edge.® This platform will give investors real-time quotes and live streaming of market data as well as robust trading and charting tools. This platform is free to use.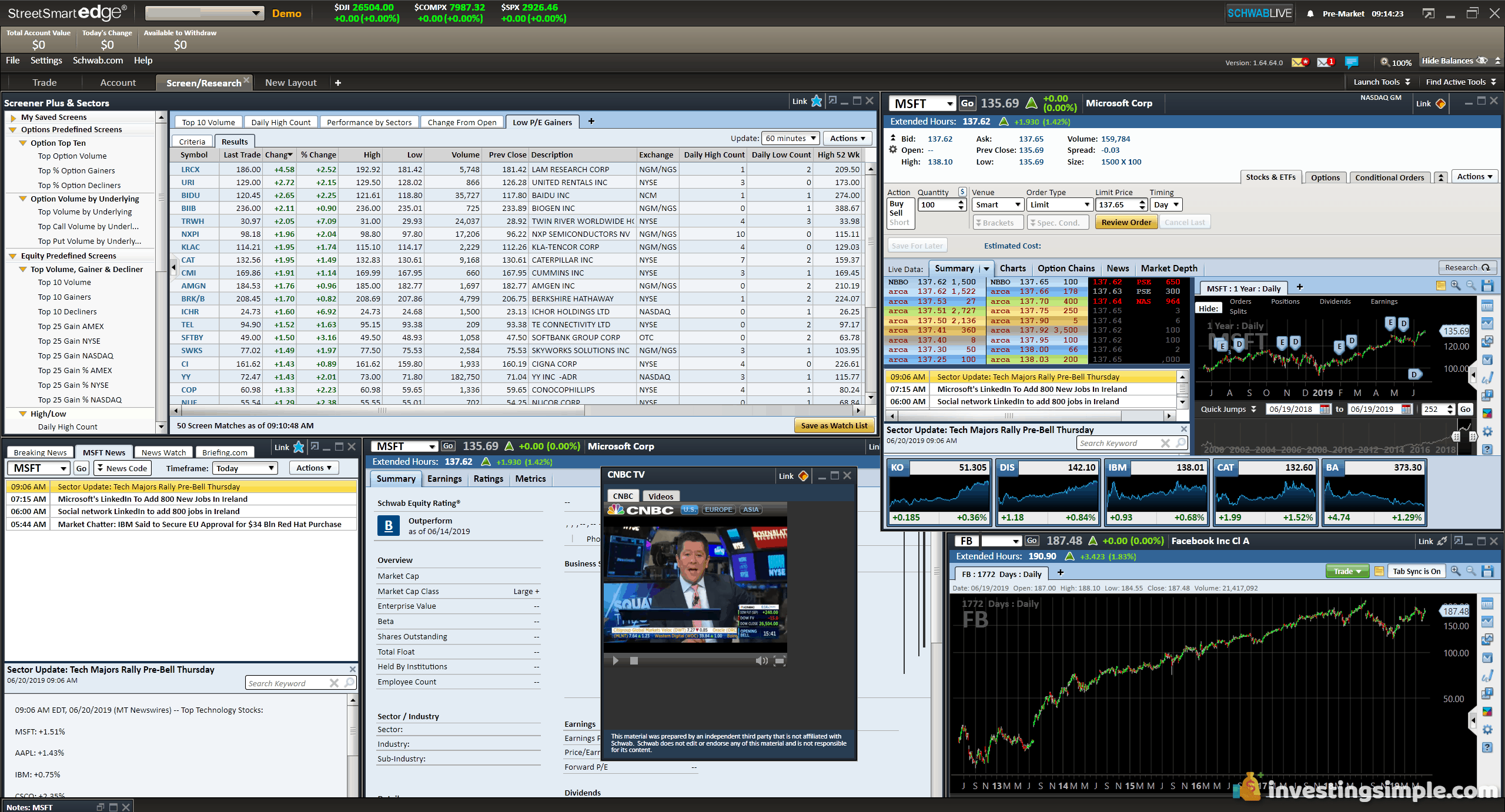 Customer Service and Resources
Schwab offers live 24/7 support via phone or online chat. 
The platform also offers a variety of resources to investors. Clients receive earnings news from well-known resources such as Reuters and Briefing.com. Schwab also provides market commentary from Morningstar, Credit Suisse, and more.
Schwab Pros
Offers many types of securities - stocks, bonds, ETFs, options, and futures on the platform.
Get access to a human financial advisor
Stocks and ETFs are commission-free
Live trading platform
News from reliable sources such as Reuters and Morningstar
Schwab Cons
The trading platform not as robust as TD Ameritrade's Think or Swim
Schwab requires larger deposits to use the automated investing feature. $5,000 to begin using pre-built portfolios.
Mutual funds have expensive fees, $49.95 to purchase
M1 Finance vs Charles Schwab: Summary
Both M1 Finance and Charles Schwab offer excellent platforms for investors. We find there are a few areas where they differ and features investors should be aware of.
Schwab is a good platform for more advanced traders or investors. If you have a more complex financial situation and need to work with a Financial Planner, then Schwab would be the better platform for you.
M1 Finance is a good option for those investors looking to use prebuilt portfolios for a smaller account minimum of $100 ($500 for retirement accounts). M1 Finance prebuilt portfolios are free to use.
If you are looking to make few trades in your account, and are relatively new to investing then M1 Finance may be the better platform for you.
Click Here to Invest With M1 Finance!