M1 Finance vs Vanguard
Unless you have been living under a rock, you have heard of Vanguard. In fact, if you have a 401k there's a good chance this is through Vanguard!
They are the largest provider of mutual funds in the world, with over $5.3 trillion in assets under management.
Then we have M1 Finance, an up and coming brokerage offering an array of helpful features to investors all commission free and fee free. So the question is, which platform is better for investors?
Here's the differences between M1 Finance vs Vanguard.

Summary
M1 Finance offers commission free stock and ETF trading.
Vanguard offers commission free trading for all Vanguard ETFs and over 1,800 non-Vanguard ETFs.
If you are trading stocks on Vanguard, it is $7 per trade for the first 25 trades and then $20 per trade (for accounts under $50,000).
M1 Finance has a $100 minimum while Vanguard has no account minimums.
Vanguard charges an annual $20 account service fee, however this is waived if you opt for electronic statement delivery.
M1 Finance in most cases is better for those looking to trade stocks and ETFs as well as those with less money to invest.
Vanguard is better in most cases for those with significant amounts of money to invest.
What Is M1 Finance?
M1 Finance is a relatively new investing platform that launched in 2016. This app is designed to be a brokerage/robo-advisor hybrid, offering a number of features that allow investors to automate their entire investment portfolio.
A few examples of these features are fractional shares, expert pies, automated rebalancing and more!
Vanguard charges trading commissions for stock trades. M1 Finance takes a different approach to making money. Instead of charging fees and commissions, they make money in a few different ways. Here's our article on how M1 Finance makes money!
M1 Finance offers a free online investing platform and mobile app for its users.
It is easy to open an account and you can begin investing with as little as $100. You start by creating your portfolio which M1 Finance calls a pie. You can customize your pie with a variety of stocks and ETFs offered on M1's platform, including Vanguard ETFs. All trades are 100% commission free.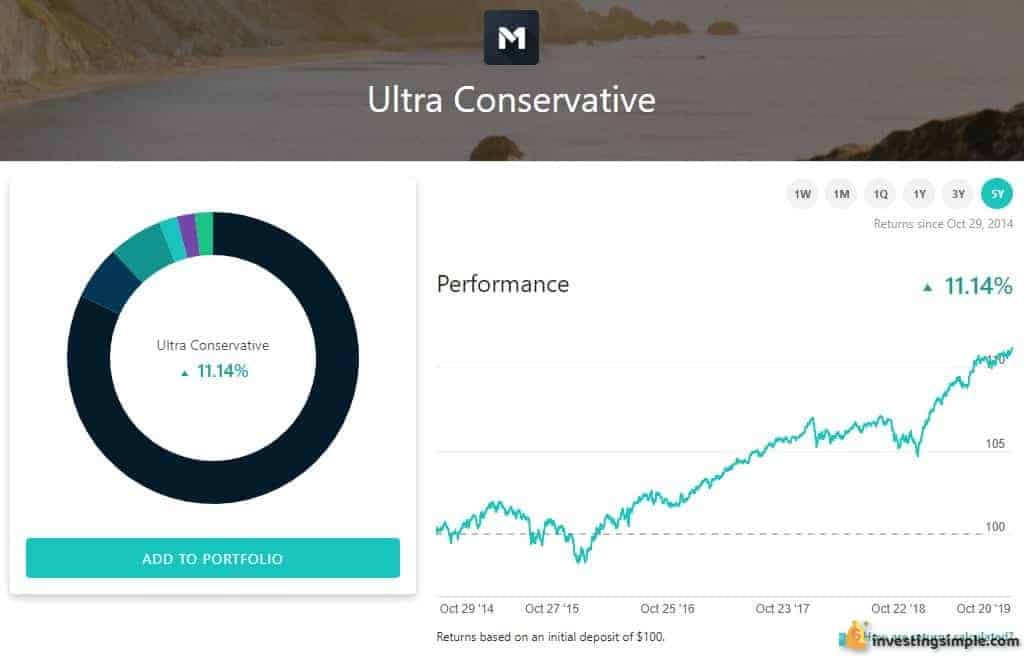 M1 Finance Features
We are going to highlight some of the key features here. If you want to read about all of the features, check out our comprehensive M1 Finance review here!
Fractional Shares
When you buy shares of stocks or ETFs with M1 Finance, you are buying fractional shares.
In fact, you can purchase as little as 1/10,000th of a share of any stock or ETF that trades on the platform.
This is very handy for stocks that trade at a high share price like Amazon. This stock is currently over $2,000 per share. Other brokerages would require you to purchase an entire share. With M1 Finance, you can buy as little as 1/10,000th of a share.
If you wanted to, you could invest $10 in Amazon stock with this platform. If you buy shares of Amazon through Vanguard, you will pay a commission for the trade and you will have to purchase whole shares.
Automated Rebalancing
When money is added to your portfolio, M1 Finance will automatically rebalance your portfolio.
They will accomplish this by buying more of what you are underweight in and less of what you are overweight in.
Your portfolio will always move away from the target allocations, and this is a phenomenon known as portfolio drift.
They will also rebalance as you sell. This is accomplished by selling more of what you are overweight in and less of what you are underweight in.
A lot of investors forget to rebalance their portfolios, or they do it very infrequently. This could result in your portfolio being too conservative or aggressive. M1 Finance does their best to keep you as close to your target allocations as possible.
Expert Pies
If you want to build your own portfolio from scratch, M1 Finance allows you to do that with the Custom Pies feature.
However, if you are looking for some help when it comes down to what to invest in, they offer over 30 different expert portfolios that are completely free to invest in.
This includes stock and bond portfolios, target date retirement funds and more! Most of the ETFs in these portfolios are offered by Vanguard, BlackRock or iShares. These are all reputable fund companies known for having low fees.
Free Retirement Accounts
This is one of the only brokerages we have come across that offers free retirement accounts.
The minimum to get started with a retirement account is just $500.
M1 Finance also offers target date retirement funds as part of their expert pies, and this is a great option for passive retirement investors!
Click Here To Invest With M1 Finance!
What Is Vanguard?
Vanguard is the largest mutual fund provider in the world and the second largest provider of ETFs.
They are a massive fund company with over $5.3 trillion in assets. They were founded by John Bogle.
Vanguard still holds true to their original mission statement, which is to take a stand for all investors, to treat them fairly, and to give them the best chance for investment success. The goal of Vanguard has always been to make money for the clients.
As an investor, you can purchase Vanguard products in a number of different ways.
First of all, you can invest directly on their site and purchase their index mutual funds.
Second of all, you can purchase ETFs or exchange traded funds.
Vanguard funds have some of the lowest fees in the industry.
However, in most cases, investing in these funds through the Vanguard Brokerage account is not the most cost effective option.

Vanguard Features
Commission Free Vanguard ETF Trading
All Vanguard ETFs trade commission free.
Commission Free ETF Trading
Vanguard also offers commission free trading on over 1,800 other ETFs out there from other fund companies.
Stock Trading Commissions
For accounts under $50,000 Vanguard charges $7 per trade for the first 25 trades per year. After that, all trades are $20 per trade.
Vanguard does offer 25 free trades per year for accounts that have over $1M invested.
The Verdict
Both M1 Finance and Vanguard are designed for long term passive investors. If you are an active trader, neither platform is going to be a good fit for you. For that, we recommend the free trading app Webull.
That being said, M1 Finance does offer a number of features that investors have found to be very helpful. Most of the expert pies that are offered on M1 Finance actually hold Vanguard ETFs in the portfolios.
Trade Commissions
If you are strictly looking to invest in Vanguard ETFs, both M1 Finance and the Vanguard Brokerage account will allow you to do this commission free.
However, keep in mind that Vanguard does not offer fractional shares or automated rebalancing. If these features seem useful to you, you may want to consider M1 Finance.
For those planning on investing in both stocks and ETFs, M1 Finance is the clear winner. As far as the Vanguard Brokerage goes, the commissions are quite high especially once you exceed the first 25 trades. Even with the first 25, you are still paying $7 per trade!
M1 Finance does not have any limits on the commission free trades for stocks and ETFs. However, it is important to note that M1 Finance places all trades at one trading window per day while the Vanguard Brokerage has an open trading window.
All ETFs on M1 Finance trade commission free. Vanguard offers commission free trades on Vanguard ETFs as well as 1,800 others from different fund companies.
Account Minimums
On the other hand, the minimum to get started with Vanguard is $0 while M1 Finance has a $100 minimum for taxable accounts and a $500 minimum for retirement accounts. That being said, you do need to purchase whole shares on Vanguard.
If you decide to purchase the Vanguard Index Mutual Funds through the site, pay attention to the fees. In most cases, the fees are actually higher for this product. It is also significantly more required as an upfront investment. For TDFs it is a $1,000 minimum and for most of the other funds it is a $3,000 minimum.
Hidden Fees
M1 Finance is very transparent about how they make money. They do not make money by charging customers hidden fees.
If you do end up going with Vanguard, make sure you opt for electronic delivery of statements. If you do not, you will end up paying a $20 annual account service fee.
For example, if you purchase the Vanguard 500 Index Fund as an ETF, the expense ratio is 0.03% (Symbol: VOO).
If you purchase the Vanguard 500 Index Fund as a Mutual Fund on the site, the expense ratio is 0.04% (Symbol: VFIAX).
Customer Service
M1 Finance offers a number of different options for customer service. The service team is available during the open market hours, which are typically Monday to Friday from 9:30am to 4:00pm EST. They offer phone support during set hours and email support.
Vanguard offers similar options, offering both phone support and email support. However, their phone support hours are Monday to Friday from 8:30am to 9:00pm EST. This is a greater time window.
Click Here To Invest With M1 Finance!