M1 Finance and Wealthfront are both investing apps that are on the rise and aiming to shake up the investing industry. By removing many of the hurdles that used to be commonplace in investing, these apps are leveling the playing field for everyday investors to get their piece of the pie.
Instead of tailoring towards investing professionals, these apps are built to be used by folks like you and me. They have traded out complex interfaces for simple pie charts and graphs that you don't need a master's degree to read.
Additionally, both of these tools pride themselves on the low fee structures they offer. Instead of paying top dollar to work with a real person, these apps provide some automated assistance at a much lower cost.
That being said, there are some significant differences between M1 Finance vs Wealthfront. We'll be covering those here.
Summary: M1 Finance vs Wealthfront
Wealthfront is a full service robo-advisor and provides more services to investors
Tax-loss harvesting is a huge benefit for Wealthfront investors
Wealthfront has no trading commissions, but it does have an annual fee of 0.25% and a higher account minimum of $500
M1 Finance structures their platform around creating "pies" where you decide what investments go into the pie and how big each of the slices is
For those looking for a pre-built solution, M1 has a collection of "expert pies" to choose from as well
M1 Finance has a lower minimum balance of $100 ($500 for retirement accounts)
Buying fractional shares allows M1 Finance investors with a smaller account balance to buy only a piece of a share rather than needing to buy a full share
Both M1 Finance and Wealthfront are apps that aim to help long term investors create passive investment strategies
M1 Finance offers free portfolio building using stocks and ETFs
Wealthfront offers a robo-advisor solution that provides more comprehensive features like tax-loss harvesting but at a 0.25% annual fee
Neither app will allow you to purchase individual stocks or be an active trader
M1 Finance is a modern hybrid between a brokerage account and a robo-advisor. You're able to direct exactly what you want to invest in (or chose from a pre-built selection of expert portfolios) and then set the whole thing up on autopilot. The platform will take care of making sure that your portfolio continues to match your desired allocations and you can even set up automatic deposits from a bank account to fully streamline things.
Long-term investors will appreciate the free tools built-in like automatic frequent rebalancing and portfolio-level dividend reinvestment.
When M1 Finance was starting out, they initially charged a 0.25% fee (the same fee that Wealthfront currently charges). However, they decided to drop this fee to become a completely commission-free and fee-free platform.
If you are a long-term investor looking to create a DIY portfolio and take advantage of numerous tools to assist your portfolio, M1 Finance is a great option for you.
M1 Finance Features
There are a number of features that M1 Finance offers that make it an attractive option for many long-term investors.
Automatic Rebalancing
Rebalancing a portfolio is the process of maintaining a target allocation across different investments.
For example, if you had a portfolio of 60% stocks and 40% bonds and the stock market was doing quite well, the value of the stocks could increase and shift the balance from 60% and 40% to 70% and 30%. To rebalance the portfolio, you would sell off the additional 10% in stocks and buy an additional 10% in bonds.
This can be an effective way to ensure you are following Warren Buffet's age-old advice to "buy low and sell high".
However, constantly keeping an eye out for when you need to rebalance and manually doing this is more time consuming than the average long-term investor cares to spend.
With M1 Finance, you're able to set your portfolio up once and it will be automatically rebalanced for you every time you make a deposit or a withdrawal. This both streamlines the investing process and ensures your portfolio doesn't stray too far from your target allocations.
Fractional Shares
As of my writing this, Amazon stock is trading at about $3,200 per share. If you're a beginner investor with only a few hundred bucks that wanted to invest in Amazon you'd be out of luck because you can't afford a full share. Or even if you did have $3,200, you might not want Amazon stock making up 100% of your portfolio.
However, one of the features that sets M1 Finance apart from other investing apps is that it allows you to buy fractional shares. So instead of having to pony up $3,200 just to get a piece of Amazon, you can buy as little as 1/10,000 of a share (or $0.32 worth) of Amazon stock when you are just starting out.
This makes stocks with larger share prices more accessible, and also allows you to keep more of your cash invested. If you're constantly stuck waiting on the sidelines until you have enough cash to buy a full share, you end up hurting your overall returns over time.
Dividend Reinvestment Plan (DRIP)
When your M1 Finance investments pay dividends, you have a number of choices on what to do with them.
You can either choose to take them as cash or reinvest them back into your portfolio. By deciding to reinvest your dividends, you are able to take advantage of compound interest and allow your portfolio to grow more quickly. This is a great feature for investors looking towards the long-term.
What sets the M1 dividend reinvestment plan apart from many of the other DRIP plans out there is that it is a portfolio-level DRIP rather than a stock-level DRIP. This means that if you receive a dividend from Coca-Cola, it will be invested across your entire portfolio, not just in more shares of Coca-Cola.
This also serves to rebalance your portfolio because M1 Finance will automatically allocate your dividends to stocks you are underweight in. They'll also use your dividends to buy fractional shares to keep you fully invested.
Smart Transfers & Portfolio Automation
M1 allows investors to streamline the process of investing in a number of ways. This allows you to both save time and avoid investing mistakes that result from making poor decisions. Two of the most useful features are Smart Transfers and Portfolio Automations.
Portfolio Automations allow you to set up a recurring deposit for your portfolio. For example, I have a recurring deposit set up for my M1 Finance portfolio for $100 every 2 weeks. That $100 is automatically pulled out of my checking account and invested across my portfolio.
Smart Transfers are similar and provide a more advanced automation. With these, you can set up logic-based rules that dictate how your cash is allocated. For example, if you wanted to keep $1,000 in your checking account and invest anything over that amount, you could set up a Smart Transfer to do just that.
This takes even more off of your plate and keeps your investing as simple as possible.
Tax Minimization
While not quite as advanced as the tax-loss harvesting offered by Wealthfront, M1 Finance does offer their investors tax minimization. This ensures that whenever stocks are bought or sold, this is done in the most tax-efficient manner possible.
For example, when you sell a stock that you have held for under 1 year, you typically will pay more in taxes than if you held it for more than a year. M1 will take this in mind when you go to sell and prioritize selling your longer-term investments first.
This is another factor that you don't have to worry about on M1 and serves to further streamline the investing process.
M1 Finance Fees
M1 Finance is a completely free platform to use. The only fees you pay are those associated with any ETFs you decide to invest in. These can be as low as 0.03% if you decide to invest in an ETF like VOO from Vanguard. Or if you prefer to build your portfolio from individual stocks, you'll have no fees at all.
Additionally, M1 Finance has one of the lowest account minimums at only $100 to open an account (or $500 for retirement accounts).
There is the option to upgrade to M1 Plus which will cost $125/year and will provide you with a host of benefits like a higher APY on your idle funds and an additional trading window. However, this is optional and not going to be necessary for most investors.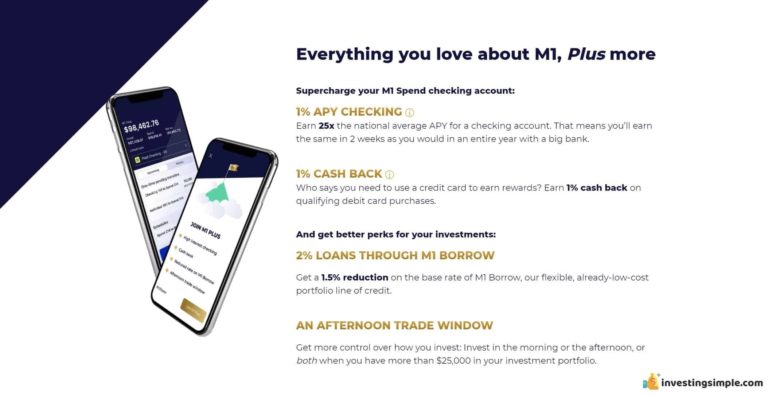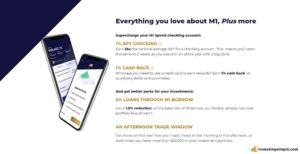 M1 Finance Pros
Completely free investing platform
Allows new investors to get started with only $100
Buying fractional shares provides more options for beginner investors
Expert pies make it easy to get started without prior experience
Keep your money working for you with portfolio-wide dividend reinvestment
Automation features keep your investing streamlined and simple
Tax minimization can lower your tax bill without any effort from you
M1 Finance Cons
Lacking advanced portfolio optimization strategies
No tax-loss harvesting
Fewer guard rails for first-time investors
What Is Wealthfront?

According to Statista, Wealthfront is the third-largest robo-advisor with over $20 billion in assets under management. The company was started at the height of the 2008 financial crisis when it became clear that the public was tired of the traditional finance industry.
The premise of a robo-advisor is that it automates your investing by using computer algorithms to construct a portfolio based on your preferences and characteristics (age, time horizon, risk tolerance, etc.) Many robo-advisors facilitate passive long-term investing strategies and include features like lower fees, automatic rebalancing, and tax loss harvesting to increase their efficiency.
Wealthfront Features
Tax-Loss Harvesting
This is a strategy offered by Wealthfront to reduce (or even eliminate) your tax bill from your investments.
By taking advantage of movements in the market, they are able to capture losses that will offset the gains in your portfolio automatically. Traditionally this is something you would need to pay a financial advisor to manually do for you.
According to Wealthfront, in 2018 tax-loss harvesting saved their clients 3.12% to 6.24% of their portfolio values which more than pays for the 0.25% annual fee.
Whether the markets as a whole are trending up or down in a given year, Wealthfront's algorithms will likely be able to more than pay for the cost of the service through this benefit alone.
Advanced Investing Strategies
Having raised over $200 million of venture capital, Wealthfront has significant resources to invest in its technology and developing unique services for its clients.
Through hiring a number of PhDs, they have been able to systematize a number of other traditionally manual processes for improving returns.
However, many of these features are only available to investors with significant assets on the platform.
Risk Parity
This feature is only available to investors with over $100,000 invested with Wealthfront.
Risk Parity is a system for strategically allocating assets between different asset classes to equalize the risk across asset classes.
This is a more complex strategy, but has statistically outperformed more traditional asset allocation methods and is therefore reserved for more advanced investors.
Smart Beta
This feature is only available to investors with over $500,000 invested with Wealthfront.
The S&P 500 and other indexes traditionally weight their holdings based on their market share (i.e. the bigger the company, the bigger portion of the index it comprises).
Over time, various researchers have found that this may not be the most effective way to create an optimized portfolio. By considering a variety of factors instead of just how big the company is, it is possible to outperform conventional portfolios.
Smart Beta automatically creates multi-factor portfolios to produce a more optimal and tax-efficient portfolio for investors.
Portfolio Line Of Credit
If you have over $25,000 in your Wealthfront account, you'll be able to access a line of credit secured by your portfolio. This essentially means that Wealthfron will allow you to borrow against your portfolio's value at a relatively low interest rate. Rates are currently around 2.5% - 3.5% on Wealthfront.
You can then use that cash to do whatever you want and repay it on your own schedule. So if you needed to buy a car or put a down payment on a house, you could use your portfolio line of credit for that.
However, you're limited to borrowing 30% of the value of your portfolio. Plus, if your portfolio decreases significantly in value, Wealthfront may ask you to repay some of the loan. There is always risk in taking out a loan, so be sure to keep that in mind.
On the other hand, M1 Finance also offers a portfolio line of credit called M1 Borrow. The terms are largely similar to that of Wealthfront.
Wealthfront Fees
Wealthfront does not charge any commissions to buy or sell investments, transfer funds in or out of the platform, or to make trades.
However, there is a 0.25% annual fee that applies to all of the assets that you keep with them. This fee will be deducted from your account automatically every month.
The first $5,000 in assets will be managed for free if you sign up using the link below. This can be a great way to try out the service before you commit to paying for it.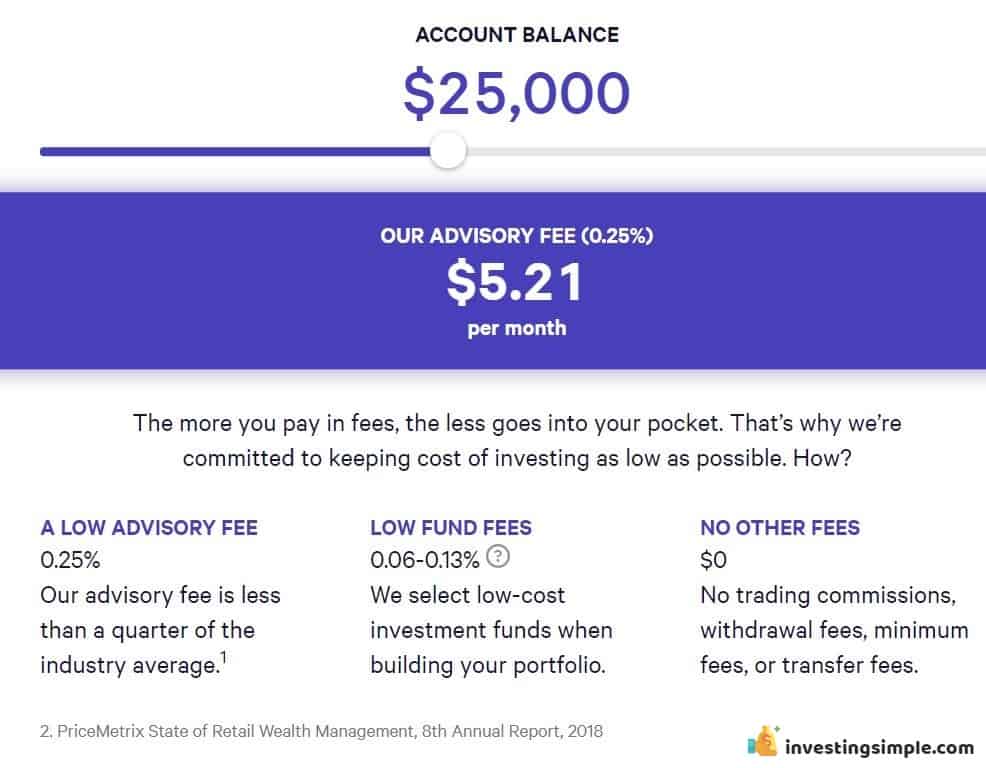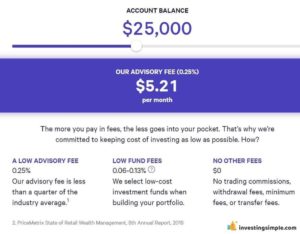 Wealthfront Pros
Compared to working with a financial advisor the 0.25% fee is reasonable
Tax-loss harvesting can make the service pay for itself
Advanced investing strategies like risk parity and smart beta for high net worth investors
Fully passive option for investing that requires no time investment
Wealthfront Cons
The platform is not free to use
You are not able to invest in fractional shares
Limited access to customer support
$500 minimum to open an account
M1 Finance vs Wealthfront: Final Summary
Both M1 Finance and Wealthfront are both great platforms for long term investors looking to create passive portfolios. Both are tailored towards newer investors that are looking for lower fees and simple interfaces for getting started.
M1 Finance is 100% free to use and provides a strong platform for investors comfortable with taking control of their investments on their own. You'll have more decisions to make on M1, but that also means more flexibility to design a portfolio that fits you.
Wealthfront charges a modest 0.25% annual fee which is easily justified by tax-loss harvesting and other advanced portfolio optimization strategies offered. With fewer options, you don't need to know anything about investing to get started. By filling out their questionnaire and letting them select your investments, you'll be well on your way.
For investors looking for a very hands-off approach, Wealthfront facilitates a very passive experience while still receiving many of the benefits previously reserved for the clients of financial advisors.
In the end, the decision between these two platforms really comes down to control. If you want more control over your investments, you'll likely be better off choosing M1. However, if you'd rather not be in control, Wealthfront will automate your investments for you and save you time with your investing.
Best Free Stock Promotions
Keep Reading: