When you think of owning a piece of real estate, what comes to mind?
Perhaps it's the many tasks associated with being a landlord. These include collecting rent, vetting new tenants, answering middle-of-the-night calls about the pilot light going out in the hot water tank.
Or maybe it brings to mind the ongoing worry that your rents will stop coming in. Then, you could lose the hard-earned money you invested.
You may even think it will require you to put in a significant amount of "sweat equity." Some of these projects could be painting walls, repairing sagging porches or repaving the driveway. Let's face it, there are many other challenges that go into keeping your property up to par.
There are now numerous platforms for passive real estate investing. Unlike boring investments such as the publicly traded REIT, these private investments have a lot more to offer investors.
One of the popular crowdfunded real estate platforms for accredited investors is called Origin Investments. In this review, we will be covering the ins and outs of this platform.
Origin Investments
Minimum Investment

Due Diligence

Customer Service

Real Estate Markets

Fees
Summary
Origin Investments is aiming to help accredited investors access select real estate markets in a passive manner. With a minimum investment of $100,000 it is clear they are going after higher net worth clients. Origin puts their own money into projects alongside the investors, aligning their interests with yours. Fees are reasonable and lower than the industry average for private real estate investment.
Pros
Access hot real estate markets
Great customer service
Excellent management team
Cons
Minimum $100,000 investment
Accredited investors only


What Is Origin Investments?
Since its inception in 2007, Origin Investments has raised and currently manages more than $700 million in office and multi-family properties in eight U.S. markets. These markets show a high potential for explosive property value growth. They include Atlanta, Austin, Charlotte, Chicago, Dallas, Denver, Houston and Raleigh.
Origin selected these markets by taking a look at key factors including:
Population growth
Potential increases in the number jobs
Upward trends in the average charge for rent
Access to public transportation
Closeness to universities to recruit a trained workforce
These properties include office buildings and multi-family housing units. To date, they have bought and managed more than 60 properties.
Origin buys real estate directly without the use of a broker. This allows them to save on costly commissions to brokers.
At the same time, as a company, Origin also adds some of its money to the pot. As a result, the incentives between investors and Origins are aligned.
Origin invests side-by-side with their clients. Therefore, it further propels their goal of being involved only with potentially profitable projects. They also rely solely on real estate experts who live and work in the local area of their properties.
Funds vs Shares
It's important to note that Origin investors must buy into a fund, rather than buying a certain number of shares in the property. The minimum investment can be steep, ranging from $100,000 to $500,000.
However, when you sign on with Origin, you won't find any hidden fees, confusing structures or complex deals.
Origin's team members have significant real estate investment experience. The company relies on this expertise to find projects and act as asset managers for all its funds. And they are particular about what projects they take on. In any given year, they may consider more than 1,000 deals, but take less than 5%.

Transparency
Origin values full transparency with investors and provides detailed information about every project held in their funds. From the financial information, to the overall investment strategy, Origin isn't holding anything back from investors.
Additionally, investors will be able to attend monthly webinars on the funds they are invested in to receive updates and information. A behind-the-scenes look like this is rare to see from crowdfunding platforms but it extremely valuable to investors.
As an investor, you'll also be able to dive into the financial information on every deal the firm has ever purchased. This will allow you to fully examine the company's track record since 2007 and assess whether you believe they are a good option for you to invest with.
So far, their two first funds have proven to be fairly successful. Touting a 24% IRR so far, many investors would be happy to see returns like these.
Origin Fees
Origin charges its investors an annual management fee of 1.25% of their net asset value, as well as other fees.
For example, if your initial investment is less than $250,000 you will pay a one-time 2% administration fee. 
In addition to this fee, Origin also charges a performance fee on both of their funds. These fees apply only if the funds return over a certain preferred threshold. Then a portion of the returns above the threshold is paid to Origin.
For the IncomePlus Fund, there is a 10% performance fee after a 6% preferred return with a 50/50 catch up.
QOZ Fund investors will encounter a 15% performance fee after a 7% preferred return with a 50/50 catch up.
Accredited Investors Only
Keep in mind that you must be an accredited investor to invest with Origin.
In order to qualify as accredited, you need to meet at least one of the following criteria:
Earn an individual income of more than $200,000 per year, or a joint spousal income of more than $300,000 per year. This applies to each of the last two years. Also, you must expect to maintain around the same level of income.
Have a net worth exceeding $1 million, either individually or jointly with your spouse (excluding the primary residence).
Be a bank, insurance company, registered investment co., business development co., or small business investment co.
Be a general partner, executive officer, director or a related combination for the issuer of a security being offered.
Or be a business where all the equity owners are accredited investors.
Or be an employee benefit plan, a trust, charitable organization, partnership, or company with total assets of  more than $5 million.
Best Real Estate Platforms
What Is A REIT?
A real estate investment trust (REIT) is a company that owns and manages real estate for the purpose of producing income for its investors.
All REIT investments are buying into real estate. Typically the cost of a REIT is much lower than the cost to buy real estate directly.
REITs own many types of commercial real estate. These can include:
Office space
Apartment buildings
Warehouses
Hospitals
Shopping centers
Hotels
A REIT works like a mutual fund because a pool of funds is invested across various real estate projects. This is done in order to reduce your risk and increase potential returns. Just like mutual funds, a certified investment expert manages the large pool of investments in a REIT.
REITs are known to have more stable cash flow and to be less volatile. They have historically had a higher dividend yield. As a result, its investors depend less on the property value increasing in order to see a profit.
In order to qualify as a REIT, the company must invest at least 75% of their assets in real estate. Additionally, REITs are required to pay out at least 90% of their income to investors in the form of dividends.
The tax consequences of REITs vary somewhat from those of stocks or mutual funds. REITs don't have to pay income tax on their profits so long as they pass them directly to shareholders as dividends. When shareholders receive these dividends, they will be reported as ordinary income and taxed accordingly.
If properties are sold by the REIT and a capital gain is generated, that capital gain will pass through to the investor and they will be able to take advantage of the lower tax bracket.
Traditional REIT vs Origin REIT
Origin's REITS differ from traditional REITS in several ways:
REITs are typically designed to generate fees for the manager. Conversely, Origin is set-up to earn investment returns for both their company and all its investment partners.
Origin's principals invest significantly in their own deals. By comparison, very few private REIT managers invest a large amount of capital into their vehicles.
Origin funds operate through an LLC structure, which means that all tax benefits (such as depreciation and interest expense) pass through to investors. In a REIT structure, the tax benefits are captured at the REIT-level. Then, all the income paid out is taxed at the ordinary income rate.
Private REITs typically pay substantial fees to advisors to sell their products. Origin does not pay a middle man to sell its investments. This means lower fees for its investors and more money invested in properties.
REITs pull the majority of their fees through transactions. Meanwhile, Origin's fees come after its investors make money.
Origin provides quarterly updates on all investors and gives full transparency into its investments and process. Private REITs are not obligated to provide investors with similar transparency.


Origin Investment Funds
Currently, Origins offers investors the choice of two separate funds to invest in. The funds vary in their investing strategy and appeal to different subsets of investors.
IncomePlus Fund
The Origin IncomePlus Fund is an open-end private real estate fund that gives investors consistent distributions, offers downside protection, and minimizes the impact of taxes.
The fund targets a 9-11% total net annual return, with a target distribution of 0.5% paid monthly (6% total annually).
Previous closed-end funds do not offer this amount of steady passive income. In these cases, investors usually did not receive a distribution until the real estate had gone through its complete business plan and was sold. Once the plan was completed, investors got their first distribution. In some cases, this can take 5-10 years to play out!
The IncomePlus Fund lets you enter the fund at various points in time. You can immediately diversify your capital across a high-quality portfolio of real estate assets. Plus, the IncomePlus Fund's "buy, fix and hold" option means that you can stay in for as long as you'd like instead of being forced to exit when the assets are sold.
The minimum investment for this fund is $100,000.
Origin will pay dividends monthly to IncomePlus Fund members. However, keep in mind that these distributions are not guaranteed.
Distribution Reinvestment Plan (DRIP)
You have two options for how to receive your distribution. You can take it in cash, and Origin will send it straight to your bank account.
Or, you can take advantage of compounding returns through its DRIP. This strategy lets you use the distribution to automatically buy new units each month. In other words, reinvest back into the fund.

Qualified Opportunity Zone (QOZ)
The Qualified Opportunity Zone program encourages investment in targeted communities that need a boost in economic development. It provides significant tax advantages to investors who roll over their capital gains from other investments into a fund that invests in QOZ's.
Origin created this fund's portfolio as a mix of new development projects to give healthy returns even before factoring in the QOZ tax benefits.
Origin will diversify the portfolio into properties that produce consistent cash flow for its investors after the properties are built.
The minimum investment for this strategy is $100,000.
Additional benefits of the QOZ fund include:
Tax Elimination: Pay $0 on capital gains earned by the QOZ Fund if held for 10+ years.
Deferral Of Taxes: Defer your capital gains tax from a previous investment until 2026.
Tax Reduction: Reduce your capital gains taxes by up to 15%.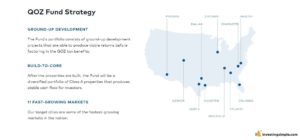 Origin Investments Customer Service
Once you sign up for an account on its website, you can reach an investor relations associate, who is available to answer any questions you may have as they come up. A link to their email will be given out when you are logged into the portal.
As an investor, you can access updated account information 24/7 by logging in to the Origin website. Investors also receive detailed asset management updates via email at least once per quarter.
Safety and Security
Origin takes the security of its investor's data seriously.
To achieve optimal safety, they utilize Amazon Web Services (AWS), the world's largest and most trusted cloud computing services provider. All external traffic between the users and the webserver is encrypted.
Origin also keeps all passwords and sensitive personal info encrypted. Additionally, the Origin Investor Portal uses Extended Validation (EV) certificates, that offer the highest degree of authentication and documentation checks.
The support team monitors the Origin Investor Portal platform 24/7.
Summary
With its sky-high investment minimums, Origin isn't designed for the casual investor.
But it does cater to more seasoned investors who understand the value of passive income through real estate.
Their track record shows over a decade of delivering strong returns which is not something many other crowdfunding platforms have. Origins has proven through both strong and weak real estate markets that their strategies deliver consistent returns to investors.
When you invest in Quality Opportunity Zone projects, you are part of a movement towards economic development for areas that need a boost. In return, you'll be able to take advantage of significant tax advantages and potentially pay $0 in capital gains.
Since you will have access to your account info 24/7, you will see the fund's progress continuously. You may want to reinvest your dividends to watch your investment grow.
Best Free Stock Promotions
Keep Reading: