Personal Capital Review
Personal Capital takes a traditional financial planning approach and uses technology to enhance the user experience. If you have enough assets, Personal Capital will manage your portfolio and provide financial planning professionals to help guide you. If you don't meet the $100,000 asset minimum, then you can use the free tools offered by Personal Capital. 
Personal Capital at a Glance
Personal Capital is an ideal platform for someone who needs a financial planner. The account minimum at $100,000 makes this platform slightly more selective than other roboadvisors. An investor who would like help creating a financial plan, planning for retirement, and needs investment management would be the ideal client for personal capital. 
Fees: 0.49% - 0.89% Management Fee
Account Minimum: $100,000
Personal Capital Cash: 1.55% APY
Access to dedicated financial advisors
Pros
Free financial planning tools, regardless if you are a client

Human Financial Advisors

Individual stocks, bonds, and ETFs

Tax optimization

Retirement withdrawal strategies
Cons
High account minimum to become a client - $100,000

Not a great platform for beginner investors or those who have low assets

Cheaper options available
Click Here to Get Started with Personal Capital
Personal Capital Features
Advanced User Interface
Personal Capital's biggest strength is the technology they leverage on its platform. Investors can use a variety of tools and check their personal financial situation at a glance. Personal Capital has an easy to use dashboard displaying all the features available to users.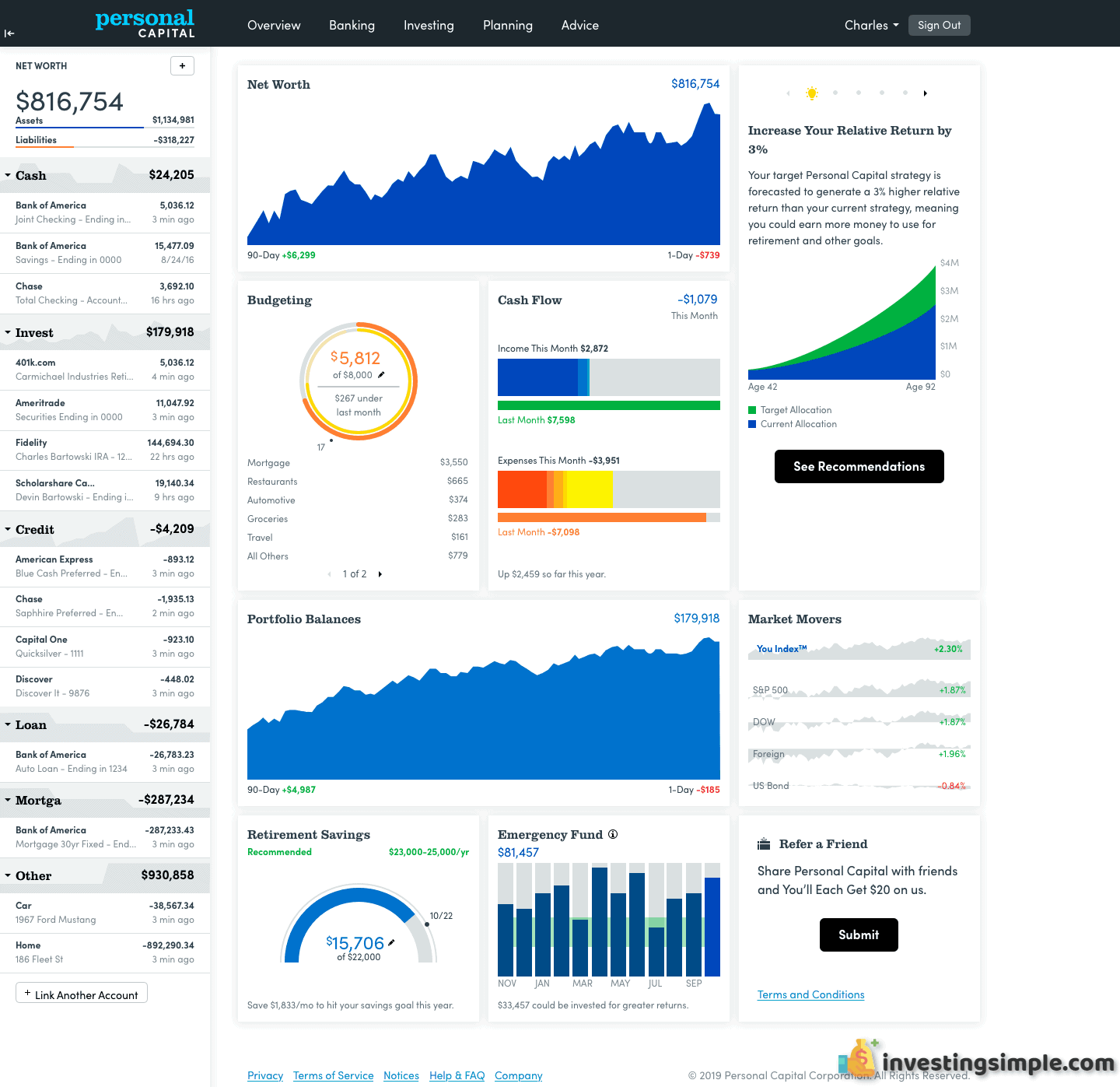 Account Types
Regular Taxable

Traditional IRA

Roth IRA

SEP IRA

Trusts

Cash Account
Tax Optimization With Personal Capital
Personal Capital uses a variety of strategies and techniques to lower your tax burden. There are a few main strategies they use in their tax optimization.
Use of ETFs rather than mutual funds. Mutual funds many times generate more capital gains when compared to Exchange Traded Funds (ETFs)

At higher tiers, individual stocks can be used for tax-loss harvesting at the end of the year. 

Asset location strategies are used to minimize taxes. This is the process of allocating certain assets into specific accounts. Income-producing assets are held in retirement accounts, while capital gain generating assets are placed in taxable accounts to take advantage of lower capital gains tax rates. 
Personal Financial Planner
Personal Capital is unique compared to other roboadvisors as they offer human financial advisor support. Financial advisors are available 24/7 by phone, email, or webchat. Investors will have a dedicated financial advisor which will help you make a variety of financial decisions. Retirement planning, college, savings, and insurance planning are just a few of the services provided by Personal Capital financial planners. 
Personal Capital Cash
Many roboadvisors are beginning to offer cash accounts, where their users can gain access to higher interest rates compared to traditional bank accounts. Currently, the Personal Capital Cash account offers a 1.55% APY. The Personal Capital Cash account is FDIC insured and has no minimum balance and unlimited withdrawals. 
Free Financial Planning Tools
Personal capital offers a variety of free tools even if you are not a client. All you have to do is create an account and you can begin using free financial planning tools. In our experience, these tools beat other free platforms such as mint. 
401(k) fee analyzer - Personal Capital will analyze your 401(K) for high fees and give you an idea of how these fees impact your retirement savings. 
Spending Tacker - Once you link your accounts, Personal Capital will track your cash flow and see where you are spending the most. You can keep track of categories such as spending on groceries, gas, utilities, etc. 
Net Worth Overview - You can track your assets and liabilities with Personal Capital's net worth tracker. This will allow you to see your entire financial life in one snapshot. 
Asset allocation and Risk Analysis - Personal Capital will analyze your current asset allocation and determine how much risk you are taking with your investments. 
Retirement Planner - By using a set of metrics such as time horizon, spending, and investment return, Personal Capital's retirement planner will tell you if you are on track for retirement. 
Click Here to Begin Using Personal Capital's Free Tools
Other Personal Capital Features
Personal Capital financial planners will help clients with a variety of questions surrounding their financial life. This includes guidance in areas such as:
College savings planning

Insurance planning

Home financing

Stock options

Private banking

Estate planning

Tax or legacy construction 
Account Management Fees
Personal Capital has relatively high asset management fees compared to other roboadvisors we review. The account minimum used to be $25,000 for Personal Capital but was raised to $100,000. This could indicate that the service investors were receiving was worth more than the fees they were paying. Personal Capital fees align closely with traditional financial advisors. 
Personal Capital has tiers for your investments and fees based on your account value. 
First $1 million: 0.89%
$1 million to $3 million: 0.79%
$3 million to $5 million: 0.69%
$5 million to $10 million: 0.59%
$10 million and up: 0.49%
Personal Capital Investment Strategy
By using a questionnaire to determine your life goals, time horizon, and personal preferences Personal Capital will determine the appropriate risk tolerance for your investments. 
Personal Capital uses Modern Portfolio Theory (MPT) to determine your investments. MPT has a focus on asset correlation rather than individual securities themselves. A group of uncorrelated assets can be used to reduce overall portfolio risk. 
Personal Capital uses mostly Exchange Traded Funds (ETFs) to build their portfolios. They spread risk across 6 predetermined asset classes: U.S. stocks, U.S. bonds, international stocks, international bonds, alternative investments (commodities), and cash. 
Individual stocks and bonds are also used to improve tax efficiency and diversification. Personal Capital keeps track of 70 to 100 individual U.S. stocks they believe are good investments at any one time. However, these strategies are for investors with higher account minimums. 
Personal Capital also takes into account your asset allocation in the accounts they are not managing. This way the recommended asset allocation truly fits the investors overall objective. 
Personal Capital Investment Tiers
$100k to $200k - You will be invested in a portfolio of ETFs, designed to be tax efficient. Smart-beta strategy
$200k to $1 Million - All benefits above, including the functionality of customizing your portfolio with ETFs and individual stocks
$1 Million and Up - Everything above, plus the ability to invest in individual bonds.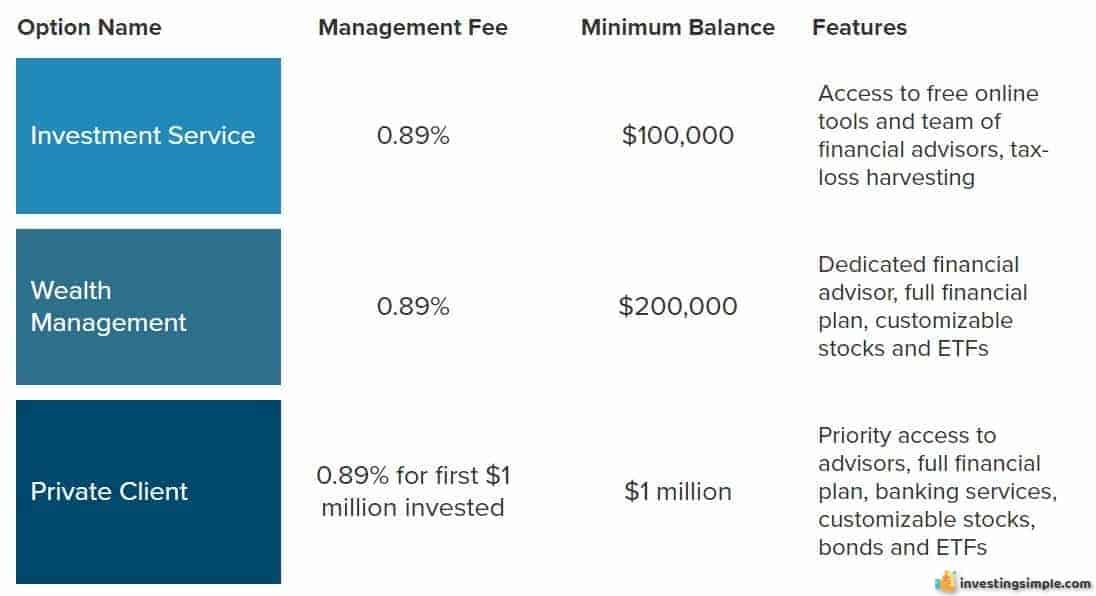 *The average fund expense ratios on Personal Capital are relatively low at 0.08%. 
Personal Capital: In Summary
Personal Capital is best for medium net worth individuals who would like access to a financial planner

The fee structure is very similar to traditional financial advisors

High account balances to get started: $100,000 minimum 

Helpful features such as tax optimization, investment planning, retirement planning, and access to human advisors

Other options may offer a cheaper service, Betterment charges much less and offers a variety of similar services. 
Personal Capital offers a variety of free features to anyone who creates an account. These features are more useful than those offered by other free tools such as Mint. 
Click Here to Get Started With Personal Capital