Over the last decade, a handful of services calling themselves automated robo-advisors have emerged. These platforms aim to provide a bridge between self-directed investing and working with a financial advisor.
By providing multiple service types, investments, and added features like tax-loss harvesting and automatic rebalancing at a reasonable cost, these platforms are able to make advanced strategies available to the masses.
However, with the increasing number of options available it can be difficult to find the platform that best fits your needs.
In this article, we compare Personal Capital vs Betterment vs vanguard. These are three of the most popular robo-advisors on the market for investors to choose from.
Betterment vs Vanguard vs Personal Capital (Summary)
The number-one reason many investors are turning to robo-advisors is the offer of prebuilt portfolios that may offer consistent returns without the need to actively trade the stock market.
The three platforms reviewed above all offer similar features, but they differ in multiple ways.
Betterment is the best for young investors with smaller account balances because Betterment does not have a minimum account balance to begin investing.
Personal Capital is best for the heavy hitters with over $100,000 to invest who want to work closely with a financial advisor to develop their strategy.
Finally, Vanguard puts its status as King of low-cost ETFs and mutual funds to work with a platform that offers the ability to work with an advisor for medium to high net worth investors.
Best Platform For Beginners (Betterment)
We all know how intimidating it can be to start investing in the stock market.
As beginners, it's easy to begin investing, but intimidating trying to find the right investments that fit your goals.
Luckily, Betterment has beginner investors' backs. There are no account minimums and low fees, so new investors can feel free to test out the service without making a big commitment.
Best Platform For Higher Net Worth Individuals (Personal Capital)
Even wealthy people can find the stock market intimidating.
For the wealthy investor looking for a moderate level of personal advice, Personal Capital is the answer.
Anyone with over $100,000 to invest may want to consider using Personal Capital. Investors will gain access to personal financial advisors who can help them with a variety of financial questions and dilemmas. 
Best Platform For DIY Investors (Vanguard)
Vanguard offers the best of both worlds by allowing investors to choose between creating a traditional brokerage account or its digital advisor. Clients with accounts above $500,000 have the option to interact with an asset manager. Otherwise, you'll be on your own to buy and sell stocks and ETFs on the platform without guidance.
The service has much lower fees than Personal Capital but still offers the option to work with a human advisor if you meet the minimum. Vanguard has over $5 trillion in assets under management and is one of the largest asset managers in the world. 
Personal Capital Review

Higher net-worth individuals can turn to Personal Capital for a service that offers a combination of robo-advisor strategies and personalized investment management.
There is a minimum initial investment of $100,000, but the platform is useful for wealthier investors who want access to a human advisor. Personal Capital is clearly geared towards larger accounts and offers a variety of prebuilt and custom investment portfolios.
Personal Capital Investment Strategy
The Personal Capital platform deploys several different investment strategies for its investors based on the size of their account. At the $200,000 level and below, investors can select from a basket of ETFs that will provide significant diversification at a relatively low cost.
Investors with more than $200,000 but less than $1,000,000 are able to select individual stocks. With over $1,000,000 investors receive the ability to purchase individual bonds. Any account with over $200,000 is entitled to work with two personal advisors.
As your account balance grows, you'll be able to create and update your investing strategy with the help of financial advisors who will help you strategize your next moves.
Personal Capital Top Features
The biggest selling point for Personal Capital is its dedicated financial advisors for higher net worth investors. Personal Capital seeks to attract wealthier clients who want a way to grow their wealth steadily without taking on large risks or obsessing over daily positioning of trades and market fluctuations. The company's fees come in much lower than an advisor at a private firm or fund. With Personal Capital, it's all about getting an extra human touch with the platform.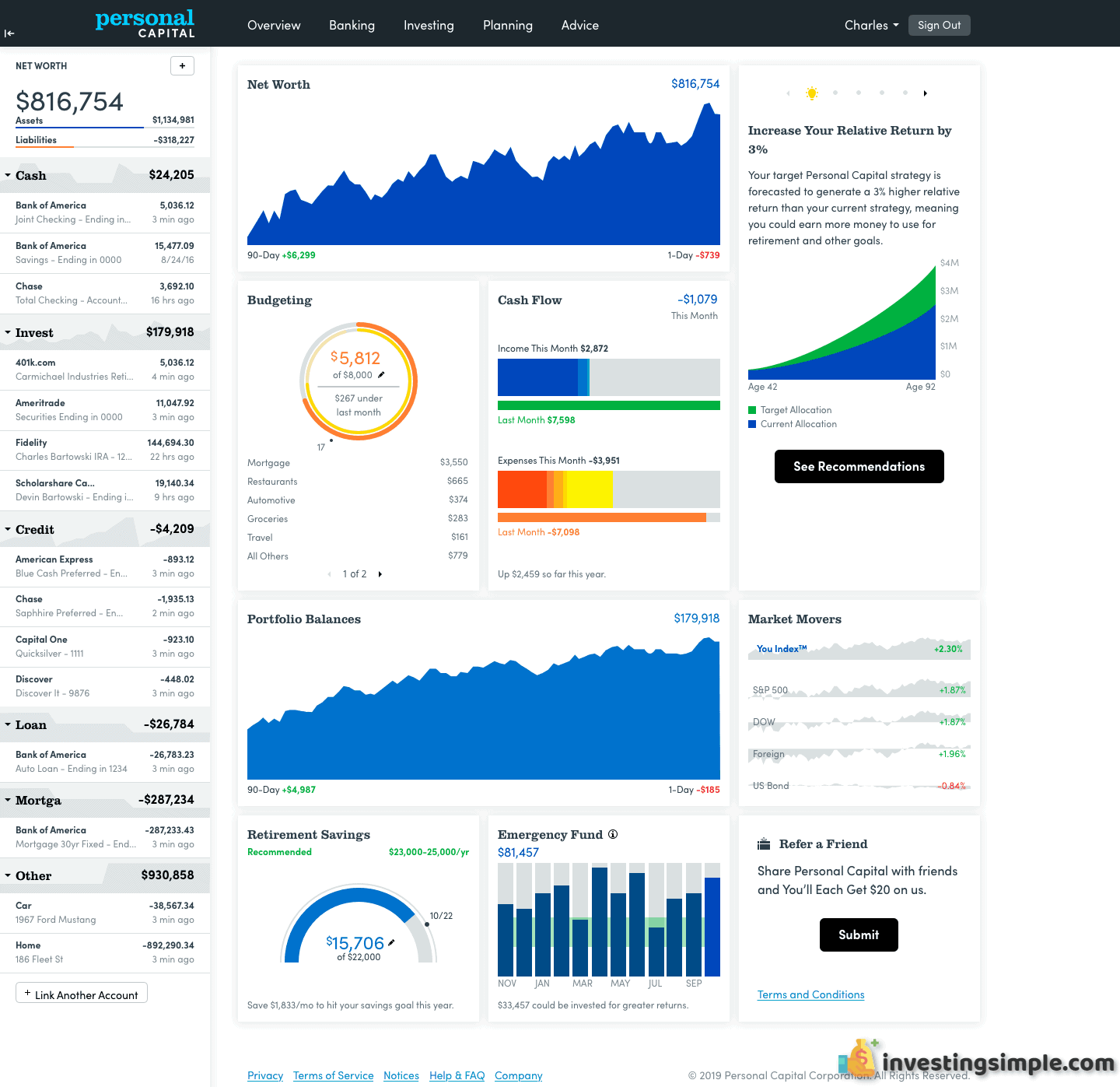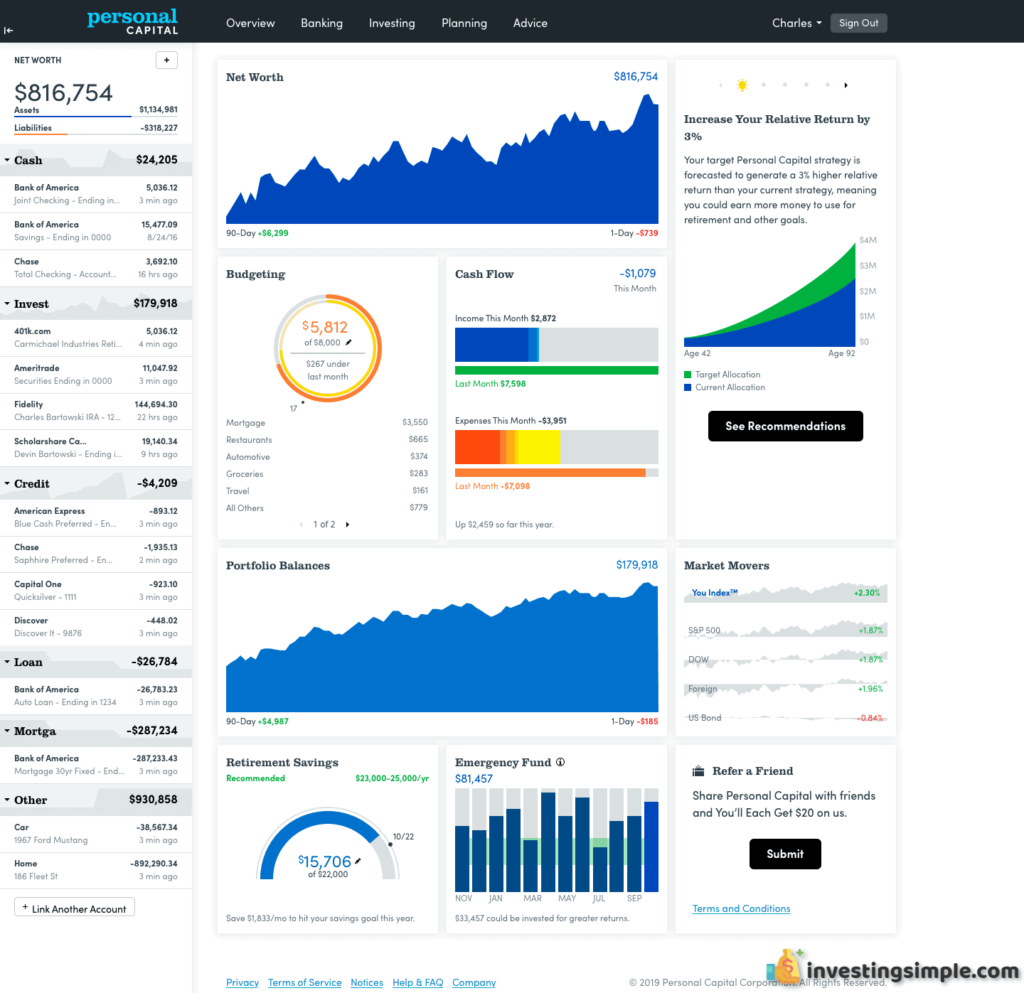 Personal Capital Fees
Personal Capital's fees are based on the total value of an investment account. The fees are calculated on an annual basis:
First $1 million – 0.89%

$1 million to $3 million – 0.79%

$3 million to $5 million – 0.69%

$5 million to $10 million – 0.59%

Over $10 million – 0.49%
Personal Capital Pros
Dedicated financial advisors
Personalized investment management
Access to individual ETFs and individual stocks at higher account balances
Stress-free investing for wealthier investors
Lower fees than most financial advisors
Personal Capital Cons
High minimum account balance
Higher fees than many other robo-advisors
Accounts under $200,000 miss many of the best benefits of Personal Capital
Betterment Review

The beautiful thing about robo-advisors is that they are tailor-made for beginning investors.
It takes minimal effort to invest, and there is no requirement to monitor the day-to-day movements of the stock market. All you have to do is give them some information about you, your situation, and your goals, and they will create a personalized investing plan for you to follow.
Betterment has built one of the best platforms for new investors, with no account minimums and fees starting at just 0.25% per year for the basic Betterment Digital Service.
In addition to investment portfolios, Betterment also offers a useful suite of financial tools to monitor your overall financial picture. For those with more money to invest, Betterment will offer personalized investment services for accounts with more than $100,000 in the market.
Betterment Investment Strategy
Betterment offers investors a choice of exchange-traded funds, or ETFs, that encompass 100+ different baskets of stocks and bonds.
Investors have the ability to determine how they want their money allocated to each asset class, similar to a 401(k). This allows individual investors to vary their risk tolerance and goals within Betterment's platform.
As investments change value over time, Betterment will automatically rebalance back to the original target percentages.
You're also able to segment your investing on Betterment into the different goals you are working towards. For example, if you are planning a tropical vacation for next winter, sending a kid to college in 5 years, and retiring in 15 years, you can easily set up separate sub-accounts for each of these goals.
This makes the process of saving towards each of these goals more rewarding and tangible as you are able to clearly track your progress and keep motivation high. You can also create separate portfolios for each of these goals that match your specific time horizon.
Betterment Top Features
On top of its robo-advisor services, Betterment also offers a host of tools that are extremely useful to investors of all ages. A list of the top features is broken down below:
Betterment Cash Reserve: Betterment allows users to access what amounts to a high-yield savings account with their Betterment Cash Reserve account. They pay an above-average yield and have zero minimums or fees attached to the account. 
Cash Back Checking: On top of a savings account, you can also open a zero-fee checking account (no monthly fee, overdraft fee, or foreign transaction fee) that will also allow you to earn cash back. By partnering with thousands of merchants you'll be able to earn up to 5% back depending on where you shop.
Two-Way Sweep: With its Two-Way Sweep function, Betterment will monitor a user's checking and savings account to make sure they are never over-allocated to their investments compared to cash in their bank account. The program has the ability to transfer funds back and forth, maintaining a minimum amount set by the user in their checking and savings accounts.
RetireGuide: Users can link their 401(k) and Roth IRA accounts to Betterment, which then monitors their progress to its retirement goals.
Automated Rebalancing: As your investments grow over time, your asset allocation will stray from where you initially set it. Betterment will bring you back to your target allocations automatically by buying low and selling high, and taking your tax consequences into consideration.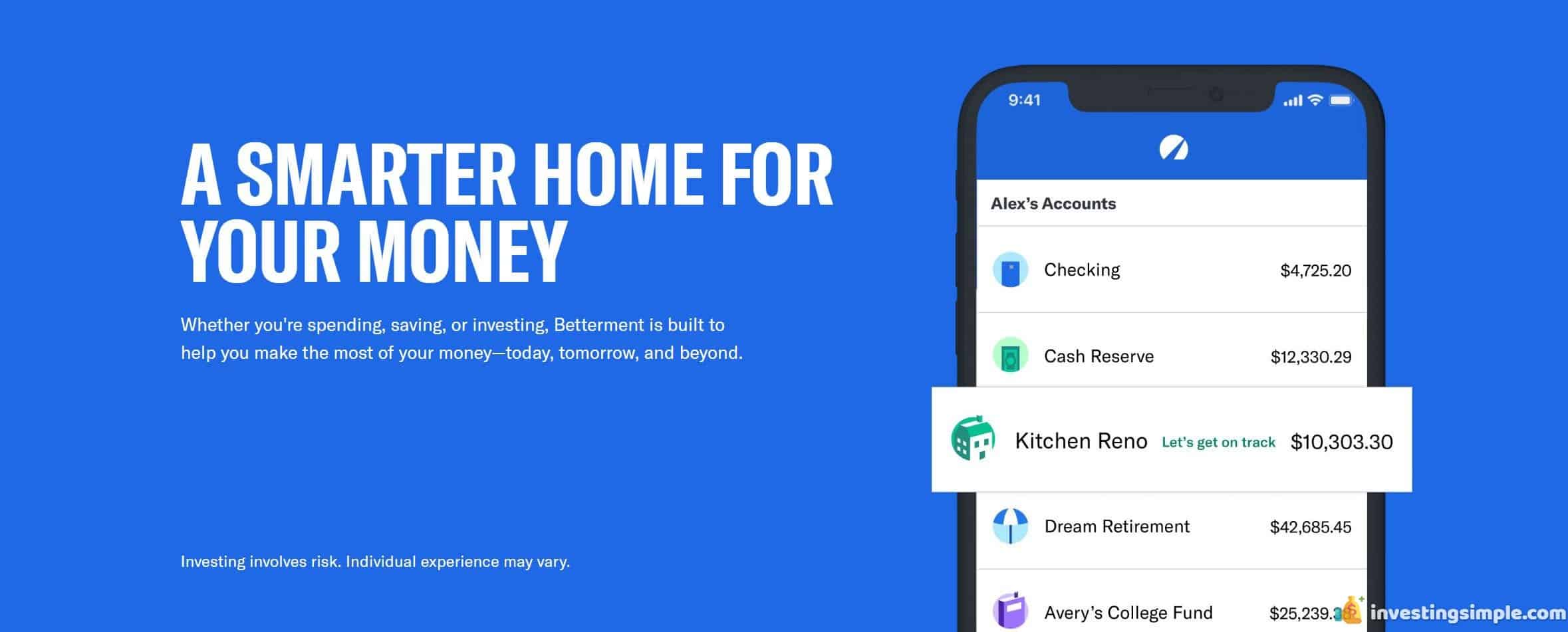 Betterment Fees
The Betterment platform charges a 0.25% management fee for its basic Betterment Digital accounts and a 0.40% fee for its Betterment Premium service.
The Basic Plan will get you access to all of the featured mentioned for Betterment with a $0 minimum.
In order to use the Premium Plan, you'll need to have a minimum account balance of $100,000. On this tier, you'll have access to a team of CERTIFIED FINANCIAL PLANNERS that will help you strategize your investing and create a plan to allow you to reach your goals.
Betterment Pros
No minimum account balance to get started
Affordable fee structure
Best robo-advisor platform for beginners to get started with
Automatic rebalancing of your portfolio
Tax-loss harvesting to help you save on your tax bill
Easily set up separate sub-accounts to track your goals
Free savings and checking accounts to create a one-stop-shop
Access to a team of CERTIFIED FINANCIAL PLANNERS™
Betterment Cons
High minimum for access to CFP®s
No ability to buy and sell individual stocks
Vanguard Review
Vanguard is one of the biggest players in the online brokerage industry.
In 1976 Vanguard released the Vanguard 500 Index Fund, which was the first index fund available to the masses. Though the initial offering of the fund was quite underwhelming, raising just $11 million versus a target of $150 million, the concept eventually took off. 
Since then, Vanguard has pioneered many other low-cost investment vehicles with a focus on leveling the playing field for smaller investors.
Now Vanguard, the king of low-cost investing, has entered the roboadvisor game with a middle-ground option between the beginner-oriented Betterment and the high net-worth clients of Personal Capital.
Vanguard's Digital Advisor platform has low fees and a human advisor working behind the scenes to guide the machines. The minimum to get started with Vanguard Personal Advisor Services is $50,000. 

Vanguard Investment Strategy
Vanguard's Digital Advisor draws from the long list of funds managed by the company. If you are investing with any other robo-advisor service, you likely already have some exposure to Vanguard funds.
For example, Betterment and M1 Finance offer Vanguard funds on their platforms. This is due to the low-cost and abundance of options Vanguard offers to investors. Vanguard has created a wide variety of funds ranging from passive strategies to actively managed tactical funds. 
Vanguard Top Features
The Vanguard platform operates in the hybrid space between pure robo-advisor and typical asset manager. It has taken the lead in the race to provide this type of service from Schwab and Fidelity, who also have similar products.
With the Vanguard Digital Advisor, an actual asset manager works with you to develop a plan of attack for your investments. You then provide as much or as little input as you like, while the manager actively rebalances the portfolio as needed.
Once you have over $500,000 to invest you can work with a devoted Vanguard human advisor.
Vanguard Fees
First $5 million – 0.30%

$5 million to $10 million – 0.20%

$10 million to $25 million – 0.10%

Over $25 million – 0.05%
Vanguard Pros
Wide variety of low-cost funds to choose from
Option to take a completely DIY approach to investing
A time-tested broker that has been around for decades
Vanguard Cons
Hefty minimum required to access robo-advisor service
Very high minimum to work with a human advisor
Less automation compared to many other robo-advisors
Not as fast to add new features as many smaller brokers
Higher fees than Betterment
There is a somewhat hefty minimum investment to get in the door with Vanguard at $50,000 but it's not as high as Personal Capital. The most glaring con with the service is the fact that investors are only offered Vanguard funds. This isn't necessarily a reason not to invest with Vanguard, but investors should know that their options are limited to the given set of Vanguard funds.
The Verdict:
Betterment vs Vanguard vs Personal Capital
When it comes to choosing a robo-advisor to manage your investments, this is not a decision that should be taken lightly. It's important to make sure that you select a broker that aligns with your objectives and offers features that you will be able to utilize.
The selection between these three platforms largely comes down to what you are looking for in a robo-advisor.
If you're a beginner looking for a place to get started with a low minimum and flexibility to find the best investments for your particular scenario, Betterment will likely be a good option for you.
On the other hand, if you are a higher net-worth investor and don't mind paying higher fees for a higher-touch service, Personal Capital might end up making more sense for you.
Or, if you want the freedom to buy and sell individual stocks and want the backing of a time-tested brokerage that has been around for decades, Vanguard could end up being a good choice.
In the end, what's important is that you get started investing and put your cash to work for you. Until then, you won't be moving towards your goals and you'll be stuck in your current position.
Best Free Stock Promotions