The differences in investing platforms can sometimes be staggering. Then again, some have offerings out there that are so similar it's hard to see any differences between the two. 
Today we are going to be comparing M1 Finance vs Personal Capital. These are two investing platforms that have increased in popularity in recent years. 
Personal Capital is an overall wealth tracking tool as well as a robo-advisor for higher net worth investors. Investors can access free financial planning tools offered by Personal Capital, without needing to meet the investment minimum.
M1 Finance is a hybrid between a brokerage and a robo-advisor offering free investing tools with low account minimums as well as free pre-built portfolios.
We will be covering the pros/cons and the similarities/differences between these two brokerage platforms.
Summary: Personal Capital vs M1 Finance
M1 Finance is completely fee-free with a $100 minimum investment
Retirement accounts have a slightly higher minimum at $500

Personal Capital has free financial planning tools, requiring no minimum account balance to use

M1 Finance offers both pre-built portfolios as well as individual stocks and ETFs
The minimum to invest with Personal Capital is $100,000, which is very high

M1 Finance offers free pre-built portfolios investors can choose from, including target-date retirement funds

Personal Capital has access to human advisors and financial planners

M1 Finance does not offer any in-person guidance
M1 Finance caters to investors with lower account balances and those who want to avoid fees
Personal Capital offers its service to higher net worth investors at a fee
Personal Capital offers investment portfolios tailored to your goals
M1 Finance is a 100% fee-free platform while Personal Capital charges an asset management fee based on the invested amount
M1 Finance offers additional features such as a debit card, credit card, and personal loans
Best Free Stock Promotions
What Is M1 Finance?
M1 Finance is an investment management platform that was launched in 2015.
Even though it has only been around for about 6 years, they already have over 500,000 accounts that total over $2 billion in assets under administration.
The platform is a bit of a mixed bag with features of a robo-advisor and a broker. M1 Finance has the goal to provide a simple easy to use platform where an investor can manage multiple aspects of their financial life.
With the addition of M1 Borrow and M1 Spend, they also offer a low-cost way to borrow money and great options for your day-to-day spending. M1 Finance aims to offer services for all areas of your financial life. 
How Does M1 Finance Work?
Like most investment platforms, you must start by registering for an account with the company. You will have to deposit an account minimum of $100 in order to get started. If you wish to open a retirement account like a Roth IRA, that will require a $500 deposit initially.
M1 Finance follows a simple approach to managing your finances. 
First, they will help you build your investment portfolio and ask you if you'd like to schedule recurring deposits. These can either be weekly, biweekly or monthly depending on your unique situation. 
You can follow the active investing approach by picking and choosing stocks and ETFs to invest in. There are thousands of stocks and ETFs to choose from.
Or, you can follow the passive approach by choosing one of the free expert-built portfolios to invest in. M1 offers over 30 different expert-built portfolios that are 100% free to invest in.
After you have had your account with M1 Finance for some time and your total investment amount reaches $10,000, you will be able to borrow up to 35% of your taxable brokerage account. This borrowing feature is called M1 Borrow. 
You may use this money for whatever you desire and it has a relatively low-interest rate.
M1 Finance also has a checking account feature called M1 Spend. With an M1 Spend checking account, you will be eligible to earn cash back and an attractive interest rate on your balance. 
M1 Finance Features
M1 is a technology-first platform that provides investors with a large suite of advanced features all for free.
Commission-Free Trading
The M1 Finance platform offers free stock and ETF trading on its platform. There are no transaction fees or commissions for buying or selling positions on the M1 Finance platform.
M1 Finance does not cater to active traders, as there is only 1 trading window per day when orders are executed. For those who sign up for M1 Plus, the paid plan, you can get 2 trading windows per day. That is one in the morning and another in the afternoon.
Since they only have 1 to 2 trading windows per day, this is not an ideal platform for active traders.
Portfolio "Pies"
M1 Finance calls its portfolios "pies." You can have as many pies as you would like in your account and up to 100 companies or ETFs in any individual pies. 
M1 Finance pies can be custom-built using stocks and ETFs all commission-free. 
Beginner investors may want to try out M1's expert pies. These are prebuilt portfolios that offer an overall strategy for the investor ranging from income portfolios to growth portfolios. 
Pie investing is particularly effective for beginner investors because it forces diversification which brings with it a host of benefits.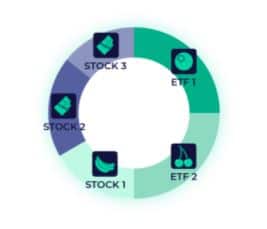 Pre-Built Portfolios/"Expert Pies"
M1 Finance offers a variety of pre-built portfolios on its platform called "expert pies."
Investors can choose from a hand full of pre-built investment strategies from income-focused portfolios to environmentally sensitive strategies. Most other brokerages and robo-advisors charge an asset management fee to invest in a pre-constructed portfolio. M1 Finance is unique in that they offer this for free.
Click here to invest with M1 Finance!
Portfolio Automation
While pies are something that investors utilize to gain flexibility and control over their investments, M1 also offers features for the more hands-off individual. 
M1 Finance will automate your portfolio using a mix of its features. As you set up your pie and recurring deposits, M1 Finance will make sure each deposit is allocated to your pie based on your target allocations. This feature is called automated rebalancing. 
Rebalancing is the act of returning you to your target allocation as your assets change in value. Often times, investors forget to rebalance or do it too infrequently. M1 Finance takes all the guesswork out of the equation by doing it for you, automatically.
Dividend Reinvestment Plan (DRIP)
This feature is not specific to M1 Finance as other companies do offer it. However, it is a great service that many of its users take advantage of.
As the name implies, DRIP allows you to reinvest your dividends through M1 Finance automatically. This allows you to take advantage of a powerful financial concept known as compound interest.
If your portfolio earns dividends then this money goes into cash holding until it reaches $10. After that, it is invested again based upon your preferences and spread throughout your portfolio. 
Here's more info on how dividends work with M1 Finance.
The ability to buy fractional shares is a significant advantage that the M1 Finance platform brings. Instead of needing to purchase full shares, you're able to buy as little as 1/10,000th of a stock.
With this feature, smaller investors are able to invest in companies like Amazon that trade for thousands of dollars per share. Without fractional shares it's much harder to create a diversified portfolio on a budget.
With fractional shares, you can ensure that as much of your cash as possible in invested and working for you and minimize any cash sitting on the sidelines.
M1 Spend
As we mentioned above, M1 Finance offers a checking account so you have access to all of your finances in one easy place. 
The account comes with a higher than average APY and generous cash-back on all purchases through the M1 Visa debit card. 
In addition, you will also benefit from 4 free ATM Withdraws per month and there is no minimum deposit in order to maintain this feature either. 
You can also rest assured knowing that your money is FDIC insured just like many other banks out there. 
M1 Borrow
M1 Finance also gives you the opportunity to take out loans via M1 Borrow. You can use your M1 Finance account balance to act as collateral for your loan. 
You can use your loan proceeds however you'd like. M1 Borrow has a relatively low interest rate since it is a secured loan. 
The loan is up to 35% of the value of your investments. The interest rate is 5.0%, but for M1 Plus members, it is 3.5%.
M1 Credit Card
In addition to a debit card, they also offer a credit card, called the M1 Owner's Rewards Credit Card. This card enables members to earn up to 10% cashback!
The card provides 1.5% cashback on all purchases. But when you make a purchase with one of 70 participating companies that you own stock with, then you qualify for up to 10%!
All M1 members are able to apply for this new credit card. However, without an M1 Plus membership, the card comes with a $95 annual fee.
M1 Finance Fees
M1 Finance is completely 100% free to use. As long as you meet the $100 account minimum then you can begin investing for free using the M1 Finance platform.
Even though M1 includes automation like robo-advisors that charge fees, there is no asset management fee involved.
They also do not charge a commission on trades like other investing platforms. 
M1 Plus
However, if you would like access to some extra features you may subscribe to M1 Plus, their next tier of service.
This gives you another daily trading window, lower interest on the margin loans, and a higher APY for any cash held in M1 Spend to name a couple of things. M1 Plus comes at an annual fee of $125 per year. 
If you are curious, here's our article on how M1 Finance is making money.
M1 Finance Pros
Completely free platform

Low $100 minimum balance ($500 for retirement accounts)

Automatic rebalancing keeps your portfolio on track

All in one platform with investing, borrowing and banking services

Tax minimization strategies
Free pre-built portfolios (expert "Pies")
SIPC insured up to $500,000
M1 offers trust accounts for multi-generation investing
Click here to invest with M1 Finance!
M1 Finance Cons
No mutual funds or individual bonds

1 trading window on basic

No tax-loss harvesting
What Is Personal Capital?
Personal Capital is more of a financial planning platform than solely an investment platform. Though of course, it does offer full-scale investment management.
Personal Capital offers free financial planning tools regardless if you invest or not. This is one of our favorite parts about Personal Capital. 
The Personal Capital platform aspires to be an all-inclusive system that members can use to manage all of their finances in one place. Each of your individual investment accounts links, safely and securely, to the Personal Capital platform for tracking. 

Similar to M1 Finance, Personal Capital is a bit of a hybrid between a Robo-advisor and a broker. They offer services that fall under both categories, as they cast a wide net in terms of what they offer. 
How Does Personal Capital Work?
In order to use Personal Capital's free services, you do not need to make a minimum deposit. Simply registering for an account is the only step to follow.
Their financial planning features are very similar to other services like Mint which aim to make be an easy place to view all of your accounts in one place. This allows you to better track your spending and overall finances. They aim to be a one-stop-shop for getting a snapshot of where your money is and how your investments are performing. 
However, these financial planning features are all you are going to have access to unless you plan on maintaining a balance of $100,000 with Personal Capital. 
If you do, then you will be in Personal Wealth, their next level of service. Personal Wealth will give you access to investment management and financial planning by human advisors.  
All of Personal Capital's advisors are fiduciaries which means they are legally sworn to put your interests ahead of their own. This means you don't have to worry about getting bad advice from an advisor trying to score a commission by selling you something you don't need.
Clearly, Personal Capital is tailoring its services to high net worth clients. They do not have investment offerings for smaller investors.
Personal Captial Features
The features and services Personal Capital provides for free are useful for investors at any stage.
Free Financial Planning Tools
Personal Capital's free financial planning tools are actually quite competitive with other products like Mint as we referenced earlier. 
They allow you to add in just about any type of account you can think of to give you a great bird's eye view of your finances. 
Budgeting is also something they cover within these features. Users will be able to monitor their spending habits and the tool will highlight areas with high expenses. 
If you wish to have that process automated for you, then you can take advantage of the Cash Flow Analyzer. Basically, it takes the thinking out of budgeting and tracks all of your spending and gives you suggestions based on the results. 
Investment Services
The investment services offered by Personal Capital are strictly for higher net worth individuals. This is apparent from the $100,000 minimum deposit barrier. 
Though after crossing that barrier, users will have access to human-assisted investing with a splash of automation. The service has many similarities when compared with working with a traditional financial advisor or planner.
They have a good system for tax-loss harvesting and enlist a feature called Tactical Weighing in order to give you a good balance of assets in your portfolio. 
Socially responsible investing is making a surge in popularity lately and through Personal Capital, you will be able to tailor your investments in the same way. You can align your investments with companies that adhere to certain social responsibility and ethics. 
Click here to invest with Personal Capital!
Wealth Management
In addition to the investment services Personal Capital provides, higher net worth clients can also take advantage of more advanced wealth management features.
You will need $200,000 or more invested with Personal Capital to access these features.
At this tier you'll have access to two personal financial advisors as well as a team of stock, options, and real estate specialists. You can ask these experts any questions relating to your portfolio or life decisions you are thinking about making that relate to finance.
You'll also be able to make individual stock investments as opposed to the ETF portfolios offered on their first tier. This allows investors the ability to take advantage of more advanced tax reduction strategies in their portfolio.
Private Client
Personal Capital's Private Client offering is geared towards high net worth individuals who need more one-on-one attention with their finances. This tier requires $1,000,000 invested with Personal Capital.
In addition to the Wealth Management offerings, private clients will priority access to the Personal Capital investment committee as well as in-depth specialist support in all areas. This includes retirement planning, estate planning, and other significant financial milestones.
Private Clients also have access to investments in private equity deals that are not offered to the other tiers and a private banker.
Personal Capital Savings Account
Like many other investment platforms, Personal Capital offers its users access to a savings account conveniently located in their investment platform. 
This account does not have a minimum balance and you will have unlimited withdrawals as well as an attractive interest rate. You do not need to be an investment client in order to have a savings account with them. 
Personal Capital Fees
There are absolutely no fees associated with the free Financial Planning features of Personal Capital. 
Wealth Management does carry a fee. The annual fee begins at 0.89% annually for Personal Capital Wealth.
The more money you have with them, the lesser the fee is.
Though, after $10 million invested, your fees will decrease to 0.49%. Even this is still higher than many of the fees competing robo-advisors charge. For example, their competitor Betterment only charges a fee of 0.25% or 0.40% if you want person-to-person advice. 
Personal Capital Pros
Personal Capital Cons
The Verdict: Personal Capital vs M1 Finance
On the surface, these services are very similar to one another. However, there are some glaring differences once we start to take a closer look. 
Personal Capital is definitely directed at high net worth individuals while M1 Finance is dedicated to being a beginner-friendly investment platform for the common person.
As far as investing goes, the minimum investment with M1 Finance is $100 or $500 for retirement accounts. The free tools on Personal Capital have no minimum, but in order to invest with them you need a minimum of $100,000. 
If you want a platform for free financial planning tools then Personal Capital may be the better platform for you. Or, you could use these free tools alongside a brokerage account such as M1 Finance. 
The majority of beginner investors will likely benefit more from M1 Finance. They support a wider range of investors and lower-income individuals just looking to start their investing journey. Personal Capital is aimed at the higher net worth investors, not your average joe.