In case you haven't noticed, there's a huge upswing in crowdfunding platforms these days, and one of the stellar ways to become part of these lucrative ventures is through real estate crowdfunding.
Crowdfunding is a way for the average Joe to buy into projects with just a tiny minimum investment – some as low as $5. It's a wholly different structure than having the broker as the go-between who takes a slice of the profits.
If you don't know a single thing about real estate investing, no prob! Experts in the field scrutinize potential projects and accept only a fraction of those who apply. Once you've invested, property managers will do the work for you, keeping an eye on timetables and profits, and continually sending you regular updates. The platforms payout monthly, quarterly or annually.
Summary: Rich Uncles vs Realty Mogul
Both platforms offer diversified exposure to commercial real estate portfolios.
Both have options for accredited and non-accredited investors.

The Mogul REIT I and II are open to any investors in all US states.

Rich Uncles offers two portfolios to non-accredited investors, but one is available in select US states only.

Rich Uncles has a lower minimum to invest of just $5 compared to $5,000 for Realty Mogul.

Realty Mogul has a transparent fee structure ranging from 0.30% to 0.50% based on what portfolio you select.

Rich Uncles follows a performance-based fee structure where they collect 40% of the profits above 6.5%.
Real Estate Crowdfunding
Crowdfunding is passive income at its best. This means that after your initial investment, you just sit back and let the work get done and the dividends grow. If you're really motivated, you can use that extra time for a side hustle (we highly recommend this) to keep multiplying your net worth.
Crowdfunding closes the gap between wealthy investors and people like us who want to get into the game but lack the know-how, funds, and connections needed to jump in.
Real estate investing gives you a tangible asset, and projects are less volatile than stocks and bonds. You can't expect to become wealthy overnight, but you will see your investment flourish and grow in the long run.
Wait, there's more. You will essentially be a landlord without the everyday hassles of tenants, leaky sinks, late rent payments and the never-ending list of headaches that accompany being a property owner. Essentially, they collect rents and distribute them among shareholders. They approve only tenants with strong credit history for the housing rentals. Two platforms we will be looking at today, offering exactly this, are Realty Mogul and Rich Uncles.
Want to learn the ins and outs of crowdfunded real estate?
Here's our free guide that covers the basics of getting started with this investment.
We will show you how to get started with as little as $500 and explain the basics, like debt versus equity investments.
Get The Guide
What Is Rich Uncles?
Rich Uncles is one real estate crowdfunding platform that's picking up speed. This is one of the few opportunities to buy into real estate with a smidgen of money: the minimum is $5.
Rather than relying on middlemen to attract clients, Rich Uncles harnesses the power of social media to spread the word about what they have to offer.
Experts do all the initial footwork. How expert are they? The team encompasses more than 150 years of acquisitions and management experience, representing $3 billion in the total volume of transactions. They adhere to stringent policies, and only the top .3 percent of all deals they review meet their acquisition criteria.
These experts are busy: the proprietary evaluation method in place at Rich Uncles lets them comb efficiently through applications and review more than 1,000 real estate deals every week.
There are plenty of perks: investors earn returns via monthly cash dividends, increase in property values and significant tax savings.
Again, these are long-term investments, so if you're looking for quick returns or the ability to trade on a daily basis, this may not be your cup of tea.
Rich Uncles Investments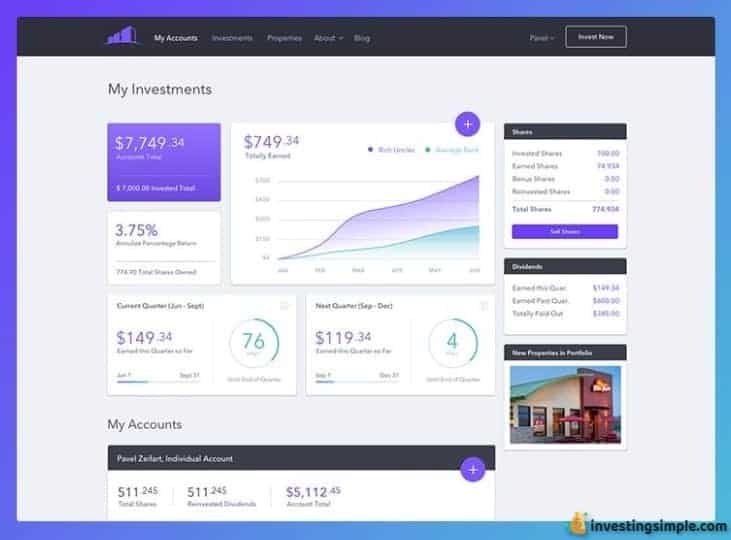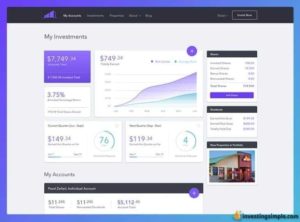 Rich Uncles sponsors two public non-traded real estate investment trusts (REITs). A REIT is a corporation that combines capital from many investors to buy and operate income-producing real estate. It gives people a low-cost way to include commercial real estate in an investment portfolio.
REITs are a good choice for people who want to both generate income and also buy into deals with the potential for longer-term growth. They create a more diversified portfolio. But, as is the case with other investment strategies, there's no guarantee that the targeted return or distribution rate will be met.
Rich Uncles REITs must adhere to stringent rules. They are required to have audited financial records and payout at least 90 percent of their income in the form of shareholder dividends.
Rich Uncles projects are classified as public non-traded REITs. The distinction is they are public to the extent they are registered with the SEC, so the public can view their offering, but they don't trade on the open market like the public REIT shares you buy into from an investment broker.
Rich Uncles offers two types of REITs: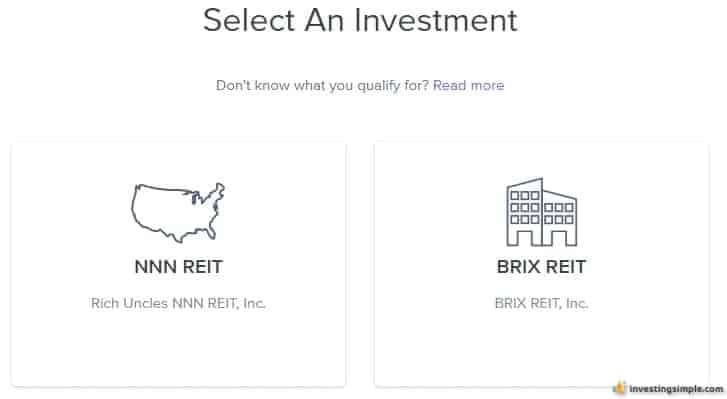 Student Housing (BRIX) REIT
This offering focuses on purpose-built student and multi-family housing, quick-service restaurants, convenience stores and fitness centers across the country.
It carries an estimated annual dividend of 6 percent and is available for investment in all 50 states and worldwide.
National (NNN) REIT
This REIT features single-tenant office, industrial and retail properties leased to nationally recognized corporate tenants.
Its estimated annual dividends are 7 percent.
However, it is only available to residents of CA, CO, CT, FL, GA, HI, ID, IL, IN, KY, LA, MT, MO, NH, NV, NY, SC, SD, TX, UT, VA, VT, WI and WY.
If you're looking ahead in the longer-term, and we hope you are, you can invest in real estate with an Individual Retirement Account (IRA) via Rich Uncles.
Adding an investment in real estate to your retirement portfolio is smart planning, and Rich Uncles can help you get started – all you need is a self-directed IRA. If you don't have a self-directed IRA, they will help you establish one with their partner financial institutions.
They will help transfer funds between retirement accounts and complete your investment forms. They will also spell out exactly how much you can contribute annually. If you're completely confused by the whole process, there's help at the click of the button in the form of articles on topics explaining the intricacies of IRAs. They can be challenging for novices to understand. If you haven't looked ahead and set up an IRA, this is an efficient way to tap into one.
What Is Realty Mogul?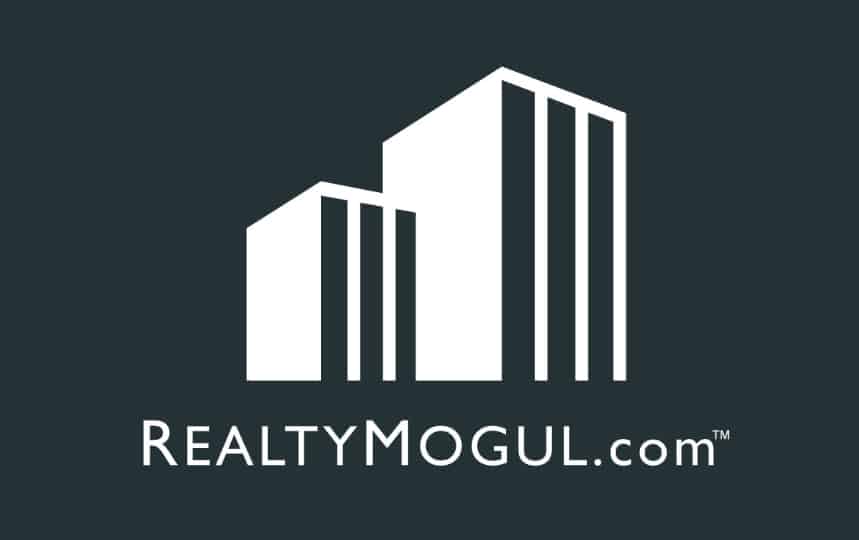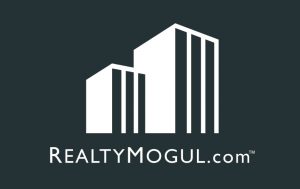 Realty Mogul is a platform that lets you buy into both commercial and residential properties.
Commercial sites include plazas, shopping centers, marketplaces, and offices. Residential projects include things like multi-family housing units such as condo or apartment complexes.
The founding principles of Realty Mogul are in response to the understanding that real estate has brought entire generations of investors substantial wealth. However, it has historically been reserved for those with the skills to maneuver confidently around the world of investing, the right connections in the field, and easy access to large amounts of capital. This has kept investing in commercial real estate a pipe dream for most - until a few years ago.
Commercial real estate is one of the most popular non-traditional asset classes for retirement investing. An investment in real estate carries with it the potential for long-term appreciation, along with regular, consistent cash flow.
How Realty Mogul Works
Through the Realty Mogul platform, you will have the opportunity to put your money into real estate opportunities online through a private, secure website. You can browse investments, review due diligence materials and sign legal documents securely online. Once invested, you will have access to an investor dashboard, giving you 24/7 access to watch how your money is working for you.
The platform has had some serious success: to date, members of the public have invested over $400 million through Realty Mogul, financing more than 300 properties valued at over $2 billion.
Realty Mogul experts are constantly on the lookout for diversified, multi-tenant, centrally located, cash flow producing properties. Its investment team examines every project on the drawing board, checking it against hundreds of data priorities. Every deal is put to the test against the most conservative financial models. Each one requires unanimous approval from an investment committee. These members have collectively transacted more than $5 billion in real estate.
Realty Mogul carries a minimum investment of $5,000. Investment lengths start at just 6 months and range out to a high of 120 months. This lets you make your investment decisions specifically based on your own long and short-term goals.
Realty Mogul Advantages
Monthly or quarterly dividend distributions based on the portfolio
$5,000 minimum investment
They organize investment options well, making them easier to understand than some similar platforms
There are reviews done around the clock to monitor projects
You can manage and complete all documents for transactions online
User-friendly with frequent project updates
Invest in both loans and equity investments
When you create an account with Realty Mogul, you will need to answer some questions. They are used to pinpoint your goals for real estate investments. Are you looking for returns in the shorter term to meet a specific need, such as a down payment, or do you plan to reinvest some of the dividends you've earned into new projects?
Investors can purchase equity investments in both commercial and residential real estate, as well as real estate debt investments. Realty Mogul offers multiple investment vehicles, however, some are only accessible to accredited investors.
An accredited investor is someone who has a recognized level of income, net worth, or professional experience allowing them to invest in higher-risk securities that may not be registered with traditional securities laws.
Mogul REIT I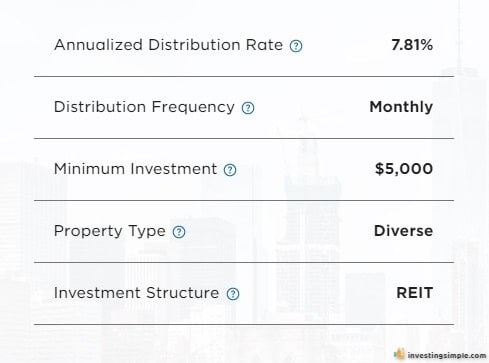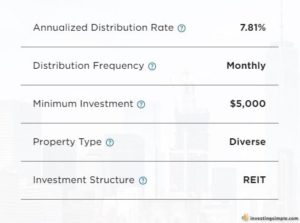 One option is MogulREIT I, a public, non-traded Real Estate Investment Trust (REIT) that gives you debt and equity investments in commercial real estate properties diversified by investment, geography and property type.
This REIT is open to any investors, not just accredited investors! The REIT's primary focus is providing monthly income to investors by fastidiously evaluating numerous investment opportunities.
They design REITs to allow investors to spread funds across multiple properties, creating higher levels of diversification.
Historically, REITs have provided investors of all types with regular income streams, diversification of their portfolio, and long-term capital appreciation opportunities.
There are currently more than 4,600 investors in this REIT, with 17 investments for a total of $289 million. The end results? The REIT has distributed between 7.76 percent and 8 percent annualized returns based on the purchase price.
Mogul REIT II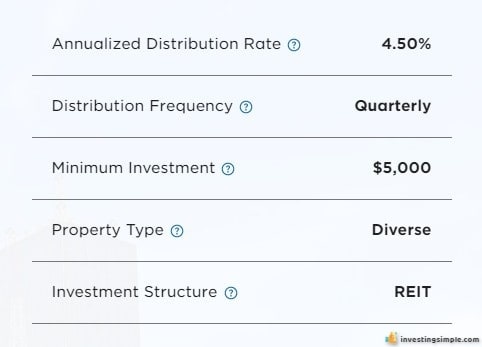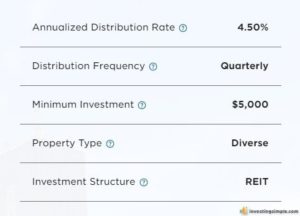 MogulREIT II is a public, non-traded REIT for apartment buildings. This REIT is open to any investors, not just accredited investors!
It is set up for appreciation and income through investments in equity in multifamily apartment buildings. Although Realty Mogul has paid income equaling a 4.5 percent annualized distribution to investors in MogulREIT II, the focus is also on long-term capital appreciation.
This comes about from renovating, upgrading and repositioning the multi-family properties, which ups their net worth.
Projects include complexes in Texas, Brooklyn, and Chicago. They are adding more on a consistent basis.
Mogul REIT I vs Mogul REIT II
The main differences between this two public, non-traded REITs are in the small details of their key investment objectives.
MogulREIT I's goal is to pay consistent monthly cash distributions through diversified investments into multiple commercial property types. This REIT invests your money into the debt, preferred equity and equity of these properties.
MogulREIT II is for those looking for capital appreciation or growth. The other goal for this REIT is to pay attractive and stable cash distributions to stockholders. This REIT exclusively invests in multi-family properties in the form of equity or preferred equity.
The Verdict: Rich Uncles vs Realty Mogul
Both Rich Uncles and Realty Mogul are giving small-time investors the opportunity to get in on private real estate deals. Rich Uncles has the lower minimum investment of just $5 versus the $5,000 required to invest with Realty Mogul.
Another key difference between these two platforms is the fee structure. Realty Mogul has a fee that ranges from 0.30% to 0.50% based on the investment portfolio. Rich Uncles has a more complicated fee structure. The first 6.5% of profits go directly to shareholders. After that, Rich Uncles keeps 40% of any profit above 6.5%. Some investors like this performance-based fee structures while others do not.
Both Realty Mogul REITs are offering you access to private real estate deals. Both of the Realty Mogul REITs are available in all states, while the Rich Uncles NNN REIT is only available in select states. At the end of the day, it comes down to the fee structure and the minimum investment when comparing these two similar platforms.
Ways to buy into real estate are spreading like wildfire, and we encourage you to look into platforms like Rich Uncles and Realty Mogul today, rather than putting it off until tomorrow. Your future self will thank you for being smart enough to know a good deal when you see one.