ReceiptPal Review
ReceiptPal is a new app that rewards you for your spending habits. But at the same time, it requires you to save and scrutinize your receipts, thereby making you less than thrifty spending habits readily apparent.
Some people have a highly organized system for tracking spending and accounting for receipts. Others are more sporadic, letting receipts trickle down to space between the front seats of your vehicle, fill your purse or wallet, or serve as scrap paper for grocery lists.
The ReceiptPal app could not be simpler to use. All you have to do is take a quick pic of receipts, one at a time, and load them into the app.
How ReceiptPal Works
Receipts that qualify are only those where purchases were made by you or a household member.
Receipts can be from any retailer/store for consumer goods purchases of all types such as convenience stores, travel and entertainment, restaurants, grocery stores, clothing stores, sporting goods stores, electronics stores, gas stations, car dealerships, online retailers, etc.
All receipts must include the store name, purchase date, the total amount spent and either phone number or zip code of the store. In other words, the entire receipt must be in the photo.
Receipts must be in English and in U.S. dollars.
Receipts must be from retailer/stores located in the United States, Puerto Rico, US Virgin Islands or Guam.
All receipts must be readable by the system, so make sure you snap a clear photo.
The pics take a couple of minutes to download, but then you get a checkmark showing it has been approved.
How To Make Money With ReceiptPal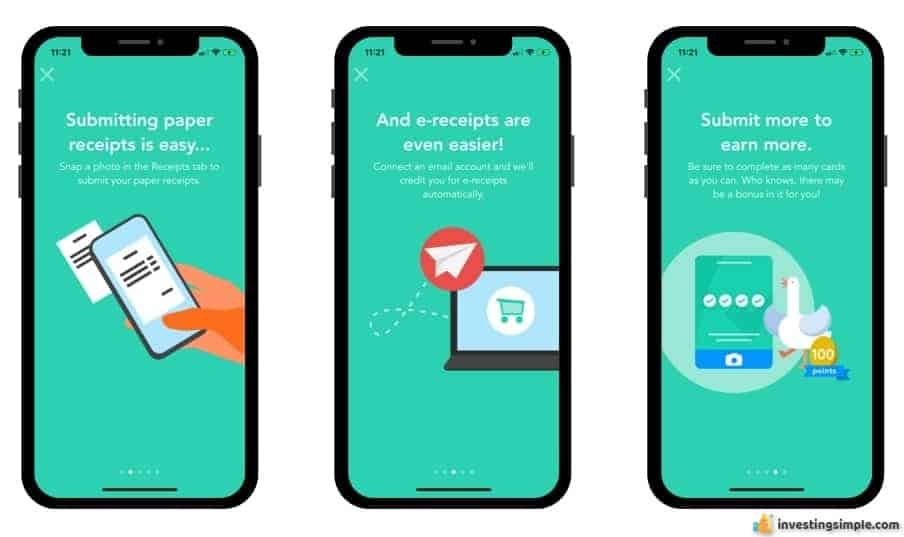 As your points accumulate, you will start pocketing gift cards from retailers like Amazon, Visa, Walmart, Target, Home Depot, Lowes, and many others in $5 increments.
But wait, there's more! Once you're in the system and actively entering receipts, you are also entered automatically into weekly sweepstakes for cash prizes. You could be one of the 3 winners announced each week. Of course, your odds of winning are (at press time) 3 out of 635,497. Cash prizes average around $250.
As an added benefit, ReceiptPal stores your receipts on the app in a secure location, giving you easy access to track your spending (which you're going to start doing now, right?)
What's in it for them, you may ask? The answer is highly specific market research.
How ReceiptPal Makes Money
"The ReceiptPal team takes information from your receipts and combines it with information from other ReceiptPal members. A mix of companies then use the resulting combination of anonymized information to better understand consumer purchase behaviors so they can make better product and marketing decisions."
So, basically, ReceiptPal takes your spending info and throws it into a pot with other similar detailed info then stirs it all up beyond recognition.
There are some logical guidelines to follow on what is NOT accepted:
A receipt missing: Purchase Date, Store Name and/or Total Price.
Business or company-related purchases. Receipts must be for items purchased for you and your family's personal use.
Bills such as cell phone, utilities, doctor, car payments, mortgage, insurance, etc.
Receipts with a $0 value.
Cannot use receipts for returns.
Receipts for participation in games of chance (e.g. lottery tickets, scratch-off tickets).
Receipts that are from payment processors (e.g. PayPal), consumer-to-consumer platforms (e.g., eBay, Etsy) or distribution companies (e.g. Ticketmaster, Groupon).
This is a no-brainer, but you can't submit the same receipt multiple times. You will get credit for the first time you submit the receipt but ReceiptPal will return subsequent submittals as invalid receipts, so don't even try to sneak one in twice.
You cannot share receipts with family or friends. They will catch you if you do.
Blurry or illegible receipts (keep trying until you get a clear shot).
ATM receipts.
Anything hand-written.
This should go without saying, but we will say it anyway, don't try to submit anything that states "This is not a receipt."
How To Use ReceiptPal
First, obviously, download the app here. (Android/iOS)
If you have trouble fitting the image in one screen on your camera, take an aerial shot. Don't try to get fancy and take multiple images because that makes the ReceiptPal people mad. No, seriously though, they can't tape images together to make one piece.
There are windows during which you can submit receipts, so don't go digging out that old shoebox of receipts from last year.
You can submit receipts through the third day of the week after purchases are made, although they prefer people to submit them within the week of the purchase if possible.
If you're a frequent flyer on Amazon, you can get credit for purchases without a receipt. Just connect your ReceiptPal account to you Amazon account. After that, the things you buy will be automatically captured and credited to your ReceiptPal account.
The ReceiptPal app works with most smartphones running either the Apple/iOS or Android operating systems. Right now, it doesn't support the iPad or other brands of tablets.
You can also connect your email account to the app for auto-collection and crediting of e-receipts. At this time, the following email providers are eligible for connection to ReceiptPal: AOL, Gmail, Hotmail, Outlook.com and Yahoo! The ReceiptPal team promises they are continuing to look into the possibility of adding more email providers.
ReceiptPal Bonus Games
There are also "bonus games" that will come your way. You will see these after you submit 4 valid receipts. With these games, you can win either points or sweepstakes entries.
The ReceiptPal Program is only open to legal residents of the United States. Also, you must be 13 years of age and older to open an account.
Registration and participation are voluntary. You can, of course, remove the ReceiptPal app at any time by deleting it from your device.
My Experience Using ReceiptPal
Let me start by admitting I fall under the category of "poor organizer" of receipts for purchases. That means I generally toss them in my purse, where they fall to the bottom and either collect dust or turn yellow with age.
But I have hopes about finding a better system, plus I was assigned to try the app as research for this article, so I downloaded ReceiptPal onto my cell. Easy peasy.
The FAQ section was so long and convoluted, however, that I made the decision to just figure things out as I went along.
I work from home and therefore don't go out for many meals, so I anticipated it taking a week (or heck, even more) before I accumulated any receipts to snap pics and submit for credit.
Then I read in the fine print that I could submit slips from the previous 7 days, so into my garbage I went. Literally. Ok, not into the stinky kitchen trashcan, but I did dumpster dive into the canvas bag in my car where soda cans, junk mail and yes, even receipts find their way.
Victory! $4.35 from Dunkin Donuts for iced tea and a blueberry muffin. $22.01 from Rite Aid Pharmacy for wasp spray and Tide pods. And $48.90 for Hannaford for assorted groceries. Taking the pictures was a snap (get it?) as there's a great autofocus feature. Took the pics, hit the submit button and waited.
As it turns out, the app takes up to 24 hours to review receipts and issue credits. I was on a mission to accrue points at lightning speed. So, I connected my email and Amazon accounts to the app.
Two days later, I spent so much money it made me want to never leave my house again, but the receipts racked up:
A whopping $107.80 to the vet clinic for Lyme shots and flea collar for just one of my two small dogs.
$53.30 for pet grooming for the same dog, and I was miffed I couldn't add the $10 tip to the receipt to get credit. Come on!
$63.94 to Price Chopper for yet MORE ASSORTED GROCERIES.
$27.54 to fill my gas tank.
And once again….Dunkin Donuts, this time for $10.35.
I had the receipt equivalent of sticker shock. I seriously considered getting rid of my dogs. Ok, not really. At least, reducing my penchant for Dunkin baked goods in order to get my budget back in line.
I turned my frown upside down once I loaded my receipts and looked at the total I'd already earned: 1050! Just another 1010 and I will earn a reward I guessed would be enormous!
Well, not quite. It's a $5 Amazon gift card. Still, not bad for snapping a few pics.
Speaking of Amazon, the week was especially busy for online purchases. Ok, maybe every week is busy for online shopping, but hey, it's summer, gotta stock up on sunscreen, beach towels and floating coolers. Ditto neon nail polish for an at-home pedicure (which technically saves money going to a nail salon). Also, I really needed a cell phone cleaning kit, because I'd just read our phones are filthier than the bottom of our shoes. And ok, the black glitter Vans because even though I'm not going back to school, everyone needs new sneaks for the fall.
Fortunately, they transfer Amazon purchases to my ReceiptPal account without me having to scan in any paperwork, so I didn't have to tally up my expenses.
Once I earn 4,000 points, my reward spikes to $10, and so forth in increments up to a $100 Amazon card, which I will clearly put to good use.
Using the app will definitely bring on OCD as you keep track of every little slip of paper. I pumped $24 of gas then declined a receipt out of habit. Later, I cursed myself.
It was an eye-opener to track my spending. Now, my receipts are all stored in my account in their original format for viewing later. No more paper at the bottom of my purse.
Best Free Stock Promotions