For the last decade, risk taking was rewarded on all fronts.
However, we are now entering a different kind of economic period where certainty and cash flow is key.
So if you're looking to start a business, but not take on huge risk, I've got a run down of 25 business ideas for you.
Keep on reading, or watch my YouTube video on the topic below!
About the Author
Ryan Scribner is the author of From Side Hustle To Main Hustle To Millionaire - a practical guidebook on launching your own side hustle. He is recognized as a Top 100 Money Expert by GoBankingRates.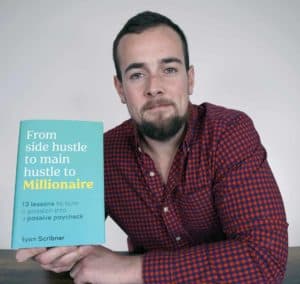 Ryan runs a successful YouTube channel focused on money and investing, which he started in 2016. He also owns a portfolio of digital business, all earning passive recurring revenues.
Now, Ryan teaches others how to create additional income streams.
25. Digital Real Estate
As a blogger who has successfully turned my passion for writing into numerous profitable businesses, I'm often asked about how to get started.
Because blogging as a business has a very low failure rate. You can start out with $0 and post on a free WordPress.com site, or spend about $100 to operate your self hosted site for a year.
From here, you simply create and post content. And that's gotten a lot easier thanks to ChatGPT.
Now before you start a blog, it's important to identify your niche. Because writing about everything under the sun won't lead to success. Choose a topic that aligns with your interests.
After that, decide on the type of content you'll create and how often you'll publish it. Above all else, you need to make sure your content provides value to your readers.
Google doesn't care who writes the content, in terms of human or AI, they care about valuable content.
And if you don't have the patience to build a blog from scratch, you can buy starter sites for under $1,000 on various platforms.
In terms of failure, quitting, spamming Google or posting about random stuff is what would lead to that.
As long as you remain consistent, your blog will grow authority and see traffic over time.
24. HipCamp
Hipcamp is a unique platform that connects outdoor enthusiasts with landowners who have space for camping.
If you have land, you can use Hipcamp to make money by renting it out to campers.
Start by determining a rental price that's competitive with similar campsites in your area. Hipcamp takes a 10% commission on each booking, so factor that into your rental price.
When campers arrive, provide them with a warm welcome and ensure they have everything they need for a comfortable stay. And consider offering amenities such as firewood or access to an outhouse to charge more.
Hipcamp collects payment from renters and sends it to you, minus their commission.
The average earnings with Hipcamp vary depending on the location, amenities, and demand for camping in your area.
On average, campsite owners earn between $1,000 and $5,000 per year with Hipcamp per site.
But you can charge a lot more for RV sites and even tiny cabins.
So consider starting out small, and reinvesting into this business over time.
23. SMMA
Here's another digital business where it's really difficult to fail.
Social media has become an essential part of marketing today, and you can start a social media marketing agency today with nothing out of pocket and zero skills. Here's how.
First, you will interview and assemble a team of experts who can help you deliver high-quality social media marketing services.
This may include graphic designers, copywriters, and social media managers. But you won't pay anyone yet.
Next, figure out what people are charging in your local area for social media marketing. From here, you should create a simple website for your business - but there's a lot of free business website tools today.
From here, it's simply a matter of figuring out your pricing - based on the cost of your team of remote experts - and landing your first client.
Sure, you could dump a ton of money into an agency and fail miserably.
But with this approach, the only risk is your time, as you aren't investing a penny until you land a client.
22. Turo
Aside from the risks associated with renting out your car, it's nearly impossible to fail with this business.
Turo is a peer-to-peer car-sharing platform that allows car owners to rent out their vehicles to others for a fee.
If you already have a car that's no more than 12 years old with less than 130,000 miles, you can rent it immediately.
But should you plan on buying a car, it's important to choose the right car. You want something that is in good condition, newer, fuel-efficient, and has a high demand in your area.
Some of the best vehicles for Turo include Fiat 500, Chrysler Voyager and the Kia Rio. Used Honda's and Toyota's are a great option too.
And once you have one vehicle up and running, you can reinvest profits into a larger Turo fleet.
Keep in mind though, you may be dealing with annoyances like scratch and dents, or smoking in vehicles.
21. Etsy Digital Goods
Etsy is a popular online marketplace for selling unique goods, and one of the categories that is gaining traction on Etsy is digital goods.
This could include digital art, patterns, printables, or templates. Just like with blogging, choosing a specific niche is key.
Top Digital Etsy sellers find one niche digital product to offer, and then create many variations of it. Or, they hire other freelancers to create the digital files.
Tools such as Adobe Illustrator or Photoshop will help, but you can also create and sell designs you made for free on Canva.
If you want to take action on this, focus on finding a niche product category first. Once you have it nailed down, get in contact with a freelancer who can make you one.
From here, you can get an idea of your costs and also test the market. If you see sales, reinvest into a larger portfolio of the same niche product.
20. Ebooks
Kindle Direct Publishing (KDP) is a platform that allows self-publishers to sell their ebooks on Amazon.
And with ChatGPT, writing an ebook is no longer a daunting task. Ebooks range in size from 5,000 to 30,000 words.
But simply copy pasting what ChatGPT generates will not be valuable. Instead, you will need to fact check, curate and supplement the information.
ChatGPT is also really helpful for outlining an ebook. From here, you could simply paste each section into ChatGPT to get a starter paragraph to work off of.
Once your ebook is done, create a KDP account and add your ebook to your bookshelf. You can then set your price, royalties, and distribution preferences.
Over time, you can write more ebooks and build a portfolio of titles.
19. Personal Brand
If you want to become an influencer and make a living through your personal brand, you can take some simple steps to get started on that today.
First, you need to define your niche. This could include fitness, beauty, travel, or any other area where you have expertise or passion.
Next, spend at least 10 hours watching influencers in the space and taking notes on them. This will show you where the "quality bar" is, in terms of the type of content you'd need to create.
If it seems out of reach and too competitive, you can either get more specific within a niche or find a different niche to conduct research on.
The only way to fail with this is to quit, post random content that isn't niche specific, post bad content or dump money into editing.
If you have no interest in doing graphic design and editing yourself, don't take this on.
It's not worth dumping money into an unprofitable personal brand.
18. AI Skills
Artificial intelligence (AI) is a rapidly growing field that offers many opportunities.
If you are interested in tools like ChatGPT, there are several ways you can make money.
As mentioned, you can use the tool to create content that you monetize.
You can offer services like developing chatbots, natural language processing, or data analysis.
You can offer consulting services to businesses that want to implement AI solutions.
You can use your AI skills to create and sell AI-powered products like chatbots, recommendation engines, or predictive analytics tools.
You can teach others how to use AI tools like ChatGPT through online courses, webinars, or workshops.
You can use your AI skills to build a startup that develops AI-powered products or services.
The key is to stay up-to-date with the latest trends and developments in AI and to continuously improve your skills to stay competitive in the market.
17. Job Interview Coaching
As we enter this recessionary period, layoffs will only increase in size and frequency. This creates tons of demand for employment related services.
Starting a job interview coaching business could be a great way to help others and make great money during uncertain times. You'll also get a sense of fulfillment out of helping others navigate the unknown.
To get started, build relationships with HR professionals and recruiters in your area. LinkedIn is a great place to start.
You should also attend networking events and join professional associations to expand your network.
From here, you can offer free services, such as a resume review or a 15-minute consultation, to attract potential clients and demonstrate your value.
The only way you could fail here is having bad people skills, charging too much or dumping money into marketing early on.
16. Web Design SAAS
Starting a web design subscription business can be a great way to generate recurring revenue. It's also very low risk, as you can follow the same model we discussed earlier with the social media agency.
First, you need to decide what type of websites you want to focus on, such as small business websites, e-commerce websites, or personal brand sites.
From here, you can either learn the skills required for WordPress design and site management, or get connected with professionals who already do this.
You'll want to determine the price of your subscription services based on how much your freelancers charge you for their part of it.
In order to charge people monthly, automatically, you can use a billing platform like Stripe or PayPal to manage payments.
As you grow your client base, build your own website that showcases your services, pricing, and customer testimonials.
These agency businesses can be extremely profitable with consistent monthly cash flows. You can also build them up and sell them for a lot of money.
15. Painting
Painting is a simple business with very little equipment needed. However, you need to check with your local government to determine what licenses and permits are required.
Oftentimes, you're required to get your painter's license, which means you have to work under a licensed painter for a certain period of time.
When you're ready to go out on your own, purchase the necessary equipment. Invest in quality equipment, including paint brushes, rollers, ladders, and a sprayer.
You'll also need business insurance, but there's apps that make that extremely cheap and easy today.
From here, build relationships with other professionals in the construction and renovation industries. These contacts can provide referrals and leads for your business. You can also do the same for them.
Once you have the painting up and running, consider expanding to include other services such as wallpaper removal, plastering, and drywall repair.
14. Power Washing
Starting a power washing business can be a lucrative venture for those who enjoy working outdoors and have a knack for cleaning.
Similar to the painting business, it's best to work under someone, learn the trade and then go out on your own.
Check with your local government to determine what licenses and permits are required to start a power washing business in your area.
You'll want to invest in high-quality power washing equipment, including a pressure washer, hoses, and nozzles. Maybe even a trailer to transport your equipment.
However, before you buy new, check Craigslist and Facebook Marketplace for used equipment.
If you buy it right, you could sell it for exactly what you paid for it should you want to get out of the business, making this virtually zero risk.
13. Buy Amazon Affiliate Site
Buying an Amazon affiliate blog can be a great way to start making money online.
This is because you can leverage the existing traffic and affiliate relationships to generate income right away.
Start out by choosing a niche that interests you and that has a good potential for affiliate commissions.
You can look at the Amazon Affiliate Schedule to find these high commission categories, but keep in mind, this could change anytime.
Then, look for blogs that have a proven track record of generating revenue in that niche.
Check on online marketplaces like Flippa or Empire Flippers.
Or, reach out to sites directly and see if they want to sell.
Once you find a blog that interests you, conduct a thorough due diligence to ensure that the site's traffic and revenue are legitimate.
Check the quality of the content, the backlink profile, and the social media presence.
From here, negotiate with the seller to arrive at a fair price for the blog. You should consider using an escrow service to ensure a secure transaction too.
Once the purchase is complete, transfer the site to your hosting and ensure that all the affiliate links are redirected to your account.
Then, review the site's content and optimize it for SEO to improve its ranking on search engines.
From here, you could consider adding new content to attract more traffic - leveraging ChatGPT if you want.
12. Start A Plant Nursery
Starting a plant nursery business can be a rewarding and profitable venture for anyone with a green thumb and a passion for plants.
And in many cases, plants at nurseries are on consignment, meaning you don't pay for them unless they sell.
Start by researching the demand for plants in your area and identifying what types of plants are in demand.
Then, select a location for your plant nursery that has good access to transportation, adequate water supply, and suitable soil conditions.
You could start this out really small, and simply sell locally sourced plants at farmer's markets - or with a roadside stand.
Find an existing abandoned space or lot, and make an offer to rent it for your plant sales.
Once you get established, you can even grow your own plants from seed, making the profit margins even higher.
You can start this business risk free by simply selling plants from local plant wholesalers and delivering them to your clients.
Nobody needs to know that your nursery is your garage or backyard for now.
11. Vending Machine Routes
Purchasing a vending machine route can be a lucrative business opportunity for anyone looking to earn passive income.
If you pay someone to restock the machines, or buy a route that has this already in place, you won't be doing any of the work yourself.
Start out by researching the demand for vending machines in your area and identifying what types of products are in demand.
After that, identify a vending machine route for sale. You can look for vending machine routes for sale online or through local brokers.
Once you have established a profitable vending machine route, consider expanding it by adding more machines or finding new routes.
The only way to fail with this business is to completely ignore the trends. For example, buying cash only candy dispensers or soda can machines.
You want card friendly machines with healthy options today.
10. Laundromats
On average, a small laundromat can cost between $50,000 and $100,000, while a larger one can cost up to $500,000.
Investing in a laundromat can be a lucrative business opportunity for anyone looking to earn money from a business without starting from scratch.
Start by researching the demand for laundromats in your area and identifying what types of services are in demand.
Then, look for laundromats for sale online or through local real estate agents.
Once you make the purchase, you might upgrade the facilities to make them more attractive to customers. This could also include steps like accepting card payments, or even adding your own vending machines to the laundromat.
These laundromats often sell so cheap that you can fully recoup your investment within 3 years of operation. It's not a glamorous business, but it's consistent and reliable.
9. Self Storage
Storage units are popping up everywhere now. Whether it's renters storing their extra stuff, or business owners holding onto inventory, they're in high demand.
Building these from the ground up is rather costly and time consuming, but buying an existing storage facility business is a lot easier and less risky.
Start out by researching the demand for storage unit facilities in your area and identify what types of units are in the highest demand.
Then, look for storage unit facilities for sale online or through local brokers. Once you find a place, negotiate the purchase price and terms of the sale with the seller.
You can also arrange financing if necessary.
Once you take things over, you should do an assessment to see what your monthly rates are compared to everyone else. Then, adjust your pricing and increase cash flows.
You should also leverage technology as much as possible with automated services people can do from their phone. Your storage service should be just as convenient as the big players in the space.
On average, a small storage unit facility can cost between $50,000 and $100,000, while a larger one can cost up to several million dollars.
8. Car Wash
If you're looking to start a car wash business, buying an existing car wash can be a great option.
It can save you time and money compared to starting a new car wash from scratch.
Before purchasing an existing car wash business, it's important to research the local market and see what types of car washes people are using in your area.
For example, touch free or self service wash bays.
Once you figure out the type of car wash you want, look for a business for sale online - or get connected with a local real estate agent.
On average, a small car wash can cost between $100,000 and $500,000, while a larger car wash can cost up to several million dollars.
7. Rent Out Heavy Equipment
Here's a unique approach to the sharing economy. Buying and renting heavy equipment like dump trucks can be a very lucrative opportunity.
Before buying and advertising your equipment for rent, research the market and determine what's in high demand.
You'll want to screen potential renters to ensure they have the necessary skills and experience to operate the equipment safely.
Once you've found a renter, sign a rental agreement that outlines the terms of the rental, including the rental price, rental period, and any liability or insurance requirements.
Collect the rental payment and a deposit upfront before renting out your equipment. This will help protect you in case of any damages or late returns.
Before renting out your equipment, inspect it thoroughly to ensure it's in good working condition. After rental, inspect it again to ensure it's returned in the same condition.
6. Farming
Farming and selling your produce at farmers markets can be a great way to make money and connect with your local community. And if you're using your own land, the risk is minimal.
However, it's also common practice to rent farmland these days, so don't rule that out either.
First, you need to determine what to grow. Start small and focus on a few crops that you can grow well and consistently.
Next, research local farmers markets in your area and determine which ones would be the best fit for your products.
Once you've chosen a farmers market, fill out the vendor application and provide any required documentation, such as proof of liability insurance and a seller's permit.
In terms of your booth, create an attractive display that showcases your products and catches the eye of customers.
Now you should also use a mobile point-of-sale system and cash box to collect payment from customers.
Farmers market vendors can typically earn between $200 and $500 per market day, with some earning more through bulk sales or value-added products such as jams, sauces, or baked goods made from your farm's produce.
5. Timberland
Timberland investment can be a lucrative business venture, as demand for timber and wood products continues to increase.
However, it requires capital and knowledge of the industry. Here are some steps on how to make money through timberland.
The first step is to research and identify potential timberland properties. Look for areas with abundant natural resources, good soil quality, and access to transportation infrastructure.
Once you have identified a property, you will need to conduct a timber inventory to determine the value of the standing timber. This can be done through a professional appraisal or by estimating the volume and species of trees on the property.
Next, you will need to assess the land's potential for other uses, such as hunting or recreational activities, as well as any potential for mineral or oil and gas exploration. These additional revenue streams can add to the value of the property.
You can also strategically purchase timberland nearby developing areas, that way you can sell the cleared land after for top dollar.
After acquiring the property, you will need to manage the timber and ensure that it is harvested sustainably to maintain the long-term health of the forest. This may involve working with forestry professionals and loggers to plan and execute timber harvests.
Prices for timberland range from several thousand dollars per acre to tens of thousands of dollars per acre.
But investors are normally purchasing an entire timber tract, which will be many acres.
4. Pest Control
Pest control businesses help control, prevent and eliminate unwanted pests such as rodents, insects and termites from homes and businesses.
And you can get your customers on a recurring subscription for a monthly outdoor pest spraying service.
Orkin charges around $55 a month for this.
You will need to obtain the required licenses and certifications to operate a pest control business. The requirements vary depending on your location, but typically involve passing a test and meeting certain educational and experience requirements.
Now in addition, liability insurance is crucial to protect your business and customers in the event of any damages or injuries.
The average cost to start a pest control business can range from $10,000 to $50,000 depending on the size of the business and the equipment and supplies needed.
3. Boat Storage
If you live near a large body of water, starting a boat storage business can be a lucrative opportunity.
Start off by finding a location - and this could be your yard potentially.
Depending on where you live, you may need to obtain permits. Make sure to research the regulations in your area.
You will also need to invest in security. Boats can be valuable assets, so it's important to invest in security measures to protect them. Consider installing security cameras, gates, and fencing to keep the boats safe from theft or damage.
After that, it's simply a matter of setting your prices and marketing your services at marinas. Most of your customers will use your service every single year, so you only need to find customers once.
2. Grow And Sell Hay
Hay production can be a profitable and rewarding venture for those interested in agriculture.
It is a staple crop for livestock owners, and demand for quality hay is consistently high.
First, you will need suitable land to grow the hay. The size of the land will depend on the scale of your operation, but at minimum, you will need several acres of fertile soil that can support the hay crops.
Once again, you can rent the land from a farmer if you don't have any yourself.
Next, you will need to decide on the type of hay you want to grow. The most common types are alfalfa, Timothy, and brome, and each has its unique requirements for growth and maintenance. It is important to research the types of hay that grow best in your area and determine which type will be most profitable.
The average cost of producing hay can range from $150 to $300 per acre, and the average profit can range from $200 to $500 per acre.
And if you don't want to do the work yourself, you can pay someone who has the equipment to cut and bale the grass for you.
1. Gig Worker
With the rise of the gig economy, more and more people are turning to freelance work to supplement their income or even replace their job.
Two popular platforms for freelancers are Fiverr and Upwork. These platforms allow you to connect with people all over the world looking for remote services.
To stand out from the competition, it's important to specialize in a particular skill or service. This can range from graphic design to social media management to content writing.
One area that seems interesting to me is the Fiverr AI related services.
Overall, starting a freelance gig worker business is one of the lowest risk opportunities out there. It doesn't cost anything to post on these sites, so the worst case scenario is nobody hires you.
And if that's the case, there's probably an issue with your pricing or something.
Final Thoughts
For the 1% who are ready to take their side hustle journey a bit more seriously, I wrote a book about side hustles.
And most businesses out there start off as a side hustle!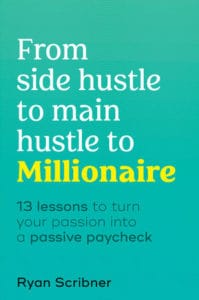 It covers all phases of the side hustle journey, and you get access to a members only discord where you can ask me questions along the way.
And you can grab a copy in person at most Barnes and Noble stores across the United states, or it's right on Amazon.
So grab a copy today and let's get started on your side hustle journey together!