Here Are Our Best 53 Side Hustle Ideas You Can Start Today In 2020!
The side hustle is the new American pastime. Smart, creative people want a side business and an additional source of income to save up for purchases, vaca's, or longer-term goals like buying a house. Whether you are trying to make an extra $100 a month or $10,000 a month, there's a viable side hustle out there for you. If you have a few hours a week or just a couple a month, check out our long list of the best side hustle ideas you can start today!
1. Stock Market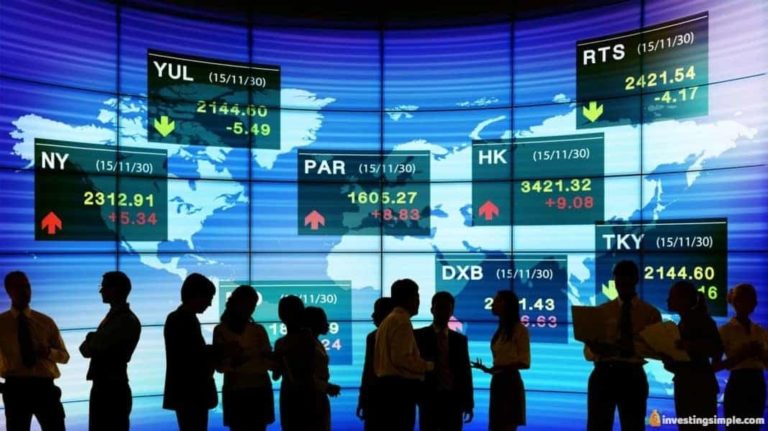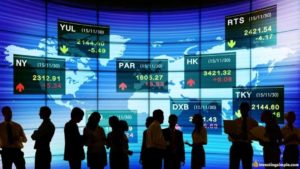 Investing in the stock market can be a great side hustle. If you learn about investing, you can save yourself from paying for active money management. Platforms like Acorns, Stash and Qapital are fantastic places for newbies who don't have thousands or even hundreds of dollars to invest.
These apps allow "micro-investing" as low as $5 and you don't need to be involved in the day-to-day management of the stocks and bonds. Experts keep an eye on your money for you!
Webull is ready to get you started on your stock market journey. Investing Simple readers will get a completely free stock when they open and fund an account! Webull offers 100% commission free trading.
2. Completing Surveys Online
One of the easiest ways to make money online is completing surveys. While it won't make you a millionaire, it is an easy side hustle you can start from the comfort of your own home. Companies want to know how you feel about their products and services, and they are willing to pay you for that feedback!
Opinion Outpost is one of the most popular online survey companies out there today. They have over 500,000 active members who are completing surveys each and every day. One of the best parts about Opinion Outpost is that you only need to earn $3 before you request a payout. You can receive payment via PayPal or they can send you an e-gift card to one of your favorite retailers like Amazon!
Another popular choice is MySoapBox! This is a market research company that rewards users for sharing the good, the bad and the ugly about the products and services they use each and every day. With MySoapBox, you are only able to earn gift cards. The good news is, there are hundreds to choose from. This includes Amazon and, oh yeah, Starbucks!
A few minutes a day completing online surveys could mean some extra spending money on the side. While this isn't the best way to earn maximum income online, it is definitely one of the easiest ways.
3. Work From Home English Tutor
The internet has created hundreds of opportunities that did not exist 10 or 20 years ago. One of them being the ability to tutor students online. There is a HUGE demand for online english tutors, and this side hustle can earn you upwards of $20 an hour.
VIPKid is a platform that connects English speaking tutors with children in China who are looking to learn English.
As a tutor, you will lead a one on one tutoring session with a student in China from the comfort of your own home. The best part? On average, you will earn $14 to $22 an hour based on your skill level.
There are just a few basic qualifications...
You need to have a bachelors degree from the US or Canadian university.
Some prior experience with children is a must (babysitting, coaching, tutoring, etc.)
High-speed internet and a webcam is needed for lessons.
VIPKid is the leading online tutoring site out there today. In fact, Forbes magazine even recognized them as the number one work from home opportunity. They are in urgent need for thousands of teachers. It is important to remember that you DO NOT need prior teaching experience to be a tutor and you DO NOT need to speak other foreign languages. If you meet the above requirements, you could be making money as an online tutor!
Another option for tutoring online is Education First. This is an online education company that specializes in language training, educational travel, academic degree programs and cultural exchanges.
They are also looking for people interested in teaching english to children in China. The average teaching session is 20 to 45 minutes to a group of 5 to 6 students. There are also private one on one sessions available.
4. Crowdfunded Real Estate
So, you've always wanted to invest in real estate but haven't been able to pull together the funds for a decent duplex? There's a new way to add real estate to your investment portfolio that pools money towards a specific project, allowing you to decide how much to put towards it.
Fundrise offer projects for you to review as well as low fees to start. The expected annual returns are in the arena of 8 to 11 percent, which is a nice return! Experts help you determine where to invest your money in the real estate projects based on both your long-term goals and how much risk you're comfortable taking. Then, they keep you updated on how your project is progressing. With started portfolios available at just $500 to invest, there's room for everyone in the real estate game.
5. Amazon FBA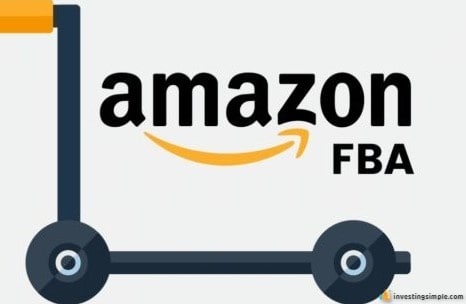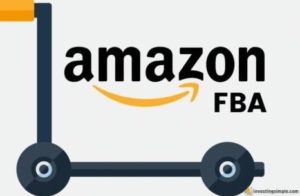 Selling on Amazon has emerged as one of the most popular side hustles and have been upgraded to full-time hustles for some. The idea is rather simple, buy low priced items and flip or sell them for higher prices on Amazon. It helps propel sales skyward by finding a niche and getting to know your potential customers. Maybe it's kites with long tails, or rain jackets with hidden pockets. You get the idea. Find something unique that people can't easily buy elsewhere. And remember, Amazon isn't going away anytime soon!
6. Amazon Affiliate Links
This is hands-down one of the easiest ways to make money online. You simply refer sales to Amazon and earn a commission in the process! This requires you to have an audience, like a blog, YouTube channel, or a huge Instagram following. It won't happen overnight, but if you diligently build an audience that trusts your opinions, then match your viewers with products or services that will genuinely benefit them, you're doing everyone a favor…and benefiting financially for it.
In this video, Ryan Scribner talks more about making money with Amazon links!
7. Social Media Marketing
Have you mastered social media?
Small businesses will pay generous amounts if you can properly manage their social media to bring in more customers. This includes updating or building their website, Tweeting, tracking responses to a Facebook page, or even doing e-mail blasts. Start out by helping the companies define and fine tune their brand, they show them how to promote it on all social media platforms.
Another idea is to manage the accounts for a well-known influencer. There are people out there being paid $1,000 a month or more to successfully maintain social media accounts! Jump in the game and be one of them!
8. Mowing Lawns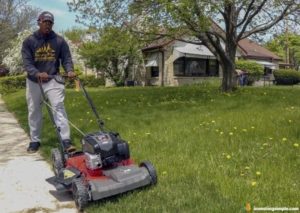 For many people, this was their first side hustle as a kid, mowing lawns in their neighborhood and earning $20 per lawn. Flash forward to today, when landscapers charge $50 and up per lawn. Throw in hedge trimming or weeding the garden, and quote customers an hourly price. Get enough clients, and you could hire a team of people to mow lawns for you.
9. Clean Pools
People who can afford nice pools generally hate skimming, cleaning and maintaining it. Offer a complete service of opening, vacuuming, water testing, cleaning, and winterizing pools. This comes with a side benefit of a great suntan!
10. Build An Instagram Page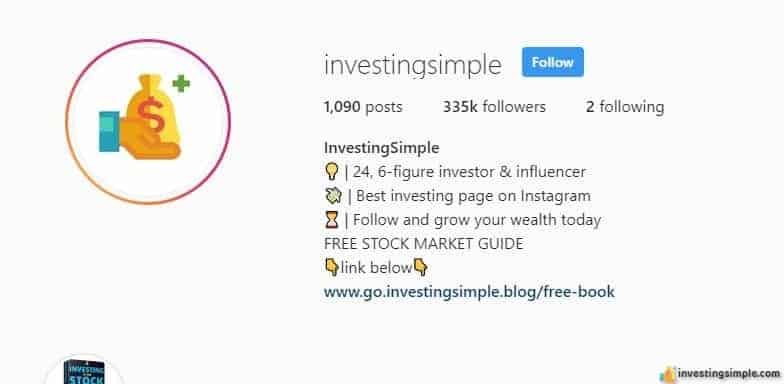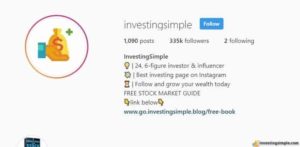 There are countless ways to make money with Instagram. If you are interested in creating your own content, consider building out your own Instagram page! Then, make money with affiliate links, paid promos, or brand deals. Consider the Investing Simple instagram page. We make money on that page through affiliate marketing, paid shout outs and more! You can simply build an instagram page around a topic you are passionate about and start making money.
11. Short Term Rentals
If you have extra space in your home or a spare apartment unit, consider renting it out on a site like Airbnb. This will allow you to make money while providing much needed short-term housing. Most successful short-term landlords come up with clever ways to market their property's uniqueness, such as having a decorating theme, movie tickets or restaurant gift cards, or welcoming guests with flowers and fruit baskets. Be creative and make your guests feel at home!
For those interested in this idea, check out the new show Stay Here on Netflix! It is all about maximizing your profits with short term rentals.
12. Ride Sharing
If you have a reliable vehicle, know the streets in your area, and don't enjoy going out to the bars on weekends, you can make some extra cash picking people up and driving them to popular clubs and restaurants, then doubling up to drive them home. Provide good service, and you can earn great tips. Apps like Uber and Lyft make it easy!
13. Food Delivery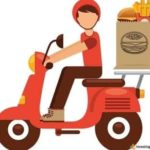 If you aren't interested in delivering passengers to their destinations, you can just deliver food to them! It used to be the only venue for food delivery was carting around pizza, but now people will pay for all kinds of food delivery. Lots of hungry people would happily pay for delivery of their fave fast food right to their doorstep. Hand out flyers or better still, business cards touting your service, and be prepared to work late hours and weekends. Along with a standard rate, you can expect to receive tips for exceptionally good service. Invest in a well-insulated carrying package to keep the burgers and tacos warm on the way.
14. Test Websites
There are several different platforms out there where you can get paid to test apps or websites. Typically, you are paid based on the quality of the review you give them. That means don't rush, do a careful, comprehensive review and make sure there are no grammatical or spelling errors.
15. Create An Online Course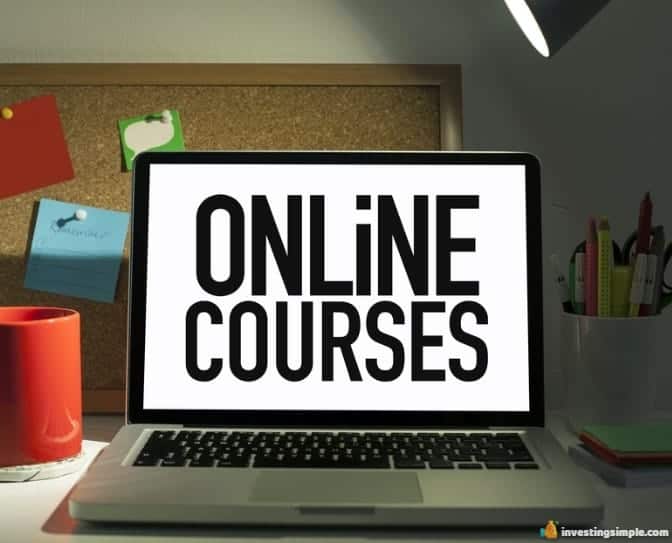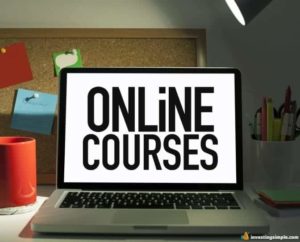 Ready to demonstrate how to write the perfect resume? Knit a sweater? Read tarot cards? Buy a car? Balance a checkbook?
If you're an expert (or willing to do the footwork and become an expert) on any topic, you can create an online course to teach others your skills.
Setting up the curriculum requires a time commitment, as does marketing your course, but once it's up and running, you'll earn passive income based on the number of students.
Ask successful learners to write testimonials praising your course and you will attract more students!
Ryan Scribner, one of the blog authors, offers a free course all about building a successful online course or membership site. You can enroll here!
16. Write An Ebook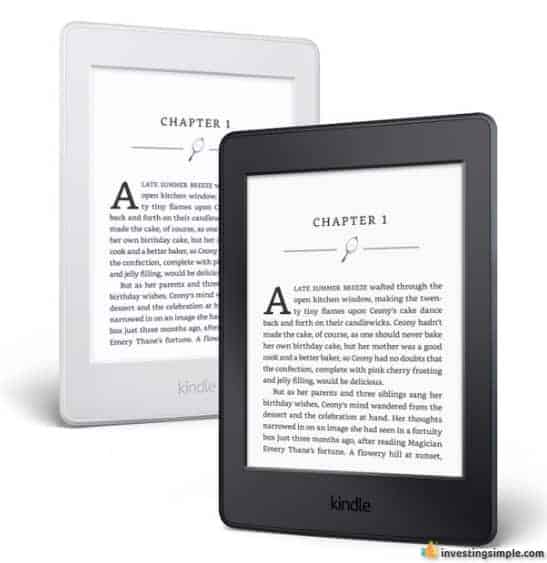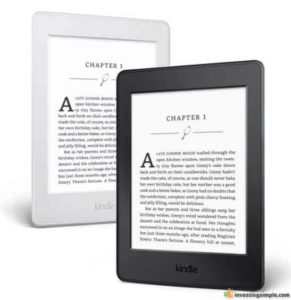 Learned a lot about home improvement? Discovered secrets to small space gardening? Restored an old sailboat recently? Put your knowledge onto the page by penning your own non-fiction book and hook up with Amazon for sales, where you can e-publish on Kindle for free, then order author's paperback copies to sell at any venue you can think of. Ask people to write positive reviews to move your book up in Amazon ratings.
Then, invite everyone you know, from family to Facebook friends, to buy a copy of your new publication, and earn both accolades and extra income. It could be fiction or non-fiction, but the sweet spot here is usually 50 to 60 pages of well-written content.
17. Start A YouTube Channel
One of the coolest side hustles is to start a YouTube channel. Once your channel becomes established, you can run ads on your videos and collect a check every single month!
You will need to continue to post new content to keep the views coming in, but if you enjoy doing this, it can be a great way to earn passive income. Take Financial Education, for example. He uploads a daily stock market commentary video and typically gets 10,000 to 20,000 views per video.
In a recent video, he shares just how much money he is making on YouTube!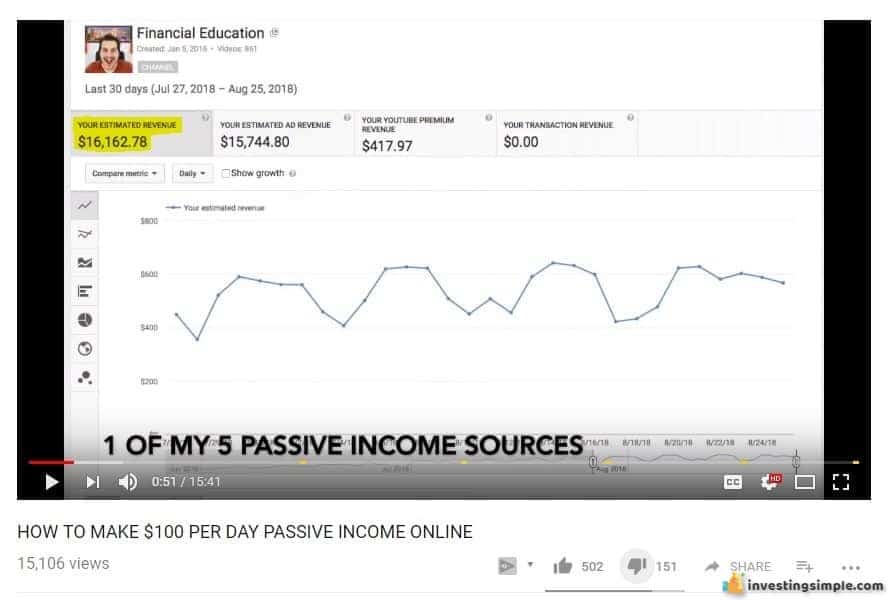 You are reading that right. Jeremy is making over $16,000 a month with his YouTube channel! There are many YouTube channels out there, pulling in over $100,000 a month just in ad revenue.
18. Blogging
Blogging can be a fun, creative outlet that can turn into a side hustle through affiliate marketing and selling ad space. One example of this is Good Financial Cents. Jeff Rose started this blog over 10 years ago, but in one month alone, he made over $100,000!
Check out this video Jeff Rose did talking about that.
19. Resume Editing
From coming up with a list of your strengths to pinning down your career goals, a lot of people struggle to perfect their resume before that big job interview. You can build a template, then spend a few minutes with clients gathering their work history before writing an eye-catching resume that will help them get their foot in the door. Build up a reputation, create a website, and earn up to $100 per resume. Add a personalized cover letter writing service and charge another $25.
20. Moving Company
If you aren't afraid to do some heavy lifting, you can start a moving business. If you pack the houses yourself, you can make even more money! Order packing tape and heavy-duty boxes from Amazon and handle breakable items cautiously, and you're likely to earn great tips!
21. Junk Hauling
It seems like everyone has a pile of unwanted items they want to get rid of today, but there aren't a lot of ways to do it. Go door to door and offer to clean out garages, sheds, and basements! For best results, charge by the hour, not the project.
Remember, not everything is junk! You can get paid to haul it away and then resell it on eBay.
22. Start A Food Truck
If you have talent when it comes to cooking, consider opening a food truck! These are especially popular if you specialize in one style of cuisine, such as southwestern or Thai food.
Check out these guys. They restored an Airstream camper and turned in into a moving bar! Now, they go to events all over and make money selling drinks.
23. Become A Virtual Assistant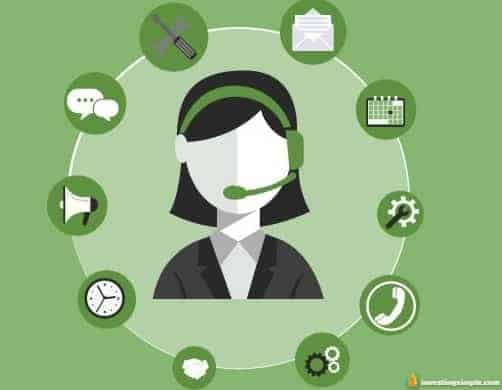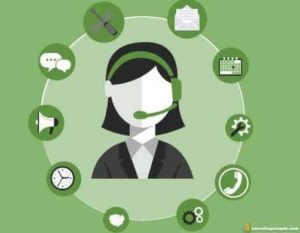 Virtual assistants perform administrative tasks such as replying to emails, scheduling meetings, and making travel arrangements. The really busy people won't know how to find you, so contact them and offer to be virtual assistant services.
24. Party Planning
Are you the friend that is great at planning birthday, wedding or anniversary parties? Make it a money-producing side hustle and start planning parties for more than just you and your friends. If you live in a wealthy area, you can attract some high-end clients with this service!
25. Tour Guide
If you live in a big city where new people need help getting around, you could become a local tour guide. Or, maybe you live some place with lots of historic sites, museums or parks. Set up a website or offer an experience on Airbnb! There are countless ways to advertise this service.
26. Consulting
Become an expert, and you can consult in almost any professional field, such as accounting, branding, business management, public speaking, or any other area of expertise. Ask successful students to recommend your services to friends and family to build your reputation as a pro.
27. Life Coach
There are many young people out there who could use someone to lean on and help define their goals and recognize their accomplishments. Research and learn coping strategies like stress reduction and relaxation, then become a life coach and help people achieve their full potential by working with you for motivation and decision making.
28. Dropshipping
One of the most popular ways to make money online these days is by drop shipping. Mostly, you are selling products that you are never putting your hands on. You build out a website, run ads to get traffic to the site, and then fulfill the order.
For example, many people are creating a Shopify store where they can sell products from AliExpress. Keep in mind that it will take weeks, if not months, for products to ship from China, so you want to be transparent about this on your site.
A better way to drop ship is to ship the products to the United States first and pay for fulfillment services. This will significantly reduce the shipping time.
29. Content Translator
Major influencers want to go global and will pay you to translate their content into a new language so they can build a massive audience. Consider Rev, they charge $7.50 per minute to translate!
30. Data Entry
Many companies don't have employees on staff for the tasks of entering and organizing their data or creating Excel spreadsheets. When you become speedy at this type of work, you can charge a rate by job and get it done quickly, leaving you time for more clients.  This is also a very flexible side hustle, since you can set your hours and work from home.
31. Website Design
This is a skill you can learn online. Spruce up your technical and creative abilities, then market your services to small businesses, most of whom lack the time and knowledge to build a site.  Design company or personal websites and offer to update the sites if the owner pays you a retainer.
32. Catering
People love to throw parties for birthdays, graduations, anniversaries and holidays, but most people lack the time and skill to prepare party food. Do you like to cook or bake? Are you good at keeping your cool under pressure? This might be the right venue for you.
People would flock to your business for everything from a hand made birthday cake to a buffet spread for a large group. Another option is to be a personal chef. Show up for your customer, cook a meal in their home, clean up, and get paid!
33. Vending Machine Business
Every time you put in money or swipe your card for a Coke or a Kit Kat Bar or bag of chips, someone somewhere is gaining a profit from your purchase.
Jump on that bandwagon by investing in a quality vending machine, which will range from $3,000 to $4,000 a piece, then find a prime location to set up.
Negotiate with the property owner, say a laundromat, and offer a slice of the profit pie in return for the optimal site.
This can easily be a single employee business (you) when you take care of restocking and checking the machine. Reinvest your profits into another machine, and repeat the process over and over until you have a small business!
34. Produce Stand
If you enjoy gardening, consider opening a neighborhood farm stand. Literally everyone is into eating organic and shopping locally. Take advantage of this trend with your own harvest of fresh fruits and veggies.
35. Car Flipping
If you know a thing or two about vehicles, put your knowledge to good use by finding decent cheap cars, fixing them up and selling them for a higher price.  Just like anything else, you need to buy low and sell high.
36. Shoe/Handbag Flipping
Look for designer shoes and handbags at stores like Marshall's and TJ Maxx. Check the prices on eBay while you are in the store and find items you can sell for a profit. Make sure you take clear photos of your items; even the best deals can look shabby with poor lighting.
37. Flip College Textbooks
College textbooks are notorious for high prices. Students (and their parents) would welcome a way to rent out books for a semester, or buy used books for a percentage discount. Get in touch with current students at the end of each semester, and make an offer to buy their used books. Chances are good they'll be happy to get rid of them. Buy textbooks and resell them on sites like eBay. Not a lot of work involved, but good potential for earning extra money.
38. Flip Cellphones And Electronics
If you can learn how to fix phones and other electronics, you can buy broken phones in bulk and resell them on eBay as refurbished electronics. Or, just simply buy electronics on sites like Craigslist and resell them on eBay.
39. Become A Personal Shopper
For many people, updating their wardrobe is a chore. They simply hate shopping. You can fill this need by connecting with clients and helping them define their personal style. Then, do the shopping for them, either in stores or online. If there are items they don't care for, you take care of the returns. Happy clients will gladly recommend you to family and friends.
40. Sell Bottled Water
Do you live near the beach, by a lake, county fair, drag racing track, or anywhere else people head to in summer months? This hustle is so easy, it's amazing everyone isn't doing it! All you need is a good cooler, ice, and some cases of good quality bottled water. People will pay a premium for ice cold water on a hot day!
41. Walk, Visit Or Wash Pets
Busy working pet owners are always looking for someone to help care for their furry friends. Be a pet walker and take several dogs at once for a long stroll. Or, check in on pets and provide interaction so they don't feel isolated all day long. Pet washing is something people will pay good money for so they don't have to wrestle with Fido, keep soap out of his eyes, and clean up the soaked sink afterwards. This hustle works well by word-of-mouth advertising, so ask people to recommend you to their pet-owning friends.
42. Teach A Continuing Ed Course
If you've learned something others would find fun or interesting, such as couponing, managing a budget, or planting a garden, you can contact schools in your area and make a pitch to teach a class for adults. Think outside the box: there are courses out there on how to make the perfect veggie burger, how to plan a cruise and learning to swing dance. These are typically done at night, which makes this hustle a win-win.
43. Rent Out Your Garage
This is a great incentive to sort out the junk that's accumulated in your garage, which some people think of as a spare room instead of a place to park a car. Downsize your belongings, clear out the garage and offer it for a monthly rental fee. Many people seek space for their vehicles, particularly in the winter months. You may even get a bidding war going on this one!
44. Be a Photographer At Events
Practice makes perfect, and once you've mastered the art of photography, you can sell your masterpieces online. Or create a portfolio (doesn't matter if it's pics of your own family from a few years ago; no one will know), then market yourself as an events photographer for proms, birthday parties, anniversaries and graduations.
45. Design Business Logos
If you have a flair for design, contact local or even regional small businesses with suggestions it's time to revamp their company logo. You can start with your local Chamber of Commerce or business association for potential leads. Create a portfolio of unique insignias with unusual fonts and bold colors and send samples to your potential client list. Your first step can be making a logo for your own design biz!
46. eBay Sales
Got extra merch? Set up your own store on eBay with a seller account, then write some catchy copy to lure in customers. Your inventory can include everything from new socks to bicycle tires, you name it. Find a niche and start offering advice, such as how to install those bike tire. Your customers will be grateful for the extra how-to info.
47. House Or Apartment Sit
These days, many people prefer not to leave an empty house or apartment when they're travelling. They want someone reliable to bring in their mail, water plants and turn lights on so it looks like someone is home. Get together a list of solid references so people know you're trustworthy, then get the buzz going about your service on social media. Eventually, business will grow through word-of-mouth. You can charge more if the gig includes taking care of a pet!
48. Rent Out Your Vehicle
This is a great choice if you live someplace where you can walk to work or to the downtown and can get by without your vehicle for a weekend or a couple days during the week. Many travelers would love to rent a car without having to go through the inconvenience of a commercial car rental company. Or, to borrow your truck to move some light furniture without calling U-Haul. One caveat: check with your insurance carrier to see what coverage you need, but once you have your premiums paid, you're good to go.
49. Computer or Smart Phone Classes
Many folks in the older generation haven't learned how to even turn on a laptop or use their phone for anything more than making calls. Offer private or small group lessons and patiently go from A to B with easy to follow steps. Keep in mind your students may be starting with zero knowledge, and be clear in your directions. Gauge the progress of your group or student to judge how many sessions will be needed to bring them up to speed. Handouts would also be very helpful for these classes.
50. Guitar Lessons
If you've been strumming away for years and feel comfortable teaching the basics, advertise your services for lessons. People who've wanted to play this popular instrument will pay for private lessons to bring out their inner musician.
51. Small Repair Work
Handy with a hammer and nails? There are tons of people out there looking for help with small household repairs. Today's professional repairmen charge just to show up, so you will be filling a very large niche. Remember, no job is too small for you to help (and charge for). You'll probably be working evenings and weekends, but the extra cash will go straight into that vacation fund or whatever you're saving for.
52. Be A Designated Driver
While we're talking about earning cash with your vehicle, how about advertising your services as a Designated Driver? Lots of (smart) people are looking to party safely and would be happy to enlist your freelance services. This is also work you can do evenings and weekends, setting the days and number of hours you want to work.
53. House Cleaning
In today's rushed lifestyle, many people simply do not have the time to scrub the tub, dust and wash the kitchen floor. Grab a friend and some basic cleaning products (some customers will have their own to use) and market your services on social media. You can offer extra services like doing a load of laundry or running the dishwasher that will earn a great hourly wage and even tips.
When it comes to starting a side hustle, you need to be patient! Don't jump from idea to idea. Start with one thing and stick to it for at least a few months. It will take time to build up any business.