As Robo-advising has taken center stage over the past decade, many competing institutions have entered the scene. Two of the big players are SoFi and Betterment. These both have robo-advisor features that strike a chord with investors both young and old.
Both offer their services at low cost relative to investing platforms of the past and both are seen as trendsetters in the ever-changing world of automated investing.
SoFi and Betterment ground their strategies in the belief that a diversified and well-coordinated combination of both stocks and bonds provides the greatest chance of success.
Betterment vs SoFi Automated: The Basics
Betterment is one of the original robo-advisors and has a focus on goal-based investing. The platform takes a hands-off approach by determining your goals and risk tolerance and building out a customized portfolio. Depending on the plan you choose, you may also have access to a team of financial planners for additional support.
SoFi Automated Investing also takes a goals-based approach, but varies from Betterment in a few key areas. The most significant of which is that there is no management fee to use SoFi. At the same time, this does mean that you will not receive the level of care that you might find with Betterment.
Both apps are designed to streamline the investing process for people that don't want to spend much time thinking about investing. When compared to other options out there like Robinhood or Webull, these robos provide a more set-it-and-forget it option.
SoFi Automated vs Betterment: Overview
SoFi automated investing offers a free robo-advisor that charges a 0% asset management fee.
Betterment offers a robo-advisor service with a $0 account minimum.
SoFi automated investing has a $0 account minimum.
Betterment offers two plans: Betterment Digital 0.25% annual fee, and Betterment Premium 0.40% annual fee. (Betterment also lowers these fees if you have over $2 million in assets under management).
Betterment offers tax-loss harvesting and smart beta portfolios.
SoFi offers goal-oriented investing and financial planning perks which come at a monthly fee.
What Is SoFi Automated Investing?
SoFi began in 2011 to create an easier path to a debt-free life. SoFi began with a focus on refinancing student loans but has very quickly become a leader in mortgages, personal loans, investing, and cash management. In the decade since its launch, SoFi has amassed over 1 million members.
Overview of SoFi Robo-Advisor (Automated Investing)
Robo-advising allows users to put their money on a fast track toward hitting their goals. Without the hassles of managing the day-to-day, investors can put their money away on autopilot. This is true for both long- and short-term goals.
When investors handle their own decisions regarding where to invest, they are often distracted by the latest and greatest advancement or hot stock. When this happens, they are often driven off course. Investors need to recognize that the most consistent wins happen when consistency, not spontaneity, is king.
In essence, automated investing is the "lazy" but smart way to invest. The adage, work smarter, not harder, certainly has its place in robo-advising.
SoFi Automated Investing Features
SoFi's automated investing features come with no management fee and free financial advice. This is a huge perk compared to the financial advice your parents got that almost always came with a fee and a hidden agenda. SoFi is under the impression that financial education and access is a right, not a privilege.
Account Types
So, what are my options with automated investing? The answer to this depends on your goals.
If you are young and wanting to get a head start on retirement, then you have the option of investing in a Roth IRA, Traditional IRA, or a self-employed Keogh plan. All of these are designed to benefit users the most over the long term.
Users are also able to rollover old 401Ks or previously created IRAs into the SoFi Invest platform as well.
The only information you will need to provide SoFi is your time horizon and how much risk you are willing to take on. SoFi will then make recommendations for the place that is most likely to reach those goals. It is then up to you to pull the trigger and set up the automatic investment.


SoFi Management Fees & Account Minimums
Beginning in 2018, SoFi has waived its management fees for SoFi invest. This is still a pretty remarkable decision seeing as many robo-advisors like Betterment, charge 0.25% annually. Translation: SoFi provides a similar service to what everyone else does (for the most part) but they do it for free.
SoFi Investment Options (10 Portfolios)
Depending on the objective of your savings, your money will be directed to 1 of 11 different ETFs or a combination of the group. These are generally the same for most robo-advisors and use ETFs from fund companies such as Vanguard.
These portfolios generally follow a similar pattern of the below:
Aggressive: 90-100% stocks
Moderately Aggressive: Approximately 80% stocks and 20% bonds
Moderate: Approximately 60% stock funds and 40% bond funds
Moderately Conservative: Approximately 40% stocks and 60% bonds
Conservative: 90-100% bonds
While SoFi does not charge any management fees, there are fees from the underlying portfolios. These are generally very small (well under 1%).
Goal Oriented Investing
When it comes to the specific goals that users input into SoFi, the platform recommends a level of risk needed to accomplish the specific tasks. For instance, SoFi recommends the following portfolios for these goals:
Dream vacation: Moderate
Purchasing a home: Moderately conservative
Paying for a wedding: Conservative
Retiring early: Moderately Aggressive
Saving for a child's education: Aggressive
As a SoFi user, you can choose whether to take their recommendation or choose a different portfolio. Keep in mind that for shorter-term goals, it's generally best to refrain from taking on too much risk.
SoFi Automatic Rebalancing
Automatic rebalancing and perseverance are what keeps your goals on track. As some stocks outpace other assets, they will naturally form a larger portion of your portfolio than you had originally anticipated.
Whenever there is a 5% drift for any security SoFi will rebalance your portfolio. This is accomplished by purchasing or selling a particular asset. This will most likely trigger a taxable event, so keep that in mind.
However, in the long term, the benefit of rebalancing typically outweighs the potentially minor tax consequences incurred by rebalancing.
Financial Planning Perks
Free financial planning comes standard to all SoFi members. Each advisor has their Series 65 designation (or similar) which means they are qualified to advise in the investment or sale of securities. What's better is that these advisors don't make their money off of commissions. This means they are only incentivized to do the best job for you.
Premium Financial Planning is also offered and provides comprehensive financial planning through a dedicated financial planner on an ongoing basis. The cost of this service is $39.99 per month
In addition, SoFi also offers a no-fee checking account with a roundup feature to help users invest by spending on their regular purchases.
SoFi Automated Investing Pros
$0 management fees
No account minimums
Automatic rebalancing
Short- and long-term focused
Free financial planning
SoFi Automated Investing Cons
Relatively new service (shorter track record)
No tax-loss harvesting
Fewer advanced investing strategies when compared to Betterment
What Is Betterment?


Betterment is a financial institution that has made a name for itself in robo-advising. This platform allows everyday individuals to automate investing toward short- and long-term goals.
The Betterment platform allows users to invest in portfolios of passive index-tracking equity and fixed-income ETFs. Betterment gives users access to tax-advantaged savings accounts such as traditional and Roth IRAs.
Betterment Pricing
Like many institutions with robo-advisors, Betterment offers two different service levels: Digital and Premium. Rather than charging a fixed monthly cost, Betterment charges a percentage of assets under management ranging from 0.25% to 0.40% depending on the plan. 
When compared with the typical 1% (or more) that a financial advisor charges, this tends to be a much more affordable option.
Digital (0.25% Asset Management Fee)
No minimum balance requirement
Personalized financial advice through a questionnaire and algorithm
Automatic rebalancing and tax loss harvesting
Support available 5 days a week
Low cost, diversified investment portfolio tailored to you
Premium (0.40% Asset Management Fee)
$100,000 minimum balance requirement
All of the above benefits as well as advice about investments outside of Betterment
Unlimited access to a team of financial professionals you can speak with one on one
All advisors are registered CFP® professionals
Betterment Features
Betterment has several features that make it stand out amongst other robo-advisers. This includes a no-fee checking account, high-yield savings, goal-specific portfolios, and automated retirement savings.
Goal-Specific Portfolios
One of Betterment's main pillars is the ability to provide help for those saving toward specific goals.
When users establish a Betterment account, they can specify what they are saving for. Perhaps a dream vacation or your child's education is what you have in mind. Whatever it is, Betterment has a plan.
Betterment utilizes ETFs which represent about 12 asset classes to match the levels of risk tolerance for your specific goals. These ETFs are based on funds from well-known companies like Vanguard and BlackRock.
Betterment also allows for user flexibility with their 'flexible portfolios' which let users modify the amount that is allocated to particular ETFs. Users can also set up sub-accounts for each goal to easily keep tabs on their goals' progress.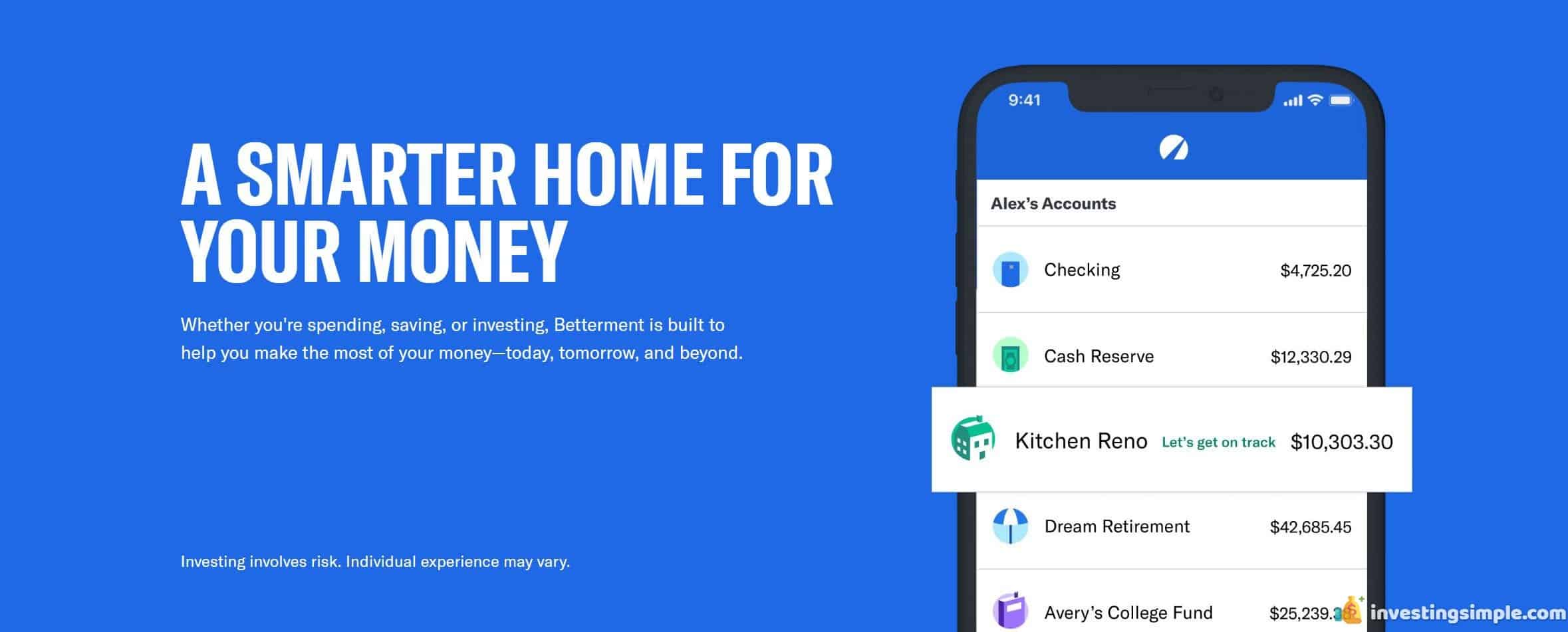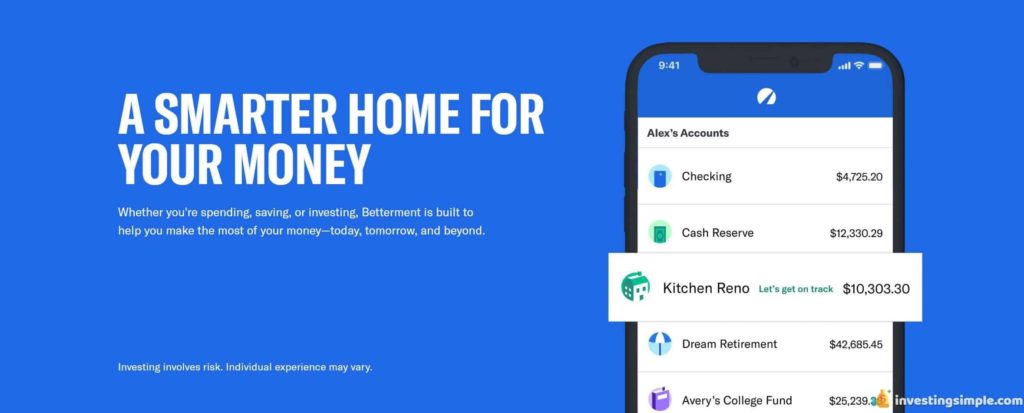 Retirement Savings
Just as each person is unique, each retirement plan is as well.
Users complete a brief questionnaire about their age, goals, income, and risk tolerance for Betterment to create a personalized plan for each investor. Betterment allows you to open up a brand new Traditional, Roth, or SEP IRA, or rollover an old 401k or an old IRA into a new one.
While it is free to create a retirement plan through Betterment, be aware that funds are charged a management fee as mentioned above.
With your retirement plan in hand, Betterment will allow you to set up automatic withdrawals based on how much you should expect to spend in retirement.
As with SoFi, your account allocations will rebalance automatically each time your portfolio strays from its original goal. This ensures that your financial hopes and dreams are always on track. When your allocations are rebalanced, the company will also purchase fractional shares so you rest assured that every dollar is invested. 
Additional Perks
Like SoFi, Betterment also offers a no-fee checking account and high yield savings account. These are both great options if you need more liquidity or are looking for a higher interest rate in your savings account. count, meaning there are no brick and mortar locations that you can access.
Pros Of Betterment
Minimal account fees that are fair to all accounts
High-yield savings account and checking account
Access to tax-advantaged retirement accounts
Goal-based investing
Portfolios tailored to your specific needs
Tax-loss harvesting cuts down on investment taxes
Premium plan includes one on one access to financial planners
Cons Of Betterment
No rewards program
Do not offer individual stocks
Not a free platform for investors
Summary: SoFi Automated Investing vs Betterment
Both of these services are fairly comparable. They both offer short- and long-term investing accounts that are tied to asset classes which are handpicked by large investment firms. In addition, they provide great perks like no account minimum requirement and no-fee checking accounts.
Where this comparison differs is in the management fees charged by SoFi and Betterment. SoFi has foregone its management fee while Betterment has a minimum fee of 0.25% and can charge as much as 0.40%.
SoFi on the other hand charges a monthly fee for access to financial advisors. Depending on how much money you have invested this may be a higher fee than the Betterment platform.
Either way, you could get started with each platform for a relatively low fee and begin building your financial future today.
Best Free Stock Promotions