According to Experian, total credit card debt in the US currently sits around $800 billion, which is over $5,000 of credit card debt per card. This $5,000 can certainly be difficult to pay off. To make things worse, we also know that the average American does not have enough in their savings account to cover a $1,000 emergency.
Credit card debt can be a serious problem. However, there are solutions to help people pay down their debt quickly and efficiently.
One of those solutions is a service provided by Tally. In this article, we provide a complete Tally review and take a deep dive into their services. So, can Tally really help you pay down your debt? Are their services legit? We will answer those questions and more below.
Tally Review: Highlights
Credit payoff solution with varying plans
Fees are not paid upfront, but built into your regular credit payments
2 free plans to choose from
Option to consolidate your credit lines into one (will need to qualify)
Ability to automate monthly payments
Members can see all credit cards in one location
Easy to manage due dates and APRs
No more late fees
Simple app that's easy to navigate
Simple & Easy-to-Use App

Credit Card Management

Fees

Features

Transparency
Summary
Tally is a simple credit card management app. The company provides a simple solution to paying down your debt on time and without fees.
With a simple app and excellent features, Tally has gained significant praise since its launch in 2015. They have helped thousands of individuals pay down their credit card debt 2x faster!
Their features include credit card management, automatic payments, a line of credit, and an easy-to-use app.
Pros
Simple place to view all credit cards
Automatic payment + additional payments
Line of credit available to consolidate debt payments
Cons
Limited to credit card debt
Tally+ Express membership costs $300
What is Tally?
Tally, founded in 2015, is a credit payoff solution focused on making credit debt manageable and simple to payoff for consumers.
The average American currently has 4 credit cards. That means 4 places to check, 4 payments to manage, and 4 separate interest rates. With Tally, you can easily see all of your credit lines in one place. You can also make your payments with one simple payment with notifications and the option to automate the process.
In addition to automated payments, Tally also offers a line of credit. With this feature, Tally will actually pay off your credit cards for you. Once your debt is paid, you will now owe one bill to Tally as opposed to multiple lines of credit.
Tally could be a great option for you if you have multiple lines of credit and would like to automate the process and need help paying down the debt.
Their app currently has an average 4.5 stars from over 16,000 reviews in the app store. These reviews certainly speak to the quality of service you can expect with Tally.
How Does Tally Work?
Downloading the app is completely free. Once you have the app on your phone, you will simply sign up. In order to get started, you will need to provide information such as name, email, phone, SSN, and address. You will also need to add your banking information in order for the app to analyze your credit and help you manage your payments.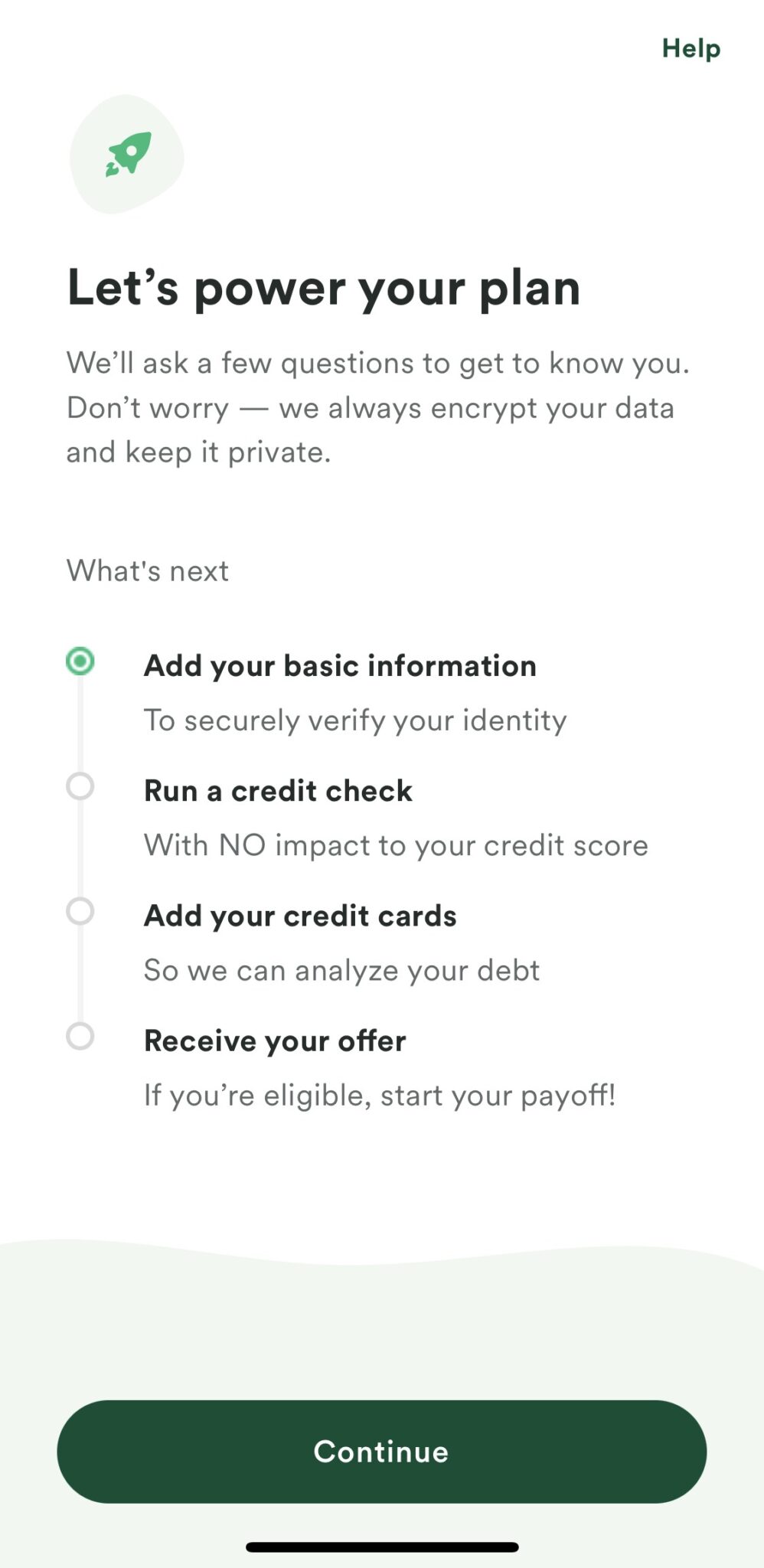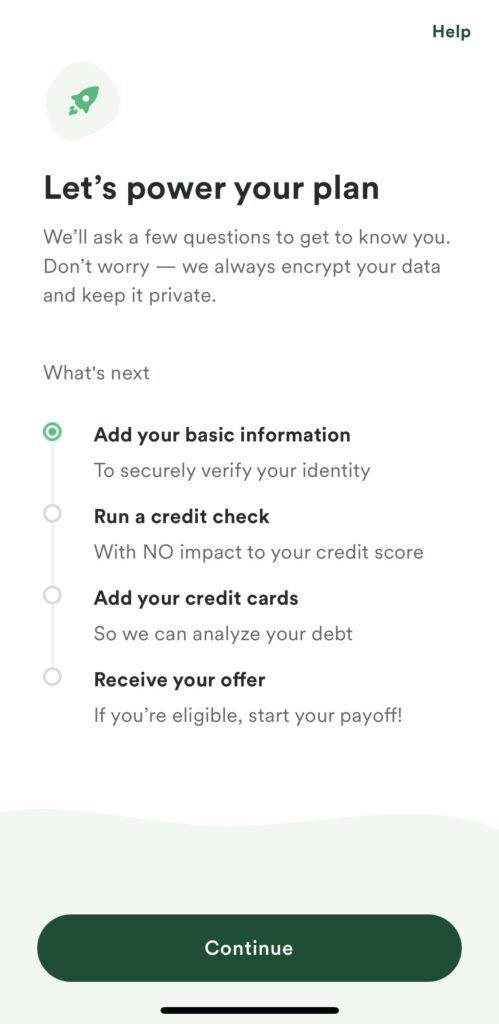 Tally will do a credit check, which won't impact your score. This is to see if you're eligible for their low-interest line of credit. Typically, a 580 FICO score is needed. Even if you do not qualify for their line of credit, you will still be able to use their app and benefit from the simplicity of seeing all your lines of credit in one place. This will be explained further below.
If you are eligible, Tally will offer you a low-interest line of credit — customized to save you as much money as possible.
Once you accept the offer, Tally immediately pays off all your cards with your Tally line of credit, which can potentially save you hundreds in interest alone.
With your credit debt completely paid off, you will now owe Tally one consolidated payment each month. (This line of credit is able to be used more than once. Unlike a personal loan, you will not need to apply for another line of credit once it is paid off. You can continually use this account over and over again.)
By making your payments to Tally on-time, you can actually receive discounts made directly to your account. Members of Tally typically pay off their debt 2 times faster!
Tally Plans
Membership with Tally comes in one of 3 options: Tally, Tally+, and Tally+ Express. Tally and Tally+ memberships are free to use (you will still have to pay the APR on your debt), while the Express plan does cost $300 yearly.
Let's take a look at each plan in detail.
Tally
Downloading the app is completely free to use. If you do not qualify for their line of credit, you can still use some of the app's features through the basic Tally membership. These features include the following:
Credit Card management: All of your credit cards managed in one simple location
Automatic Payments: With autopay turned off, you will not have to worry about late fees ever again. Tally will automatically make the minimum payment each month on time on your behalf.
Automatic Additional Payments: By paying the minimums you avoid late fees and will eventually pay off your debt. However, making extra payments will help you get out of debt quicker and save money by reducing total interest paid. Tally can help you automate extra payments quickly!
When you get started with Tally, you will also be able to pick a payment plan that works for you. They have 3 payment plan options for credit payoff:
Avalanche: With this method, Tally will help you pay down your high interest debt first. This can be beneficial for those with higher balances with high interest debt.
Snowball: The snowball method will pay off the smallest debts first. This is really helpful to those with many lines of credit. By paying off the smallest ones first, you can see lines of credit completely paid off.
Credit Score Factors: This final method is helpful for those looking to help their credit score. This method will pay down credit card debt for cards with the highest utilization rate.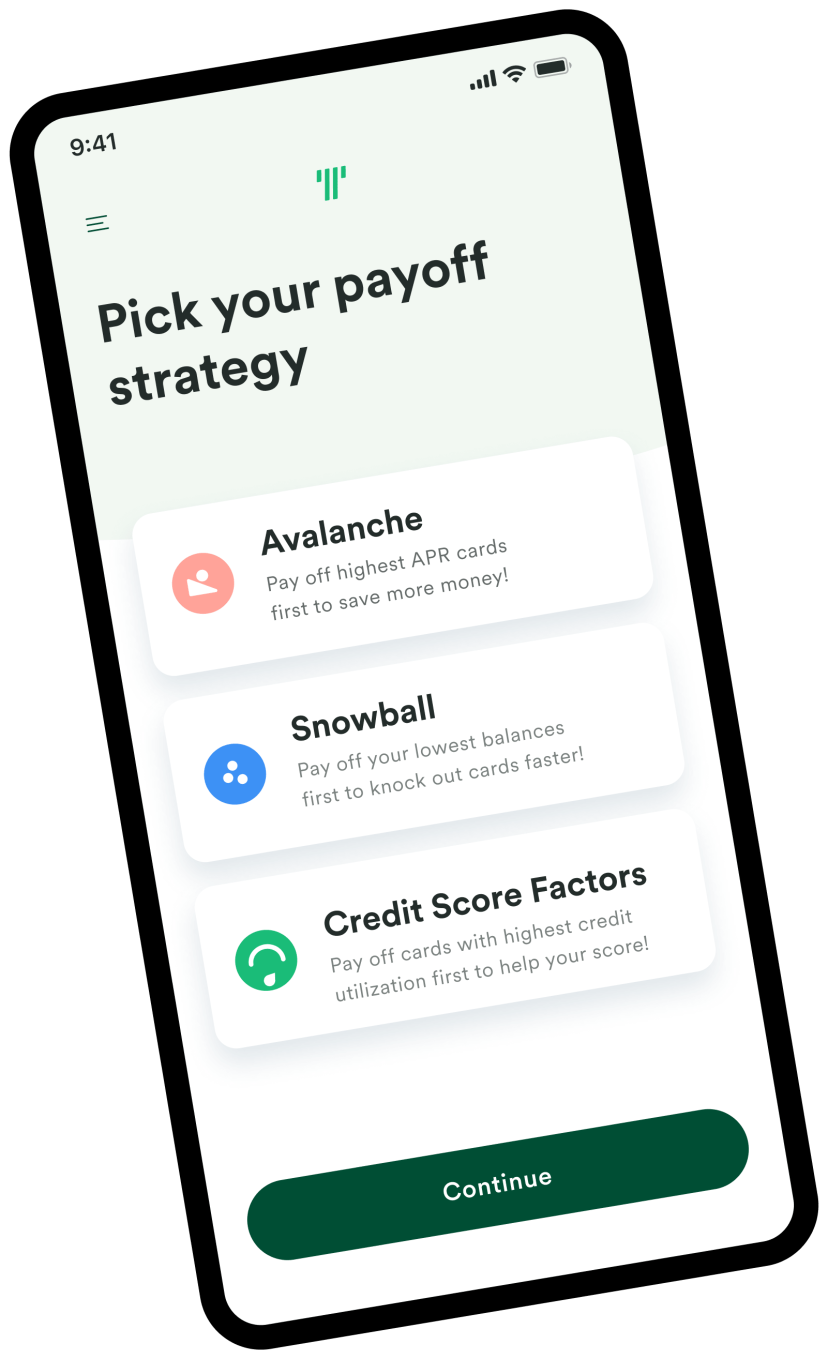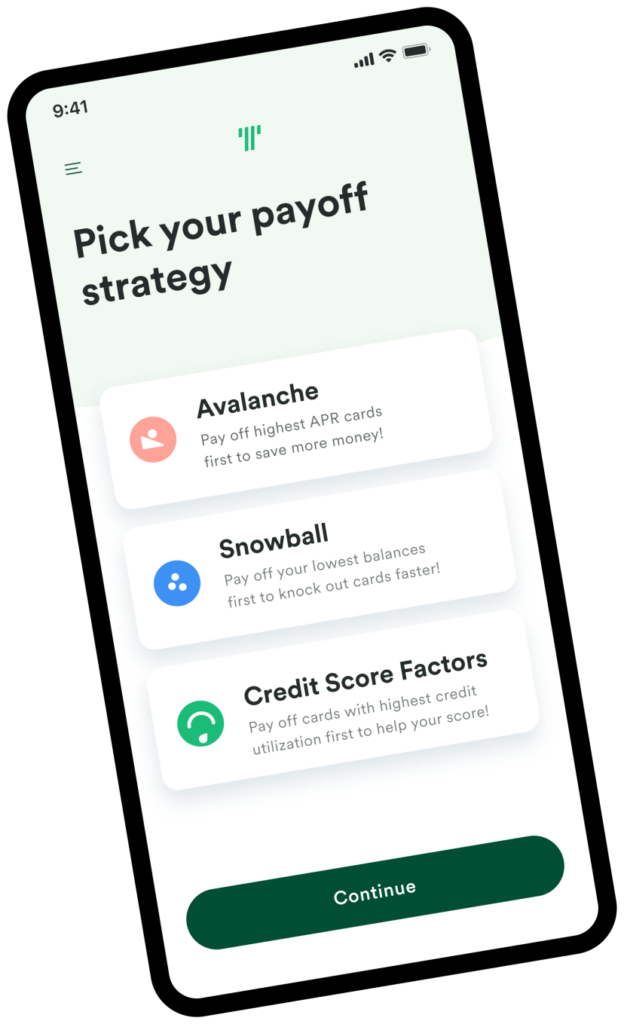 Tally+
With Tally+, you get all the benefits of the basic account plus the line of credit. The main benefit here is that Tally will instantly pay off all your credit card debt. You will then owe Tally one simple payment each month with a much lower interest rate.
This can save you hundreds of dollars!
The interest rate you will pay with Tally will range somewhere between 7.9% and 25.9% per year. If Tally is unable to offer you an interest rate that is lower than your current rate, then you can still benefit from their other features. You can always deny the offer for the line of credit.
Tally+ membership is free in terms of using the app and the services. However, you will pay the interest rate of the debt payment.
Tally+ Express
The Tally+ Express account comes with all of the features from the other two accounts and more. The benefit of the Tally+ Express account is a larger line of credit, better rates, and discounts.
This plan does cost $300 per year. However, you will not pay this fee upfront. Instead, you will pay the fee through your monthly credit card payment. In other words, the fee is built into your monthly payments.
The biggest benefit is access to a much lower interest rate. For members that make on time payments for 12 consecutive months, your APR will fall to 4%. That rate is significantly lower than rates offered by credit card providers.
You may be wondering how you would save money with a $300 yearly fee. When in the app and choosing between plans, Tally will provide you with an estimated figure for your savings in interest. If the savings are more with a Tally+ account, then they recommend opting out of the Express plan. Depending on your debt, it may be beneficial to choose the Express plan with the $300 fee. This information is easy to see with Tally's debt calculator.
Debt Calculator
The debt calculator is a simple way for you to understand the savings you could receive by using Tally's line of credit.
You will fill out a simple form to compare your current payment vs the payments you would have with Tally. Filling out the form has three components: your credit score, your current balances and APRs, and your last monthly payment.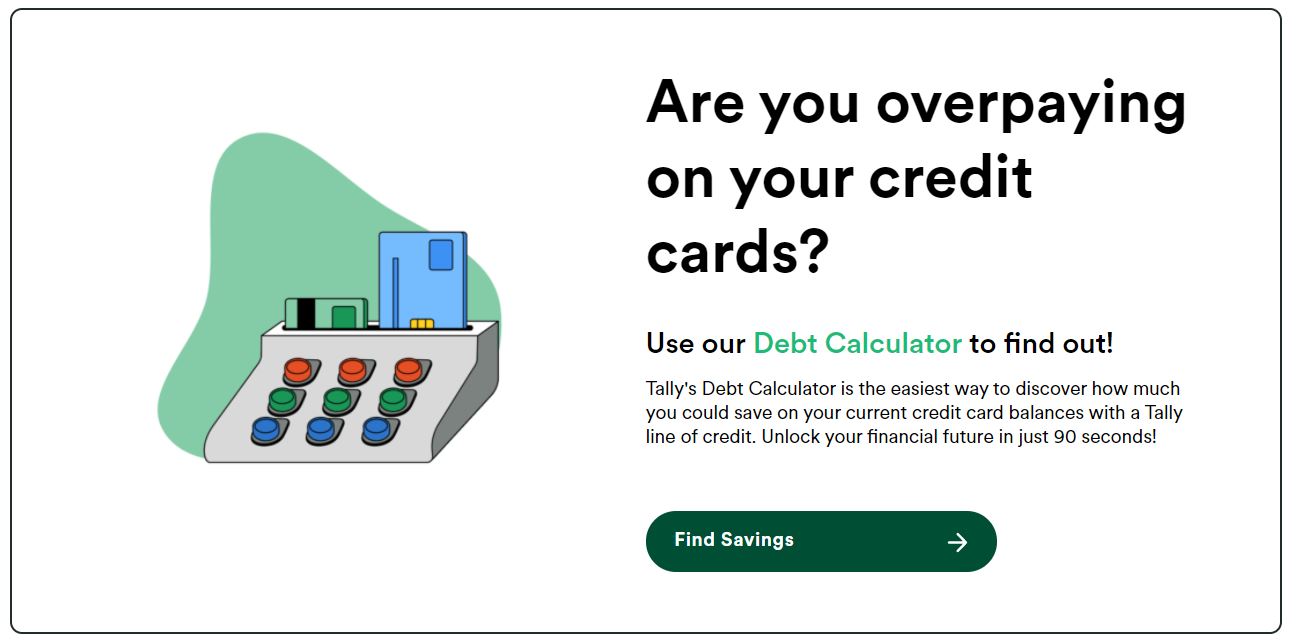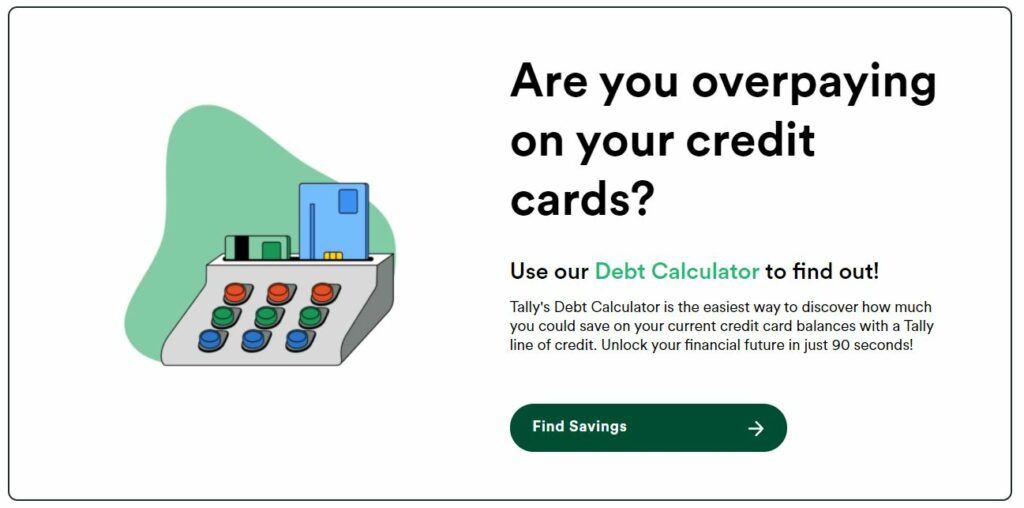 After filling out the form, you will easily be able to see the savings you could have with Tally. Use the calculator today for free!
Does Tally Hurt My Credit Score?