Over the last decade, investing has been made significantly easier thanks to a host of mobile apps. This has had the result of both leveling the playing field for newer investors and making it harder to decide which trading platforms to use.
There's almost an overload of options on the market today if you are looking for a new broker or are just getting started with stock and ETF trading. From Robinhood to M1 Finance to Betterment and so many more, each has their own distinguishing pros and cons.
It's an exciting time for investors as the stock market has continued to reach new highs. Today, TD Ameritrade stands out as one of the most popular online brokers and one with the strongest track record.
Let's take a close look at some of TD Ameritrade's features, fees, pros, and cons to help give you a close-up look at what the platform brings to the table. We'll get started with some backstory on TD Ameritrade to see what the broker is all about, and then jump into some of its industry-leading features.
TD Ameritrade
ThinkorSwim

Stock Research

Customer Support

Low Fees & Commissions

Assets
Summary
Overall, TD Ameritrade and its ThinkorSwim platform accomplish what they set to do; provide services to its users that are cheap and effective, all in an easily understandable way. This platform is great traders looking for a tactical trading platform, zero commissions, and industry-leading research. However, If you are more of a passive investor that is looking for a highly automated investing process, you may find more value in a different broker. 
Pros
$0 commissions on stock and ETFs offered 
Tactical trading platform for savvy traders and investors looking to gain an edge on market participants 
Two mobile apps to simplify all of TD Ameritrade's features 
$0 account minimum, perfect for smaller investors who are just getting started
Educational resources offered on its website 
Income calculator for dividend investing 
Dividend reinvestment (DRIP) on stocks and ETFs for optimal cost-averaging 
Very well-regarded customer support
Cons
High margin rates relative to comparable companies within the brokerage industry 
$0.65 per-contract fee on options 
No bonds or CDs offered through the broker 
Broker-assisted trades are costly, coming in at $25 per trade 
TD Ameritrade Review: Summary
Comprehensive commission free platform for active traders 
$0 commissions on stock and ETF trades
$0.65 per-contract commission on options
Industry-leading stock research offered on the platform 
ThinkorSwim is a highly technical trading platform perfect for high-frequency traders 
Income calculator lets you track monthly dividend payments 
Dividend Reinvestment Program (DRIP) lets you reinvest dividends and cost-average into your investments 
Two apps, TD Ameritrade and Thinkorswim lay out all of the features of TD at the convenience of your fingertips 
Very well-regarded customer support 
Charles Schwab acquired TD Ameritrade and the two firms will be merging in the coming years
What Is TD Ameritrade?

TD Ameritrade is an online broker that offers stock, option, and ETF trading to its users. It is certainly one of the more sophisticated trading apps out there when compared to some of the newer platforms. This makes it a solid choice for people with experience in the market but may be overwhelming for a complete beginner.
Traders on the platform are able to choose between a variety of interfaces based on their needs. The standard TD interface resembles what you would find with many of the other discount brokers like Fidelity and Vanguard. However, TD Ameritrade provides more in-depth interfaces that active traders can choose to enable.
TD Ameritrade Mission 
TD Ameritrade's mission is to help their clients become financially free and successfully manage their finances.
That is why TD Ameritrade has a wide range of features to help investors. TD Ameritrade has a lot to offer, from investment products to learning tools and resources on its website.  
TD Ameritrade Charles Schwab Merger
The TD platform has been around since the 1970s and has continued to maintain one of the best track records. This track record eventually led them to merge with Charles Schwab in late 2019. Schwab bought out TD for $26 billion, creating one of the largest brokerages in the world.
This merger deal has been in progress for a few years and will likely continue for a few more. Eventually, the TD Ameritrade brand will be rolled fully under the Charles Schwab umbrella. But for now, they are continuing to function separately and new clients can still create accounts with TD.
TD Ameritrade Features 
TD Ameritrade's features are what make it unique and stand out from competitors. Depending on the level of complexity you are looking for, you can choose from the standard TD Ameritrade app or the more complex ThinkorSwim app. 
TD Ameritrade App 
The TD Ameritrade App gives users access to all of its features from the convenience of your smartphone.
Some of the features on the mobile app that you can access include:
Checking your account history
Researching stocks
Learning about the stock market
Reviewing various trading strategies
Buying and selling stocks, ETFs, and options
ThinkorSwim App 
ThinkorSwim gives users a detailed platform decked out with charting features, technical analysis, important news flow, and so much more.
Our team has found ThinkorSwim to be one of the most comprehensive free trading interfaces currently available. We have used the ThinkorSwim platform to chart out stock patterns and the technical tools to help execute trades.
For traders who rely on technical stock analysis, the ToS platform was built for you. From helping you identify chart patterns, to finding potential trend lines, it's an all-in-one platform for stock trading.
Additionally, if you are brand new to trading, you can practice with ThinkorSwim's paper trading feature.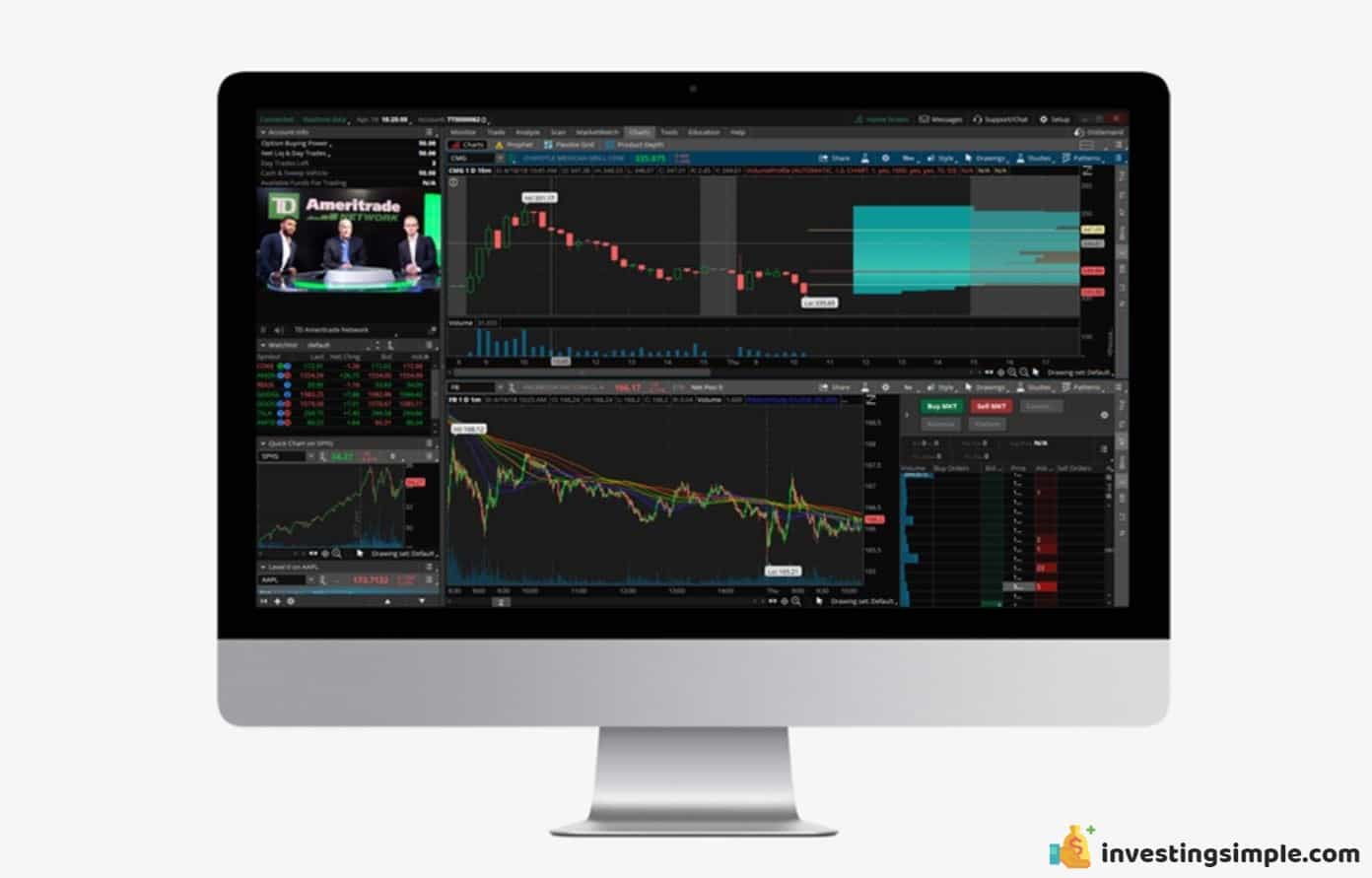 Paper Trading 
It's well worth your time to practice your skills by paper trading. This is something not most platforms offer!
Paper trading gives you a simulated trading account with fake money. You can use this fake cash to make trades with real-time stock quotes. This allows you to see what would have happened without putting any of your hard-earned money on the line.
Paper trading is useful because it gives newcomers a chance to practice and test out their trading strategies. At the same time, you are also able to get more comfortable with a new platform without worrying about making mistakes.
As the saying goes, "practice makes perfect," and TD Ameritrade offers you a way to hone your skills. 
Commission Free Trading
It goes without saying that keeping your costs low when investing is an important consideration.
Well, luckily for you, TD Ameritrade feels the same way. Offering $0 commissions on stocks and ETFs, you won't have to worry about excess commissions eating up your principal investments! 
No Transaction Fee Mutual Funds (NTFs)
While it is the expectation that stock and ETF trading is commission-free, most mutual funds still charge commissions. These are also sometimes called loads or upfront sales charges.
TD is ahead of the curve in this respect. On the platform, investors have access to over 4,000+ no transaction fee mutual funds or NTFs. With many newer investing apps not even offering mutual funds, the NTFs offered by TD may be a compelling reason for some to choose the platform.
Keep in mind that just because there is no transaction fee, there are still other fees that will apply to these funds. These include 12-1b fees and other ongoing costs that contribute to a fund's expense ratio.
$0 Account Minimum 
Another beginner-friendly feature that supports TD Ameritrade's mission to keep costs low is its $0 account minimum policy.
Without making an initial deposit, you can open a brokerage account with TD Ameritrade and begin investing whenever you have the funds. 
Dividend Reinvestment 
TD Ameritrade offers a dividend reinvestment plan (DRIP)  for all stocks and ETFs.
A DRIP lets you take the dividends that you earn on your investments and reinvest them back into the underlying security. This strategy is great for passive, long-term investors because it allows for compound interest to take place.
In essence, whenever a company pays its dividend, you will buy a partial share equal to that of the dividend payment. Whether the stock is up or down, it does not matter, and this is why DRIP is so important. Then the next time a dividend is paid out, you'll receive a partial dividend on your partial shares. From there, the snowball will continue to grow.
Whether you are buying low or high, the long-run goal is to passively invest slowly into the underlying security, and DRIP investing on TD Ameritrade will let you do that. 
This general strategy is called dollar-cost averaging and is often used by long-term investors hoping to obtain optimal long-term performance.
Income Calculator 
If you choose not to take advantage of the DRIP, you'll receive your dividends as cash. This can be an effective choice if you are no longer working and are trying to live off of your dividends.
TD Ameritrade's income calculator helps you map out your dividend payments to do just that. You can also use this feature to look at your total portfolio dividend percentage, and also what stocks pay the most in dividends.
As an investor that is nearing retirement or significantly relying on your dividends, this is a useful feature.
Stock Research 
TD Ameritrade's stock research is extensive, to say the least. Users have access to a wide array of third-party research including free market reports and analysis.
Clients can take advantage of reports from well-respected firms like Morningstar and Thompson Reuters at no additional cost. These have the potential to give investors a leg up in the markets.
Market Edge
Market Edge is a proprietary offering of TD Ameritrade that provides traders with timely information and technical analysis. For short-term stock traders, these reports can help to identify potential trends early.
TD also provides commentary on current market conditions. This can allow traders to get a better idea for the types of strategies that are currently working well in the market.
ETF Market Center
Every year, more and more ETFs are being created. From simple S&P 500 ETFs, to sector-specific ETFs, and more complex leveraged inverse ETFs. Finding the ETF that best aligns with your goals is no longer an easy task.
The ETF market Center allows investors to research and monitor various ETFs from one central dashboard. Based on your investing style, you can quickly identify the most effective ETFs to add to your portfolio.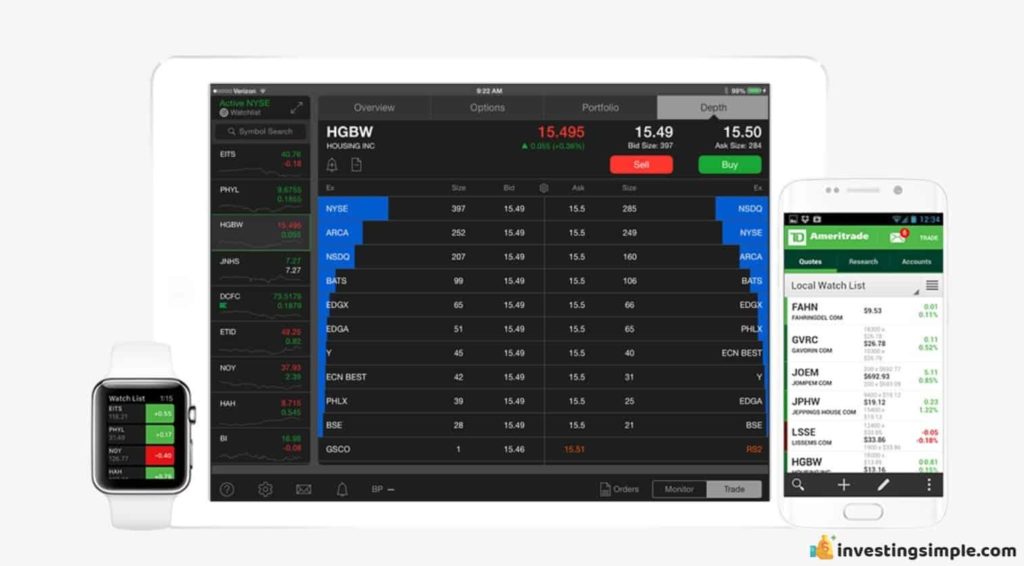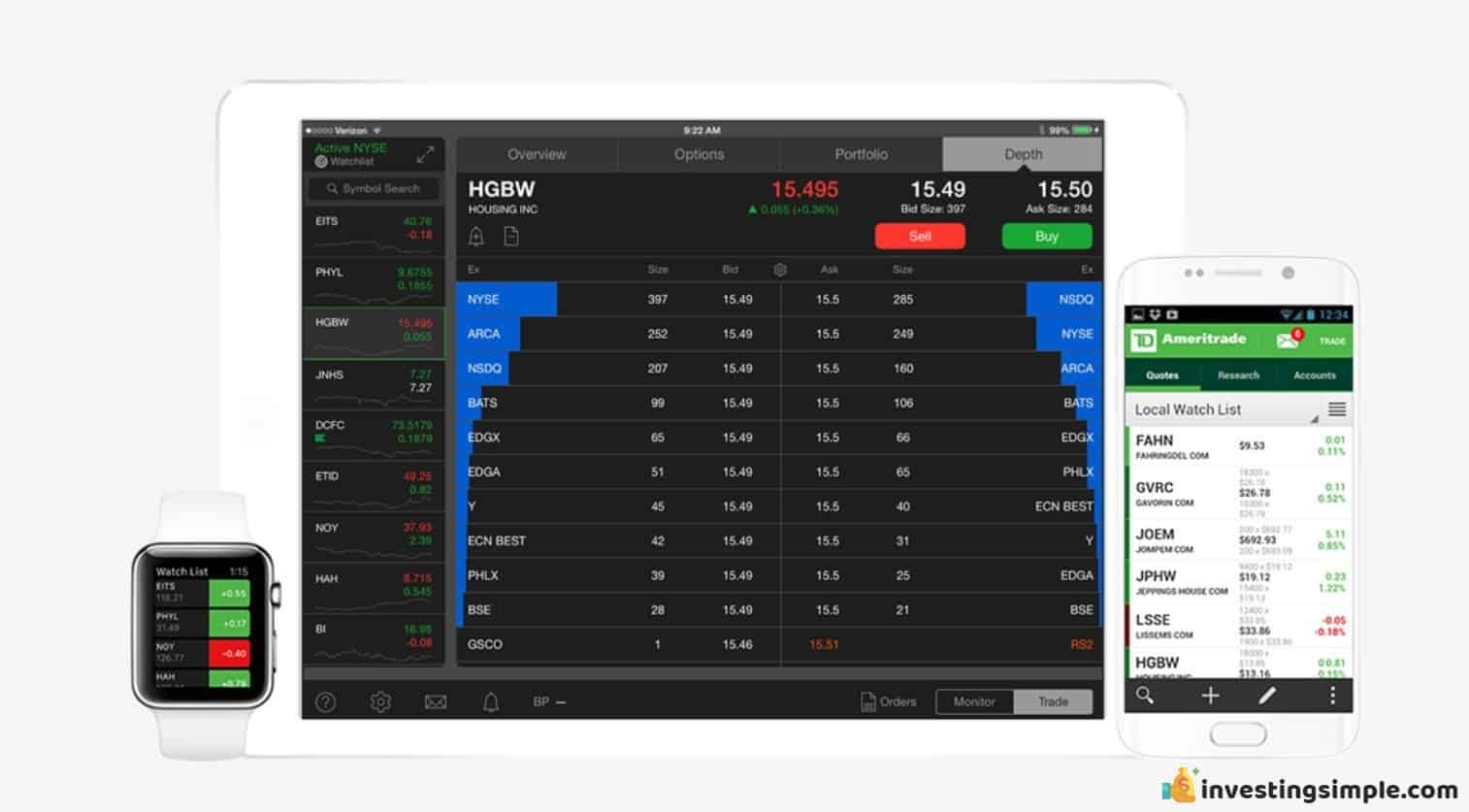 Customer Service 
TD Ameritrade's customer support network is extensive. Around the clock 24/7, you can talk to a live rep to submit trades, ask questions, open an account, and so much more.
Simply call the toll-free number and you will be directed to a TD rep.
 A comprehensive customer service offering like this has become a rarity with most investing apps. In order to keep costs low, many of the newer brokerages have decided to skimp on their support offerings. This is one of the advantages of going with an older and more well-established broker.
TD Ameritrade Fees 
While TD Ameritrade does work to keep its costs low, there are still some fees that you should be aware of before opening up an account. Here are some important fees to look out for when opening a TD Ameritrade brokerage account. 
Option Fees 
While TD Ameritrade does offer options contracts on its platform, you will be paying a per-contract fee for every options contract you decide to take.
The per-contract fee is $0.65 and is fixed no matter what the premium is on the option you are trading. 
Margin Rates 
TD Ameritrade's margin rates vary depending on the amount of margin you are taking out.
Scaling from 9.50% for under $24,999, and 7.50% for margin between $250,000 and $499,999, the amount of interest that you will pay really depends on how much margin you are looking to borrow. 
Broker-Assisted Trades 
Sure, trading through TD Ameritrade is free of charge (for stocks and ETFs), but will have to pay a fee of $25 for broker-assisted trades of any financial product on TD.
This includes stocks, options, and ETFs. While this may be a steep price for some, if you are looking to make a big trade and want a broker's advice/opinion this may be an option that is worth it for you.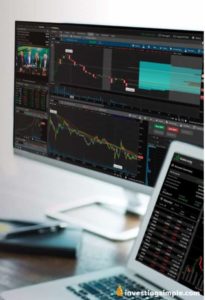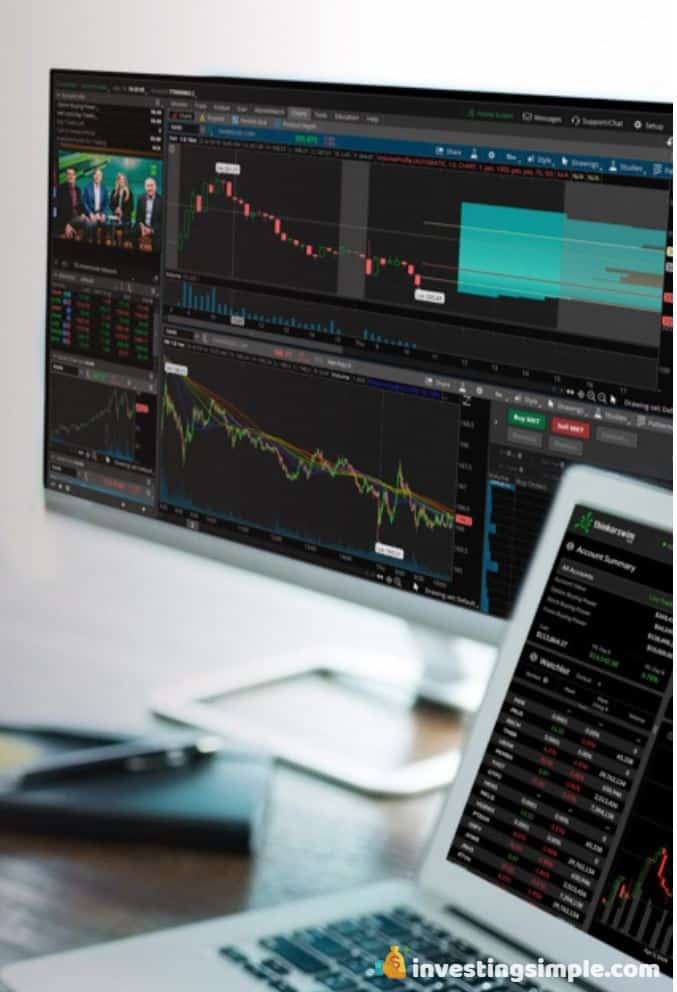 The Final Verdict
Overall, TD Ameritrade and its ThinkorSwim platform accomplish what they set to do; provide services to its users that are cheap and effective, all in an easily understandable way.
This platform is great for traders looking for a tactical trading platform, zero commissions, and industry-leading research. However, If you are more of a passive investor that is looking for a highly automated investing process, you may find more value in a different broker. 
At the end of the day, it all comes down to what you see as important in a broker, and you should base your decision to use TD Ameritrade based on that thinking! 
We hope that by delivering this review, you will assess the prospects of the broker and make the best decision for yourself. 
Best Free Stock Promotions