Picking successful stocks is difficult. Picking successful stocks consistently is an even greater challenge. So, how do the wealthiest individuals do it?
Perhaps one trick is high quality research. However, researching stocks comes with its own set of unique challenges. Where do you go to find quality information? Some turn to Yahoo finance, though this resource is limited unless you pay for full access. Others turn to limited online platforms and try to piece together information by opening a hundred tabs and copying and pasting into one source.
Maybe there is a better solution.
In this article, we provide a deep dive into TIKR and all that it offers to investors. In this full TIKR review, we highlight the tools and capabilities of this new platform and how you might use it to make informed investing decisions.
Best Free Stock Promotions
TIKR Review: Highlights
Stock research platform with over 100,000 global stocks
15 years of financials, estimates, and valuations for each stock
Access to news, custom watchlists, wall street estimates, transcripts, and more
TIKR is currently in beta testing and is open to everyone
Platform is completely free to use
Focus on fundamental analysis
Pricing

Simplicity

Features

Training and Education
Summary
TIKR is a new research tool for stocks that is completely free. Compared to Bloomberg's $20,000 terminal, TIKR is a great alternative to high quality research.
The platform comes loaded with 15 years of data for over 100,000 stocks. Investors will find detailed financials, estimates, valuations, ownership, public filings, and more.
TIKR is currently in beta testing, though the website is already incredibly simple to navigate and understand.
Pros
Completely Free
Over 100,000 Global Stocks
15 Years of Data
Access to financial statements, public filings, etc
Customizable Platform
Cons
Not a brokerage, must leave platform to actually execute a trade
Lack of features for technical analysis
What is TIKR?
Stanford graduate Bobby Sankhagowit noticed a gap between the resources everyday investors and institutions use for stock research. He set out to create a platform that could transform decision making for the average retail investor.
Launched in 2020, TIKR was designed to be a one stop shop for stock research. Sankhagowit stated the following about the need for a platform like TIKR:
"Speaking to our target customers, it seemed like a lot of those individual investors sort of had to piece together this data from a lot of different websites, and the quality of the data they had access to was not quite at that institutional level. We're trying to bring those high-quality resources that Wall Street has used for many years to the individual investor.
We are building a new investment research platform for individuals. Powered by S&P CapitalIQ, TIKR covers 100k+ global stocks including 15+ years of financials, estimates, valuation, transcripts, filings, ownership, news, and more."
Many investors crave information but have a difficult time finding it. TIKR is a research platform with a vast number of features that make researching stocks simple. Compared to Bloomberg's platform that costs over $20,000, TIKR is completely free. However, the platform may change its pricing in the future as it is still currently in beta testing.
With its incredibly simple design and the fact that it's free, TIKR is quickly capturing the attention of many investors.
This platform really focuses on fundamental analysis and understanding a stock's value. While there are some features that active or day traders can use such as news, there is not much else that is designed specifically for technical analysis. Other platforms like moomoo may be better suited for technical analysis.
TIKR Features
There are two common complaints among investors regarding stock research tools. The first is that many of the tools are limited in their features. For example, perhaps they can find charting tools and financials, but they have to go elsewhere for ownership and filings. Investors find themselves going to a number of different resources to paint a complete picture of a stock.
The second common complaint is related to the history built into a platform. Many research tools only go back five years.
TIKR was created to address both of these complaints. When you login to TIKR, you will see a sidebar with the various menu options, which is broken into three groups: Market Overview, Idea Generation, and Fundamental Analysis. All of the features that TIKR offers can be found in one of those buckets.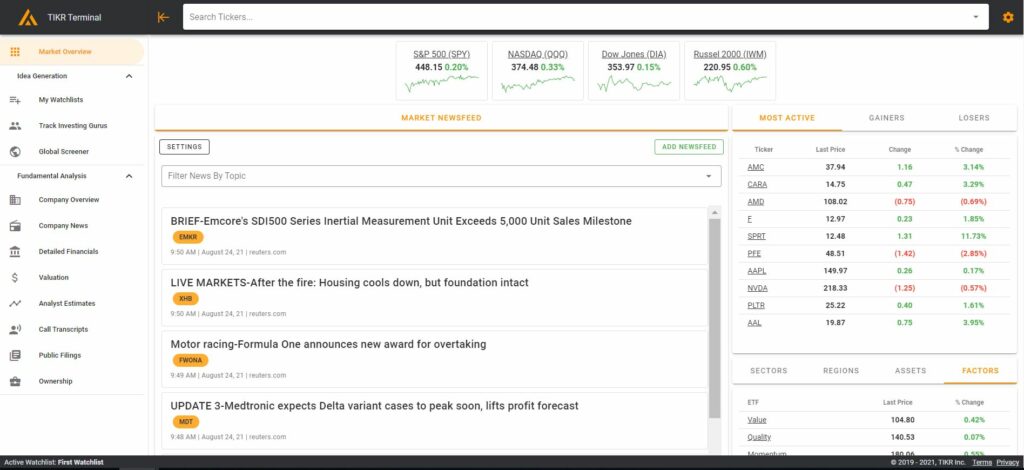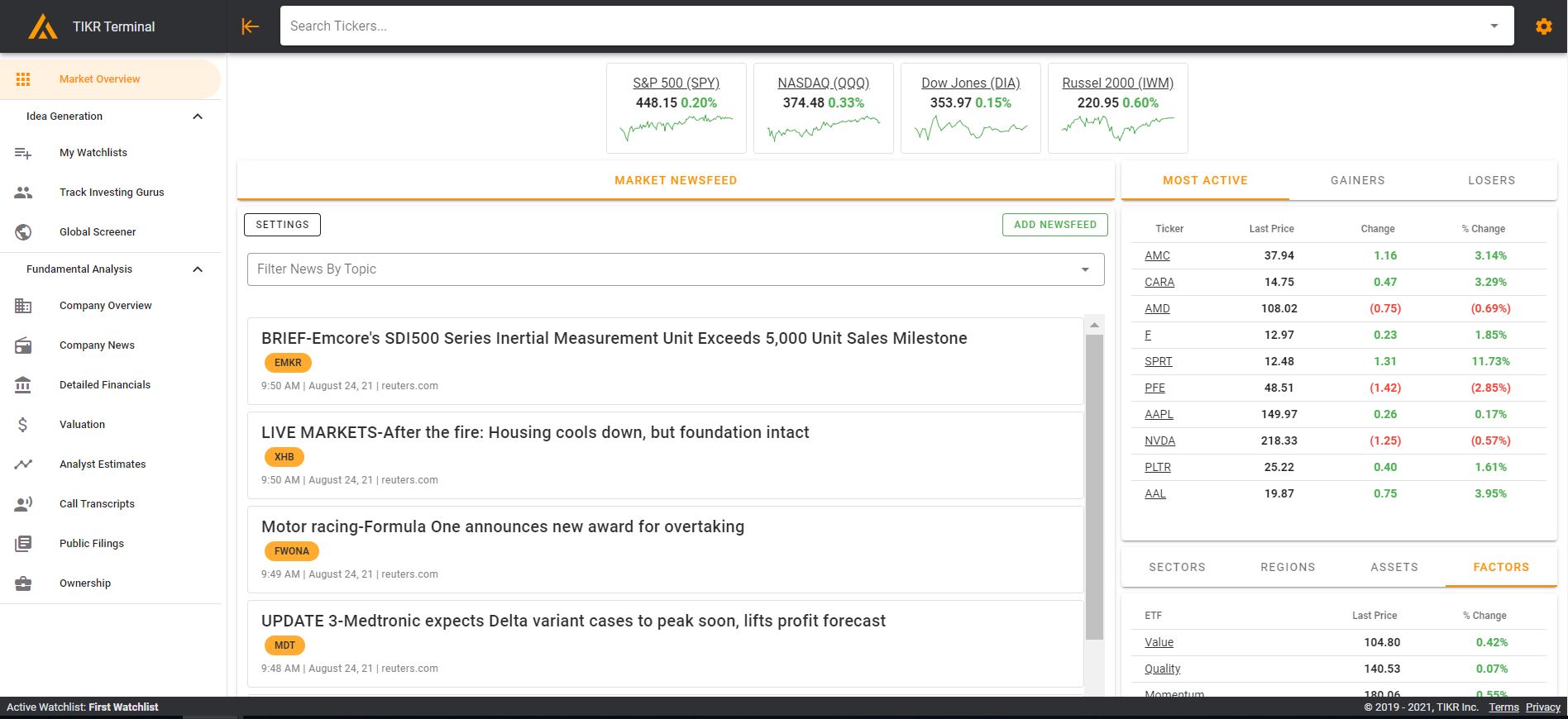 Market Overview
The Market Overview is the first thing you will see as you login. Here investors can quickly see overall market trends with the S&P 500, NASDAQ, DOW JONES, and Russel 2000. There is also a section for top news, most active stocks, top gainers and lowers, and more.
Nearly everything in this platform comes with the ability to drill in deeper. If you would like to see more details, you can zoom in for a closer look.
Idea Generation
The Idea Generation section comes with a few powerful tools. First, like many other platforms, there is a watchlist that you can customize to keep tabs on certain stocks.
As you add stocks to your watchlist, you will see news specific to those stocks. The news is split into two sections: Company News and Significant Developments. The Company News could be anything that mentions the stock in your watchlist. This can take quite a bit of time to sift through. The other section, Significant Developments, was designed to focus on top stories that really make an impact.
The second tool in the Idea Generation tab is the Track Investing Gurus section. Here you will be able to see top investors such as JP Morgan, Berkshire Hathaway, and more. With this tool, you will be able to see all the holdings of these top companies. This includes 13F filings, number of shares held, percent of shares outstanding, and more. Understanding what stocks top investors are holding can create ideas for you as you decide what to invest in.
TIKR's global screener is also found in the Idea Generation tab. This screener is a powerful tool that can help investors identify stocks that match a certain set of criteria in mere seconds. With this screener, investors can create hundreds of filters for hundreds of metrics, ratios, estimates, and valuations. There are over 330 filters to choose from. This provides investors with a highly customizable tool that can quickly find stocks that fit your needs.
Fundamental Analysis
The Fundamental Analysis tab is where the bulk of TIKR features are housed. Here you will find the following:
Company Overview: Here you will find a powerful stock chart that can be customized with various indicators, lines, annotations, and more. You will also see the company summary and key numbers like 52 week high and low.
Company News: Like mentioned before, TIKR includes all company new and significant developments to help prioritize your time as you read the news.
Detailed Financials: Here you will be able to see the income statement, cash flow statement, balance sheet, and ratios. You have the ability to see back for 15 years! There is also quite a bit of customization in this tab as well to help you see the data in the best way for you.
Valuations: In this tab, you will be able to see multiples and street targets with the ability to compare to competitors.
Analyst Estimates: Here you will be able to see the projections for the companies you are searching. This tab can include the past 15 years of data, but will also show the next two years of estimates for various data points such as revenue, EBITDA, and margin.
Call Transcripts: The Call Transcripts tab includes the link to all previous company calls such as earnings calls, shareholders calls, and more. This tab also has the date listed for each event.
Public Filings: For those looking to really dive into the details, TIKR also provides a download of each of the public filings such as the 8K, SD, and 10Q.
Ownership: In the ownership tab, you will find the top shareholders with their number of shares held for a particular stock. You can also see the insider trading activity for a given stock.
Other Key Features
In addition to the tools and capabilities already mentioned, there are also a number of other features to call out:
TIKR has over 100,000 global stocks. Many platforms only have US stocks, but with TIKR, investors will be able to see stocks from other markets as well.
Stock charts are certainly not created equally. TIKR's stock charts have vast functionality and customization. One of features that we love is the ability to add in a comparison stock in order to view multiple companies in one chart.
Even though this platform is new and still in beta testing, users can change the language to one of five options (EN, ES, ZH, KO, and JA).
For those wanting to learn more, TIKR also has a YouTube channel where they dive into various parts of the website. These videos are short and pack a lot of information!
TIKR also keeps users updated through their Twitter.
How to get Started with TIKR
As previously mentioned, TIKR is completely free to anyone, and signing up is really simple. To get started, you will simply need to enter in your email and password. You will receive a confirmation code to the email you provided. That's it.
Since the platform is free, we recommend you check it out and browse the features.
TIKR Review: Final Thoughts
Finding good stocks to invest in can be difficult, and unfortunately, researching stocks is often just as hard. Finding good resources with accurate data can be challenging.
TIKR was created in order to help everyday investors make better investing decisions. The platform comes with a vast number of features with the hope that investors will not need to go to other resources to find missing information.
TIKR houses 15 years of data for over 100,000 global stocks. This data includes detailed financials, estimates, valuations, insider trading, company news, and more. The best part? It is completely free.
In the future, TIKR could update its pricing as they are currently in beta testing. It could be worthwhile to create an account today and take advantage of the free offering.
TIKR is not a brokerage, meaning you will need to leave the platform in order to actually execute a trade.
Overall, this platform is high quality and provides everyday investors access to all the information they would need for fundamental analysis. TIKR does not have much for technical analysis or more active traders. Other platforms like moomoo may be better suited for technical analysis.