TradeStation is a full-service online trading platform that's considered one of the earliest pioneers in the industry.
It offers zero commission trades and a broad array of tradable securities. These include equities, options and futures trading in the major U.S. markets. It does not facilitate trading in international markets.
While there are many educational resources, including videos on how to get started, TS is best suited to active technically-fluent day and futures traders seeking low-cost venues. These investors will know their away around similar platforms.
Therefore, they will be less likely to become overwhelmed by the complexity of TradeStation's offerings. It is not a great option for complete beginners.
TradeStation
Pricing

Fees

Ease Of Use

Tradable Assets

Account Types
Summary
If you are an active, experienced trader, you will likely find TradeStation is best suited for your needs. If you are a complete beginner, you will likely experience information overload from this platform.
While it offers an enormous menu of products, it can be confusing for people new to the world of investing. There are educational resources for utilizing the platform, but it lacks fundamental research on particular markets.
Pros
Wide variety of tradable assets
Low account minimums
Commission free stock, ETF and option trading
Cons
$50 annual account inactivity fee
Complicated website/plans
The TradeStation Story
The platform essentially rose out of failure. Two Cuban-born brothers, Bill and Ralph Cruz, were curious about trading in the financial markets at a very young age. So, when they were teenagers, they pooled all their money – around $2,500 – and opened a futures trading account.
They studied charts and read books about trading, and at first, did quite well. However, their success was quickly followed by losses that left their account empty.
The brothers quickly realized the how-to books had not been useful in the quickly-changing, fast-paced market, where trading decisions needed to be made instantaneously.
In order to help investors make smart and timely choices, in the late 1980's, the pair began to examine trading data, rather than just churning out generic guidebooks. They focused on strategies that would deliver buy and sell alerts when certain conditions were met in the market.
Therefore, this was the foundation the brothers used to build what is now TradeStation.
TS Tradable Securities
The industry considers TradeStation to be a leader among competitors for futures trading, options trading and mobile trading. In addition, the platform is known for offering day trading and professional trading.
The company offers 14 different account types which can be confusing, particularly to newcomers. The pricing structure is also challenging to interpret.
Trading Platforms
TradeStation offers a mobile, desktop and a web-based platform.
The desktop platform is the premier product and offers a fully customizable experience that should appeal to professional traders.
Traders can use the broker's built-in charting indicators or create their own. The platform features more than a dozen charting types with hundreds of technical indicators. However, you can can create your own charts as well.
The web-based platform offers the fundamental offerings of the desktop version. However, it may be difficult for traders lacking experience to navigate. This platform does stream real-time quotes and offers one-click trade execution. Both of these would be useful to investors not involved in day trading.
The mobile trading app that lets you analyze charts with technical indicators, including many from their desktop platform. You can also monitor a watchlist of nearly 50 securities. The watchlist has streaming quotes and gives you the ability to place trades, among other offerings.
Pricing Plans
Last year, in efforts to better organize its capabilities, TradeStation introduced two new pricing plans.
These are TS Select and TS Go, that both feature commission-free equity trades and options transactions. The other plans all involve per-share or per-contract fees. Or they are tiered depending on trading frequency in each asset class. They are significantly more complex.
These have become TradeStation's most understandable and popular pricing plans.
TS Select and TS Go:
Offer $0 commission trades
Are easier to navigate
Include free market data
Do not carry monthly platform charges.
TS Select
The platform charges $0 commissions for stock and ETF trades. However with this plan, you'll pay $0.60 per contract for options trading.
This plan requires a $2,000 account minimum.
TS GO
The broker charges zero commissions for stock, options and ETF trades, which is in line with other competing major brokers. With this plan, options trades cost $0.50 per contract.
This plan requires a $0 account minimum.
With either plan, TradeStation is offering competitive rates on stock and ETF trades.
Further, its discounted options commissions that are among the top-ranked in the industry similar full-service brokers.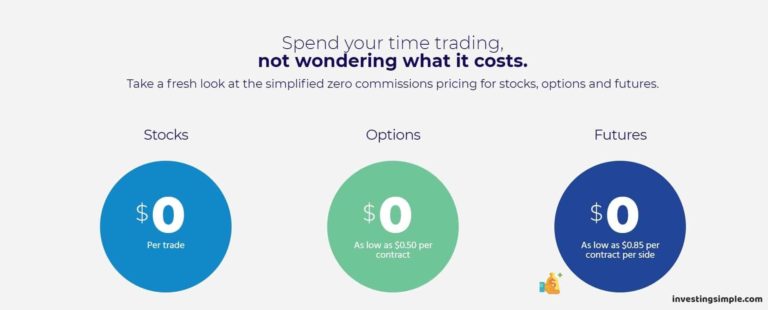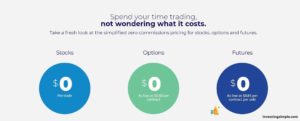 TradeStation Educational Resources
TradeStation provides a large array of educational tools to help both early and more advanced clients learn how to use the platform for online trading.
There are free video tutorials, articles and e-books available at TradeStation University.
At TradeStation Labs, you will find daily pre-market briefings and trader interviews.
TradeStation Today features real-time news, relevant tutorials and a workspaces section. This section shows how experts organize and use the platform's array of tools.
The TS Beginner Class will show you how to set up your trading tools and charts. It will also help you search for trading opportunities, place orders and manage your account. The class features live demos with real-time data, taught by industry experts.
TS Master Class will help you grow your knowledge of charting, scanning, advanced order entry tools, and more. You can also learn how to customize your own indicators and strategies and better utilize the platform for your trading needs.
Crypto Trading
One benefit to this brokerage is that they do offer crypto trading, which is not the case with all investing platforms out there.
TradeStation recently added a group of features to its crypto brokerage offering.
These include:
crypto deposits and withdrawals
new interest earning capabilities on eligible assets
ability to track profit and loss
mobile trading through the TradeStation mobile app
With these new enhancements, crypto investors buy and sell crypto, and also deposit cryptocurrencies they already own. In addition, customers can earn interest on eligible assets simultaneously, without locking up their crypto.


Simulated Trading
Also known as "paper trading," this is a way for you to test run your investing strategies without risking financial loss.
Not all online trading  platforms offer simulated trading.
People who are new to investing will find TradeStation's simulated trading application to be extremely useful.  Paper trading works best when it is used for the serious business of learning to invest, rather than a game to play.
By using the simulator, you will start to understand your investing strategy and ability to take on risk.
Margin Trading
Margin trading lets you borrow money against the value of the securities in your account.
It allows you to access to increased funds without having to sell off all the assets in your current portfolio.
TradeStation offers competitive margin interest rates, based on the amount of money you borrow.
Less than $50,000 borrowed at 9.50% interest
$50,000 - $499,999 borrowed at 8.75% interest
$500,000 - $1,999,999 borrowed at 5.50% interest
$2 million and above borrowed at 3.50% interest
Inactivity Fee
Another reason why TradeStation is best for active traders is there's an inactivity fee.
TradeStation charges an annual inactivity fee of $50 for accounts that don't maintain an average end-of-month equity balance of $2,000 or execute at least five trades during the 12-month period following the date when the account was first opened.
TradeStation Pros
High-quality trading platforms
Commission-free stock, ETF and options trades
Advanced charting and technical analysis tools
Simulated trading account allows you to test your strategies in real-time without risking your capital
Large library of resources including articles, vides and real-time tutorials to help you learn how to use the platform
TradeStation Cons
Free trading on advanced platform requires TS Select
Not a good choice for "set it and forget it" passive investors
Does not allow international trading
No transaction-fee-free mutual funds
Multiple plans and pricing can be confusing, particularly for novices
You will need to navigate a steep learning curve to develop your own trading system
The platform does not pay interest on uninvested cash. In fact, they will charge you an inactivity fee if your account sits idle
Conclusion
If you are an active, experienced trader, you will likely find TradeStation is best suited for your needs. If you are a complete beginner, you will likely experience information overload from this platform.
While it offers an enormous menu of products, it can be confusing for people new to the world of investing. There are educational resources for utilizing the platform, but it lacks fundamental research on particular markets.
Best Free Stock Promotions