We've all heard the stories. A friend of a friend invested $1,000 into a penny stock and before he knew it, had over $100,000 in his account. This is the coveted penny stock investment scenario. Someone finds an obscure stock they know nothing about and then just like that, they're millionaires.
While this would be nice, penny stocks rarely have that kind of return and investors rarely know which one to pick.
For this article, we will be discussing trading penny stocks on Firstrade, a tried and true platform.
The penny stocks we will make reference to are those that trade on OTC Markets ("pink sheets") or the Over the Counter (OTC) Bulletin Board.
This article is meant to familiarize you with how Firstrade handles these penny stocks. It is not intended to teach what penny stocks you should be investing in or even how to evaluate a penny stock.
To gain this particular information, you will need to do your own outside research from a trusted source on the subject.
Before we get to the meat of the article, let's dive into some definitions to make sure we're all on the same page.
What Is Firstrade?
Firstrade is a tried-and-true online brokerage firm that was founded in 1985. The longevity of the platform speaks volumes about its reliability and the trust that consumers have in this firm.
Firstrade strives to be a one-stop shop for everything necessary to win at investing. They have countless tools available and access to a seemingly endless list of assets on both their website and app.
The platform offers investors the ability to trade stocks, ETFs, options, and bonds. This includes penny stocks as we will explore later. Firstrade also offers retirement accounts, margin trading, and countless resources for education.
One of the major benefits of Firstrade over other platforms is they allow investors from over 20 countries!
While this platform sounds like the perfect combination of function and trustworthiness, it should be noted that the user interface is not as sleek as expected in today's tech-heavy environment.
There is an obvious tradeoff between a clean but asset-light platform like Robinhood, and an established but rather outmoded platform like Firstrade.
To learn more about the platform, check out our complete Firstrade Review!
Firstrade Free Stock Promotion
Currently, Firstrade is offering a free stock promotion. New users who sign up for the platform and fund their accounts with at least $100 will receive 2 free stocks!
Competition between brokerages is hot. This benefits the consumer in major ways. In no other time in history have dozens of brokerages given away free stocks simply for signing up for an account.
The promotion works as follows: you'll receive your first free stock just for opening the account. Then after funding with at least $100, you'll get 2 more free stocks. The free stocks are chosen on a lottery basis and range anywhere from $3 to $200 each. So, if you're lucky, you could end up with $400 in free stock!
Now, this is the current promotion, but it is subject to change at any point. For the most up-to-date promotion, click the button below to check out the current offer.
What Is a Penny Stock?
A penny stock, as defined by Firstrade's website, is any stock that meets the following criteria:
Is priced under $2.00
Is not necessarily traded on a national stock exchange or on the NASDAQ
May be listed on OTC Markets ("pink sheets") or the Over the Counter (OTC) Bulletin Board
Is issued by a company that has less than $5 million in net tangible assets and has been in business less than three years, by a company that has under $2 million in net tangible assets and has been in business for at least three years, or by a company that has revenues of less than $6 million for 3 years
Chances are, unless you have specifically sought out penny stocks from your brokerage firm, you have not been investing in penny stocks. These specific criteria set guardrails to protect consumers from unknowingly investing in speculative assets.
Because of the increased risk of the stock, you are required to acknowledge the increased risk of investing in these assets before you are allowed to trade.



Why Are Penny Stocks Considered Risky?
Penny stocks are considered to be an investment with increased risk because they are often stocks of companies with a limited track record. Think of it as the difference between investing in Microsoft and investing in the computer business that your brother-in-law is running out of his garage.
Microsoft is surely going to do well because they have a healthy balance sheet and a long track record of success. When it comes to your brother-in-law, who knows! It might be extremely successful, or it could be a total bust.
Penny stocks are considered speculative investments. This is because the information the issuing company has provided in a prospectus or any other investment information has not been approved or disapproved by the Securities and Exchange Commission (SEC).
While this does not necessarily spell out danger for investors, investors should be aware of the heightened risk that comes with investing in penny stocks.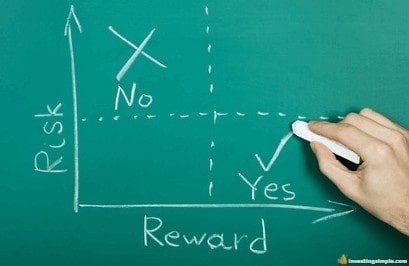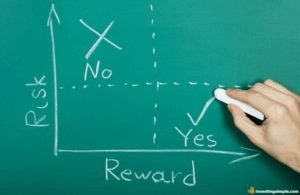 Penny Stocks on Firstrade
Firstrade has limited trading services in OTC-listed penny stocks. This means that it is certainly possible to trade penny stocks on the platform, but there are some restrictions.
The stock must have a price greater than $0.10 per share
Each stock must have liquid trading volume (fees may be incurred if otherwise)
The stock must be DTC (Depository Trust Company) eligible (fees may be incurred if otherwise)
Limit-orders only
Extended trading hours are not available
Trading penny stocks on Firstrade will come at $0 in commissions for you. This is a huge benefit in today's trading environment. With no commissions on ETFs, stocks, or options, Firstrade allows investors to truly keep a large portion of their capital in their wallet, instead of paying out commissions.
Penny Stock Screener
In order to locate penny stocks on the platform, you can use Firstrade's screening tool. This tool will allow you to see what options are available and will provide basic stats about the stock.
You can find this screener under 'Research & Tools' and the 'Screeners' section.
Once you have arrived at the screener page, be sure to select 'OTC PINK' under the exchange option. At this point, a list of many different stocks will populate. You can filter this list down by several criteria to find the stock that is most interesting to you.
Keep in mind that there are over 10,000 penny stocks to choose from on the platform so be mindful about where you are putting your resources. As with anything in investing, do the required research to make a wise decision and only invest an amount that you are prepared to lose.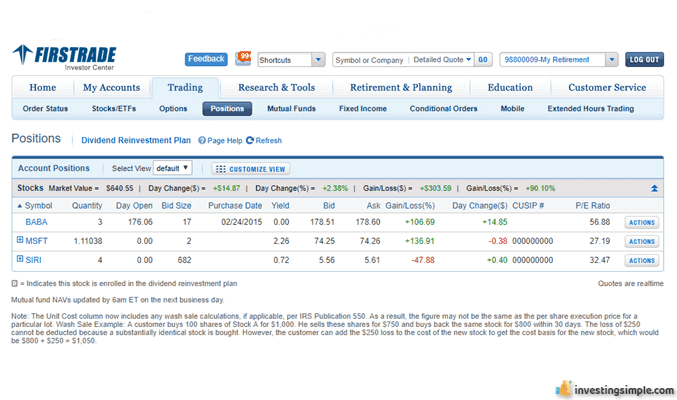 Fees Associated with Penny Stocks
As mentioned above, there may be fees associated with trading penny stocks if certain criteria are not met. These fees can be mitigated by choosing your investments wisely and adhering to the policies and procedures set forth by Firstrade. You can find out more about these policies by following this link.
Non-DTC Eligible Fees
If a stock is not DTC eligible, the settlement of the positions can have significant pass-through charges from Firstrade's clearinghouse, Apex Clearing Corp. These fees may include execution fees, DTC fees, deposit fees, New York window fees, and transfer agent fees.
Customers who trade penny stocks that are not DTC-eligible will be responsible for the cost of these fees (as high as 10x the value of the trade).
Illiquidity Fees
When a stock is considered illiquid, it means that there are not enough interested buyers, and the stock becomes difficult to sell. Because of this, Firstrade charges users an illiquid stock maintenance fee of $10 per month.
Before trading penny stocks on Firstrade, be sure that it meets the liquidity threshold as set by Firstrade.
Trading Penny Stocks on Firstrade: Final Thoughts
Firstrade can be a great platform for any investor searching for a reliable way to invest in the stock market. Whether you are dabbling in options, ETFs, bonds, or penny stocks, Firstrade has a solution that might work well for your situation.
The best thing about the Firstrade platform is that there are zero commissions and zero contract fees for trading stocks or options respectively. This is a unique offering that relatively few brokerage firms offer.
When it comes to penny stocks, Firstrade offers OTC-listed stocks. There are several thousand to choose from and more information about the stock can be found by digging into the screener tool that is available on the platform. As long as the stocks that you are trading fall within the criteria that Firstrade has set (greater than $0.10 per share, DTC-eligible, and high liquidity volume) you should expect to trade essentially fee-free.
If this sounds good to you, then give it a try today! It's free to sign up and there are no account minimums so if you decide it's not the platform for you, you can easily close your account and switch to a platform better suited to meet your needs.
Best Free Stock Promotions