Truebill and Trim are high-quality money apps on a mission to lower your monthly bills, find hidden monthly expenses, and negotiate better deals.
Creators of the platforms want you to start out by asking yourself some pivotal questions: When was the last time you sat down and took a close look at your bank account and what you've set up for auto-renewal? Never?
Maybe they're something you no longer need or have even forgotten they exist. You may have a dozen paid subscriptions you no longer use but automatically pay for.
Do you vaguely remember getting a flyer in the mail from your cable company offering a lower rate, but you set aside for a day when you had time to take a closer look? Then, as it usually happens, that flyer gets relegated to the bottom of the junk mail pile and is soon tossed in the trash.
Cancelling unused or unwanted subscriptions and taking advantage of special offers takes time, motivation and energy to do. Companies do not make this easy! It's not a click of a button on their website. You would most likely need to call customer service to negotiate better deals or take the necessary steps to cancel the monthly renewals permanently.
Truebill and Trim were both designed to help you out and make this whole process less painful.
Here is a breakdown of the ways Truebill and Trim find you money you probably don't even know you're spending.
Summary
Truebill and Trim do not charge you any fees to sign up and set up. More importantly, you won't pay either platform a single penny until they save you cold hard cash.
Trim will cancel subscriptions for free, but Truebill requires you to have a premium paid subscription for up to $12 per month.
When they do dig up a promo deal or other way to save you money, both Truebill and Trim will take a percentage of what they save for you. With Trim, that finder's fee is 33%. Truebill takes a larger slice at 40%.
Both keep your personal financial details strictly confidential and never sell this info to third parties.
Truebill and Trim automatically renew, so if you're not happy with their results, you will have to go in and cancel the service.
Both Trim and Truebill were launched to help you keep track and manage all your monthly expenses. That's always a good thing!
What Is Trim?
Trim trumpets itself as a "holistic financial management service."
When it was launched in 2015, its creators began by tackling the issue of excess monthly spending. This money out the door includes old subscriptions that you never cancelled, high rates on your cable bill, and a gym membership you promised yourself you would use but unfortunately never did.
Over time as Trim grew, they wanted to help people with larger financial problems plaguing in all aspects of their financial life. These included heavy life questions about getting out of debt, having an emergency or slush fund, and planning early for retirement,
How successful has it been? According to Trim stats, they have saved users more than $40 million by weeding out excess monthly payments.


How To Use Trim
There is no charge for signing up for the app.
First, you give them access to your service providers and what is currently costing you in out of pocket expenses. You can either upload, send a bill, or do this electronically by logging in through the platform. By taking this first step, you are giving Trim permission to review your expanses.
As soon as you do this, Trim will get to work on finding better plans and promotions and negotiating savings on your behalf.
How Trim Saves You Money
It probably won't take long for Trim to comb through your expenses and uncover charges that are non-essential or sky high.
For example, there's most likely a red-hot promotional deal out there offered by your cable service provider, while you are paying the regular long-term price that's substantially higher.
Or there were several power outages that prevented you from using internet or cable TV. You would never even think of it, but these all qualify for reimbursements!
Bill Negotiation
Once the platform digs up these overpayments, it will negotiate refunds or a new contract with a lower price tag.
If you were to do this chore yourself, you would need time, energy and patience. Most service providers don't make it possible to simply click a link on their website to opt out. They require a tedious phone call and most likely plenty of time on hold.
Instead, Trim takes care of this annoying task for you. How are these negotiations done? Either by utilizing a Chatbot, or, if needed, an actual live person from the Trim team. Now that's personalized service. Negotiating better deals and cancelling unwanted subscriptions is a free service.
After they spotlight a cost savings, Trim will take a finder's fee of 33% after the money gets deposited back in your account. Trim will take the fee based on your annual savings from the provider.
If Trim does not locate any ways to cut costs, there will not be any charge.
Trim is also compensated by third-party partners, such as credit card issuers, for referring customers to them.
Working Around The Clock
Aside from the initial savings, Trim continues to monitor your bills and will negotiate whenever they see a way to save you money. Trim is essentially a money saving robot that is looking for ways to save you money 24/7.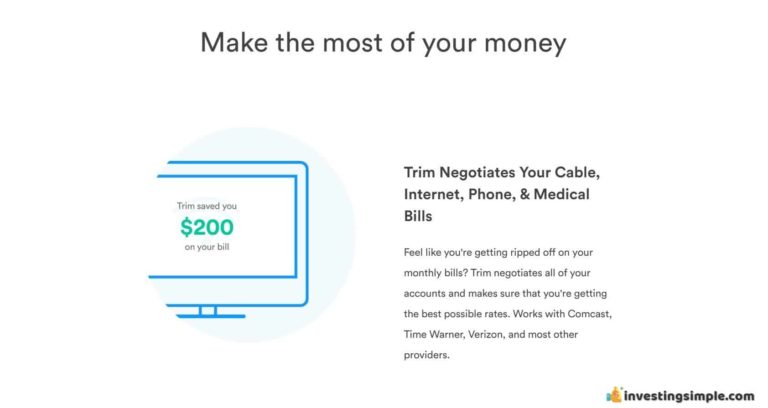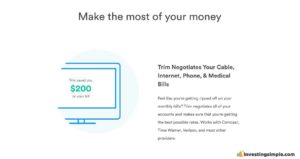 Premium Subscription
Trim offers new premium paid features including Trim Pay, and Trim Simple Savings. Trim Premium is just $10 per month.
Trim's new Simple Savings can make saving money worry-free. Maybe you are stashing money away for a down payment on a house, or a new vehicle. You set your goal. Simple Savings allows you to set it and forget it with automated weekly transfers or lump sums of an amount specified by you from your selected checking account.
Trim Simple Savings hands you a 4% annual reward on the first $2,000 that you save in the account.
Trim's new Trim Pay has a goal of getting your credit card debt down to zero. You pick which card you want to pay off. Trim Pay will help you draft a custom payoff plan. Then, simply set up automatic weekly transfers to Trim Pay. Trim Pay will send this extra payment on a day of the month you choose.
The Trim Pay program even comes with a generous 90-day money back guarantee.
Trim's premium subscribers also get unlimited access to a list of high-profile financial advisors for one-to-one info and advice.
How Trim Monitors Spending
Most of us can sit down and map out a balanced budget.
The challenge is sticking to it! Trim helps you track where your money goes by keeping tabs on all your transactions. Trim tracks and organizes your transactions so you can see exactly where your money is being spent.
You may not remember those theater tickets when you had a night out with your significant other, but Trim will find that expense in your spending history. Had to buy new furniture? You may regret that $1000 expense and wish you'd just ordered a new slipcover for the brown couch whose upholstery is woefully out of date. Ditto for impulse purchases like a band T-shirt or new Nikes for the gym membership you never use.
You can even get a breakdown of what you spend by category, such as entertainment, gas or groceries. Or imagine this: you can uncover how frequently you shop by specific merchant (think: Starbucks) through a simple texting maneuver, rather than sifting through your lengthy transaction history.
It helps you through the chore of sorting spending categories like travel, food, and online purchases made at midnight.
What Is Truebill?
Truebill is another popular and similar finance management app.
Truebill info states they are "passionate" about making it easy for people to take control of their finances and improve their financial health.
Its formidable goal is to discover ways to save you money each month. Like Trim, these include subscriptions you forgot about long ago, refunds for power outages, and better deals on your service providers like cable TV and internet.
How effective is Truebill at uncovering savings for you? According to company info, it has saved its customers around 20% on their existing telecom plans alone just by using their negotiation skills.
Signing Up For Truebill
Along with Trim, there is no charge for signing up for Truebill services.
You simply sign up and enter your monthly bills into their database. If you're nervous about handing over this access, you can scan paper invoices and add them to the system.
Worried about your personal finance details being out there? Truebill uses the most reliable encryption system like those you will find at banking institutions. They also promise not to ever sell or share this data.
Finding Savings
Next, you authorize Truebill to review services when a companies offer a better deal.
For instance, many premium cable TV companies offer promotional discounts or lower your rate when you bundle services. Often, companies advertise these discount deals in mass mail campaigns, i.e. junk mail. Most of us don't even pay attention to the junk mail announcing these deals
Like Trim, Truebill will monitor power outages on cable, phone, and internet providers and then request a refund for you. You be surprised at how large this refund could be!


Finder's Fee
Truebill will take 40% of the lost money they find for you, based on annual savings. So, if they save you $10 a month on cable service, that's $120 a year and they will take $48.
The platform works most frequently with top companies including:
Netflix
HBO
Sling TV
Amazon Prime
LinkedIn
FIOS
Spectrum
YouTube
Gold's Gym
Spotify
AT&T
Sprint
Time Warner Cable
And dozens of other service providers.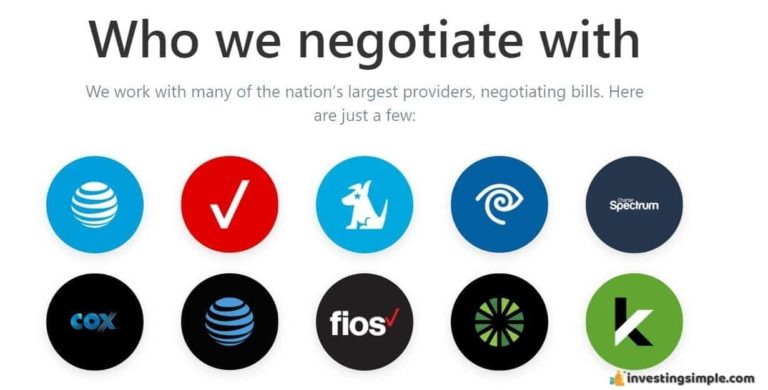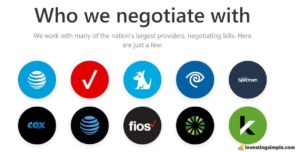 Truebill Premium
Truebill has a menu of premium services with a price tag of around $5 to $12 per month. It includes a premium chat service, bank account balance syncing, subscription cancellations, custom categories for organizing expenses, unlimited budgets, and its Smart Savings automated savings fund.
One of the details important to note about the Truebill premium plan is that they will cancel unwanted and pricey charges on your behalf, but you must be a premium plan subscriber for this service.
Other Services
The Smart Savings plan helps you allocate money on a monthly or other regular basis towards a specific goal. You can deposit a percentage of your paycheck or make one-time lump deposits.
Truebill can customize the categories where your money is spent, such as entertainment, gas and rent or mortgage payments.
There's a chat service that puts you in touch with experts to hash out money issues like managing your budget and cutting credit card debt.
Education you need:
As part of its pledge to help you grow your financial know-how, the Truebill site offers plenty of detailed, informative blogs.
Recent posts include:
How to Organize Receipts: 10 Tips to Simplify for Tax Time
Finance Friday Picks: Must Reads
Passive Spending: How to Avoid This
Budgeting 101: How to Budget in 3 Easy Steps
7 Gadgets That Will Reduce Your Utility Bills
6 Gifts to Teach Kids About Saving and Investing
The Verdict: Truebill vs Trim
The days of sorting through a stack of paper bills are gone, and these apps keep you organized and on top of where your hard-earned money is going.
What's more, the platforms categorize your spending habits and spotlight areas where you should be cutting back. These are chores that aren't typically at the top of our to-do lists. We need a little nudge and some solid advice.
It's worth signing up for either service because it does not cost you a dime until they investigate and find money to put back in your wallet (or savings account).
Best Free Stock Promotions
Keep Reading: