User Friendly

Subscription Monitoring

Purchase Tracking

Pricing
Summary
Truebill is an excellent tool for tracking down and showing you how much money you waste every month without knowing it. The blogs are interesting and practical, and I feel more in control of my spending habits now that it's part of my life. And I promised myself to put that money saved into a slush fund, not back into my check account to spend on something else I don't need in my life!
Pros
100% free plan available
Alerts you about monthly subscriptions
Automate your financial life
Savings account offered
Cons
Premium costs $10 per month
No investing accounts
Quick question: Off the top of your head, what amount would you estimate you spend monthly on things like gym membership, auto-pay cable services, dog treat renewals and premium TV? More importantly, what's your monthly expense for your cell phone carrier?
If you're like most adults, you drastically underestimate how much you spend on monthly subscriptions. In fact, recent studies have shown that an astonishing 84% of Americans fall into this category.
You may have a dozen paid subscriptions you no longer use but automatically pay for.
One more question: do you have the time and energy to contact service providers and negotiate better deals or cancel the monthly renewals immediately?
What Is Truebill?
The app Truebill is designed to come to the rescue and take care of these nagging negotiations for you. It will help contact your Internet company, food delivery service or monthly magazine issues sent automatically. Then, it will work with these providers to try to get your costs at a lower rate.
How much could you potentially save? According to Truebill company info, subscriptions there's an 85% chance it can lower your bill.
Lots of people have jumped on this bandwagon. To date, Truebill has helped thousands of people save more than $14 million dollars. How did they do this? by helping them identify and cancel unwanted subscriptions, lower their bills, and get them refunds on fees and power outages.
This sounds like an expensive service to add to your already bursting at the seams budget. But with the basic plan, there is no cost to enroll. However, once they discover savings for you, they will pocket a 40% finder's fee.
This fee is charged only after you receive the money you saved, and it applies to a year's worth of savings. For example, if Truebill saves you $500 in yearly savings, they will take $200 all at once.
But pay attention to this, because it's important: If they can't come up with ways for you to save, you won't be paying a dime.
Truebill is a helpful tool for you to get a handle on your larger financial picture. Once you're aware of the payments you're making monthly, you can find ways to pare down your expenses. Start by asking yourself the hard questions: do you actually use that gym membership? Is it necessary to have a cosmetic delivery service every month when you can buy your own stuff cheaper at a drugstore?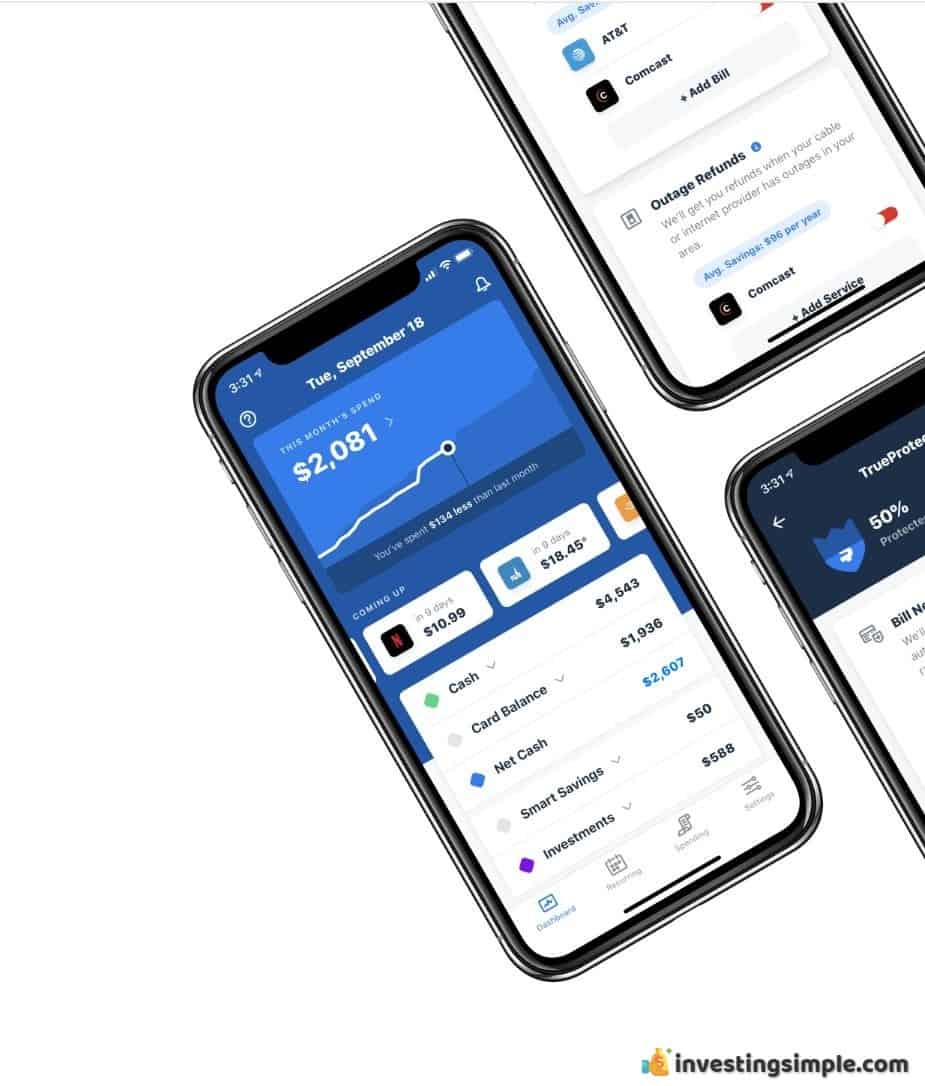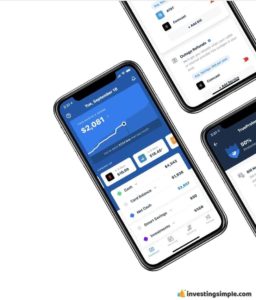 How Truebill Works
1. Enter your monthly bills into their database.
If you're nervous about handing over this access, you can scan paper invoices and add them to the system. Worried about your personal finance details being out there? Truebill uses the most reliable encryption system like you will find at banking institutions. And they pledge not to ever sell or share this data.
2. Authorize Truebill to negotiate rates on the services when a better deal is offered.
For instance, most cable companies regularly offer promotional discounts or lower your rate when you bundle services. Most of us don't even pay attention to the junk mail announcing these deals!
How effective is Truebill at ferreting out savings? According to company info, it has saved its customers around 20% on their existing telecom plans alone just by their negotiation techniques.
3. Truebill will proceed to review your recurring monthly charges.
Based on the info you've given them access to review, they will show you how to get a better deal. Another huge perk is that the platform can monitor power outages on cable, phone and internet providers . Then, they go ahead and request a refund for you. You would be surprised at how large this refund could be!
4. Request refunds.
The money-seeking platform can also help you request refunds on overdraft and late fees on the accounts you've authorized them to review. Again, the savings could be significant.
5. Wait for a notification.
Once they discover these discounts, you will get an email letting you know your bill has changed and how much your total savings will be. Prepare to celebrate!
What Are The Costs?
With the basic plan, it's up to you to cancel the service you've been paying top dollar for and switch over to less pricey deals. You do this independently of the app.
Truebill also has a premium service that will cost you around $5 to $12 a month but is likely a good idea to take advantage of.
Cancelling Subscriptions
One of the key benefits of the premium plan is that they will cancel unwanted and pricey charges for you. This spares you time on hold listening to elevator music and also tons of frustration.
If you're wondering whether or not Truebill deals with the companies that provide you monthly services, rest assured.
The platform works with top companies including:
Amazon Prime
LinkedIn
Netflix
YouTube
HBO
Sling TV
Gold's Gym
Spotify
AT&T
Sprint
Time Warner Cable
And dozens of other service providers.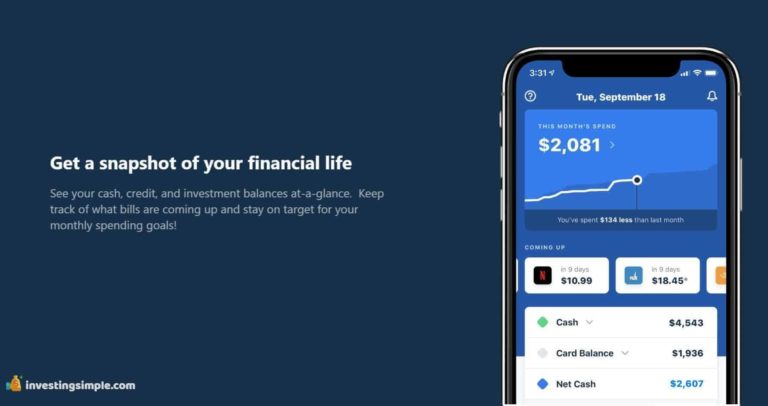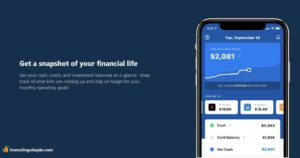 Expense Management
Truebill was designed to help you keep track and manage all your monthly expenses. This encourages you to make a balanced, organized budget. The platform adds all your bills into a calendar, so you can be aware of exactly what you are paying when automatic bills are charged to your account. It also lets you take a look at every bill to see if the fee you're paying has gone up without you even noticing.
As part of its pledge to help you grow your financial know-how, the Truebill site offers informative blogs.
Along with examining your subscriptions and show you ways to slash costs, Truebill has a few other tools to help you make the most of your hard-earned money. The premium subscription options include most of these tools.
Smart Savings lets you automatically set aside money to reach particular goals like a down payment on a house or a college fund. You choose how much works for you and how frequently you want money to put into this fund and Truebill will do the rest for you.
You can cancel Truebill services at any time. However, be aware Truebill will be automatically renewed if you don't cancel.
Test Driving Truebill
It was time to give Truebill a road test. I consider myself someone who is on top of my finances and always read the fine print when I buy a recurring service. I look at my account charges and balance weekly and have occasionally found something I no longer use. However, I admit that the thought of calling customer service to haggle over a better deal is daunting to me.
I signed up for Truebill's basic plan and downloaded my debit card transactions, feeling pretty confident the platform will protect this info.
Within 24 hours, an email popped into my inbox from Truebill.
The Findings
According to the email, I had almost 120 hours of downed service on my internet and cable system and utility heat provider. I live in the Northeast, and we do have snowstorms that cut the power for hours or even a day.
My family and I bundle up in blankets inside our house and wait for the heat to come back on! However, not once in my life have I thought of calling the utility company and asking for a refund for power outages. Ditto for internet and cable.
My total savings was nearly $300 for a year of outages. Truebill took the fee of $120 and I happily pocketed the rest.
Additionally, there was the doggie treat box I'd subscribed to on a whim after my two dogs looked bored. It had a three-month free deal, which I had to jump on, but then ballooned into $39 a month for a few treats and rubber toys! It was a whopping $468 a year! After Truebill pointed this out to me, I went online and cancelled the service immediately.
There was also my annual gym membership. For the past year, I'd kept it current out of guilt even though I got plenty of exercise walking and biking around my neighborhood (where I didn't even need pricey workout clothes and sneaks!) Every January, I made a resolution to hit the gym several days a week, but like most plans, that fell by the wayside. My membership was $49 a month for something I used maybe three times monthly. Therefore, I was able to log into the site and stop the charges right on the spot.
The Verdict: Is Truebill Worth It?
I didn't think the premium Truebill service was something I definitely needed. Once Truebill pointed out frivolous expenses, I was instantly motivated to take care of them and cut them out of my life. Paying Truebill 40% seemed like the right amount rather than paying for premium.
Truebill is an excellent tool for tracking down and showing you how much money you waste every month without knowing it. The blogs are interesting and practical, and I feel more in control of my spending habits now that it's part of my life. And I promised myself to put that money saved into a slush fund, not back into my check account to spend on something else I don't need in my life!
Best Free Stock Promotions
Keep Reading: