If you have $10 and a Walmart nearby, you've got a side hustle.
I have 5 side hustle ideas nobody is talking about that can earn you as much as $1,200 per day without any prior skills.
Keep reading to learn more about each side hustle, or watch my YouTube video on this topic below!
About the Author
Ryan Scribner is the author of From Side Hustle To Main Hustle To Millionaire - a practical guidebook on launching your own side hustle. He is recognized as a Top 100 Money Expert by GoBankingRates.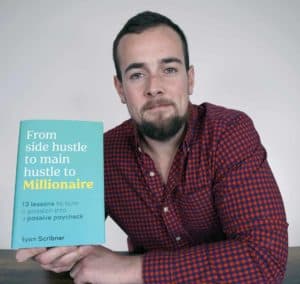 Ryan runs a successful YouTube channel focused on money and investing, which he started in 2016. He also owns a portfolio of digital business, all earning passive recurring revenues.
Now, Ryan teaches others how to create additional income streams.
5. Sandwich Flipping (Up To $1,200+ A Day)
So across the United States, 300 million sandwiches are consumed per day. And most of these sandwiches are being sold by an entrepreneur turning a profit.
But here's the thing. You don't have to know anything about making sandwiches in order to sell them. And that's because you can sell the sandwiches other people make for you.
In this case, Walmart will make them for you.
Here's the deal. I recently spoke with the manager at my Walmart and got a full price sheet on all their sandwich platters.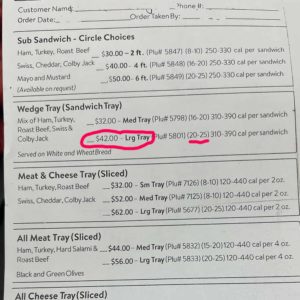 The $42 sandwich tray is enough to feed 20 to 25 people. But you'll also need plates and napkins. That's gonna cost you an additional $8.48.
So for about $50, you have a 20 person meal you can upsell - with a delivery charge of course.
I found a business based out of Phoenix, Arizona that's charging $93.49 for just a 10 sandwich platter not including delivery.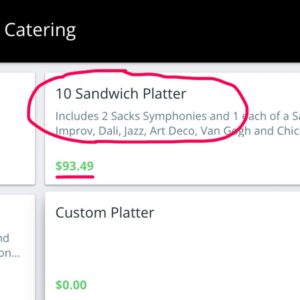 And based on that, you could easily charge $150 for a 20 sandwich platter with a $25 delivery fee.
That's gonna give you a profit of $125 per sandwich tray flip.
$1,000+ Per Day Flipping Sandwich Trays
But how do you turn this into a $1,000+ a day side hustle?
So imagine for a minute that you followed this strategy and flipped sandwiches. You could easily deliver 2 trays at a time. And, your customers could easily order multiple trays.
Well let's say you managed to do 5 deliveries of 2 trays per day.
That's 10 sandwich platters flipped per day with a profit of $125 per flip.
And after accounting for $50 of gas money, that's a profit of $1,200 for one day of sandwich flipping.
"Oh, but Ryan, $150 is a lot of money for sandwiches. What if I can't charge that much in my area?"
Okay, fair point. But why not add some bonuses like drinks, salads, utensils and a tablecloth?
All of this will differentiate you from your competition, who may be simply delivering sandwiches. Oh, and one more thing. If for some reason your clients complain about the Walmart sandwiches, you could always partner with a local deli and do the same exact thing.
How To Get Customers For This Side Hustle
Now the next thing that you'll need to do is actually get the word out about your business and there's a few different ways you can do this.
You can post in local Facebook groups, Craigslist or on sites like Nextdoor. And these are all free ways that you can promote your business.
But there's something else you should be doing if you want to really get the word out.
I'd personally recommend dropping business cards at team sporting events to parents of athletes. You can get 100 business cards for $18 on VistaPrint.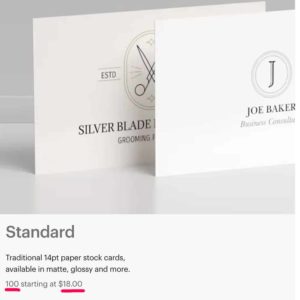 Think about where the hungry people are and market your business there.
You could even buy cheap folding tables to offer a complete setup for a mobile on demand lunch.
4. Sidewalk Chalk Marketing ($500+ A Day)
This next side hustle is extremely unique and I've personally never seen anything else like it. And if you don't have $50 to invest into a sandwich platter or maybe you don't have a car, this next side hustle is gonna cost $10 and requires no transportation.
What you're going to need is a box of washable sidewalk chalk.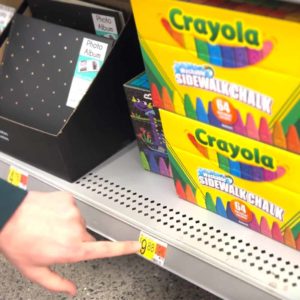 Now here's something fascinating that literally nobody thinks about except for the few people offering this service.
So there's a little over 1 million retail businesses in the United States.
And every single one of them is relying on foot traffic to make money. Now I need you to stop and think for a second. Have you ever been walking in a downtown area and noticed sidewalk chalk art marketing a particular event, sale or happy hour?
I'm about to blow your mind.
There's an entire network of sidewalk chalk artists out there getting paid to help retailers market their businesses on the sidewalks. This also includes handwritten chalk signs for businesses like cafes.
And there's a website chalkartists.com where you can join as an artist. The best part is, people also use this website to get connected with a sidewalk chalk artist.
How To Get Paying Sidewalk Gigs
Now I wouldn't bank on fully relying on this site to get gigs for sidewalk chalk marketing. Instead, I would recommend going out and talking with business owners in your area.
Bars are a great place to start.
And even if you have to offer the first chalk design for free, this puts you on the map and word of mouth will take over. So the best way to market yourself is actually to put your designs out there in the world and start an Instagram portfolio.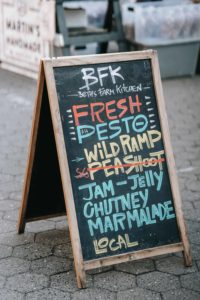 When you start out, you'll probably make around $50 per project, and each one should take about an hour. But you don't have to do it all from scratch.
And that's because there are thousands of chalk designs already on the internet, so you could simply reference these on your phone as you are doing them. While all you need is chalk, I'd also personally recommend this kneeling pad for $6.88.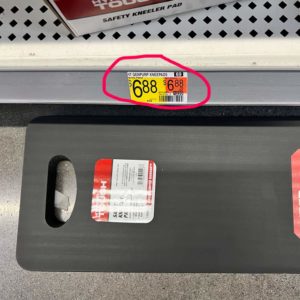 On the top end, you could confidently charge $1,000 or more for a major design that involves multiple artists.
You'd have to pay your artists, of course, but that would still be an easy $500 profit for a day of work.
3. Chocolate Covered Strawberries ($500+ A Day)
So Valentine's Day is right around the corner and this is quite literally the perfect side hustle for that. And for the 1% who take action on this idea, you'll be printing money.
Literally hundreds of dollars per day.
But this isn't just gonna make you money one day out of the year. This is something you can offer anytime to anyone.
For now, though, let's go back to V-Day. I have a question for you:
How many chocolate covered strawberries will be sold on February 14th?
And while I don't have the answer to this question, I can tell you that Edible Arrangements is gonna print millions of dollars figuring out that answer. You really gotta think about that for a second.
So the question becomes how can you compete toe to toe with Edible Arrangements. And the answer is simple; price. I went ahead and placed an order for two dozen chocolate covered strawberries, and when I saw the price, I nearly screamed.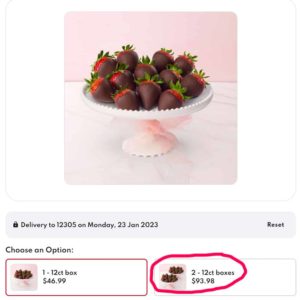 A whopping $93.98 for 24 berries - NOT including delivery.
How To Undercut The Competition
And so I encourage you to go to Walmart, buy the $20 chocolate melt and dip kit and undercut the competition.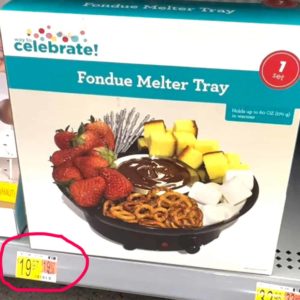 You can buy 2 pounds of strawberries for $5.38 and that's gonna be 30 to 40 medium berries on average. And that means you can either make extra to sell or eat the berries yourself for free.
The chocolate is $3.88 and you can even offer multiple flavors.
A plastic tray is gonna cost you $3.97 and the final thing you need is some plastic wrap for $3.48.
All in all, you're gonna spend just under $14 to make, package and wrap two dozen chocolate covered strawberries. And now you get to name your price, seeing as your biggest competitor is charging $94 for virtually the same thing.
$80 Profit Margin On Strawberries
And this gives you a huge wiggle room - $80 in potential profit margin, not even considering a delivery fee.
If you're like me, you'll split the difference and charge around $50 for the platter. You're still massively undercutting the competition while giving your customers a great value.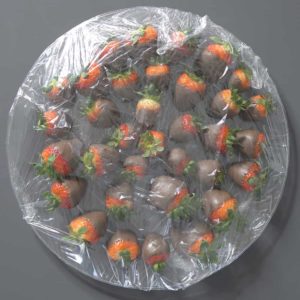 Tack on a delivery fee of $20 and you're looking at $70 per two dozen delivered. I also wouldn't sell less than two dozen at a time.
For every platter delivered, you're looking at a profit of $56.
And the best part is, you can simply buy a cooler and have 10 platters of them all ready to go for delivery at once.
And so imagine for a second that you - yes you - decided to follow this exact side hustle blueprint. You'd be looking at $560 in profit from those 10 platters. Even if fuel costs you $30, you're still profiting over $500 for 1 day of work.
2. Roadside Help For Tips ($200+ A Day)
A couple years ago, I was on vacation in the Outer Banks and I rented a Jeep to drive on the beach. And it's funny because the person I rented it from warned me about getting it stuck in the sand on the side of the road because it would cost around $100 to get pulled out.
And I asked her who does the towing and she said it's other people who have jeeps and tow straps. As it turned out, it was customary there to pay someone $100 if they stopped and pulled you out of the ditch and back onto the road.
Fast forward to today, and I saw a unique side hustle on one of my trips from New York to Florida. On the back of a truck windshield, a guy had a big sticker that said Roadside Help For Tips and included his phone number.
Now if you wanted to do something like this yourself, you could start off really small. I scoured the automotive aisle of Walmart myself and found 3 key items you need to start out with this hustle.
3 Key Items Needed
The first is a set of jumper cables for $14.87.
The second is a can of Walmart brand Fix A Flat for $6.58.
And the third is an empty 1 gallon gas can for $16.28.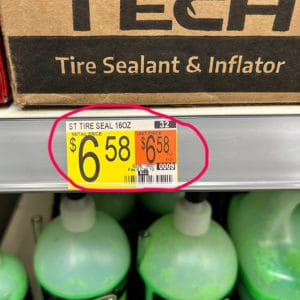 And with these three simple items, you can now help people with 90% of the problems they will face when having trouble with their vehicle.
Now it's important to remember you need to be aware of safety with vehicles on the side of the road.
And the rules about pulling over on the shoulder vary from state to state, so check your local laws.
How To Market Your Roadside Service
Now in terms of marketing your business, you should follow the sticker on the vehicle approach and that's gonna cost you as little as $20 these days on sites like Etsy.
And I would also suggest spreading the word among friends and family. I think you'll be surprised just how many calls you get, especially if you live somewhere cold. Your battery dies in the cold weather, not the warm weather.
All of the sudden, a $40 tip for a jumpstart sounds a heck of a lot better than calling the tow company that's gonna charge you at least double this to come jump you.
And if you wanna branch out and offer more services, there's a $79 kit that includes tow straps as well as traction mats and a number of other useful items.
You could then be one of those people charging about $100 to pull someone loose from the sand or snow.
1. House Cleaning ($700+ A Day)
Now if you don't have any skills to lean on and none of the ideas so far have jumped out at you, this last no skill side hustle is for you.
And it's potentially gonna make you $700 or more a day. The side hustle I'm talking about is becoming a house cleaner.
"But Ryan, cleaning is a skill. And my parents always cleaned up after me so I don't know how to clean."
Ok, fair point. Start by watching YouTube videos and cleaning wherever you currently live. That's all the practice you need.
You might think you need tons of supplies to start a cleaning side hustle, but you actually only need 9 simple things.
Here's a rundown of everything and the cost:
All Purpose Cleaner $1.98
Glass Cleaner $0.98
Disinfectant Wipes $5.28
Cloths FREE (use rags from home)
Duster $5.94
Mop $7.98
Bucket $2.48
Big Brush $3.12
Detail Brush $1.86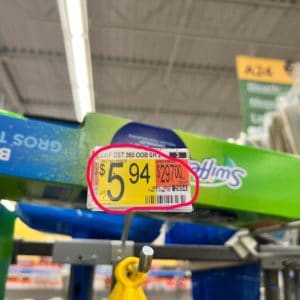 So for a grand total of $29.62 you've got everything you need to become a house cleaner.
Now the average price for a house cleaning in the United States is $160, but it costs more for a one time cleaning. For that, it's closer to $200 or more.
And that means you could have your routine clients paying you about $160 per visit while also servicing your one time cleanings that earn you $200.
Based on a one hour cleaning and factoring in a little travel time, you could realistically service 4 clients per day with a one person house cleaning business.
If all of those are one time cleanings, you're looking at an $800 payday.
Even if fuel and supplies cost you $40, you're still looking at over $750 in profit for a day of work.
I want you to seriously think about that for a second. With $30 worth of supplies, you can literally pull almost $1,000 out of thin air in a single day. And once you get tired of cleaning or too busy with clients, simply hire a team of cleaners and become the one managing your very own cleaning business.
Final Thoughts
For the 1% who are ready to take their side hustle journey a bit more seriously, I wrote a book about side hustles that just came out a few weeks ago.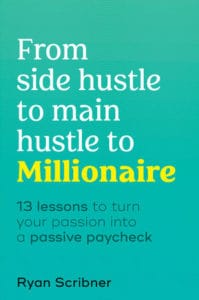 It covers all phases of the side hustle journey, and you get access to a members only discord where you can ask me questions along the way.
And you can grab a copy in person at most Barnes and Noble stores across the United states, or it's right on Amazon.
So grab a copy today and let's get started on your side hustle journey together!