In the sea of intelligent robo-advisor investment apps, Wealthfront is making major waves.
They offer a suite of passive investing strategies made to help you offset income through tax loss tools and spread your risk evenly across the board. And this is all included under the low 0.25% annual advisory fee.
In addition, they have branched out to cash account banking that funnels money straight into your investment account each month automatically.
Let's take a closer look at Wealthfront investment accounts.
Wealthfront: Quick History
Wealthfront is based in Palo Alto, California, and was founded by Andy Rachleff and Dan Carroll in 2008.
That's quite early in the playing field of competing financial and investment apps. As of January 2019, Wealthfront was actively managing more than $11.4 billion of assets, which is a hefty figure compared to others in the market.
Wealthfront
Account Minimum

Fees

User Friendly

Account Types

Tax Tools
Summary
Wealthfront was designed to put your money on autopilot. With the launch of the self driving wallet, they have truly accomplished this mission. When clients direct deposit their paycheck into a Wealthfront account, they will be able to automatically pay their bills, top off their emergency fund and retirement accounts and then deposit the rest into a tax-efficient investment account.
Pros
Advanced tax strategies
Open a cash account with as little as $1
Fully automated investing
Cons
$500 Minimum
Automated advice only, no in person guidance
Wealthfront Key Features
No commissions on trades placed
0.25% annual advisory fee
Your first $5,000 managed free of charge
Tax harvesting to offset capital gains
Hybrid savings account with competitive APR and the convenience of a checking account
"Self-driving" accounts to automatically pay bills and invest
Custom portfolios adjusted automatically to maintain balance
Wealthfront Fees
Wealthfront does not charge any fees to make trades, buy and sell funds and other financial products, open or close an account or transfer money between accounts.
However, there is an annual advisory fee of 0.25% on all assets Wealthfront manages. They will deduct this advisory fee monthly.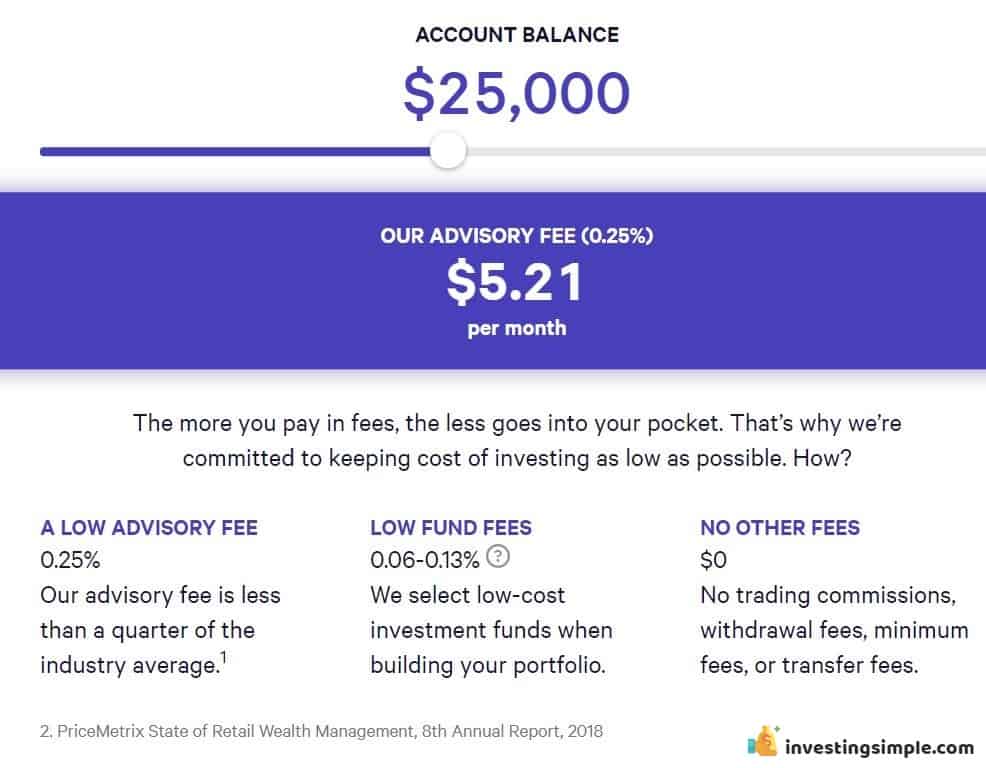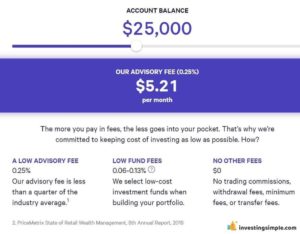 Free Advisory
Wealthfront will manage your first $5,000 in your investment account for free when you sign up through the link below. This offer applies to each person, not each account. If you have several accounts, you will only be eligible for one $5,000 waiver.
Opening An Investment Account
You start by filling out a quick questionnaire to identify your risk tolerance.
Once done, Wealthfront will build a custom portfolio spread across ETFs in up to 11 asset classes.
Wealthfront's investment portfolios include U.S. and foreign stocks, new and emerging markets, dividend stocks and real estate. The average portfolio is diversified among six to eight asset classes.
Wealthfront Investment Strategy
A team of PhDs at Wealthfront looked for ways Wealthfront can make investing cater more to its clients. In other words, they put clients first in all investing strategies (the industry calls this the fiduciary standard).
Their goal was to find ways to deliver people more value than just buying and holding an index fund.
These strategies have their roots in academic research, not intuition or guesswork, and those that have a long history of delivering excellent results.
Specifically, Wealthfront aimed to offer ways to invest that are:
Based in academically-sound, peer-reviewed research published in reputable academic journals
Shown to deliver statistically significant economic value to clients in the real-world over multiple years
Automated through software and delivered at low cost to investors
They dubbed this suite of investment strategies PassivePlus.
PassivePlus
PassivePlus includes Tax-Loss Harvesting, Stock-level Tax-Loss Harvesting, Risk Parity and Smart Beta. It is applied to all your individual, joint, and trust investment accounts.
Tax-Loss Harvesting
Wealthfront designed this to reduce your tax bill by capturing investment losses due to activity in the market.
It takes advantage of movements in the markets to capture investment losses, which can reduce your tax bill, leaving you with even more money to invest. You will find it available for all your taxable investment accounts.
When an ETF in your Wealthfront portfolio takes a dive in value (something that unfortunately happens in widely diversified investment portfolios), Wealthfront will sell that ETF at a loss if the loss meets certain criteria set in PassivePlus. You can use the losses to offset regular annual income or investment gains, which can lower your overall tax bill.
Not only that, but when Wealthfront sells an ETF at a loss, they replace it with another highly comparable ETF. The result is that the risk and return profile of your portfolio is unchanged, even as Tax-Loss Harvesting can generate tax savings.
You can reinvest these tax savings to further put down seeds and grow the value of your portfolio.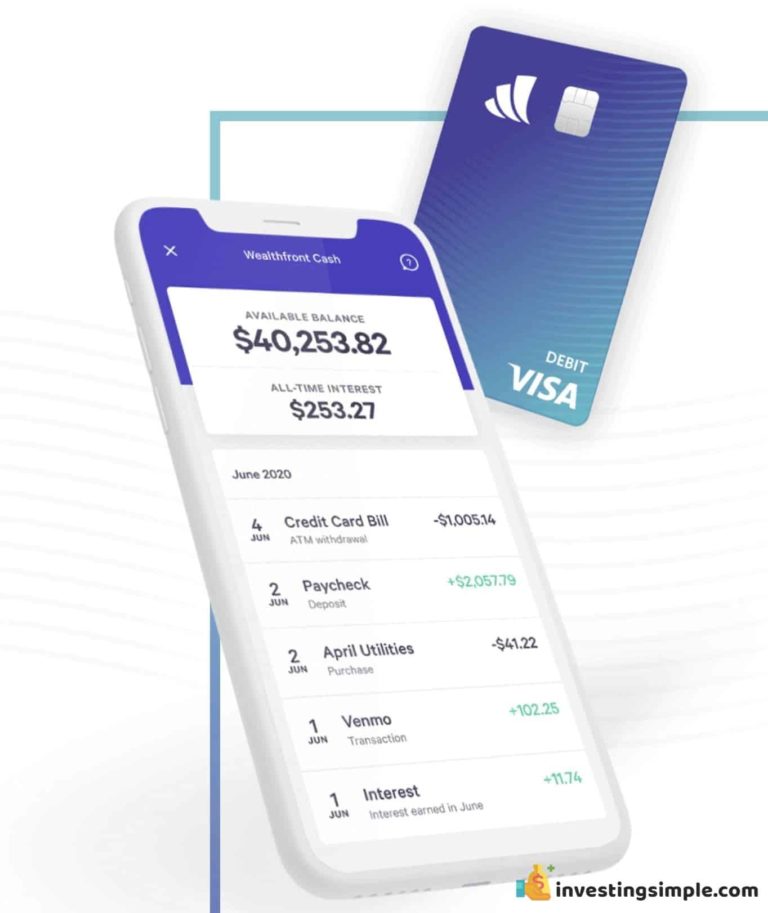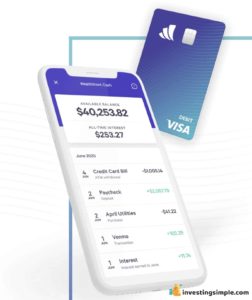 Stock-Level Tax-Loss Harvesting 
This strategy was created by Wealthfront to whittle down your tax bill even more by capturing losses on individual stocks within an index.
It activates when your account reaches $100,000.  
Stock-Level Tax-Loss Harvesting, formerly known as Direct Indexing, is an enhanced form of Tax-Loss Harvesting that looks for movements in individual stocks. Then, it will harvest more tax losses and lower your tax bill even more.
Instead of using a single ETF or Index Fund to invest in U.S. stocks, Stock-level Tax-Loss Harvesting buys into up to 500 individual stocks from the S&P 500 Index and an array of ETFs of smaller companies.
Wealthfront will buy up to 1,000 stocks from the S&P 1500 Index for larger accounts. This boosts the avenues for tax-loss harvesting through the movement of individual stocks, which serves to further propel the performance of your investment.
Risk Parity
This is an enhanced allocation strategy that was designed by Wealthfront to increase your risk-adjusted returns in a wide range of market fluctuations. It activates when your account reaches $100,000.
Risk Parity is a way to funnel money across many asset classes and has generated better returns for a given level of portfolio risk.
Smart Beta 
Smart Beta was drawn up to increase your expected return by weighting the stocks in your portfolio in a more focused way.
The primary benefits of Smart Beta are:
Tax-Efficiency: By pairing it with Stock-Level Tax-Loss Harvesting, Wealthfront seeks to minimize the impact of taxes on your excess returns.
Multi-factor: While there are many investment factors that can be considered when pinpointing the value of an individual security, 95% of Smart Beta ETFs only use one factor. The Wealthfront research team looked at the data and determined that at least five factors are needed to most efficiently optimize your portfolio.
No Additional Fee: Smart Beta is available for no additional fee above and beyond the standard Wealthfront advisory fee of 0.25%.
Wealthfront Cash Account
All of us struggle to stay on course with how we intend to spend our paychecks. Or any cash from dividends. Or other "found money."
But now you can draft a one-time plan for paying regular expenses, ranging from mortgage payments to retirement contributions, and shuttling the rest into your investment account.
Wealthfront, calls this "self-driving money." You can set it and forget it.
The Idea Behind Self-Driving Money
Recent studies have shown that 30% of American people never step a foot inside their bank. They don't want to wait in lines and have tellers give them an avalanche of paper receipts that find their way under car seats and in junk mail piles.
It just was not worth their time to visit a brick and mortar bank. Not even for the free pens.
There are also account fees and overdraft fees. Not to mention the paltry interest your cash earns in a traditional banking account, which weighs in at less than 0.1%.
Why do banks historically give so little and take so much? Well, part of the reason is that they've been able to get away with it and still retain customers.
But Wealthfront developers say this business model benefitted banks, not customers. They set out to develop software that put people like us, and our money, behind the steering wheel.
How Self-Driving Money Works In the Wealthfront Cash Account
Wealthfront recently unveiled a proprietary service called Self-Driving money.
Clients set up direct deposit of their paycheck, and their bills will be paid out of the Cash Account automatically.
You can set a certain percentage or dollar amount and deposit it into your emergency fund or your retirement account.
Wealthfront will shuttle the rest into a tax-efficient investment account.
Cash Account features include:
FDIC insurance that covers balances up to $1 million
Open a cash account with as little as $1
Offers unlimited and free transfers all with zero fees
When clients direct deposit their paycheck into a Wealthfront account, they will be able to automatically pay their bills, top off their emergency fund and retirement accounts and then deposit the rest into a tax-efficient investment account.
Here are some additional benefits:
Direct deposit, get paid early: You can set up direct deposit for your paychecks and get paid up to two days early. You can also set up direct deposit for other payments like a tax refund or workplace reimbursements.
Pay bills: You can pay bills like cable, mortgage or rent for auto payment from the Cash Account. You can pay for additional purchases with apps like Cash App, Venmo, PayPal and others.
Make purchases, take out cash: A debit card can be linked to the Cash Account to make purchases and get cash from a nationwide network of fee-free ATMs.
Wealthfront Path
This feature is basically financial planning advice that's easy to understand, available on demand, and absolutely free.
Wealthfront's financial planning paths can provide a holistic view of your financial health.
It is completely online and doesn't require any phone calls or appointments. Topics include home ownership, saving for college and taking time off for travel.
This all-in-one planning service lets you skip paperwork and long hours of looking at bank statements. All you have to do is link your accounts, and Wealthfront's Path will analyze your buying and spending habits and make suggestions for ways to manage them better.
Wealthfront Retirement Planning
One of the modules that's vital to people of all ages is retirement planning. Only 39% of Americans have tried to figure out how much they need to save for retirement!
Wealthfront's Path will help you understand what's involved in  retirement, including retirement spending needs, social security, inflation, taxes and many other variables.
For example, if you intend to keep your current lifestyle in retirement it's important to know how much you are spending today, as well as how your spending is likely to change in retirement.
Wealthfront Path pulls aggregate data from your linked accounts and use that information to estimate how much you spend now.
Then, it takes data from consumer spending surveys to estimate how much spending changes as people get older and retire.
Making A Retirement Plan
After you get an estimate of how much money you'll need in retirement, you'll then need to build a savings and investment plan to reach that goal.
However, it's important to understand the tax implications. For example, the money saved in a traditional IRA account will be taxed differently from a Roth IRA account or a traditional brokerage account.
So, to get a true estimate how your savings will support your retirement lifestyle, you will need to estimate your tax bill. Wealthfront's Path tool can do this for you.
Even if you are only in your 30s or 40s, it's important to get an accurate view of your anticipated income from Social Security.
Once you've had the numbers crunched, you will have a more precise picture of your financial future. Then, Wealthfront Path will suggest how much you should be investing, and also which accounts are right for you.


Wealthfront Pros
Advanced tax strategies to lower your tax bill on all accounts
Cash account pays bills then directs a portion to investment account
Competitive APY rate
$5,000 managed free
Open a cash account with as little as $1
Wealthfront Cons
Offers no individual stocks (except for stock-level tax loss harvesting)
No personal financial advice
Limited access to customer service
$500 minimum for investment account
No fractional share purchases
There's a lot available on the Wealthfront platform, including being able to auto-invest directly from your paycheck and take advantage of free financial planning advice tailored to you and your spending habits whether or not you have investments through the app.
One area where they are lacking is by not offering any one on one financial guidance. All guidance is fully automated through Wealthfront.
We'd like to hear about your experiences with Wealthfront!
Best Free Stock Promotions
Keep Reading: