Cryptocurrency is taking the world by storm with the growing interest in coins such as Bitcoin, Litecoin, and Ethereum. So, it's no wonder that the most common questions today are, what is cryptocurrency and how do I buy some?
This article seeks to answer both of these questions with a special look into how this is possible with Webull. Webull is a newer platform that launched in 2018 to provide investors greater insight into stocks and ETFs. This platform is informative without being exhausting. Brand new investors might find it a touch overwhelming, but intermediate investors find they can really hit their stride with Webull.
Webull is also known for offering its users completely free trades of stocks, ETFs, and investments in retirement accounts. With this platform, the user experience comes completely free of commissions for stock trading and short selling.
In addition, Webull offers a full suite of products like retirement accounts, margin investing, a stock simulator, and extended trading hours.
For more on Webull, see this article.
Webull Crypto Review: Platform Highlights
Users can buy and sell crypto within the same app they already use to buy stocks
The interface for Webull Crypto will be very familiar to existing Webull users
Webull Crypto currently only offers 4 different cryptocurrencies to invest in
Crypto in your Webull account is not protected by SIPC insurance as your stocks are
On the Webull platform, you are not able to transfer your crypto to a hardware wallet
Summary
Ease Of Use

Accessibility

Cost To Use

Crypto Options Available
Summary
Webull is a new entrant into the world of cryptocurrency. It currently offers this service on their mobile application after a user submits an application. The cryptocurrencies available are Bitcoin (BTC), Bitcoin Cash (BCH), Ethereum (ETH) and Litecoin (LTC).
Once your application to buy and sell cryptocurrency is accepted, you can trade at any time of the day and any day of the week. This is because cryptocurrency is not regulated by a commission that sets the regulations.
The cryptocurrency transacting platform on the Webull app is made just like the experience for trading equities. There is a lot of research available but it isn't overwhelming like many other advanced brokerage firms.
Pros
Commission free
Instant settlement
In-depth data and analysis
Fractional coins available
24/7 customer service
Cons
Only 4 crypto options available
Unable to transfer cryptocurrencies without liquidating the assets
Trading Cryptocurrency on Webull
Webull's Entry into Crypto
Just in mid-November of 2020, Webull announced that it would allow its users to purchase and sell cryptocurrency through the platform. This comes in response to the more than 100,000 users that requested to sign up for the service through Webull.
There is no cost to sign up for cryptocurrency investing with Webull nor are there any commissions associated with using the service. This allows investors everywhere to try Webull as their main platform for investing in currencies.
Crypto Options on Webull
In the world of digital coining, there are several forms of cryptocurrencies and each has its own advantages and disadvantages. Webull has initially chosen to support four options: Bitcoin (BTC), Bitcoin Cash (BCH), Ethereum (ETH), and Litecoin (LTC). It is unclear if more will be added in the future although that has not been ruled out.
Availability and Commissions
Webull offers 24/7, commission-free crypto trading. In layman's terms, investors can purchase and sell cryptocurrencies without cost, and whenever they please. Because cryptocurrencies are not regulated or brokered by an officially recognized exchange, trading can happen at all hours of the day and all days of the week. Even holidays!
To apply to gain access to cryptocurrency trading on Webull simply follow these instructions:
Update your app to the latest version.
Tap on the Webull Icon (Bottom row, middle icon).
Click on the More button.
Tap on Crypto Trading to apply.
Webull Crypto Interface
Like its stock market investing approach, Webull offers a large amount of data and information without overwhelming its users. With Webull, users can even create their own customizable charts to track what is truly important to them. Crypto trading also comes with real-time data and specific indicators to keep you up to date.
Webull houses their cryptocurrency portfolios on the same app as other securities meaning that all your wealth can be available from the same platform. This is a huge benefit that allows users to view one source of truth without moving from one account to another.
At the same time, it's important to note that your crypto and stocks are not actually stored in the same account. Webull Crypto and Webull Financial are two separate companies. More on the implications of that a little later.
Instant Settlement
Another benefit of using cryptocurrency is instant settlement. Because no physical processes are used when buying or selling cryptocurrency, your money will settle instantly. This means that when you put in an order to sell any amount of coins, that money will appear in your account instantly.
With equities such as stocks and ETFs, it can take up to several days before those funds will actually appear in your account.
Fractional Coins
Although they do not offer fractional stocks, Webull does offer fractional coins. This means that instead of purchasing the entire coin, you can type in a dollar amount and elect to purchase only that amount.
This is a great option for those that might be timid about starting a cryptocurrency portfolio. This is absolutely a risky asset and like all equities, it is very possible for you to lose more than you invested. Of course, nothing is lost until you actually sell the asset. But on paper and when you sell, losing it all is a real possibility.
This is one reason why fractional coins and stocks have become such mainstream instruments. Another reason is simply for accessibility. You no longer have to pay the full asking price for a specific investment.
Purchasing a fractional coin does not inherently mean you have less risk, but it does mean you will be less exposed depending on how diversified your portfolio is. You will be affected by price reductions and price increases equally no matter how much you own.
The more diversified your portfolio, the less impactful large swings become to your overall financial picture.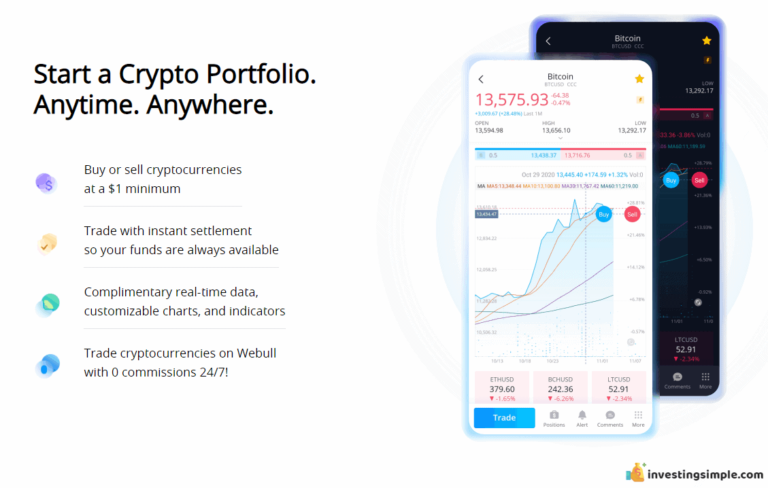 Protection
Webull crypto trading is completely separate from the Webull that trades stocks and ETFs. Webull Financial LLC is a broker-dealer that is registered with the Securities and Exchange Commission (SEC).
As such, it has certain regulations and protections. Securities such as stocks and ETFs are protected by the Securities Investor Protection Corporation (SIPC) which protects investors against the insolvency of the broker-dealer.
Cryptocurrency, however, is not under the same protection. Because there is no regulatory authority for cryptocurrency, there is also no protection. This is one reason it is held by a completely separate entity called Webull Crypto LLC.
It is also important to note that as cryptocurrency becomes increasingly popular, legislation may come into effect that could adversely affect the use, transfer, exchange, and value of cryptocurrency.
Transfering Off Of Webull Crypto
Because of the separate entities and the increased risks associated with cryptocurrencies, users will not be able to transfer their coins directly from Webull's platform to another. Users must liquidate (sell) their assets first and then transfer the cash value of the coins. Keep in mind that transferring cash from one platform to another could take several days to complete.
As a result, you cannot transfer your Webull crypto onto a hardware wallet. This is generally the safest way to store your crypto because then you have control over it. When you hold your crypto with Webull, there is the potential for Webull to get hacked and your crypto to be lost.
In order to avoid this risk, it's generally better to use a dedicated crypto exchange like Coinbase. This will allow you to transfer your crypto off of the exchange and hold it securely.
There are two primary reasons why Webull does not allow you to transfer your crypto off of the platform. The first of which is they want to protect investors. A crypto transfer is irreversible and if you accidentally send your crypto to the wrong location, there is absolutely no way to get it back.
Second, Webull needs to report your crypto gains to the IRS. In order to do that, they need to know how much you paid for your crypto. If you were able to transfer crypto in and out of Webull, they'd have no way of knowing how much you paid for your coins.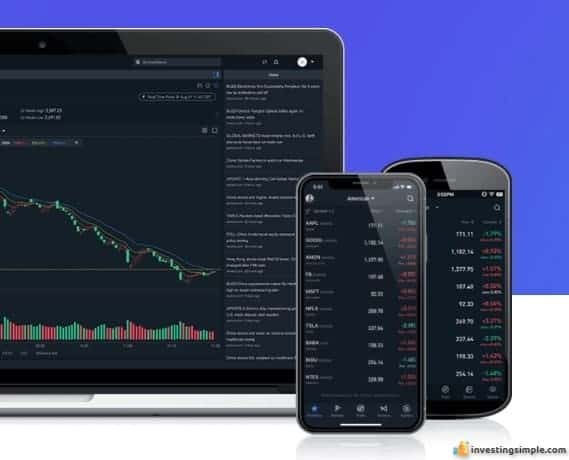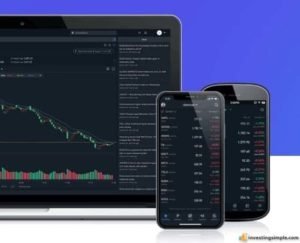 Webull Crypto Benefits
Customer Service
If you are still skeptical of investing in cryptocurrencies, know that Webull offers 24/7 support online and over the phone. If you have questions specific to Webull's cryptocurrency policies, you can have all your concerns squashed by knowledgeable and trained staff.
Mobile and Web Access
Currently, crypto trading is only available on Webull's mobile app. However, the website has stated that this feature will soon be added to their desktop platform so trades can be made from practically any device.
By using Webull's desktop platform, users can use nearly 50 different widgets to analyze trends, decipher market information and place trades more efficiently. Webull is truly focused on providing an optimal experience for its customers and is known for truly listening to their desires.
What is Cryptocurrency?
Crypto is a newer area of exploration for many investors so it's no mystery why there is some confusion around the subject. In its simplest form, cryptocurrency is a digital form of currency that is not issued by a central authority like a government.
As opposed to regulatory pressure from a government, cryptocurrencies are run off decentralized networks which utilize blockchain technologies. This makes cryptocurrencies unique because it is virtually impossible to counterfeit the coins.
If this has piqued your interest in learning more about cryptocurrencies, check out this article.
Summary: Webull Cryptocurrency
In summary, Webull has added another benefit to make being a part of such a unique platform truly amazing. Webull has added features to make even the sleekest platform envious. Webull has several in-depth and comprehensive tools for crypto investors, but they also place heavy emphasis on user simplicity and ease of use.
While the information may be overwhelming for newcomers, Webull is received best by intermediate investors who can use the data and tools to their full advantage.
As previously stated, cryptocurrency investing is not for every investor due to the inherent risk associated, Webull offers a compelling reason to try.
Where Webull currently falls short is in the inability to transfer your crypto off of the platform. This feature is a must-have for experienced crypto investors who have the saying "not your keys, not your coins". They are referring to the public and private keys needed to transfer your crypto from one place to another.
Without those keys, you don't have much control over your crypto. Additionally, you subject yourself to the risk of loss due to a hack of the exchange. However, this may be a feature that Webull is able to roll out in time.
For now, Webull is a great platform for beginners in the crypto investing space because of how easy it is to get started. Give it a try today and start to build your cryptocurrency portfolio!