When it comes to investing in the stock market, you have many different brokerages to choose from. In the past, most brokerages were known for charging hefty commissions to investors and high fees for trades.
Now, much to the benefit of retail investors, many of these brokerages have adopted a commission-free model instead!
In this article, we will be comparing the "old school" brokerage E*TRADE to the "new school" brokerage known as Webull. Here are the key similarities and differences between them.
Webull vs E*TRADE: The Basics
Webull is a commission-free investing app that has been growing rapidly over the past few years. The app is tailored towards shorter-term traders and provides significant research and data tools. Beginners will likely have an easy time getting started on the platform though they might be overwhelmed by the data available.
E*TRADE is one of the original discount online brokers and has been around for decades. They also provide commission-free trading, however, they are tailored more toward higher net-worth traders.
All in all, traders that are looking for a well-established broker will typically lean toward E*TRADE. On the other hand, investors that want to stay on the cutting edge of research tools and data will likely prefer Webull. As a younger company, they are able to move faster and adapt to market trends.
In this article, we will outline the core differences between Webull and E*TRADE.
E*Trade vs Webull: Summary
Both apps allow investors to trade stocks, ETFs, and options commission-free
E*TRADE also offers bonds and futures for investors
Webull supports 24/7 trading of a variety of cryptocurrencies, including Bitcoin and Ethereum
Both platforms have a $0 minimum to get started
E*TRADE also offers managed accounts for fully hands-off investing
Webull offers fractional shares
Both platforms offer mobile apps for trading as well as desktop options
Webull has a much more responsive and user-friendly app than E*TRADE
Webull offers 2 free stocks to new investors who join the platform
What Is Webull?
Webull is a commission-free stock and ETF trading platform designed for active traders who are looking for a dynamic user interface. It builds upon the basic features offered by the popular trading app Robinhood.
Robinhood was the pioneer for commission-free stock and ETF trading. Webull took things a step further by creating a robust, research-oriented commission-free trading platform. This app picks up where Robinhood leaves off and takes a more data-driven approach. Many users who love Robinhood's sleek user interface but are unimpressed by the data available will find Webull to be a great alternative.
Webull has a variety of features that are designed for traders such as technical indicators, research agency ratings, financial calendars, and free margin trading as well as short selling. With easy access to margin, research tools, and live data, Webull has built an ideal platform for active traders.
Check out our full review of Webull here!
Webull is a platform that is designed for the intermediate trader who already has some experience with the stock market.
If you are a complete beginner, you might feel like you're getting hit with information overload. However, if you are an experienced trader, Webull will give you all of the data you will likely need! Not only that, but it is also all neatly packed into a mobile app that is very user friendly. They also have a more advanced desktop platform available for investors called Webull Desktop 4.0.
Webull Free Stock Promotion!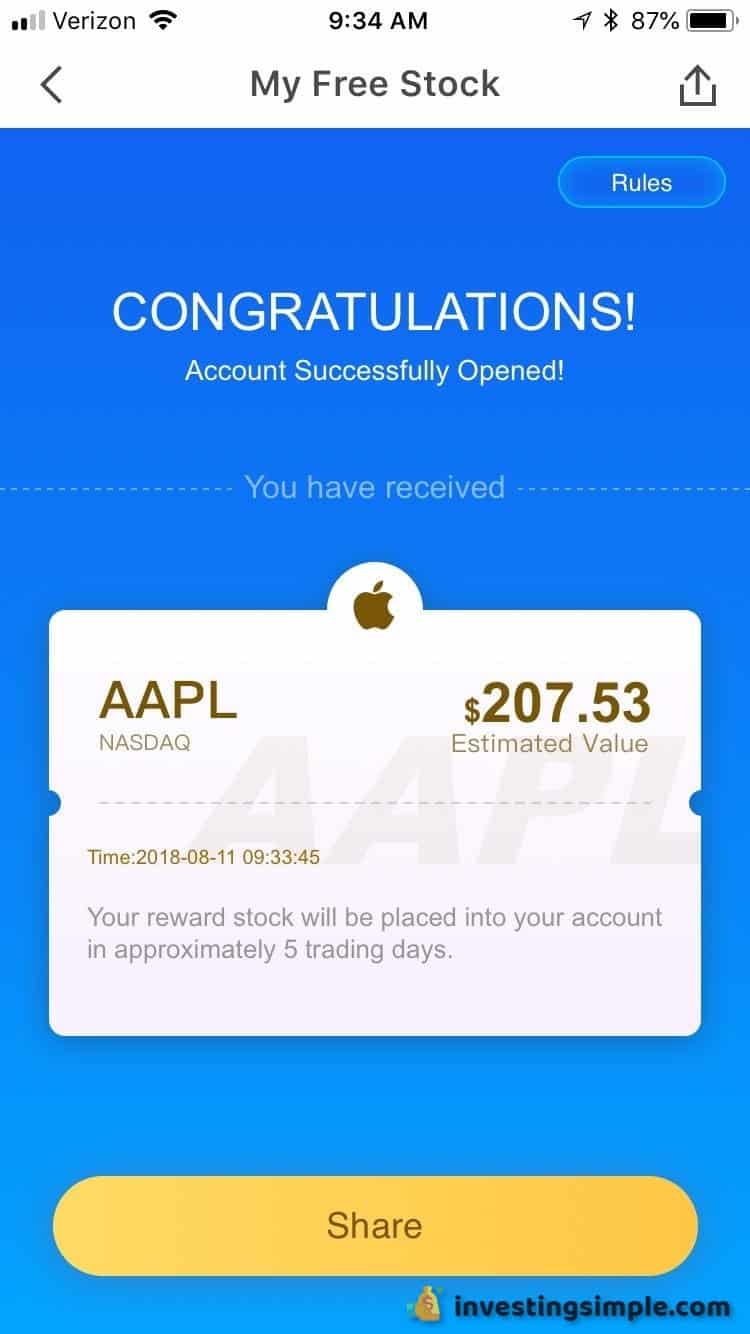 If you sign up via our link, you will get 2 free stocks! All you have to do is open an account and fund it with $5+ on your initial deposit.
You'll get the first free stock just for opening the account, and then an additional free stock when you fund your account with at least $5. The stocks you receive will be values anywhere from a few dollars each all the way up to over $1,000. That means if you get lucky, you could potentially score over $2,300 in free stock!
The stocks are selected based on a lottery system though, so it's totally random which stocks you receive. There are also no strings attached to the free stocks, so if you decide you just want to sell them right away that is totally fine.
The Webull free stock promotion tends to change fairly frequently so while this is the current offer as of writing this article, click the button below to view the most up-to-date offer.
Other Free Stock Promotions
Webull App Features
Real-Time Market Data
Webull offers real-time market data for all US markets.
This ensures you are viewing consistent real prices in real-time, making sure you are making the right investment decisions based on accurate data. This feature is extremely important for active traders who need price accuracy down to the penny.
Many other free investing platforms will provide data that is 15-20 minutes old, meaning you may end up overpaying on your trades. This is a big deal for active traders that are taking advantage of relatively small price fluctuations.
You may also have access to real-time global market data on the Webull platform. There is a monthly fee for this feature. This is charged on a monthly subscription basis and the fee differs by market. This is one of the ways that Webull is able to make money.
You do not have to pay any money for real-time data on US markets.
News Stream
Webull offers real-time financial news through the news stream feature.
Articles from Reuters and Bloomberg and other financial institutions are available through this feature. This can be extremely helpful in getting the most up to date news articles and possibly making important trades on breaking news for specific companies.
This feature provides a single location to view financial news as well as providing a mixed collection of high-quality content giving you a variety of different points of view on specific topics.
Extended Hours Trading
All Webull users have access to extended hours trading on the Webull platform. This means that you're not restricted to placing trades only when the markets are open.
Most platforms will restrict your trading to between 9:30 am - 4 pm on weekdays. With extended hours trading you're able to trade from 4 am - 8 pm EST. This can be a big advantage to swing traders looking to take advantage of pre-market price swings or day traders looking to close out their positions in the evening.
Traders should keep in mind that there is typically more volatility in pre-market and after-market trading. This is because there are fewer traders buying and selling stocks. The lack of liquidity and volume means that large trades could have an outsized impact in the extended hours.
Fractional Shares
This feature has broken down many barriers that kept cash-poor investors on the sidelines of many great stocks. Now with fractional shares, users can invest in dollar amounts instead of whole shares. This means that newer investors can afford to invest in expensive stocks like Amazon.
By using fractional shares, users will own percentages of whole stocks in proportion to the amount invested. This feature is not available on E*TRADE.
Note that by purchasing fractional shares, you are not decreasing your risk exposure. However, you are allowing yourself to diversify across many other assets and industries by reducing the amount of capital spent on one stock.
Virtual Trading Simulator
This is one of our favorite features on Webull.
Webull offers a virtual trading simulator on their platform in order to learn new investing strategies without any risk. This is a valuable feature if you are trying out new trading strategies you've never used before. It can also be helpful in testing out a simulated portfolio before risking any real money.
Anyone new to investing should start out using a trading simulator. This way you can gain experience and knowledge without taking any real risk. Webull is one of the first platforms to offer a built-in trading simulator.
Every user has access to a dummy portfolio with $1,000,000 of fake money to practice with.
After you've got the hang of it, you can move on to making real trades with your hard-earned cash.
Agency Ratings
Another feature offered by Webull is the ability to track and see professional analyst ratings on certain stocks.
Rated stocks will have several ratings by professional rating agencies and firms. They will rank the company as a buy, sell, or hold and sometimes ratings in between. It is very easy to see and analyze these different ratings in the app.
Stock Screener
A stock screener is an important tool for traders to rapidly identify stocks that fit their buying criteria. By using a screener, you can filter thousands of stocks down to only a few that match your specific set of requirements in a matter of seconds.
With this feature, you can easily keep an eye on new potential investment opportunities without having to constantly do detailed research into stocks one at a time. If you know what you're looking for, it's extremely easy to create a shortlist in no time.
Smart Alerts
Webull gives you the ability to set a variety of smart alerts that will notify you if a specific holding hits a defined price, moves a defined percentage, or has reached a specific volume level. These smart alerts can provide a system for executing trades at a certain price level or after a series of volume or price changes.
Tools like this allow traders to be more effective and efficient when trying to execute trades over a long period.
When combined with the stock screener, traders can quickly move on new investment opportunities without keeping their eyes glued to the screen.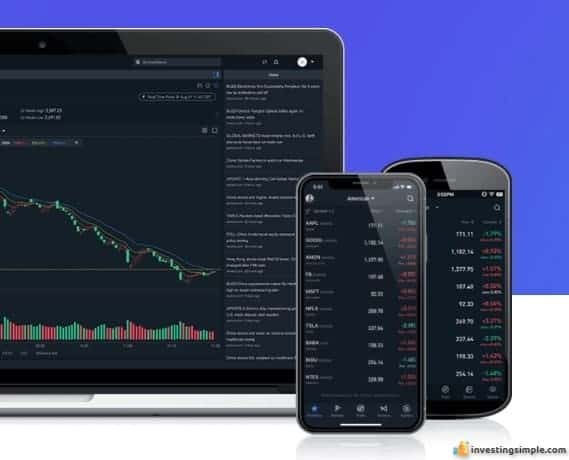 Financial Calendar
Webull offers a financial calendar that keeps you informed on upcoming financial news for the month.
The financial calendar tool keeps track of upcoming IPOs, earnings releases, and which companies are about to pay out dividends. This tool provides a consolidated calendar of events, keeping you informed on upcoming market events all on one screen.
Important events like IPOs and earnings calls often lead to significant price moves in stocks, so staying on top of these is a must.
Margin Trading
Webull offers easy access to margin trading on the platform. You must have a minimum account balance of $2,000 to be approved for margin trading.
When trading on margin you are essentially pledging the assets within your account as collateral to borrow money and invest it in more securities.
Webull will lend you these funds for a fee at a specific interest rate. If your account drops below $2,000 you run the risk of a margin call and forced liquidation of your funds. Margin creates leverage which could increase potential returns but carries significant risk as it could also amplify losses.
Technical Indicators
Webull prides itself on the usability of its platform for serious traders. Many traders use technical price indicators to indicate ideal buy and sell levels. The platform gives you access to 44 technical indicators for developing trading strategies.
In addition to these indicators, Webull provides investors with 12 charting tools to allow you to quickly identify patterns and execute on them.
With these tools at your disposal, you will likely have all of the functionality you need to be a successful trader. If you are able to research, plan, and make trades all without leaving the app, you can rest assured that you are receiving a top of the line experience.
Options Trading
A relatively recent addition to the Webull trading platform is commission-free options trading. This is a higher-risk investment that is not suitable for all investors.
To trade options with Webull, you have to request the feature in the app. They will ask you a series of questions about your financial situation and investment experience. If they think you are a good fit for options trading, they will enable this feature for you.
There is a tiered system for access to options on Webull. At first, you will likely be given access to a lower tier and as time goes on you can request access to higher tiers.
With the higher tiers, you'll have access to more advanced options techniques. However, for investors that are brand new to options, it's generally wise to steer clear until you've done some serious research and fully understand what you're getting into.
Stock Lending Income Program
A feature unique to the Webull platform is the ability to make money by lending your shares to Webull. You can choose to lend any of the stocks you own to Webull and they will, in turn, lend these out to short sellers and pay you daily interest.
For investors looking to generate income from their portfolio, this can be a great option because it is totally passive.
The interest paid to you is calculated as follows:
Daily Interest Earned = Number of Shares on Loan *Stock Price* Annualized Interest Rate / 360 * 15%
To see this in a real example, let's say you own 10,000 shares of company stock XYZ. If stock XYZ is trading at $100 per share and gaining interest of 10%, then you are set to earn the following:
         Daily Interest Eared = 10,000*100*.10/360*.15 = $41.67
Retirement Accounts
Another key differentiator between Webull and other commission-free trading apps is that Webull supports retirement accounts.
Currently, they offer:
Traditional IRA
Rollover IRA
Just like with the traditional taxable account, these retirement accounts are commission-free with no minimum account balances. In addition, you'll be able to take advantage of the significant tax savings that retirement accounts have to offer.
Webull Crypto
With the release of Webull Crypto, investors can now buy and sell popular cryptocurrencies on the Webull platform. This includes Bitcoin, Ethereum, Litecoin, and more!
Unlike the stock market, the crypto market never sleeps. That means you can trade crypto 24 hours a day!
However, it's important to note that any crypto you buy on Webull has to stay on Webull. You won't be able to transfer your crypto out to any other platform or an external wallet. For this reason, serious crypto traders will likely be better served with a dedicated cryptocurrency platform like Coinbase.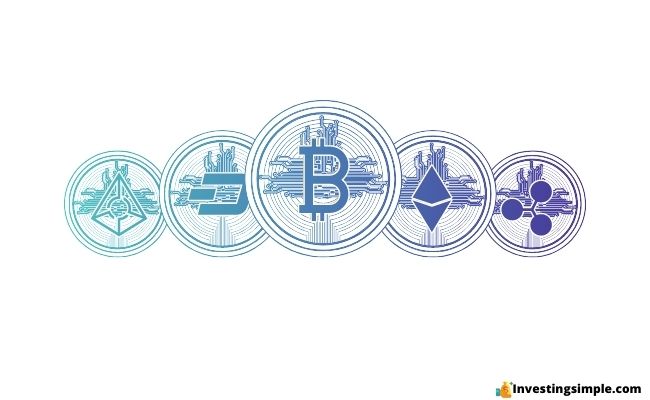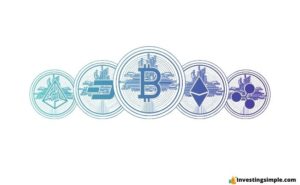 Webull Pros
Zero commissions on all trades
User-friendly trading platform ideal for younger traders
Access to tax-advantaged retirement accounts
Fractional shares
$0 minimum account balance (including retirement accounts)
Paper trading with $1,000,000 of fake money
Stock Lending Income Program to generate extra income
40+ technical indicators & 10+ charting tools
Stock screener to quickly identify potential investments
Access to trade cryptocurrencies like Bitcoin
2 Free stock signup bonus
Webull Cons
Limited access to educational materials
No robo-advisor offering
No dividend reinvestment plan
What Is E*TRADE?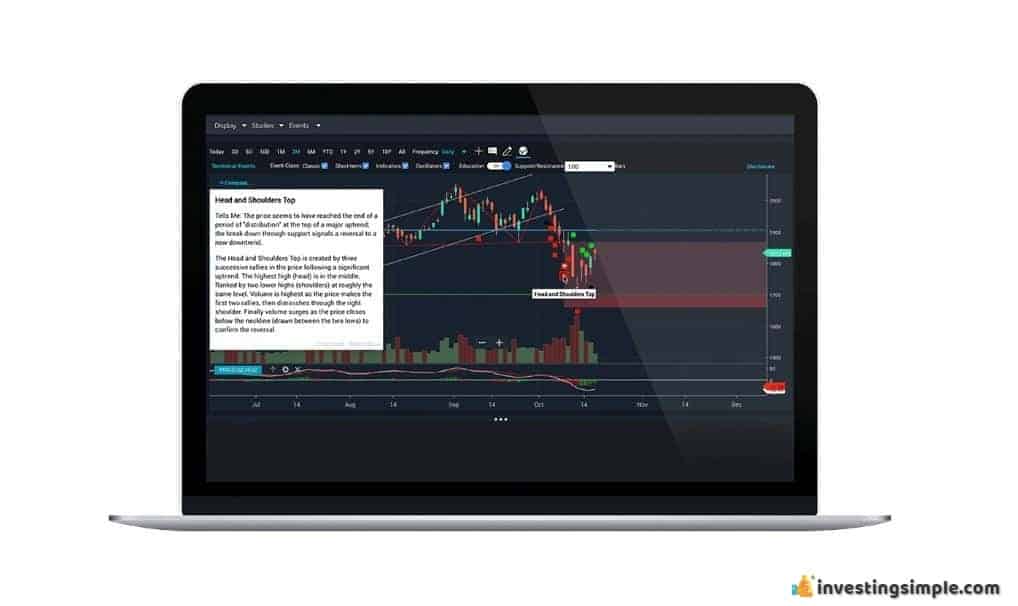 E*TRADE is one of the top investing platforms available today. With over $360 billion in assets under management, E*TRADE has become one of the most popular options for investors looking for discount online brokers.
E*TRADE is a full-service brokerage that allows you to invest in stocks, bonds, options, ETFs, Mutual Funds, Futures, and Forex. Recently, E*TRADE switched to a commission-free business model (for common asset trades) in order to keep up with the intense competition.
E*TRADE has a $0 minimum account balance for regular brokerage accounts. The E*TRADE platform is one of the most dynamic investing platforms available today. From executing orders as a day trader to having your investments managed for you, there is a tremendous amount of flexibility on the E*TRADE platform.
Stocks and ETFs trade commission-free
Options contracts are $0.65 apiece
Futures contracts are $1.50
Bond trades are $1 per bond
Features
There are a number of features that make E*TRADE stand out from the competition.
Managed Accounts/E*TRADE Capital Management
This is full-service portfolio management offered by E*TRADE if you have a minimum account balance starting at $500.
E*TRADE will build a portfolio of ETFs and mutual funds that matches your risk, time horizon, and goals. E*TRADE will handle all the rebalancing of your account as well as tax management in your portfolio. There are 4 tiers of management; Core, Blend, Dedicated, and Fixed Income.
Core Portfolio
Minimum $500 investment
0.30% flat fee
ETFs only
Tax-Sensitive Portfolios
Socially Responsible Investments
Smart Beta Investments
Help from a managed account specialist
Blend Portfolio
Minimum $25,000 investment
0.65%-0.90% blended annual fee
ETFs and Mutual Funds
Tax-Sensitive Portfolios
Socially Responsible Investments
Smart Beta Investments
Help from a Financial Consultant and a managed account specialist
Dedicated Portfolio
Minimum $150,000 investment
0.95%-1.25% blended annual fee
ETFs, Mutual Funds, Individual Stocks
Tax-Sensitive Portfolios
Tax-Loss Harvesting
Socially Responsible Investments
Category and Security Restrictions
Ongoing one on one relationship with a financial consultant
Fixed Income Portfolio
Minimum $250,000 investment
0.35%-0.75% blended annual fee
Investment-Grade Corporate Bonds, Municipal Bonds, US Government Bonds
Taxable And Tax-Free Portfolios
Professionally Managed Bond Portfolio
Actively Managed Portfolios Adjusted To Respond To Market Conditions
Ongoing one-on-one relationship with a financial consultant
Dividend Reinvestment Plan
All E*TRADE investors have access to a DRIP or "dividend reinvestment program". This allows investors to choose whether to receive their dividends as cash or to automatically reinvest them into shares of a company. This feature is not available on Webull.
By choosing to reinvest their dividends, investors can take advantage of the wonders of compound interest and grow their portfolios exponentially. Reinvesting dividends also reduces the cash drag of your portfolio by ensuring you are always fully invested in the market.
E*TRADE Trading Platforms
One of the key factors contributing to E*TRADE's popularity is its robust trading platform. The company has created one of the most immersive and feature-rich experiences for traders of any free platform available.
E*TRADE Web Platform
For most people, the E*TRADE web-based platform has more than enough features and tools available to investors. You can research companies, use screeners, access to third-party research, news, live quotes, and charts.
Advanced Trading Via OptionsHouse
E*TRADE purchased investing company OptionsHouse to offer an advanced trading platform within their scope of service. You can trade stocks, options, ETFs, and currencies within OptionsHouse. You have the option to choose from idea-generating ideas such as options chains or trading laters all with real-time data.
Two Mobile Apps
Within E*TRADE there are two mobile apps that users can take advantage of. The E*TRADE mobile app is focused on a user-friendly experience. We believe this mobile app could be one of the best and most dynamic out of all the investment platforms we have reviewed so far.
On this app users can trade stocks, ETFs, mutual funds, and options. They can also manage their cash and pay bills.
The Power E*TRADE app is for advanced traders who are looking to really score with day trading. Options strategies come complementary and there are countless resources for news outlets and other insights.
E*TRADE Account Types
Individual Taxable
Joint Taxable
Traditional IRA
Roth IRA
SEP IRA
Simple IRA
Coverdell
Trusts
Custodian
Solo 401(k)
E*TRADE Pros
Significantly larger and more well-established company
Access to additional asset classes including bonds, mutual funds, futures, and forex
More advanced trading platform for experienced traders
Much more variety in account types available
Full-service portfolio management offering
Dividend reinvestment plan to take advantage of compound interest
Multiple trading platforms for investors to take advantage of
Ability to work with a financial professional 1-on-1
E*TRADE Cons
Small commission fee charged on options trades
Interface is somewhat clunky and not as responsive as Webull
No free stock signup bonus for new users
No fractional shares
The Verdict: E*TRADE vs Webull
Overall, E*TRADE is a superior trading platform. They have a more sophisticated options trading platform and a wide variety of assets and account types. If you are looking for a full-blown brokerage, that is likely your best choice of the two.
E*TRADE also appeals more to beginners due to the increased educational resources on their platform when compared to Webull. Webull has a small collection of educational videos and materials, but the content offered by E*TRADE is much more comprehensive.
That being said, Webull does have an app that is more sleek and user-friendly, making it more popular among millennials. If that is a priority to you, then Webull should be on your list of considerations.
Webull is also on the cutting-edge of innovation in the space and is adding new features and capabilities faster than older brokerages like E*TRADE. If you're someone that wants to get in on new features first, you'll likely be better off opening a Webull account as well.
Lastly, Webull has a generous sign up incentive of two free stocks while E*TRADE does not offer anything for free.
Keep Reading: