When it comes to investing in the stock market, you have many different brokerages to choose from. In the past, these brokerages were known for charging hefty commissions to investors and high fees.
Now, many of these brokerages have adopted a commission free model instead!
In this article, we will be comparing the "old school" brokerage E*TRADE to the "new school" up and comer known as Webull. Here are the key similarities and differences between them.
| Feature | Webull | ETrade |
| --- | --- | --- |
| Account Minimum | $0 | $0 |
| Trading Commissions | $0 | $0 |
| Assets | Stocks, ETFs, Options, Short Selling | Stocks, Bonds, Mutual Funds, ETFs, Options, Futures |
| Options Commissions | None | $0.65 Per Contract |
| Data | Advanced | Advanced |
| Sign Up Incentive | 2 Free Stocks | None |
| Account Types | Taxable, Retirement | Taxable, Retirement, Savings, Managed |
| Robo-Advisor | No | Yes |
What Is Webull?
Webull is a commission-free stock and ETF trading platform designed for the active trader who is looking for a more dynamic user interface. It essentially builds upon the basic features offered by the popular trading app Robinhood.
Robinhood was the pioneer for commission free stock and ETF trading. Webull took things a step further by creating a robust, research oriented commission free trading platform. This app really picks up where Robinhood leaves off.
Webull has a variety of features that are designed for traders such as technical indicators, research agency ratings, financial calendars and free margin trading as well as short selling. With easy access to margin, research tools and live data, Webull has built an ideal platform for active traders.
Check out our detailed review of Webull here!
Webull is a platform that is designed for the intermediate trader who already has some experience with the stock market.
If you are a complete beginner, you might experience information overload. If you are a somewhat experienced trader, Webull will give you all of the data you will likely need! Not only that, it is all neatly packed into a mobile app that is very user friendly. They also have a desktop platform available as well.
Webull Free Stock Promotion!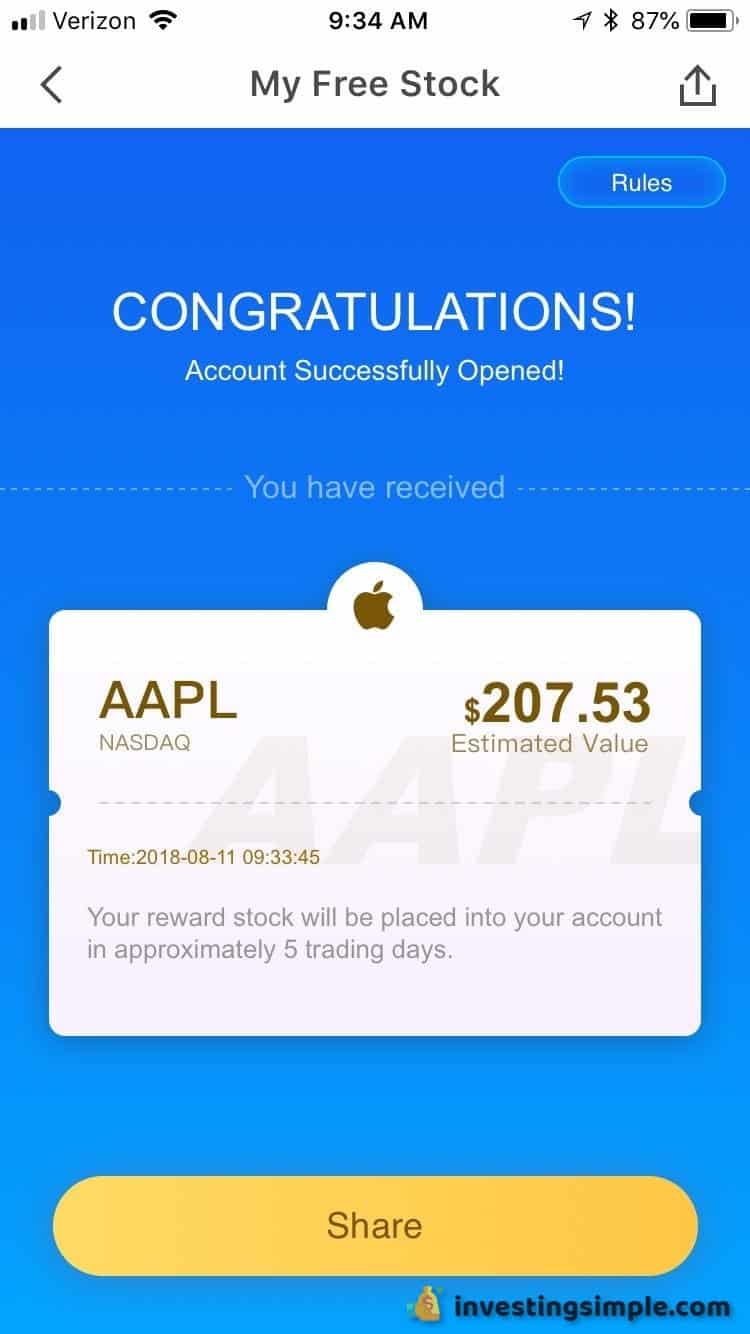 If you sign up via our link, you will get 2 free stocks! All you have to do is open an account and fund it with $100+ on your initial deposit.
The first stock for opening the account is worth between $2.50 and $250
The second free stock for funding with $100+ is worth between $12 and $1,400
So, the minimum value of the free stocks is $14.50 and the maximum value is $1,650! It is based on a lottery system.
Webull App Features
Real-Time Market Data
Webull offers real-time market data for all US markets.
This ensures you are viewing consistent real prices in real time, making sure you are making the right investment decisions based on accurate data. This feature is extremely important for active traders who need price accuracy down to the penny.
You may also have access to real-time global market data on the Webull platform. There is a monthly fee for this feature. This is charged on a monthly subscription basis and the fee differs by market. This is one of the ways that Webull is able to make money.
You do not have to pay any money for real-time data on US markets.
News Stream
Webull offers real-time financial news through the news stream feature.
Articles from Reuters and Bloomberg and other financial institutions are available through this feature. This can be extremely helpful in getting the most up to date news articles and possibly making important trades on breaking news for specific companies.
This feature provides a single location to view financial news as well as providing a mixed collection of high quality content giving you a variety of different points of view on specific topics.
Virtual Trading Simulator
This is one of our favorite features of Webull.
Webull offers a virtual trading simulator on their platform in order to learn new investing strategies without any risk. This is a valuable feature if you are trying out new trading strategies you've never used before. It can also be helpful in testing out a simulated portfolio before risking any real money.
Anyone who is new to investing should first start out by using a trading simulator. This way you can gain experience and knowledge without taking any real risk. Webull is one of the first platforms to offer a built-in trading simulator!
Every user has access to a dummy portfolio with $1,000,000 of fake money to practice with.
Agency Ratings
Another feature offered by Webull is the ability to track and see professional analyst ratings on certain stocks.
Rated stocks will have a number of ratings by professional rating agencies and firms. They will rank the company as a buy, sell, or hold and sometimes ratings in between. It is very easy to see and analyze these different ratings in the app.
Smart Alerts
Webull gives you the ability to set a variety of smart alerts that will notify you if a specific holding hits a defined price, moves a defined percentage, or has reached a specific volume level. These smart alerts can provide a system for executing trades at a certain price level or after a series of volume or price changes.
Tools like this allow traders to be more effective and efficient when trying to execute trades over a period of time.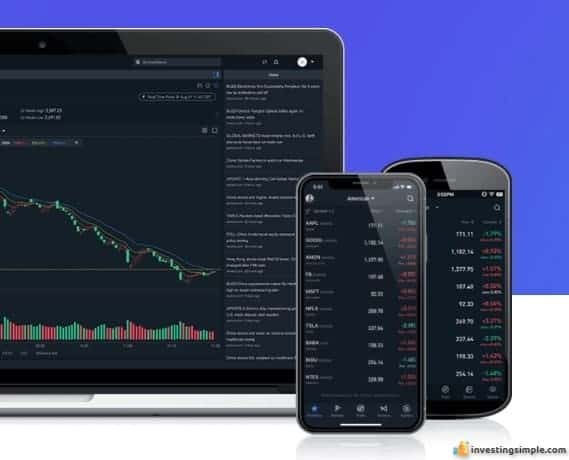 Financial Calendar
Webull offers a financial calendar that keeps you informed on upcoming financial news for the month.
The financial calendar tools keeps track of upcoming IPOs, earnings releases, and which companies are about to pay out dividends. This tool provides a consolidated calendar of events, keeping you informed on upcoming market events all on one screen.
Margin Trading
Webull offers easy access to margin trading on the platform. You must have a minimum account balance of $2,000 to be approved for margin trading.
When trading on margin you are virtually pledging the assets within your account as collateral to borrow money and invest it in more securities.
Webull will lend you these funds for a fee at a specific interest rate. If your account drops below $2,000 you run the risk of a margin call and forced liquidation of your funds. Margin creates leverage which could increase potential returns, but carries significant risk as it could also amplify losses.
Technical Indicators
Webull prides itself on the usability of its platform for serious traders. Many traders use technical price indicators to indicate ideal buy and sell levels. The platform gives you access to 22 technical indicators for developing trading strategies.
Options Trading
A recent addition to the Webull trading platform is commission free options trading. This is a higher risk investment that is not recommended for beginners.
In order to trade options with Webull, you have to request the feature in the app. They will ask you a series of questions about your financial situation and investment experience. If they think you are a good fit for options trading, they will enable this feature for you.
Retirement Accounts
Lastly, a key differentiator between Webull and other commission free trading apps is that Webull now supports retirement accounts.
Currently, they offer:
Traditional IRA
Rollover IRA
Just like with the traditional taxable account, these retirement accounts are commission free with no minimum account balances.
What Is E*TRADE?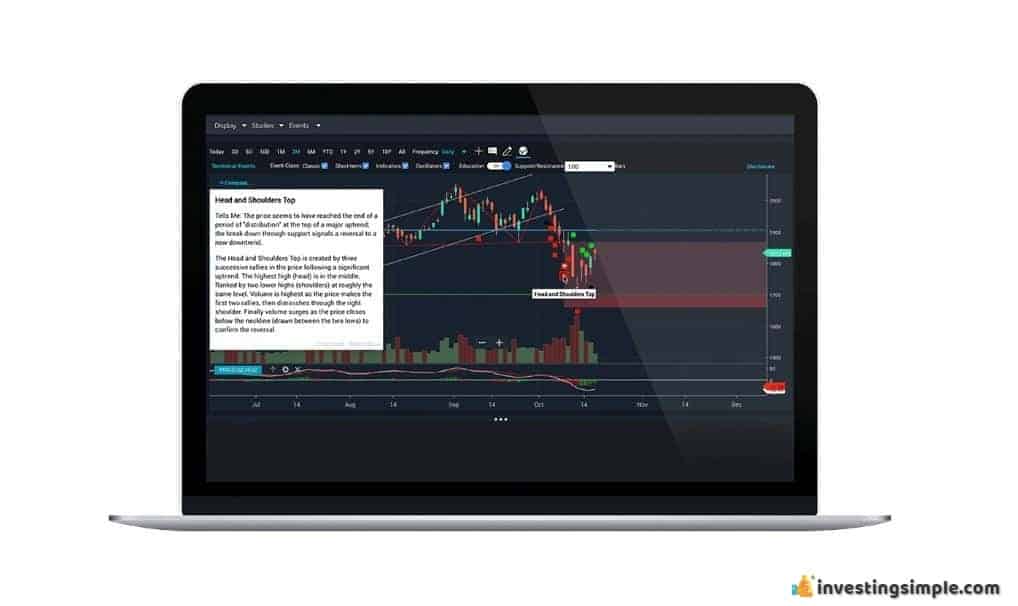 E*TRADE is one of the top investing platforms available today.
E*TRADE is a full-service brokerage that allows you to invest in stocks, bonds, options, ETFs, Mutual Funds, Futures and Forex. Recently, E*TRADE switched to a commission free business model (for common asset trades) like many other brokerages have.
E*TRADE has a $0 minimum account balance for regular brokerage accounts. The E*TRADE platform is one of the most dynamic investing platforms available today. From executing orders as a day trader to having your investments managed for you, there is a tremendous amount of flexibility on the E*TRADE platform.
Stocks and ETFs trade commission free
Options contracts are $0.65 a piece
Futures contracts are $1.50
Bond trades are $1 per bond
Features
Managed Accounts/E*TRADE Capital Management
This is full-service portfolio management offered by E*TRADE if you have a minimum account balance starting at $5,000.
E*TRADE will build a portfolio of ETFs and mutual funds that matches your risk, time horizon and goals. E*TRADE will handle all the rebalancing of your account as well as tax management in your portfolio. There are 3 tiers of management; Core, Blend and Dedicated.
Core Portfolio
Minimum $5,000 investment
0.30% flat fee
ETFs only
Tax Sensitive Portfolios
Socially Responsible Investments
Smart Beta Investments
Help from a managed account specialist
Blend Portfolio
Minimum $25,000 investment
0.65%-0.90% blended annual fee
ETFs and Mutual Funds
Tax Sensitive Portfolios
Socially Responsible Investments
Smart Beta Investments
Help from a Financial Consultant and a managed account specialist
Dedicated Portfolio
Minimum $150,000 investment
0.95%-1.25% blended annual fee
ETFs, Mutual Funds, Individual Stocks
Tax-sensitive portfolios
Tax loss harvesting
Socially Responsible Investments
Category and Security Restrictions
Ongoing one on one relationship with a financial consultant
E*TRADE Trading Platforms
E*TRADE Web Platform
For most people, the E*TRADE web-based platform has more than enough features and tools available to investors. You can research companies, use screeners, access to third-party research, news, live quotes, and charts.
Advanced Trading Via OptionsHouse
E*TRADE purchased investing company OptionsHouse in order to offer an advanced trading platform within their scope of service. You can trade stocks, options, ETFs, and currencies within OptionsHouse. You have the option to choose from idea generating ideas such as options chains or trading laters all with real-time data.
Mobile App
The E*TRADE mobile app is focused on a user friendly experience. We believe this mobile app could be one of the best and most dynamic out of all the investment platforms we have reviewed so far.
E*TRADE Account Types
Individual Taxable
Joint Taxable
Traditional IRA
Roth IRA
SEP IRA
Simple IRA
Coverdell
Trusts
Custodian
Solo 401(k)
The Verdict: E*TRADE vs Webull
Overall, E*TRADE is a superior trading platform. They have a more sophisticated options trading platform and a wide variety of assets and account types. If you are looking for a full blown brokerage, that is likely your best choice of the two.
That being said, Webull does have an app that is more sleek and user friendly, making it more popular among millennials. If that is a priority to you, then Webull should be on your list of considerations.
Lastly, Webull has a generous sign up incentive of two free stocks while E*TRADE does not offer anything for free.