Over the last decade or more, the commissions for trading stocks has tremendously decreased, and in many cases it is now completely free.
In the past, it was not uncommon to pay $10 or more to place trades. Now, trading commissions are largely a thing of the past. There are countless services now offering commission free trading. For the average retail investor, there has never been a better time to invest with these free cutting edge platform.
These advances in technology and systems have allowed platforms like Webull to thrive. In this article, we will be comparing this new trading platform, Webull, to an older platform known as Firstrade that recently decided to go commission free. Webull is the new kid on the block, offering an advanced - research oriented - trading platform.
Here we compare Webull vs Firstrade to see how they stack up against one another.
Firstrade vs Webull: Summary
Firstrade has been around since 1985, and it shows! Webull has a better app design.
If you are looking for accounts besides the individual taxable/retirement accounts, Firstrade offers a variety of accounts including international.

Webull offers research tools above and beyond Firstrade, making it a better platform for intermediate to advanced traders.

Firstrade is more of a beginner friendly trading platform.

Dividend investors will lean towards Firstrade, as they offer a DRIP.

Webull accepts US investors only while Firstrade allows investors from 20 different countries to invest in US markets.

Firstrade does not have any sign up incentive.

Webull offers free stocks if you use our link!
Both Webull and Firstrade have $0 minimums and $0 commissions.
Both offer commission free options trading.
You will find mutual funds on Firstrade, which you will not find on Webull.
Sign Up For Webull + Get Free Stocks!
What Is Webull?
Webull is a commission-free stock and ETF trading platform.
Webull is designed for the active trader who is looking for a more dynamic user interface. This platform has a variety of features that benefit traders such as technical indicators, research agency ratings, financial calendars, and free margin trading as well as short selling. With easy access to margin, research tools, and live data, Webull has built an ideal platform for active traders. Check out our detailed review of Webull here.
Webull is a platform that is designed for the intermediate trader who already has some experience with the stock market. If you are a complete beginner, you might experience information overload. If you are a somewhat experienced trader, Webull will give you all of the data you will likely need. Beginners may find that Robinhood is easier to get started with.
Webull Summary
Trading Fees: $0 trading of stocks, ETFs, and options
Account Types: Individual, Traditional IRA, Roth IRA
Account Minimums: $0
Top Features: Free trading, commission free short selling, real time market data, excellent mobile app
Webull Free Stock Promotion!
If you sign up via our link below, you will get a FREE stock! You don't need to fund the account to get the free stock, you just have to open it.
Webull Features
Commission-Free Trading
Webull offers commission-free trading for stocks, ETFs, and options. In addition to a $0 account minimum, Webull is an extremely accessible platform for investors with a focus on fees.
Real-Time Market Data
Webull offers real-time market data for all US markets. This ensures you are viewing consistent real prices in real time, making sure you are making the right investment decisions based on accurate data. This feature is essential for active traders who need price accuracy down to the penny.
Most platforms charge for this level of market data. However, Webull offers this completely free. You can pay for a subscription to view real-time global market data.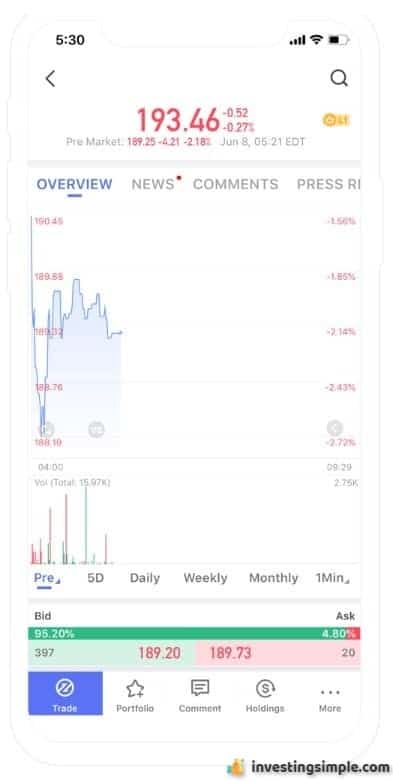 Technical Indicators
Webull has a variety of technical indicators available on the platform. You can choose from up to 22 technical indicators such as moving averages, relative strength indexes, and more.
Virtual Trading Simulator
Webull has a useful feature called the virtual trading simulator. This feature lets you create a virtual portfolio with fake money to test out strategies before risking real money. This is an ideal feature for someone just starting out, who may need to gain more investing knowledge and know how, before investing real money.
Each Webull users gets a practice portfolio with $1,000,000 of fake money. This allows you to familiarize yourself with the app risk free!
Agency Ratings
Another feature offered by Webull is the ability to track and see expert analyst ratings on individual stocks. Rated stocks will have several ratings by professional rating agencies and firms. They will rank the company as a buy, sell, or hold and sometimes ratings in between.
The screenshot below shows a company with 40 analyst ratings as well as the trend over time. Institutional analyst ratings can give you an idea of what Wall Street is saying about a particular company or fund.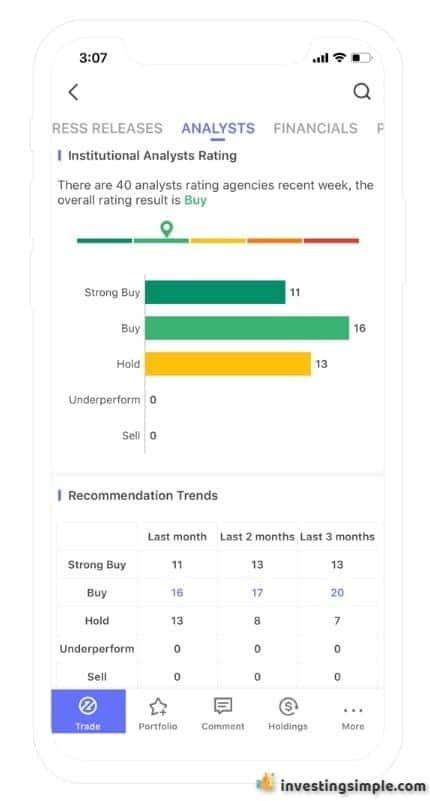 After Hours Trading
Webull offers after hours and pre-market trading. You can trade securities from 4 am to 8 pm Monday to Friday on the Webull platform offering more flexibility in placing trades. Most platforms out there only allow you to place trades while the market is open.
What Is Firstrade?
Firstrade is another commission-free trading platform that is growing in popularity. Through this brokerage, you can trade stocks, ETFs, mutual funds, and options with zero commissions. Similar to Webull, Firstrade has a $0 minimum account balance meaning you can open an account with any amount of money.
Firstrade is a time tested brokerage, dating back to 1985. They recently made the decision to follow others by going the commission-free route. They provide investors and traders with a platform to place trades as well as helpful tools and resources.
Firstrade Summary
Trading Fees: $0 for stocks, ETFs, mutual funds, and options
Account Types: taxable, joint, Roth IRA, Traditional IRA, SEP IRA, Simple IRA, Trusts, Custodial, Partnerships, and checking accounts
Account Minimums: $0 for brokerage account, $2,000 for margin accounts, $25,000 for day trading accounts
Top Features: Free trading, available to international investors in over 20 countries, beginner friendly platform
Firstrade Features
Investments Offered
Stocks
ETFs
Bonds
Mutual Funds
Options
DRIP
Through this platform, you can set up a DRIP or dividend reinvestment plan. This will automatically reinvest your dividends back into the issuing stock. Right now, this is limited to stocks that trade over $4 per share. You can enable or disable this DRIP feature at any time.
Retirement Accounts
Both Webull and Firstrade offer 100% free retirement accounts. Firstrade offers traditional IRA, Roth IRA, SEP IRA, Simple IRA
Cash Management Accounts
Firstrade offers a cash management account for users that have a minimum of $25,000 invested. You can write checks and use a debit card within your cash account, all for no annual fee. These funds will sit within your regular brokerage account. Cash management gives you flexibility to access and spend your money within your Firstrade account.
Firstrade Screener
They give investors a variety of different screening tools. This includes criteria like market capitalization, dividend yield, PE ratio, and many more.
Account Protection
Firstrade is a member of FINRA and SIPC, which will insure up to $500,000 in securities if there is unauthorized activity within your account.
Research and Data
Firstrade offers a variety of market and company specific research available for free to its users. Investors can access data from Morningstar, Zacks, and Benzinga. Firstrade also holds bi-weekly webinars to help beginner investors educate themselves about investing.
International Accounts
Firstrade is one of the only platforms that offer international accounts. This allows investors from all over the world to invest in the US market. Right now, this is limited to around 20 foreign countries.
Webull vs Firstrade: The Verdict
Both of these platforms offer a high-quality stock trading experience for free.
One area where both are lacking in customer service, but that is what you expect when using a free trading platform. If you want someone you can call on the phone, you are better off going with an online discount broker that charges commissions for trades.
Firstrade is an excellent platform for those looking for different account types, particularly international accounts. However, the trading platform itself is a bit outdated. Traders looking for the best overall platform will likely find that Webull has better offerings. Webull also has better data and technical indicators for traders.
What it really comes down to is whether you will be investing for the long haul or trading stocks. If you are looking to trade stocks, for example, day trading, Webull is a better option. If you are looking to invest for the long term and follow a more passive strategy, Firstrade is a great option for this.
At the end of the day, both are completely free, so you could always try them both and see what one you like better!
Webull Free Stock Promotion!
If you sign up via our link, you will get a free stock! You don't need to fund the account to get the stock, you just have to open it.
Keep Reading