Over the last decade, the commissions charged for stock trading have decreased tremendously. In many cases, they have completely vanished, making trading essentially free for all.
Five years ago, it was not uncommon to pay $10 or more to place trades. Now, trading commissions are largely a thing of the past. There are several services that offer commission-free trading. For the average retail investor, there has never been a better time to invest with these free platforms on the cutting-edge of innovation.
Driven by fierce competition for new investors, businesses have poured countless resources into creating platforms replete with technology and innovation. All of this benefits the end-user.
Firstrade vs Webull: The Basics
Webull and Firstrade are currently two of the most popular investing apps for purchasing individual stocks. Both platforms offer commission-free trading of thousands of stocks. However, there are several important differences between the two platforms.
Firstrade is a beginner-friendly platform that has features for both long-term and short-term investors. Whether you have been investing for years, or if this is your first foray into investing, the platform has features that can help you reach your investing goals.
Webull is a more advanced platform that tailors the experience to short-term traders. The research and data capabilities of this platform go above and beyond what Firstrade offers. However, this may be intimidating for a complete beginner.
Both apps are 100% commission-free and do not charge a monthly fee to compensate for the lack of commissions.
Here we compare Webull vs Firstrade to see how they stack up against one another.
Firstrade vs Webull: Summary
The Firstrade platform has been around since 1985, and it shows! Webull has a much better and more modern app design.
If you are looking for an account outside the traditional taxable/retirement accounts, Firstrade offers a variety of accounts including international.
Webull offers research tools above and beyond Firstrade, making it a better platform for intermediate to advanced traders.
Firstrade is more of a beginner-friendly trading platform.
Dividend investors will lean toward Firstrade as they offer a DRIP.
Webull accepts US investors only while Firstrade allows investors from 20 different countries to invest in US markets.
Firstrade has a 2 free stock sign-up incentive.
Webull offers 2 free stocks if you use our link!
Both Webull and Firstrade have $0 minimums and $0 commissions.
Both offer commission-free options trading.
You will find mutual funds on Firstrade, an asset class you will not find on Webull.
Cryptocurrencies like Bitcoin are only available on Webull.
What Is Webull?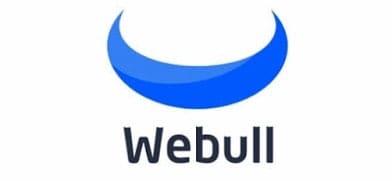 Webull is a commission-free stock, ETF, options, and crypto trading platform.
Webull is designed for the active trader who is looking for a more dynamic user interface. This platform has a variety of features that benefit traders such as technical indicators, research agency ratings, financial calendars, and free margin trading as well as short selling.
With easy access to margin, research tools, and live data, Webull has built an ideal platform for active traders. Check out our detailed review of Webull here.
Webull Summary
Trading Fees: $0 trading of stocks, ETFs, ADRs, options, and crypto
Account Types: Individual, Traditional IRA, Roth IRA
Account Minimums: $0
Top Features: Free trading, commission-free short selling, real-time market data, excellent mobile app, fractional shares
Webull Free Stock Promotion!
If you sign up via our link below, you will get 2 FREE stocks! After signing up, you'll just need to fund the account with at least $100 and you'll receive 2 stocks worth up to $1,850!
You'll get the first free stock just for opening the account and the next one when you fund the account with at least $100. The stocks are chosen on a lottery system and can range anywhere from a few dollars up to $1,000+ each!
We mentioned the fierce competition between these apps for customers and this is one of the ways that competition benefits us as investors.
This promotion does change relatively frequently so click the button below to see the latest offer.
Best Free Stock Promotions
Webull Features
Real-Time Market Data
Webull offers real-time market data for all US markets. This ensures that you are viewing prices in real-time and helps you make the right investment decisions based on accurate data. This feature is essential for active traders who need price accuracy down to the penny.
Most platforms charge for this level of market data. However, Webull offers this completely free. You can pay for a subscription to view real-time global market data. However, most investors will find the free US data is more than enough.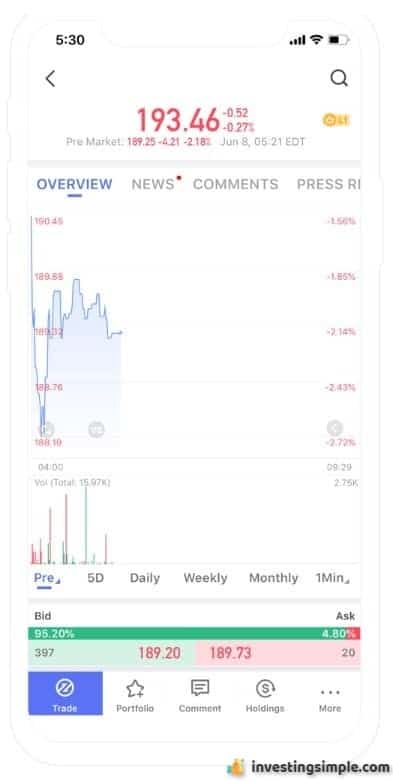 Technical Indicators
Webull has a variety of technical indicators available on the platform. You can choose from up to 22 technical indicators such as moving averages, relative strength indexes, and more.
These will provide active traders the ability to quickly make decisions about their positions all within the Webull platform. This goes above and beyond what other apps offer in terms of data.
Webull Desktop 4.0
In addition to their mobile app, Webull also offers a desktop platform for investors to take advantage of. This platform is called Webull Desktop 4.0 and is one of the most comprehensive free trading stations out there.
The advanced charting tools available will allow you to pursue in-depth trading strategies. Active traders will feel right at home with the features they find on the desktop platform.
Fractional Shares
With fractional shares, users can invest in dollar amounts and not whole shares. This makes investing in expensive stocks like Amazon feasible for all investors. Simply type in the dollar amount you want to invest and your trade will be executed. You will then own a percentage of the share in proportion to the dollar amount you invested.
This feature is not available on Firstrade but is becoming more and more standard across the industry.
Virtual Trading Simulator
Webull has a useful feature called the virtual trading simulator. This feature lets you create a virtual portfolio with fake money to test out strategies before risking real money. This is an ideal feature for someone just starting. For beginners, it is greatly beneficial to gain more investing knowledge and know-how on the platform before investing real money.
Each Webull user gets a practice portfolio with $1,000,000 of fake money. With this paper trading, you able to practice your trading strategies without worrying about losing any real money.
This allows you to familiarize yourself with the app risk-free!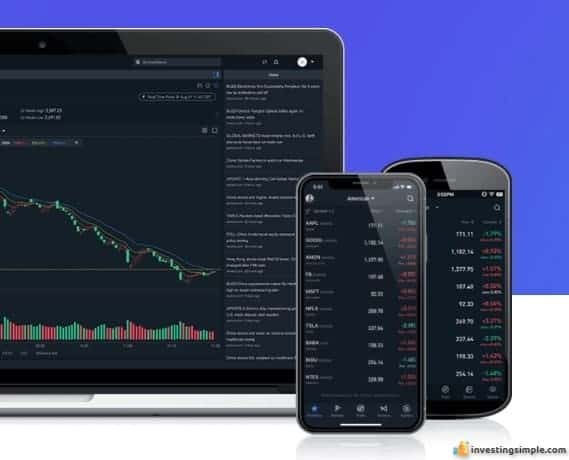 Stock Lending Income Program
The stock lending income program allows Webull users to generate income from stocks held in their portfolio by allowing Webull to lend them out to short-sellers. While your stocks are loaned out, you'll be able to earn daily interest based on current interest rates.
Lending your stocks to Webull can be an effective way to create more cash flow from your portfolio without adding much more risk. This is not a feature that is offered by many other free investing apps.
Agency Ratings
Another feature offered by Webull is the ability to track and see expert analyst ratings on individual stocks. Rated stocks will have several ratings by professional rating agencies and firms. They will rank the company as a buy, sell, or hold with occasional ratings outside of these three options.
The screenshot below shows a company with 40 analyst ratings as well as the trend over time. Institutional analyst ratings can give you an idea of what Wall Street is saying about a particular company or fund.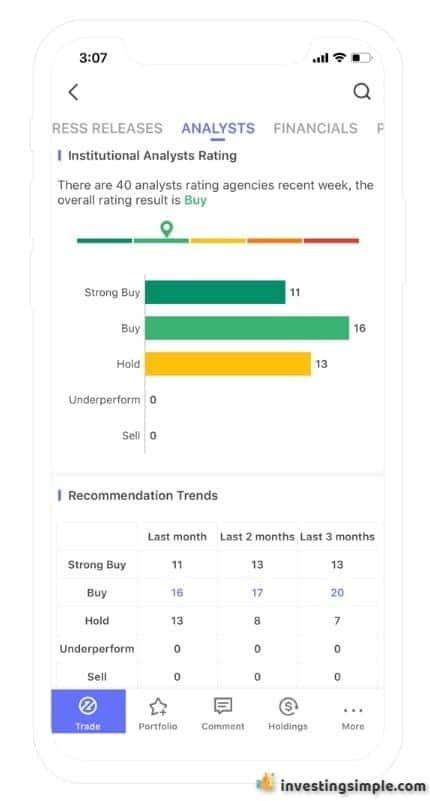 After Hours Trading
Webull offers after-hours and pre-market trading. You can trade securities from 4 am to 8 pm EST Monday to Friday on the Webull platform offering more flexibility in placing trades.
Most platforms out there only allow you to place trades while the market is open. This is from 9:30 am to 4:00 pm EST. So you're essentially doubling your trading hours!
Webull Crypto Trading
On the Webull platform, you can buy and sell many of the most popular cryptocurrencies commission-free. These include Bitcoin, Ethereum, Litecoin, and more!
On the platform, you can buy crypto in $1 increments, meaning you don't need to get together the tens of thousands of dollars it would take to purchase a single Bitcoin.
However, you'll want to keep in mind that on Webull Crypto you won't be able to transfer your crypto off of the platform or onto an external wallet. This can be a big deal for serious crypto investors.
We tend to recommend Coinbase for investors that are looking for the ability to transfer their crypto to an external wallet.
Webull Pros
Fractional shares
Advanced desktop platform provides comprehensive trading station
Free short selling on the platform
Access to tax-advantaged retirement accounts
Free access to real-time market data
Virtual trading simulator allows paper trading with $1,000,000 in fake money
After-hours trading provides a wider trading window for all investors
2 Free stocks when you sign up
Webull Cons
Interface can be intimidating for newer traders
Newer platform doesn't have as long of a track record
Only available to US investors
No dividend reinvestment program
Limited accounts to choose from
What Is Firstrade?
Firstrade is another commission-free trading platform that is growing in popularity. With this brokerage, you can trade stocks, ETFs, mutual funds, and options with zero commissions. Similar to Webull, Firstrade has a $0 minimum account balance meaning you can open an account with any amount of money.
Firstrade is a time-tested brokerage dating back to 1985. The company recently decided to follow others by going the commission-free route. It provides investors and traders with a platform to place trades as well as helpful tools and resources.
Firstrade Summary
Trading Fees: $0 for stocks, ETFs, mutual funds, and options
Account Types: taxable, joint, Roth IRA, Traditional IRA, SEP IRA, Simple IRA, Trusts, Custodial, Partnerships, and checking accounts
Account Minimums: $0 for brokerage accounts, $2,000 for margin accounts, $25,000 for day trading accounts
Top Features: Free trading, available to international investors in over 20 countries, beginner-friendly platform
Firstrade Free Stock Promotion!
Similar to Webull, Firstrade also offers a free stock promotion to entice new investors to sign up on the platform. While not quite as generous, the promotion is still one of the best out there.
When you sign up for a Firstrade account, you're able to get two free stocks! The current promotion allows you to get one free stock when you open your account and one more free stock if you decide to fund your account with $100 or more.
While this is the current promotion, it is subject to change so make sure to click the button below to view the latest sign-up promotion from Firstrade.
Firstrade Features
Investments Offered
Firstrade offers a relatively wide selection of asset classes to choose from. These include the following:
Stocks
ETFs
Bonds
Mutual Funds
Options
Unfortunately, you cannot purchase cryptocurrencies like Bitcoin on Firstrade. However, you can purchase mutual funds which you are not able to do on Webull.
DRIP
Through this platform, you can set up a DRIP or dividend reinvestment plan. This will automatically reinvest your dividends back into the issuing stock. Right now, this is limited to stocks that trade over $4 per share. You can enable or disable this DRIP feature at any time.
The advantage of a dividend reinvestment plan is that your income is working hard for you. Instead of just sitting in your account, it is automatically put back into the markets to continue to grow.
This allows investors to take advantage of the power of compound interest to grow their portfolios. You also have the option to take your dividends as cash if you want to generate income from your portfolio.
Retirement Accounts
Both Webull and Firstrade offer 100% free retirement accounts. Firstrade offers traditional IRA, Roth IRA, SEP IRA, Simple IRA. This does not include the fee that sponsoring brokerages like Vanguard might charge to invest in their ETF or index fund.
These accounts provide investors with significant tax savings provided you keep the money in your account until retirement. If you withdraw your cash early, you'll likely be hit with penalties that may significantly eat away at your gains.
However, if you leave your investments to grow until retirement, you may end up with no penalties on your earnings whatsoever.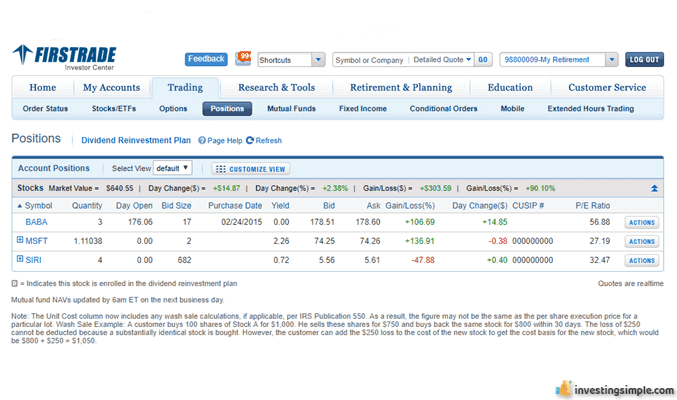 Firstrade Screener
Firstrade gives investors a variety of different screening tools. This includes criteria like market capitalization, dividend yield, PE ratio, and many more.
This allows you to quickly filter through thousands of potential investments and arrive at a shortlist of investments that match your criteria for investment, saving you time and potentially helping you get ahead of upcoming trends.
Options Wizard
For traders interested in buying and selling options, Firstrade's Options Wizard will likely be a useful tool.
Using advanced analytics, you're able to turn market data into actionable information and evaluate options trades. Within the Options Wizard, you can view support and resistance levels, run profit and loss simulations, and apply dozens of other tools.
Investors should recognize that options trading involves a significant amount of risk which should be fully understood before getting involved.
For more about options on the Firstrade platform, give this article a read.
Research and Data
Firstrade offers a variety of market and company-specific research available for free to its users. Investors can access data from Morningstar, Zacks, and Benzinga. Firstrade also holds bi-weekly webinars to help beginner investors educate themselves about investing.
International Accounts
Firstrade is one of the only platforms that offer international accounts. This allows investors from all over the world to invest in the US market. Right now, this is limited to around 20 foreign countries.
This is a rare feature for a free investing app and is unfortunately only available to investors in the US. For foreign investors, Firstrade will likely be one of your only options when it comes to investing apps.
Firstrade Pros
Wider investment selection including mutual funds and bonds
Access for international investors to buy US stocks
Dividend reinvestment plan allows investors to take advantage of compound interest
Commission-free trades for stocks, bonds, ETFs, and options
2 FREE stocks for signing up for the platform
Firstrade Cons
Older and outmoded user interface and app
Limited customer support options
No access to cryptocurrencies like Bitcoin
Webull vs Firstrade: The Verdict
Both of these platforms offer a high-quality stock trading experience for free.
One area where both are lacking is in customer service, but that is expected when using a free platform. If you want someone you can call on the phone, you are better off going with an online discount broker that charges commissions for trades.
Firstrade is an excellent platform for those looking for multiple account types, particularly international accounts. However, the trading platform itself is a bit outdated. Traders looking for the best overall platform will likely find that Webull has better offerings. Webull also has better data and technical indicators for traders.
The ultimate decision will be based on your goals. If you are looking to trade stocks, for example, day trading, Webull is a better option. If you are looking to invest for the long term and follow a passive strategy, Firstrade might be a great option for you.
At the end of the day, both are completely free, so you could always try them both and see which one you like better!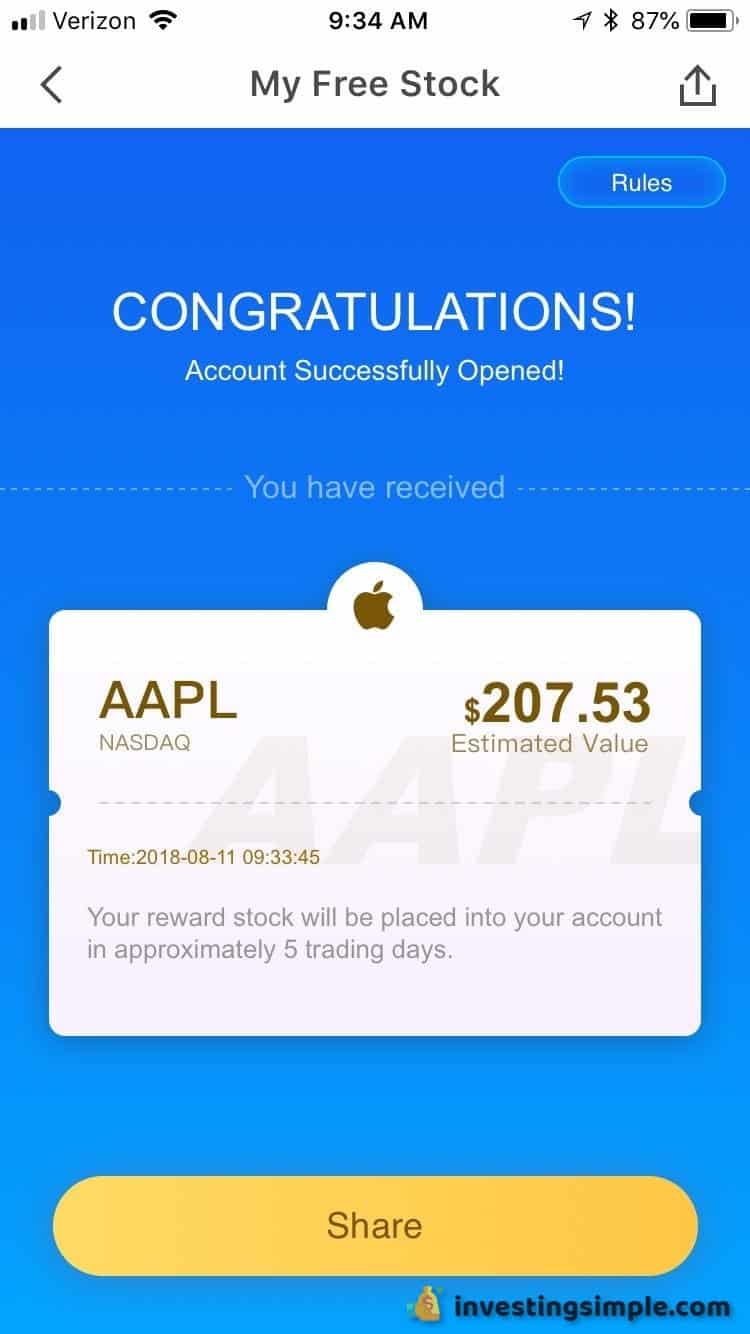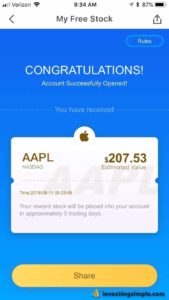 Webull 2 Free Stock Promotion!
If you sign up via our link, you will get 2 free stocks! After signing up, you'll just need to fund the account with at least $100 and you'll receive 2 stocks worth up to $1,850!
Firstrade 2 Free Stock Promotion!
If you sign up for Firstrade via our link, you will get 2 free stocks! Once you sign up, you'll just need to fund your account with $100 or more and you'll get 2 free stocks worth up to $400!