When it comes to investing in the stock market, one of the first steps is deciding which brokerage to go with. This is the platform you will be using to facilitate your stock trades.
Webull, thinkorswim, and M1 Finance are each popular brokerage accounts. But which is the best for you?
In this comparison, we will be looking at how these three stack up against each other. This will help you to make an informed decision about what one to use. While these are all vastly different investing platforms, each one can play a primary role in giving an investor a leg up.
In some cases, you may find that a combination of multiple of these platforms makes sense for your investment needs.
Summary: Webull vs thinkorswim vs M1 Finance
Both Webull and thinkorswim have no account minimums
M1 Finance requires $100 for brokerage accounts and $500 for retirement accounts
All three platforms are available with zero commission fees
Webull is great for new investors with its user-friendly mobile app and desktop platform
thinkorswim is focused on more experienced investors with FED data and several visuals and tools for analysis
M1 Finance favors longer-term investors since it has only one trading window per day, two with M1 Plus
Webull and thinkorswim are designed for active trading
M1 Finance is designed for passive, long term investing
Webull offers new users 1 free stock 
M1 Finance and Webull offer fractional shares
M1 Finance also offers a debit card, credit card, and personal loans
Don't forget to grab your free stock worth up to $200 from Robinhood today!
Best Free Stock Promotions
What Is Webull?
This popular brokerage was on the forefront of commission-free stock and ETFs.
Webull founders were on a mission to break down barriers that prevented beginners from entering the market. Founded in 2017, Webull has risen head and shoulders above competitors with its stellar, user-driven trading platform.
Key Features
Although similar to other mobile-only trading platforms like Robinhood, Webull offers outstanding features other leading brokerages lack. Mainly, they offer data and research tools above and beyond what other free investing apps offer.
Commission-Free Trades
There are no commissions for trading stocks, ETFs or options with Webull. They also offer taxable and retirement accounts with a $0 minimum.
There is a $2,000 minimum account balance for margin trading.
Retirement Account Options
Webull retirement options include Traditional, Roth, or Rollover IRAs. These options are a great way to get a jump start on saving for your golden years while saving on taxes and sets Webull apart as a brokerage account with appeal to a wider swath of investors.
One of the common gripes about the commission free trading app Robinhood is that they do not offer retirement accounts.
Paper Trading With Play Money
Go ahead and try your hand at investing without the risk.
Webull offers all users a trading simulator where you have $1,000,000 of fake money to trade with. This allows you to take this app for a test drive before committing. It also allows you to familiarize yourself with the app without risking your money.
Data & Research Tools
The main thing that sets Webull apart from other brokerages is that they are a research and data oriented platform. You will find a wide variety of advanced tools and data all in a very user-friendly app. In many cases, you won't need to go anywhere else to get the indicators and information you need to make trades.
That being said, all of this data available at your fingertips might make this a bit overwhelming for a beginner.
Cryptocurrency
Webull currently supports the trading of 21 cryptocurrencies. Additionally, members can monitor the movement of many more. The 21 cryptos include the most popular coins such as Bitcoin, Ethereum, Litecoin, and Dogecoin.
Check out our full review of Webull crypto.
Instead of purchasing whole shares of companies, you can purchase fractional shares. This significantly lowers the barrier to entry for new investors that don't have tens of thousands to invest with.
By taking advantage of fractional shares, you can easily create a diversified portfolio for under $1,000! This feature is also offered on M1 Finance but not on TD Ameritrade's platform.
Extended Hours Trading
Typically when buying and selling stocks, you're limited to only trading during market hours of 9:30am EST to 4:00pm EST.
With Webull, you're able to extend that trading window to 4:00am - 8:00pm EST. Keep in mind that stock prices tend to be more volatile outside of normal trading hours because there are typically less trades happening.
Webull Pros
Advanced research helps traders make quick decisions
Stock screener allows traders to hone in on potential investments in seconds
Access to commission-free stock, ETF, and options trading
Ability to take advantage of tax-deferred retirement accounts
Paper trading helps beginners learn the basics in a low-stakes setting
Access to cryptocurrency commission free
Webull Cons
No dividend reinvestment program (DRIP) on the platform
No rebalancing offered on the platform
What Is thinkorswim?
thinkorswim is another outstanding product produced by the investing powerhouse, TD Ameritrade.
However, right off the bat, the user interface is not as clean as the other highlighted brokerage accounts in this review. That is because TD Ameritrade primarily focuses on more experienced investors, though thinkorswim is a valiant attempt to forge ahead into new customer segments.
With thinkorswim you will pay zero commissions for online stocks, ETFs, and Options.
One of the benefits of choosing TD Ameritrade is that you can find local branches that you can call or visit to ask questions. There are 250+ branches to choose from.
With thinkorswim, you have the freedom to trade equities, options, ETFs, futures, forex, options on futures, and more.
Key Features
Thinkorswim offers a number of unique features to traders on the platform.
Paper Money
One of the best features of the thinkorswim desktop version is the paper trading. When you sign up for paper trading, you will get $100,000 in virtual money to wheel and deal.
This allows you to practice trading with no risk of losing real money.
Making A Connection
Chat rooms are also open for you to talk with other traders, share notes on what has worked for them (and what hasn't!) and keep up to date on recent news.
You can also find social media sentiment reports so you can see where your stocks line up according to social media buzz.
For The Experts Among Us
Thinkorswim gives traders access to 400+ technical tools ranging from support and resistance to candlestick and profile. Traders can add visuals to charts using a range of 20 drawings, including eight Fibonacci tools.
You can even build your own algorithms with thinkScript.
Thinkorswim Pros
Access to local branches and real people to talk to
Chat rooms allow you to connect with other traders and learn from their experiences
Wide array of advanced tools and indicators to take advantage of
Thinkorswim Cons
Advanced interface will be intimidating for complete beginners
Not well-suited for buy-and-hold investors
What Is M1 Finance?
This platform sets itself apart by offering a platform based on three key financial management tools: Investing, Borrowing, and Cash Management.
However, while there is a $100 minimum for initial investments with brokerage accounts and $500 for retirement accounts. There are no commission fees on any of the 6,000 stocks and ETFs that trade.
That being said, there is just one trading window per day, two if you pay for M1 Plus.
M1 Finance's striking value is letting you create your own custom portfolio and automate it. If you want a portfolio strictly built on eCommerce companies, you can build a portfolio of Amazon, Shopify, eBay and the like. You can determine the percentage allocation and adjust over time.
If creating your own portfolio isn't your style, use one of M1 Finance's 30+ expert-built portfolios.
M1 Finance has the best features for passive, long term investing. However, it is not ideal for active trading.
As with Webull, investors have the option to purchase portions of whole shares. This allows users to save on investment costs by requiring a lower dollar amount for initial investment. This is a great feature from M1 Finance and is one that truly levels the playing field for investors.
Purchasing fractional shares does not lower the risk involved in investing but it does allow users to diversify and thereby decreasing all around risk.
The Pie
M1 Finance offers many expert built portfolios, called pies. You can also build your own custom pies. Essentially, the pies are a way to monitor you portfolio and maintain a certain ratio of various companies.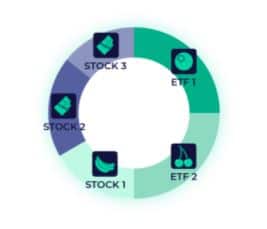 The expert built pies are a great way to leverage the M1 Finance team and invest more passively.
Rebalancing Tools
Put your worries to rest about your allocations getting out of balance. There's automatic or one-click rebalancing in place to make sure when you allocate 10% of your portfolio to one stock, it stays at 10% with automatic rebalancing.
Keep in mind, using the one-click rebalancing could lead to a taxable event within your portfolio.
Dividends can also be automatically reinvested, and when this occurs your portfolio is rebalanced too.
Dividend Reinvestment Program
M1 offers all users the ability to take advantage of a portfolio-level DRIP. A DRIP takes the dividends that your stocks pay and automatically invests them back into your portfolio to buy more shares of stock.
This ensures that you don't have extra cash sitting on the sidelines and allows you to take full advantage of compound interest.
M1 Borrow
If you are looking to borrow money from your portfolio, check out M1 Borrow.
Once you have $10K invested with M1 Finance, you qualify for line of credit with up to 35% of the portfolio's value. Other debt options are as follows below:
Credit card
Student Loan
HELOC
Auto Loan
Mortgage
M1 Spend
As an M1 Finance user, you'll have access to a checking account and debit card that you can take advantage of to make M1 Finance the central hub of all of your financial activities.
By setting up direct deposit into your M1 Spend account and allocating funds directly into your investments, you can follow the age-old wisdom of paying yourself first. This removes much of the discipline required to be a consistent investor over time and will ensure that you're dollar-cost averaging over time.
Additionally, M1 Plus users ($125 per year upgrade) will receive an above-average interest rate on the cash held in their account and 1% cash back on all purchases made on their debit card.
M1 Credit Card
In addition to a debit card, they also offer a credit card, called the M1 Owner's Rewards Credit Card. This card enables members to earn up to 10% cashback!
The card provides 1.5% cashback on all purchases. But when you make a purchase with one of 70 participating companies that you own stock with, then you qualify for up to 10%!
M1 Plus members get the $95 annual fee waived! All other members will be subject to the annual fee.
M1 Finance Pros
Automatic rebalancing ensures you are buying low and selling high
Tax-minimization features keep your portfolio efficient
Free access to a wide array or retirement and trust accounts
Access to borrowing against your portfolio at a low interest rate
Free checking account and debit card to keep all your finances in one place
M1 Finance Cons
One trading window per day makes active trading not feasible
$100 minimum balance to start ($500 for retirement accounts)
The Verdict: thinkorswim vs M1 Finance vs Webull
At the end of the day, these platforms are all very unique.
M1 Finance is designed for passive, long-term investing. The automatic rebalancing tools and dividend reinvestment options are very popular. That being said, there is only one trading window per day (two with M1 Plus). If you are looking to trade stocks with precision, this is not the brokerage for you.
M1 also provides the infrastructure to serve as the central hub for your personal finances through offering a checking account, debit card, and access to credit. For an individual looking to simplify and streamline their finances, these features could be very attractive.
Webull and thinkorswim are both designed for active traders. You will find more advanced tools and features with thinkorswim, but Webull has a more user friendly experience.
If you are looking to do some long-term investing and some active trading, it might make sense to use both M1 Finance and one of the other two for your trading.