When it comes to investing in the stock market, you have a lot of different choices to make.
For starters, you could follow a growth or income-oriented approach. Beyond that, you also need to choose what brokerage to invest with. The good news is, there are more options available today than ever before.
In this article, we will be seeing how a new player known as Webull stacks up against one of the most well known financial companies: Vanguard.
Vanguard is a time tested firm with trillions of dollars in assets. They are well known for their low-fee funds and investment products.
Webull is an up-and-coming commission-free trading app, popular among millennials. It offers tons of research tools and data in a very user-friendly fashion.
We will be comparing Webull vs Vanguard in this article.
Summary: Vanguard vs Webull
Vanguard is most well known for their low fee investment funds
However, you can also invest directly through the Vanguard brokerage platform
Both offer $0 commissions on online trades with a $0 minimum

Both offer top-quality research, however, Webull has more technical data available 

Webull is catered more towards the "trader" while Vanguard is catered more towards the "investor"

Vanguard has a track record of being extremely reliable to its clients, when Webull is new, more up to date, and more technologically driven

Both allow you to trade stocks and ETFs
Webull has some more advanced features like a free trading simulator
You can get 1 free stock with Webull when you open an account and fund it with $100
Vanguard does not offer any kind of sign up incentive
Vanguard has a wide variety of account types
Webull offers taxable, margin, and retirement accounts
Vanguard does charge commissions for broker-assisted trades, but online is free
Webull offers full extended hours trading while Vanguard does not
What Is Webull?
Webull is revolutionizing the brokerage industry by offering commission-free trading and in-depth market research in the same place. By offering services commission-free with no minimum balance, this platform is reducing the barriers to entry for investors big and small. 
For the most part, this brokerage is geared towards active traders who rely on a variety of different investment data. 
They really pick up where other investment apps leave off, such as Robinhood. These apps tend to be very watered down, with limited research tools. Webull is truly a robust trading platform with all of the research tools and data you will likely need.
Webull Features
Active traders will be pleasantly surprised when they take a look at the Webull platform for the first time. Compared to the other investing apps out there, Webull takes a stand for active traders by providing the platform they need and constantly adding new features to stay ahead of the curve.
Commission-Free Trading
Webull allows its clients to trade a large variety of assets including stocks, ETFs, and options with absolutely no commissions.
This includes stocks and ETFs on major exchanges like the NYSE and NASDAQ. That being said, there are no OTC or pink sheet penny stocks.
On the Webull platform, you'll be able to buy and sell any of Vanguard's ETFs.
You will also not find mutual funds or fixed-income investments available on Webull.
Webull Sign Up Incentive - Free Stock!

Ready to sign up for Webull? If you open an account using the link below and fund it with $100, you will get a completely free stock!
Zero-Account Minimum  
The $0 minimum deposit on Webull brokerage accounts makes it an especially attractive service for smaller investors. Beginner investors need to start small in the learning process, and Webull allows this on its platform. 
However, keep in mind that you need to fund the account with $100 initially to be eligible for your free stock.
Webull Account Types 
Webull offers the following:
Individual
Margin
Traditional IRA
Retirement accounts are 100% free with no commissions and no minimums. 
Market Research 
Webull provides market-research and real-time quotes in the "Market" section of its website. Here, clients can read different public articles that are linked directly to the page. 
This is an educational resource in itself and clients can learn a lot by keeping up with news stories and hearing the perspectives of experts in the field.  
Real-Time Market Data
One of the features that Webull is most well-known for is their data. As a trader, it's crucial that you have access to the most up-to-date data so that you can make fast decisions and take advantage of early trends. This means you need real-time data.
Webull provides free real-time US market data to all of their users. This allows investors in US markets to be well-informed and not lose out to other traders who could have an edge thanks to more up-to-date data.
In order to get real-time data on markets outside of the US, investors will need to purchase a subscription.
Technical Trading Platform 
Webull's tech-savvy trading platform gives it a great leg up in trade execution compared to Vanguard.
Webull's technical charting tools allow investors and traders alike access to advanced charts and graphs that can help them decide what trades to make. As far as technical indicators go, there are dozens of different ones to choose from available at your fingertips. 
You also have access to a free stock screener that allows you to quickly filter through thousands of stocks to find the handful that align with your trading strategies. This allows for faster trades and the ability to move on trends before other investors may notice them.
Full Extended Hours Trading 
Webull fully supports pre and post-market trading. This means you can place trades before the market opens and after the market closes for a set period of time. 
On Webull, you can trade stocks from 4:00 am to 8:00 pm EST on any day the market is open.
Stock Lending Income Program
A feature unique to Webull is their stock lending program. This allows investors to loan their shares of stock to Webull for them to lend out for short selling.
In return for lending them your stock, Webull will pay you daily interest based on the number of shares you loan to them and the value of these shares. This can be a great way to generate income from your portfolio over time.
Paper Trading
One of the most useful tools on Webull is the trading simulator.
Every Webull user has $1,000,000 of fake money that they can practice with, 100% risk-free! This allows you to familiarize yourself with the app before committing or risking the loss of capital.
While trading fake money doesn't trigger the same emotional responses that trading with real money does, it is still an effective way to learn the ropes and build your confidence before your hard-earned cash is on the line.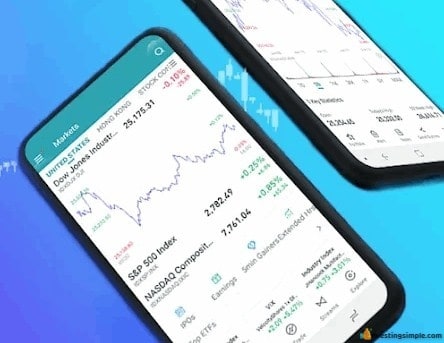 Webull Fees 
Zero-Commission Trading Fees
$0 commissions on stocks, options, and ETFs. 
This also applies to short selling and margin trading.
Deposit & Withdrawal Fees
There are no fees for ACH deposits and withdrawals from US bank accounts.
Webull charges fees on foreign bank accounts, however, varying at a rate from $8 to $45 depending on several factors. These fees cover the charges by Apex which is a clearing firm. 
Margin
If you are interested in leveraging your investments, Webull offers up to 4x day-trade buying power to its clients. 
Webull also offers 2x overnight buying power on its margin accounts. This is more so used for investments instead of trades due to the overnight holding implications. 
Clients who wish to invest on margin must have a $2,000 minimum to apply for a margin account. 
Margin Rates
Margin rates vary depending on the amount of margin the client is taking using. The general rates are between 3.99% and 6.99%.  
Webull Pros
No commissions on trades

Services oriented towards active traders

No minimum account balance

Educational resources and free trading simulator

Pre-market and Extended-hours trading

Free Stock incentive

Trading simulator makes this potentially risk-free
Webull Cons
No fractional shares
No dividend reinvestment program
Limited account types
Customer service could be better
What Is Vanguard?

Vanguard's mission is to level the playing field for all investors. Big or small, they are committed to taking a stand for their investors by treating them fairly and giving them the best chance for investment success. 
Vanguard's founder Jack Bogle has a cult-like following of so-called "Bogleheads" that share his philosophies of low-cost, passive index investing.
Since 1975, Vanguard has been providing low-cost ETFs for its investors to gain maximal diversification and to take the subjectivity of a money manager out of the equation for returns. 
Vanguard funds are client-owned, meaning that fund shareholders own the funds, which in turn own Vanguard. 
This company has been at the forefront of managed investing for decades. 
You can purchase Vanguard funds through any brokerage, including Webull! This is accomplished by buying ETFs or exchange-traded funds. Typically, this is the most cost-effective way to invest in index funds.
Vanguard Features 
Account Types
Whether you are interested in a simple brokerage account, retirement account, or personally managed account, Vanguard has options for all of your needs. Here are the accounts they offer:
Individual
Joint
Traditional IRA
Roth IRA
Rollover IRA
SEP IRA
Simple IRA
Solo 401(K)
Custodial Accounts
529 Plans
Vanguard Investments
Vanguard's brokerage service offers a wide array of investment vehicles across asset classes for its clients to choose from. 
Stocks, options, bonds, CDs, and the most relevant, ETFs, just to name a few.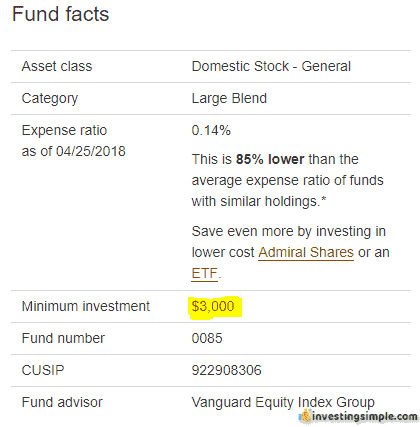 Low-Cost ETFs
Vanguard offers over 450 low-cost ETFs for its clients.
An ETF, aka Exchange-Traded Fund, is a basket of underlying assets that track the gains of an index or specific industry. Due to their passive nature, ETFs do not produce as much overhead or expenses which is one of the reasons they can be offered to investors at a much lower expense than most mutual funds. 
ETFs allow investors to achieve maximum diversification and "own everything" contained in an index in a low-cost way. 
These ETFs can be purchased through almost any brokerage out there.
Industry-Specific ETFs 
Vanguard offers industry-specific ETFs to satisfy its clients' investment goals. Are you only interested in the main technology companies? The VGT "Vanguard Information Technology" ETF has you covered. Or maybe you want to invest exclusively in health care companies? The VHT "Vanguard Health Care" ETF will provide you exposure to that industry.
The wide range of different ETFs that Vanguard covers allow its investors to achieve high-diversification while also investing in the industry's or indices that they are interested in.
Customer Service 
Vanguard offers both technical support and also a call center for its clients to utilize if they have any questions regarding their investments. 
Market Research 
Gaining an edge is what Vanguard is all about, and it can achieve this also through the usage of top-quality market research. 
Account Protection Information and SIPC 
The Securities Investor Protection (SIPC) protects Vanguard brokerage clients up to $500,000. 
To increase the insurance on its accounts, Vanguard utilizes additional brokerage coverage from Syndicates at Lloyd's of London. 
By doing this, they can secure a per client coverage assurance of $49.5 million for securities, and $1.9 million for cash.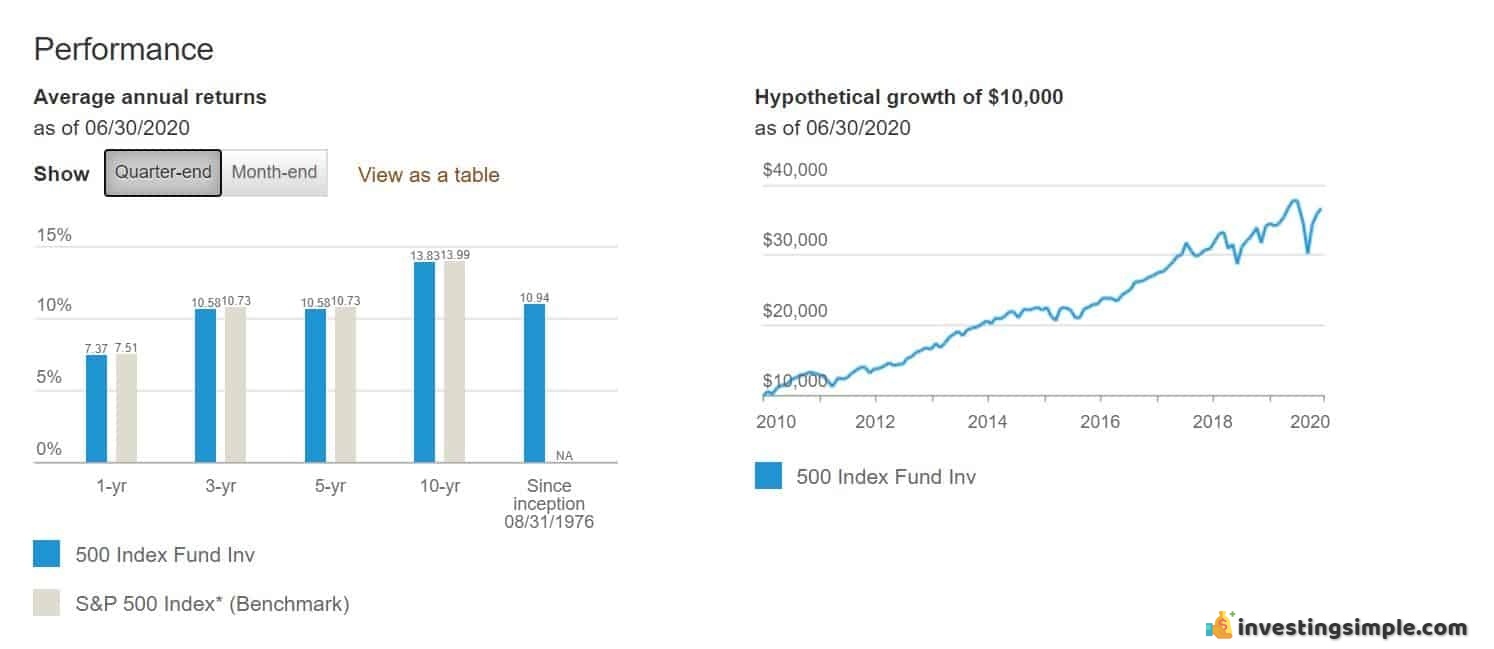 Vanguard Fees
Zero-Brokerage Commissions for Online Trades
Vanguard offers $0 trades on securities, ETFs, and other investment vehicles available to its clients if trades are placed online. 
Over The Phone Trades
Placing a trade over the phone will cost a fee of around $20 per trade.
This is a relatively high commission for investors with smaller account balances. So if you fall into this bucket then making online trades may be a better option. 
Brokerage Account Fees
$20 annual fixed fee if the AUM (assets under management) are below $10,000 for your account.
They will waive this fee if you agree to receive electronic instead of paper statements. 
Mutual-Fund Only Account Fees
Vanguard charges $20 as an annual fixed fee if its client is investing in mutual funds. 
Simple IRAs/403(b) Plan Fees
Charge $25 for each specific mutual fund that its clients own in their IRA account. In terms of 403 (b) plans, Vanguard charges $5 per month per participant. This adds up to $60 per year. 
Individual 401(k) & Individual Roth 401(k) Plan Fees
For these two retirement plans, Vanguard charges $20 per mutual fund in each account. 
Waive Fees
Vanguard offers a whole host of ways to waive fees when using their services. 
Whether it is signing up for e-delivery for annual reports or being a Voyager Select member, there are many ways to forgo these fees. 
Simply navigate to the Vanguard Benefits and Costs section at the top right page of its website to learn more ways to dodge some of these fixed costs. 
Vanguard Pros
Leading the industry in providing highly diversified ETF products to its clients

Industry-specific ETFs to capture sector movements

Zero-brokerage commissions for online trades 

Has shown a long track record of providing reliable services to clients 

Ways to waive fixed fees to decrease account costs 

Protection of $49.5 million in securities and $1.9 million in cash

Top-quality market research to give its clients the edge when investing

Numerous different assets to choose from
Vanguard Cons
Some annual fees in place, but they can be waived 

Expensive mutual fund fees 

No online trading platform for technical analysis 

Various retirement accounts have different fees associated
Final Verdict: Webull vs Vanguard
When it comes down to it, Webull and Vanguard are offering two very different products. Webull is an active trading platform designed for research-oriented traders, particularly millennials. Vanguard is more of a long-term investing platform.
If you are simply looking to trade stocks and have easy access to research tools, Webull is a great option for this. You can even invest in Vanguard ETFs on Webull!
The Webull platform is easy to get started on and the free stock bonus is a nice incentive to start you off with. For younger investors, Webull will likely be a good place to start learning the ropes. If it turns out that you're missing some investment types that are only offered on Vanguard, you'll always be able to open a Vanguard account down the line.
However, if you are looking to invest for the long haul in stocks and funds, Vanguard may be a better option. They have a more diverse selection of assets as well as many different account types.
There are some miscellaneous fees you may come across with Vanguard, such as the $20 annual paper statement fee. This can be waived if you opt into electronic statement delivery. Vanguard does, however, have much better customer service.
In some cases, it might make sense to invest with both! Webull is useful for your active trades where you are looking for technical data available at your fingertips. You can use Vanguard alongside Webull for your long term investments.
Best Free Stock Promotions
Keep Reading: